Day 248 Friday 7th January 2005
Australia, Sydney to New Zealand, Auckland

Amanda, admirably, walked the dogs and drove us south of the city to the airport before starting work this morning. Going by public transport would have meant leaving at about 5am rather than 6.45am as well as being a bit of a hassle with all of our kit so we much appreciated the lift and were sorry to be saying goodbye so soon.

We hope to return to Sydney on our homeward journey and look forward to meeting many new friends there again.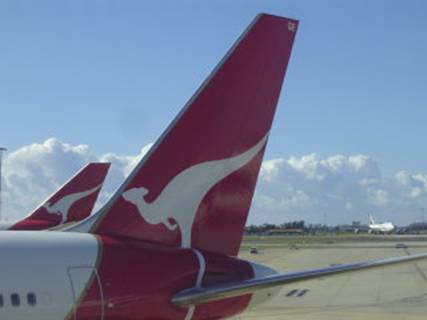 We sat on the aircraft for an hour and a half before takeoff because a disabled man who found that the facilities on board were not suitable got off the flight along with his three companions just before take-off requiring their luggage to be retrieved and removed too. Amazingly the Captain made up almost an hour of the delay.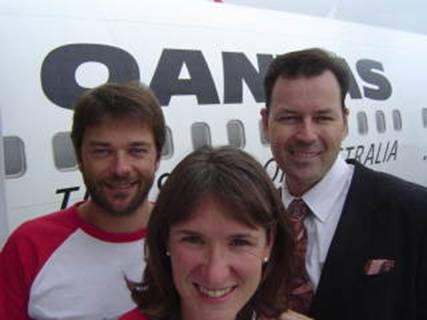 Joanne and Tim with Scott Gannon, one of the air stewards on the Qantas flight from Sydney to Auckland.

We were greeted by Charles, who runs a company called Quicksilver Collectibles and who had been endeavouring to make arrangements for our time in Auckland with the British Trade Council, the Red Cross and the Morris Owners Register. Charles was holding up a placard with our number plate (very amusing) and was standing with Pat and Peter, members of the Vauxhall Owners Club, who wore their recognisable red and black club jackets so we spotted our reception committee immediately.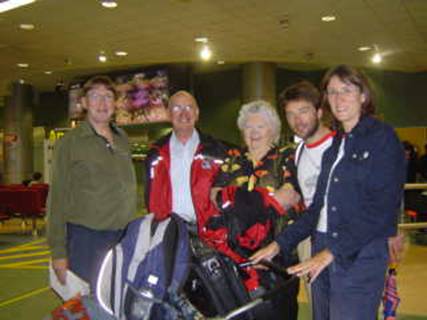 Our accommodation did not work out as planned but Pat and Peter, who had only gone to the airport to greet us, took us home with them to Manurewa on the south side of Auckland where they have made us feel very welcome.
Day 249 Saturday 8th January 2005
New Zealand
Auckland

Aucklanders, Ken and Jocelyn Watkin, have been e-mailing us with detailed and valuable advice since we were in India and contemplating our route through Asia. They live in Manurewa, close to Peter and Pat, who took us home yesterday from the airport, and we spent most of today trading stories and comparing notes about our extraordinary journeys.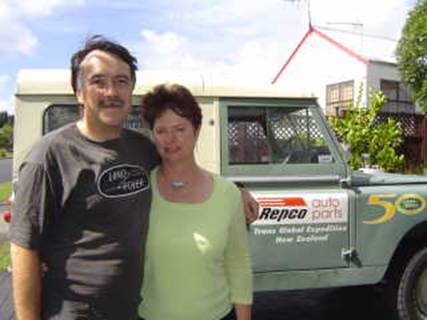 In 1998-99 Jocelyn and Ken Watkin drove around the world with Philip and Gillian Avery in vintage Land Rovers to celebrate the 50th Anniversary of the Land Rover. 360 degrees in 360 days took several years of planning and was a great achievement. As well as being a significant challenge and an adventure, The Lucas Trans Global Expedition was a turning point in Ken and Jocelyn's lives.

We hope to meet up with Philip and Gillian Avery while we are in New Zealand.

We have given presentations to all sorts of people along the way here – schools, Rotary Clubs, Lloyds of London representatives, for example. After a few drinks and a bar-b-q that we had kindly been invited to this evening at the home of Elaine and her husband, Doug, Pat's daughter and son-in-law, we gave a very informal presentation to them, Keith, Pat and Doug's son, his partner, and the family of Doug's brother who flew in yesterday from Sydney on the flight before us.

Pat is a keen quilter and her daughter, Elaine, has taken after her - both homes are full of beautiful handsewn quilts and cross-stitch. For those interested in quilting Auckland is the place to be this coming week with exhibitions at the museums and meetings around the city.
Day 250 Sunday 9th January 2005
New Zealand
Auckland

Pat and Peter Dilley belong to the Vauxhall Owners Club; appropriately, today they took us out sightseeing in their 1962 Vauxhall Victor.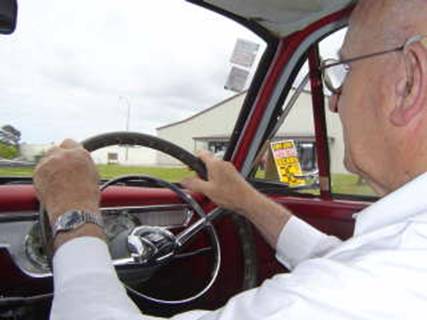 Not driving ourselves was so relaxing that we both nodded off, waking up every now and then as Peter and Pat pointed out the Sky Tower and other sights!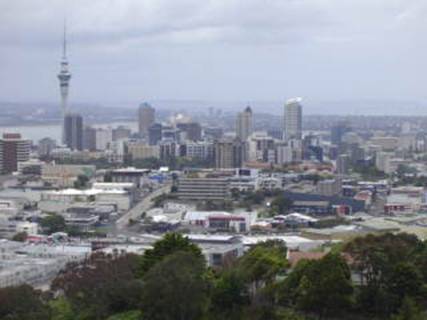 Our first panoramic view of Auckland was from the top of one of the 48 volcanoes in the area called Mount Eden. From there we drove to Devonport and up North Head where we sat and ate a picnic with tea and homemade cakes as we watched the ships and yachts sail in and out of the harbour.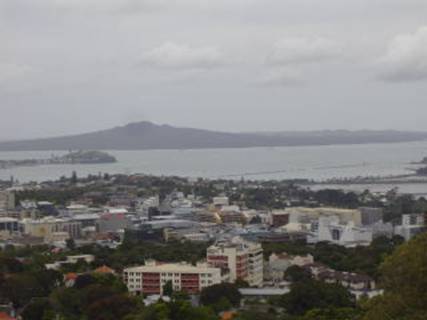 North Head with the island of Rangitoto beyond

North Head has been a strategic point since the Maoris occupied the area. In the late 1800's European settlers established artillery defenses around the summit of North Head and neighbouring Mount Victoria to defend the area from the perceived Russian threat from the sea.

Many of the positions and the guns still exist, including guns that retract for reloading out of sight of the enemy, but none was ever fired in anger.

We did not have time to explore the museum but enjoyed our stroll around the 1920's hot houses and the grounds around the museum.

Despite the rain showers it was a lovely relaxed day and a good introduction and orientation to Auckland.

Pat and Peter dropped us off in Remuera at the home of Linda and Dick and their children, Denis, 12, and Martin, 7 years old. Linda and Dick are historians and invited us to stay with them after Linda found out about our journey through The Queen's College alumni office. Linda studied at The Queen's and tutored there.

The family made us feel very welcome and Linda and Dick even popped some New Zealand "champagne" to celebrate our arrival!
Day 251 Monday 10th January 2005
New Zealand
Auckland

Even without a phone call in advance we were welcomed at the Auckland Red Cross office where the staff knew all about our imminent arrival. We were shown to an office with phone and the means of connecting to the Internet, asked if we would like to sign up as volunteers and offered coffee.

We were able to spend the day speaking with our various contacts in New Zealand and to members of the New Zealand Red Cross and the British High Commission, making arrangements for the arrival of the car, drafting a media release, speaking to media people and planning our time here. Not much sightseeing for us today but having just arrived, there is much planning to be done so having an office from which to work was just what we needed.

The Auckland Red Cross office is conveniently close to where we are staying for a few days, not far from the city in an area called Remuera. To walk there would take us only about 30 minutes but Dick kindly dropped us off and collected us at the end of the day.

Linda and Dick and their children, Denis and Martin, with whom we are staying, have great views from their home over the extinct volcano, Mount Wellington.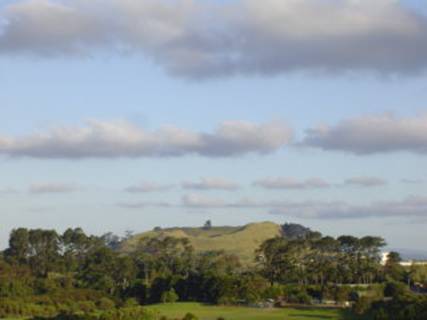 After supper we walked around the crater edge looking out over the narrowest part of New Zealand. Virtually in the middle of Auckland Waitemata Harbour and Manukau Harbour are separated by only a narrow stretch of land along which run the main rail and road connections. All around the city of Auckland is divided by stretches of water and extinct volcanoes dot the land. With so many perfect locations for marinas one can understand why Auckland is called The City of Sails.
Day 252 Tuesday 11th January 2005
New Zealand
Auckland

Another busy day of planning and preparation for our time in New Zealand.

Linda took us into the city centre where we called in at the British High Commission and met with the shipping agent, Garnett at Advanced Customs Ltd, who has kindly offered to assist us with getting the car through customs and quarantine.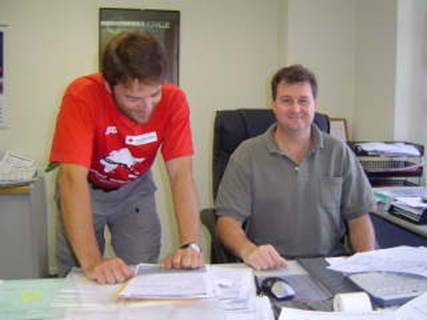 Garnett Munro and his tidy desk

Our short visit to the Automobile Association confirmed that we do need to get the car inspected for roadworthiness and that we will need to buy insurance through a broker.

As we left Linda at the history faculty we walked through the University grounds and across Albert Park, past some grand formerly colonial houses.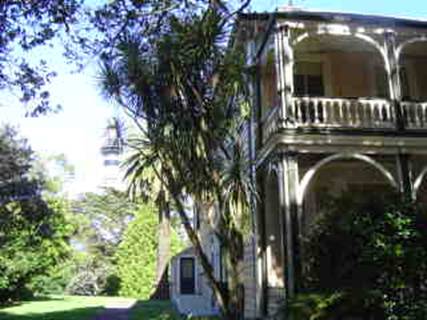 Back to the Red Cross office for the afternoon then this evening our hosts took us to a couple of reserves with vantage points over the harbour. We are hoping to film the ship on which is the container that Florence is in arriving at the Port of Auckland tomorrow.
Day 253 Wednesday 12th January 2005
New Zealand
Auckland

After a couple of hours of work we were collected from the Red Cross office by Dick and his youngest son, Martin, who took us up to a couple of view points from where we filmed the P&O Remuera ship come into Auckland port.





We bought a quick lunch of noodles for us all then Dick dropped us off at the entrance to the port where we met Bronwyn, Corporate Communications Manager for the Port of Auckland.

Bronwyn was acutely aware of the health and safety issues of walking alongside a ship that is being unloaded and anxiously controlled our movements with the cameras and reporters from TV1 and TV3 news who were interviewing us about the arrival of our car and the start of the last leg of our journey to Oxford NZ.





The pieces on the evening news used some of our footage sent from BBC Oxford plus tiny snippets of the interviews we had given at the port.
Day 254 Thursday 13th January 2005
New Zealand
Auckland

Mobile communication is crucial for us, not only e-mail but also mobile telephone comms. Tim has been speaking with Vodafone NZ and they agreed today to sponsor us with a NZ mobile phone SIM card and prepaid top up cards. We can now be contacted in NZ on Vodafone 00 64 (0) 21 0649968.

Garnett of Advanced Customs Services arranged for the Carnet de Passage to be stamped by Customs, for Axis Ferguson (a division of Ports of Auckland) to unload the container and for MAF to inspect the car.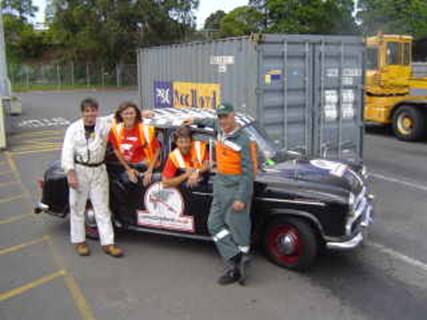 Owen (MAF) and Craig (Axis Ferguson) with Jo, Tim and Florence

Without a certificate from MAF stating that the car has been inspected and is free of matter such as soil, seeds, fruit and other substances not allowed into New Zealand we might have had to have the car fumigated and cleaned.




Thankfully, our rigorous cleaning before leaving Sydney paid off – Owen inspected underneath, inside and checked the items in the boot before congratulating us as he handed us the appropriate certificate. Phew!

A bit more paperwork, some photos for our shipping sponsors, PandO Nedlloyd, and a photo and interview with the New Zealand Herald, then we hit the road – all the way to the AA inspection centre.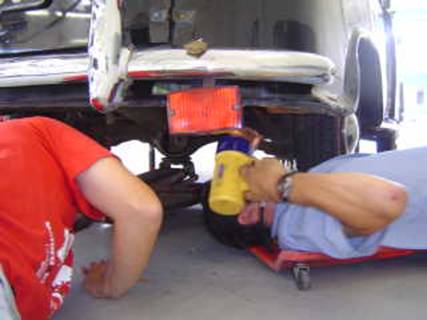 There was a bit of concern over some rust patches underneath but Florence passed on the understanding that we will be getting those rust patches fixed after we reach Oxford. With relevant stickers on the windscreen we drove back to the Red Cross for a bit more work then back to our friends in Remuera to proudly show them our car.

Day 255 Friday 14th January 2005
New Zealand
Auckland

Radio NZ presenter Todd Niall first interviewed us as we looked over the River Nile in Cairo a few months ago and it was good to meet him in person today. A classic car enthusiast, Todd interviewed us live this morning for the last episode of the national summer show as we stood on the pavement next to Florence.

We were supposed to be meeting with the business editor of the NZ Herald this morning but on arrival at their offices we were told that she was ill so will do the interview by phone next week. As we had already parked we both got our hair cut (Joanne more successfully than Tim who may have to wait ten days or so before his bad haircut becomes a good one), met again for coffee then returned to the Auckland office of the Red Cross where we made more preparations for our journey through NZ.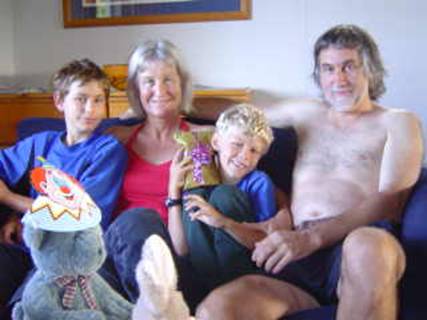 Birthday Girl Linda with Dick, Denis and Martin

To celebrate Linda's birthday she and Dick invited friends around for a bar-b-q finished off with an impressive New Zealand strawberry pavlova. Apparently, who invented the pavlova is a significant question in the rivalry between Australia and New Zealand.
Day 256 Saturday 15th January 2005
New Zealand
Auckland

First gear first started grumbling when we drove up and down two very steep drives to homes we were staying at in Melbourne and is now almost unusable. We asked the Morris Register if anyone could offer some advice or help us determine how serious an issue it is but unfortunately they could not help as they do not deal with cars as young as ours. The Morris Owners Club of the South Island have offered to help us fix the gears and the rust patches when we get there. Because many of their members are involved in our Oxford arrival celebrations they are stood by to rush to our aid if we get seriously stuck on route.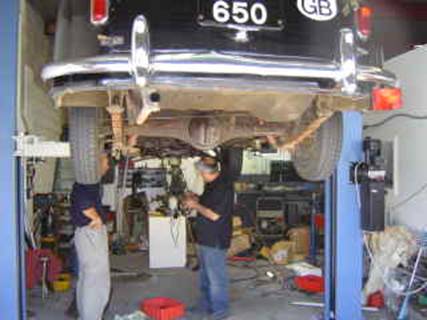 In the meantime, Murray Johnson, who runs Weber Specialities, in Glenfield, Auckland offered to lift the car up and drain the gearbox oil to flush out and any bits of metal that may have been broken or shaved off.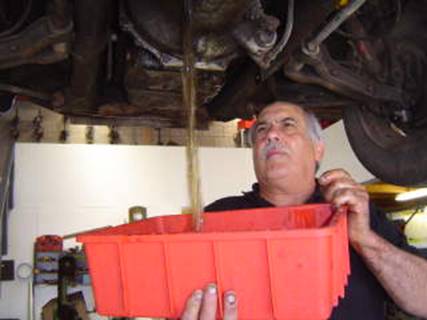 Flushing out the gearbox

He used a magnet on a stick to fish out many small shavings of metal and told us that to prevent damage to the other gears we should refrain from using first gear and not put any strain on reverse.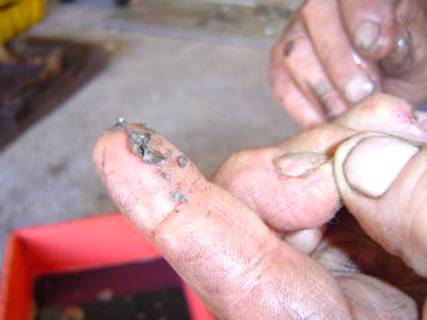 Bits of metal from the gearbox

We had successfully reversed up the drive in Remuera this morning because with no run up the car could not make it in second gear. To give the gearbox the best chance of getting us to Oxford with no further damage we will have to try to avoid hill-starts and to park facing down hill! We'll only be able to reverse up hills if there is no other option.

Murray has experience of Morris Oxfords, it was because his father still drives one that Murray first e-mailed us a few weeks ago, so getting his advice after he had looked at the car was reassuring.

We both felt tired so parked in the Domain (the park land around the Museum) this afternoon and after a burger for lunch Joanne wandered through the smart trendy area of Parnell while Tim snoozed under a tree by the car.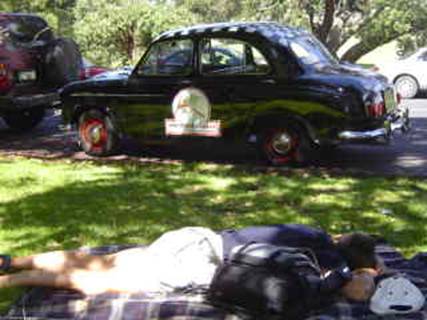 Several people stopped to admire Florence, congratulate us on our journey and to put money in our NZ Red Cross collection pots. We were invited to a BBQ this evening by Nina and Jason, a couple who pulled up next to us in their car, but as we had already arranged to eat with Dick and Linda we agreed to meet up with them and their friends on our return to Auckland.

Day 257 Sunday 16th January 2005
New Zealand
Auckland

Our fifty year old Morris Oxford, Florence, held her own proudly today amongst a vast collection of mainly American classic cars and "hot rods" at one of New Zealand's biggest car shows, at Kumeu, just north west of Auckland.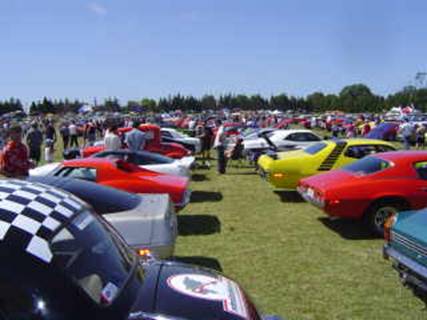 We had been invited to attend by Charles, whose shop, "Quicksilver Collectibles", sells car memorabilia and we parked next to his stall.

With a couple of short breaks to get some food and look at some of the show we stood in the sun all day talking to people interested in our journey and collected donations to the NZ Red Cross.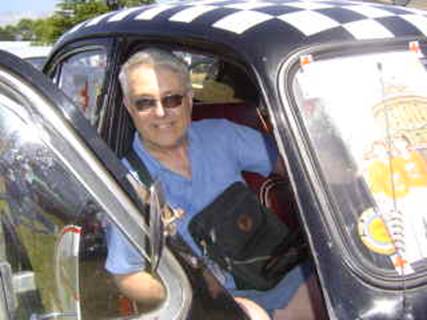 Donald Finlay

We met several people who had been following our progress on the website diary including Donald Finlay, an Aucklander who came along to the show to meet with us. Quite a few people even told us that they had come along to the show because they had heard Tim talking about it on the radio interview he gave live on Pacific Radio with Alan Dick yesterday morning.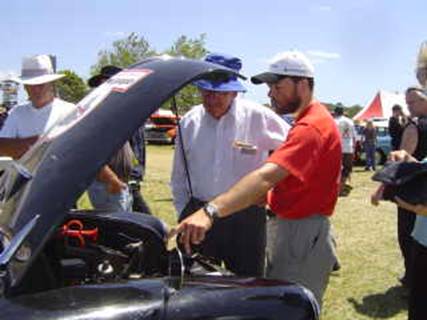 Peter Dilley

We were pleased to see Pat and Peter, and other members of the Vauxhall Owners Club, who have been a great help to us since they picked us up from the airport when we first arrived. We missed saying goodbye to them but look forward to seeing them again when we return to Auckland before we leave New Zealand for Sydney in April.

Various packages had been sent to us from home care/of Charles – it was good to receive photos of Joanne's nephew, a parcel from Alastair Fee at BBC South Today and some Christmas presents for Tim from his brother and sister. The small cushion (that is embroidered with the words "I smile because you're my brother, I laugh because there is nothing you can do about it") is perfect as Tim does not have a pillow but we're not sure of the reasoning behind the choice of book.

We chilled out (literally) in the pool at Charles and Karen's home in the suburb of Howick along with their children, Nicholas and Emily, and Dick and Linda's boys, Denis and Martin. We had promised to take Dick and Linda, Martin and Denis out in our car so driving them over to Howick this evening for a BBQ worked out well.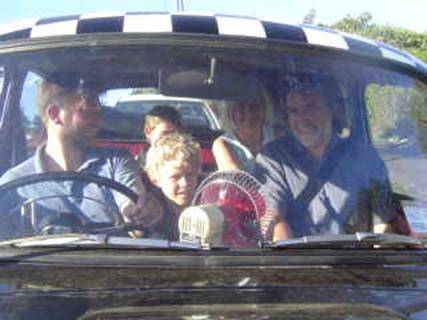 The parcel from Alastair at BBC South Today included a tape of the news updates broadcast about our journey, watching them with everyone this evening was very amusing.
Day 258 Monday 17th January 2005
New Zealand
Auckland – Tirau

After nine days in Auckland we finally set off for Tirau, stopping in at the Red Cross office in Hamilton to say hello and hand in the money that we collected yesterday. Unfortunately, we did not have time to meet with a Queen's college alumnus who has e-mailed us; we hope to arrange to meet with him on our return trip.

Cambridge and Tirau vie for the position of best tea and toilet stop on the road south from Auckland so, given this and the rivalry between Oxford and Cambridge in the UK, we popped into the Cambridge superloos (a large building on the village green) and stopped for tea at the All Saints Café on route for Tirau. Above the Cambridge Country Store in a renovated wooden church now painted pink, the cafe sells "anointed coffee and divine cuisine". We did not try the food but the Earl Grey tea was good!

One of the oldest buildings in Cambridge is the stunning white St Andrews Church. Built of heart of kauri wood, which is so hard that no nails could be used in its construction in 1873, the church was consecrated in 1881.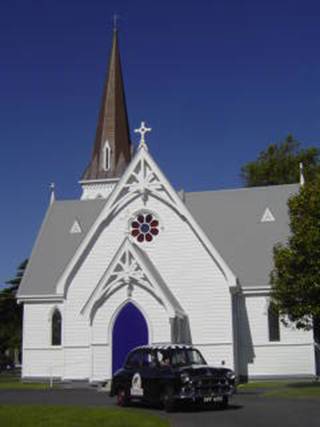 We were disappointed that the doors were locked but as we were about to drive away a casually dressed man called out hello: "I know who you are, we know all about you. Welcome to St Andrews!" said Geoff, otherwise known as the Archdeacon of Piako.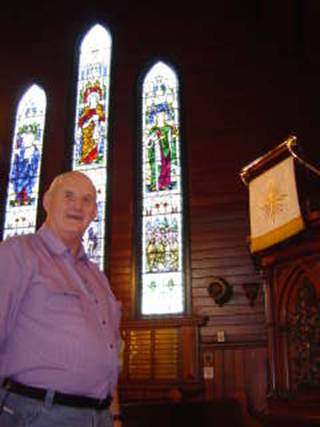 The Venerable Geoff Crawshaw

As he showed us into the beautiful wooden interior of the church he explained that it is one of only eight parish settler churches in New Zealand built with a spire and a bell tower. Many of the European settlers were not landed gentry so their priorities were building homes and developing the land before they had enough money to build a parish church. Many of the descendents of the original settler families in Cambridge are still parishioners.

Some of the stained glass windows depict Cambridge soldiers climbing up a ladder in the fight to free the walled French town of Le Quesnoy during the First World War. Many Cambridge parishioners were lost during both world wars but the link with Le Quesnoy in particular is still strong.




The bronze horse statues in the town centre represent the importance of Cambridge as the equestrian centre of New Zealand.

Thirty minutes drive through green sharply undulating countryside took us to Tirau. The small township (population today only 600) was originally called Oxford when first founded in 1885 on the coach road between Cambridge and Rotorua (completed by the Armed Constabulary in 1885). A four-horse carriage used to make the run to the then new thermal resort at Rotorua three times a week with an overnight stop at the newly opened Oxford Hotel. The railway reached Oxford in 1886.

Despite the name of the township changing to Tirau at the end of the 1800's many references to Oxford still remain, the most historical being The Oxford Royal Hotel where we stayed overnight. The hotel has changed little since the 1970's and, despite several extensions many of the original buildings are still evident. The proprietors, Jo and Mike Dillon, were really friendly and introduced us to the locals in the bar who admired the car and beat Tim resoundingly at pool. The large portions of NZ lamb shanks and steak were very good.

Oxford Royal Hotel is on Statehighway 1, Tirau. Telephone Mike or Jo Dillon on 07 883 1858 or e-mail dillso@xtra.co.nz
Day 258 Tuesday 18th January 2005
New Zealand
Tirau-Rotorua

We were woken at 7am by a fire alarm – the other guests at the hotel are members of a girls rowing team and some of them had burnt their toast. Considering the hotel is on the main north/south road the traffic was very light, until the trucks hit the road at night when the vibrations shook the building.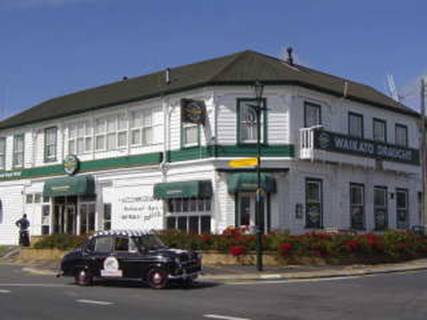 Over breakfast in the bar Jo and Mike showed us historical pictures and records of Tirau and told us about the ghosts that haunt the hotel.

Before leaving we spent a short time exploring the town. A marketing initiative by a shop owner in the 1980's has made Tirau once again a popular stopping off point on the main road south from Auckland.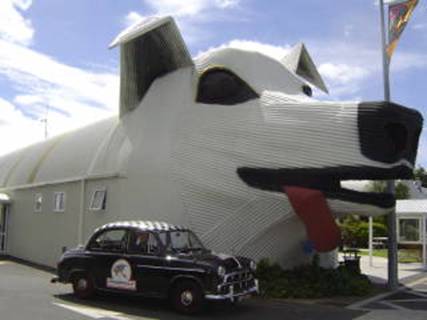 He opened an antique shop and his son built a huge sheep and dog in corrugated iron housing good toilet facilities and an information centre.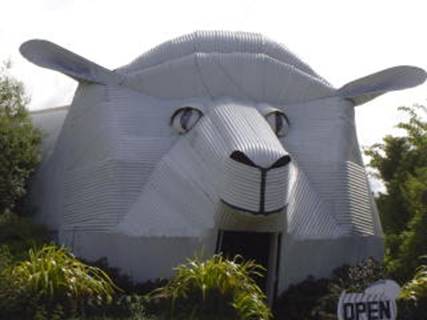 The main street is now lined with cafes, antique and gift shops most fronted with wacky corrugated iron creations.

Many are called Oxford...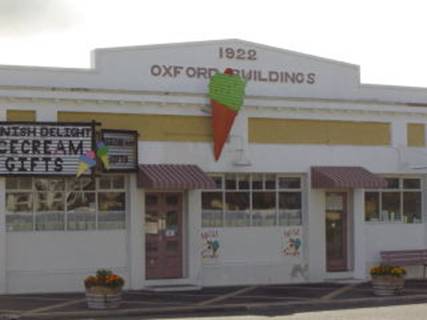 Oxford Buildings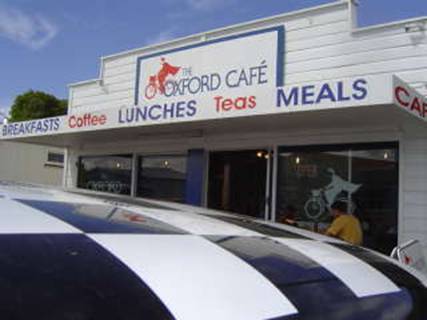 Oxford Cafe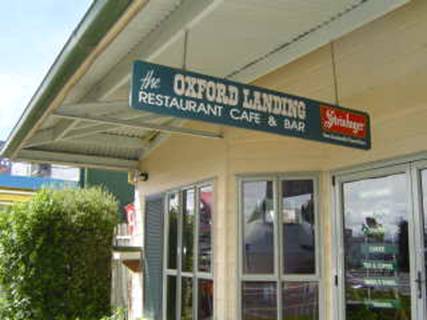 Oxford Landing Bar (not to be confused with Oxford Landing wine)

On arrival in the thermal town of Rotorua we met the local Red Cross co-ordinator who escorted us to the city centre where we met with reporters from local radio and newspapers and collected money in support of the NZ Red Cross.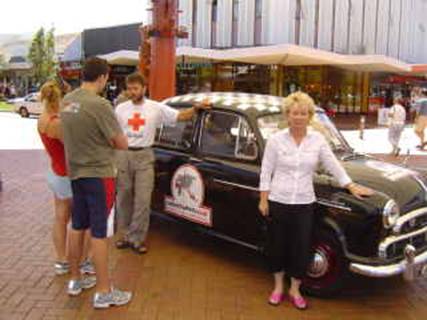 City Focus fundraising with Red Cross Co-ordinator Karen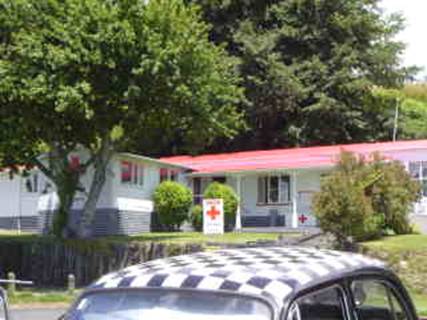 An afternoon of admin at the Red Cross office, housed in a pretty wooden building looking over the lake, then we drove to the home of Des and Angela Brunton who invited us to Rotorua several weeks ago.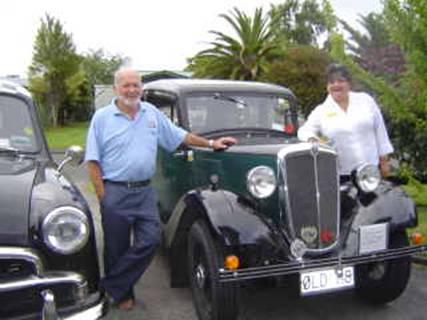 Des and Angela own a Morris 8 and belong to the NZ Vintage Car Club to who we will be speaking tomorrow evening.

Angela had kindly arranged for us to spend this evening at the Tamaki Tours Maori Village.
www.maoriculture.co.nz

We were driven out to a reconstructed Maori village in the forest on board a bus, hence forth referred to as a "waka", meaning canoe or means of transport. Our driver/guide, Merv, was fantastic and on the journey there he explained a little about historic Maori culture and had the whole coach "paddling" our "waka number 94" (to make sure we remembered which bus we were on) and shouting out Maori expressions. We also appointed a "chief" of our "tribe". He had to be a man who is good looking and intelligent: clearly Tim was an obvious choice...and the only volunteer.

Tim lined up with chiefs from the other four coaches to represent our tribe at the welcome ceremony to the Maori village.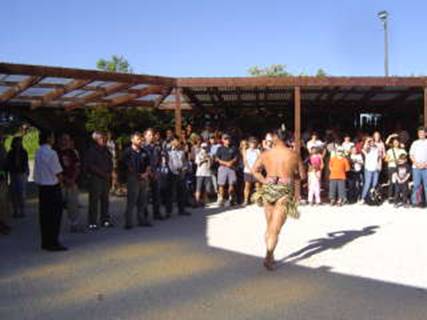 To warlike calls and hoots from inside the gate a warrior danced out and placed a peace offering in front of the chief that he thought to be taking his role the most seriously, traditionally the strongest and most influential. Tim walked forward and bent down to accept the offer of peace (by picking up the stick) then backed back into line while maintaining eye contact with the warrior. As he followed the warrior into the village leading the rest of us there were proud comments from members of "waka 94" – people were getting into the spirit of the evening already.




A short wander around the demonstration village was followed by an informative and entertaining performance of traditional song and dance with explanations and demonstrations of weapons and tools used historically by the Maoris. On next to the dining hall where we ate a buffet style meal based on food cooked in a traditional hangi. The food is placed with hot rocks in a hole in the ground and covered for several hours.

As we were driven back to town our 'waka' driver, Merv, encouraged passengers from each country to sing a song. Our chief led with 'Show me the way to go home' but the most popular song was led by the Canadians: we all sang 'The wheels on the bus' to accompanying actions by Merv. The trip was 'rounded off' by driving around and around and around a roundabout before Tim led a 'Pake!Pake!' round of applause for our driver.


"Ki mai koe ki a au, he aha te mea nui tenei ao: He tangata, he tangata, he tangata."

"If you should ask me what is the greatest thing in the world, the answer would be: it is people, it is people, it is people"

How true.
Day 259 Wednesday 19th January 2005
New Zealand
Rotorua

Spent the morning at the Red Cross office writing e-mails, naming photos, updating the website etc. then dashed to Hellsgate WaiOra thermal spa for a quick bite to eat before sampling the thermals.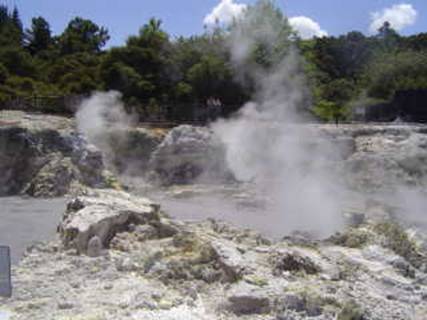 A walkway took us around one of the most active thermal areas in New Zealand: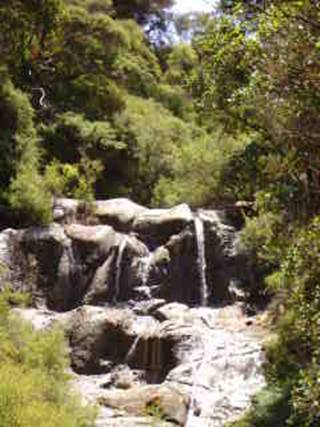 past the largest hot waterfall in the southern hemisphere (40 degrees C), bubbling mud cauldrons, a sulphur lake, steaming gurgling pools and rocks hissing stinking sulphurous steam with temperatures over 122 degrees C.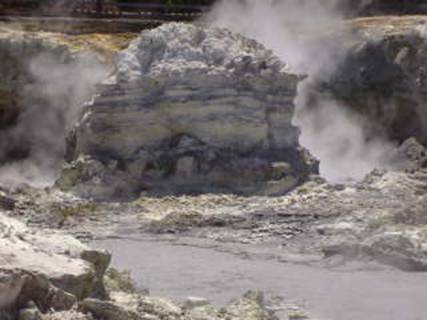 The thermal reserve is named Hellsgate after George Bernard Shaw described the landscape as "hell like".

Sitting in a small outdoor pool of hot water filled with smooth thick grey geothermal therapeutic mud felt odd but smearing it over our faces and squidging it through toes was fun.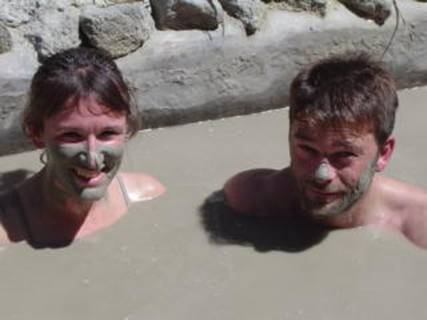 It was reminiscent of playing mud pies as children but this mud is apparently good for our health. Its healing qualities have been used by generations of Maoris and it is now the base for mud products.

After a fifteen minute live interview with Wayne Mowat on national radio New Zealand (conducted while Tim sat in the office and Joanne spoke on the other phone at reception, both dressed in dressing gowns!) we finished our WiaOra treatments with massages using a technique that combines traditional Maori methods with osteopathy.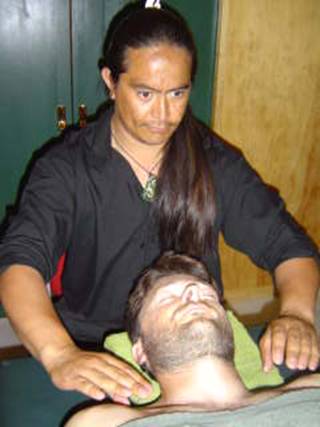 www.hellsgate.co.nz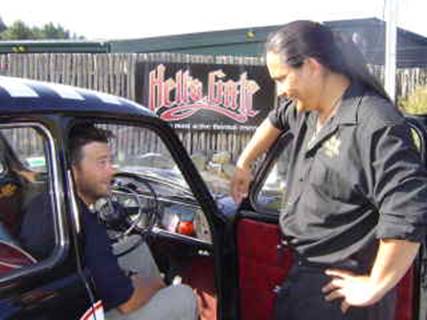 Tao at Hellsgate Waiora Spa

Peter and Angela, our hosts, had arranged for the Rotorua Vintage and Veteran Car Club to host a presentation this evening but were concerned that, given the short notice and the fact that it is still holiday season here, only a few people would attend. We were, therefore, all pleasantly surprised when about sixty people arrived, including members of the Club, Red Cross members, locals and even visitors to Rotorua who had seen us in the local paper or heard us on local radio. We gave a 45 minute presentation using powerpoint pictures and video then talked to individuals over a cup of tea in the club rooms.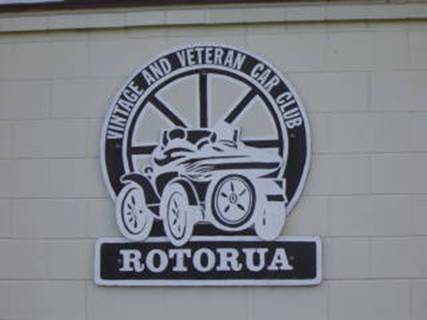 The Club Chairman, Cliff, (who is also a member of Jim Bean Bottle Collecting Club) encouraged all to put money in our Red Cross collection box. It was a very successful evening and we are grateful to Angela and Peter for having arranged it and to the Club for hosting us.
Day 260 Thursday 20th January 2005
New Zealand
Rotorua-Anaura Bay

Six classic cars from the Rotorua Vintage and Veteran Car Club escorted us out of town to a picnic spot on the side of a lake where we had a cup of coffee then waved bye and continued on our way to the East Cape.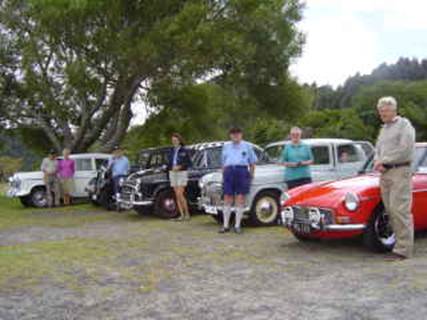 As we drove past road works one of the men directing the traffic waved money at us to stuff into our Red Cross collection box – not so good for traffic control but it helps our fundraising efforts!

The road around the East Cape winds around a stunning coastline of wide sweeping bays backed with dramatic volcanic mountains and lush green valleys.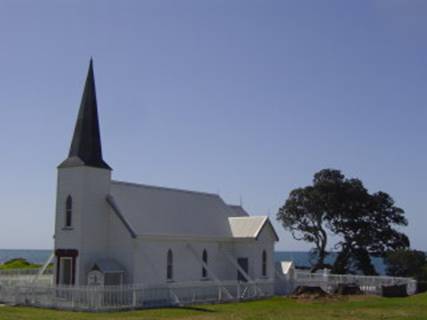 Raukokore Anglican Church on a promontory on the East Cape

It is an area where Maori culture is still strong and the road passes many red roofed and well maintained Maraes (Maori family meeting houses) as well as some beautiful white Maori churches dating from the late 1800's.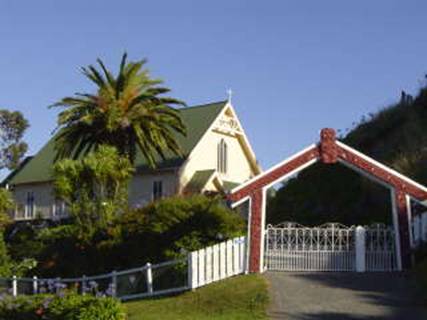 Tikitiki Anglican Church

Various versions of Christianity have been adopted by Maoris - in one small Maori town there was a Church of the Latter Day Saints, Kingdom Hall of Jehovah's Witnesses, and a Gospel Church.

As we followed the road around the most easterly point of New Zealand the mountains turned to sandstone but were no less dramatic.

We stopped for dinner as the sun set over Tokomaru Bay at the Te Puka Tavern, apparently, the "First Tavern to see the Sun"!

We were tired and hungry when we arrived so ordered food and drinks as quickly as we could and were surprised at how quickly Florence was recognised. Within minutes of our arrival we were asked to move her to pride of place at the front steps of the Tavern; customers took it in turns to pose for photos with Florence and talk to us about our trip and everyone put money into our NZ Red Cross collection pot. It was a great welcome. Kia Ora!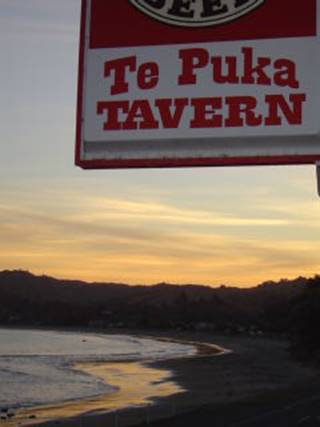 Te Puka Tavern, Beach Road, Tokomaru Bay, East Coast phone/fax: 06 864 5466

After a very good meal of Rock Cod in batter with chips and salad (on the house) we continued on around the coast to a tiny bay with only a few houses, a Marae and a former school that is now used as the kitchen and shared areas of a beach side campsite. We had been invited here by David Quinn and his wife, Anne, who e-mailed us months ago inviting us to visit Gisborne. As they are not returning to their home in Gisborne until Saturday they suggested we camp with them and their family and friends at Anaura Bay.

The drive around the East Cape was long and hot and Joanne was tired and not feeling good but was pleased that Tim had been so determined to push on to the campsite. We were very well received by the Quinn posse and now have two nights and one full day in the same place – getting here was worth the effort.
Day 261 Friday 21st January 2005
New Zealand
Anaura Bay

Woke at 6.30am to the sound of the sea and David asking if we would like to go out fishing in the boat. Joanne had still not recovered from a headache yesterday so slept for another
hour while Tim went out fishing with Denis, Dave and Darcy.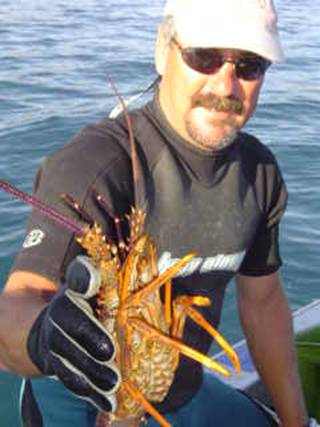 Crayfish are very popular around this coast but today was a light day and they only caught one big enough to keep plus a few other fish.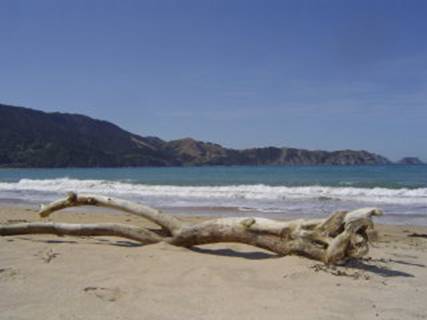 The wide sandy bay shelves gently into the sea, ideal for swimming, if a bit chilly at first. The bay is backed by steeply sloping mountains and a rugged island sits just off shore. It is a very relaxed place with people wandering about barefoot, fishing or playing on the virtually deserted beach or cooking up freshly caught crayfish.

After a swim and cooked breakfast we, reluctantly, spent the rest of the morning in the telephone booth checking and responding to e-mails and being interviewed by the Gisborne Herald and the Capital Times from Wellington. We will send them photos tomorrow. Local calls from here are free but it is not possible to telephone outside of the area and there is no mobile phone coverage so we could only e-mail and ask the Wellington journalist to call us back.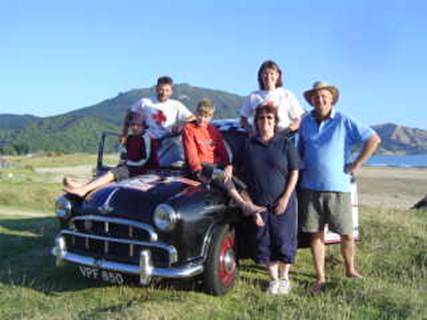 Us with David, Anne, Kell and Grady Quinn

Drop scones and cheese on toast for lunch then we and David walked along the beach to meet Mihi who had offered to show us around the Hinetamatea Marae. Mihi is of Maori descent and lives with her 'Pakeha' (European) husband and two sons, Kyle Bali Hannah and Ethan John, in Auckland but her family are descendents of the woman who established the Marae at Anaura Bay.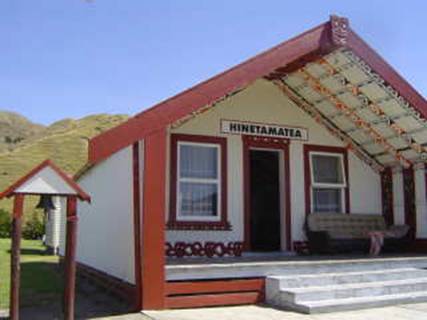 The Marae is a meeting house for members of an extended family to meet for a variety of occasions including funerals and marriages. If the elders had been present and we had been members of a bigger group paying a formal visit we would have been met at the entrance to the 'pa' (the 'fort' area including the Marae building) ceremonially, in the case of this family by the female elders. Having been welcomed onto the sacred ground in front of the marae we would have remained sacred until we had eaten a feast with the family in the eating house. This, though, was not one of those occasions so we entered the area by the small gate and Mihi explained a little about Maori culture and traditions as she showed us into the marae. Photos of ancestors were displayed on the end wall of the carved and painted interior and Mihi explained that the woman who founded this marae was one of the few women who had owned land. Women were not usually allowed to inherit land because if they married European men the land would be lost to Maoris.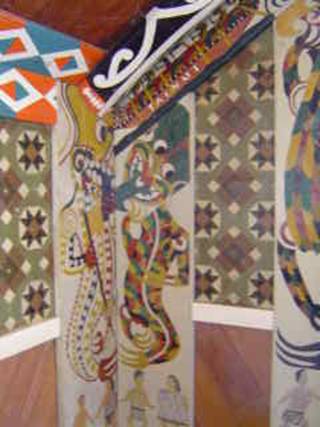 The painted walls depict the canoes that brought the first settlers to this area of New Zealand from the Polynesian islands and the canoe that went back to tell others the route. They were apparently great navigators.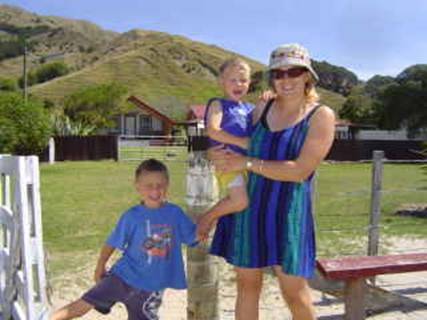 It was a very hot afternoon so sitting under the shade of a tree, drinking tea and talking with Mihi and David while Tim entertained Mihis sons was a great way to relax for a while.

PandO Nedlloyd is the first sponsor to have asked to put their logos on our car. As they have now shipped Florence free of freight from Singapore to Fremantle and Sydney to Auckland, have agreed to ship her back from Auckland to Sydney and are considering shipping Florence and us back from Adelaide to Italy on the return leg of our journey PandO Nedlloyd are now one of Oxford2Oxfords most significant sponsors. In a pre-emptive move suggested by Andrew Taylor, Marketing Services Manager of PandO Nedlloyd NZ, this afternoon we stuck
PandO Nedlloyd decals (stickers) on the car.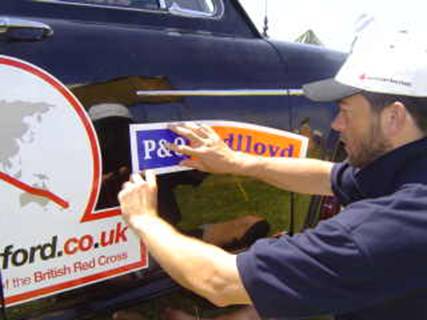 We are working hard to gain maximum coverage for them in the hope that they will assist us with the final shipping leg of our extraordinary adventure.

This evening, after a walk along the beach, another swim in the sea and a huge meal (beginning with freshly caught fish cooked in batter and Dover Sole and continuing with a mix of everything that needed to be eaten up before the group with who we are staying go home tomorrow morning), we gave a PowerPoint presentation in an open tent by the sea. A very relaxed and informal presentation, it seemed to go down well, judging by the number of people who gathered around our two laptop computers including several children who were not actually part of the Quinn posse of family and friends but were intrigued by the car and the pictures. They may well have been some of the people who we had found peering by torchlight into the car shortly after we arrived last night: "It's Oxford2Oxford!" we had heard one of the children say when they spotted Florence.
Day 262 Saturday 22nd January
New Zealand
Anaura Bay-Napier

Up at 6.30 for a quick breakfast before our hosts and their gathering of family and friends began the big pack up after ten days of well-equipped camping.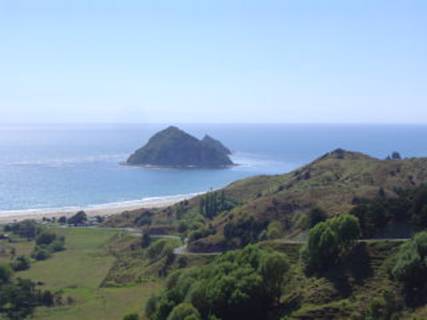 We packed up our tent and reorganised the car but could not resist a last dip in the sea before we left this beautiful spot and wound up the steep hill away from the bay and onto the coast road south to Gisborne.

As we ate lunch in Gisborne we marvelled at the scientific expeditions of Captain James Cook commemorated by a statue of him near the statue to "Young Nick" the thirteen year old ships mate on 'The Endeavour' who first sighted land here in 1796.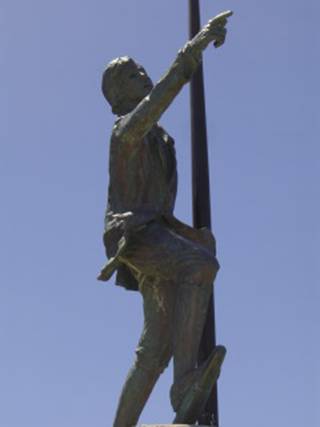 It is said that misunderstood greetings on both sides lead to Captain Cook shooting two Maoris and leaving without having stocked up on water and supplies. Stopping a little further north at Anaura Bay he was welcomed and given water, as the residents proudly state on a plaque on the beach.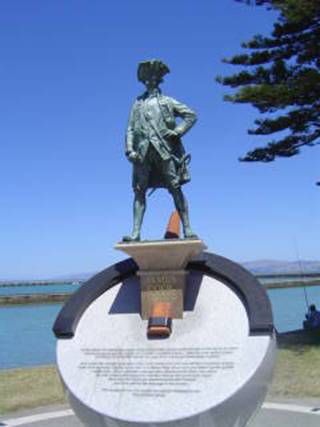 It was hot and sunny as we followed the winding road along the coast, past Pohutakawa trees and agapanthus flowers still in bloom, up and down over sharply undulating hills and through steep gorges.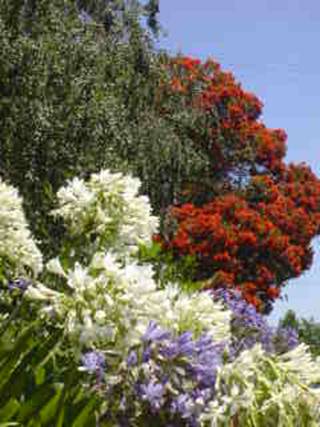 We were flagged down about half an hour from Napier by the drivers of three superb pre-1956 MGs who had put their cars onto a train from Christchurch to Auckland and from there driven around the East Cape heading for an MG rally in Napier tomorrow. They had a problem with the wheels on two of the cars and had hoped that we might be able to help but, unfortunately, as we have four studs on our wheels and the cars in question have five we were unable to lend them our spare. They invited us to join them at the rally and Tim called the organiser on our arrival to get the details.

Joanne's headache was not improved by trying to work on the laptop while Tim drive the car up and down around the winding bends but after a couple of tablets, a cup of tea, a lie down and a spa bath (what a treat!) at the hotel that Debbie Cullen, Programmes Manager of the local Red Cross and our host in Napier, had kindly booked us into she had recovered in time to go out for the evening.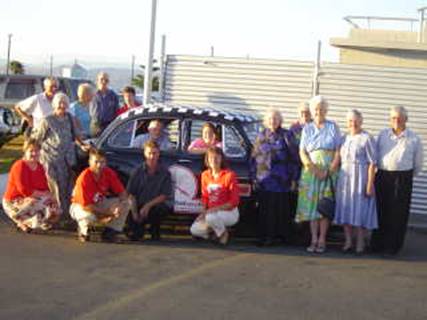 At short notice Debbie had gathered fourteen members of the Napier and Kaiwaka branches of the Red Cross (Joan Cockburn, Primrose and Brian Turnbull, Gwyneth Carswell, Percy Jessop, Constance Jessop, Hamish and Patricia Fraser) and volunteers with the Emergency Response Unit (ERU Hawkes Bay – Kim Hagen, Kim Hall, Ashley and Margaret Wardle, Margaret Farvim) to join us for dinner at the East Pier restaurant.

The ERU provide first aid support to events as well as providing support including food and drink to police, fire and ambulance crews in emergencies. This raises funds for the Red Cross, provides a trained and capable team of volunteers to assist in disaster relief efforts (some of them were called in to help at Red Cross headquarters during the first few days after the tsunami disaster) and builds good working relationships between the services and the Red Cross making disaster relief efforts more efficient.
Day 263 Sunday 23rd January
New Zealand
Napier

GRRRRR! This evening, while following a collection of pre-1956 MG cars around a notably uninteresting route through housing estates and industrial areas of what is otherwise an architecturally fascinating city (the highlights of which can be admired by following the 'scenic drive' signs) a telephone call surprised an already exasperated Joanne.

It should perhaps be noted that we had been invited by some of the members of the MG club to join them at a rally today in Napier, in fact we were chased and flagged down by a another club member this morning to persuade us to go along. On arrival, the organisers told us in a rather disinterested way to park with other guests and random cars, not with the 1952 Morris Minor parked near the MGs as we would have expected.

We were recognised by many visitors to the event and collected a few dollars for the NZ Red Cross before we walked into town.

Napier was devastated by an earthquake in 1931 that measured 7.9 on the Richter scale. 258 people died and much of the town was flattened. The city centre buildings not flattened by the quake were destroyed by the ensuing fire that raged through the town. Some of the Edwardian buildings on the high ground survived but the city centre was rebuilt in the style fashionable at the time. Napier is now famous for its Art Deco architecture, notably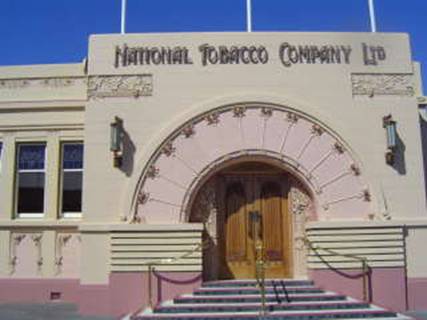 the British American Tobacco building,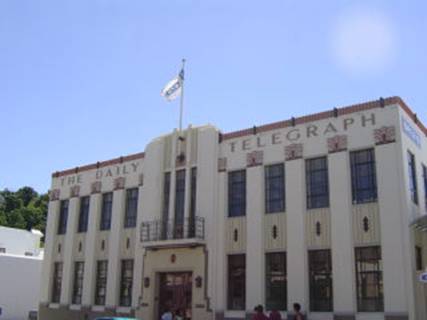 the Daily Telegraph building,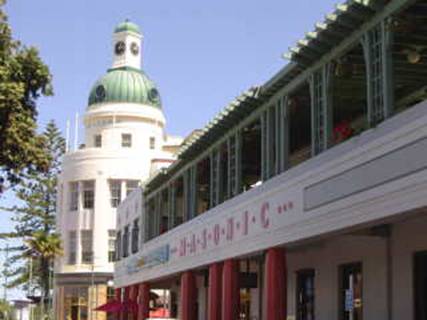 the Masonic complex and the AandB building, though most of the modern shops and offices have Art Deco facades above the canopies.

We particularly liked the public loo with the waiting room painted as if still in its original use as a tram stop.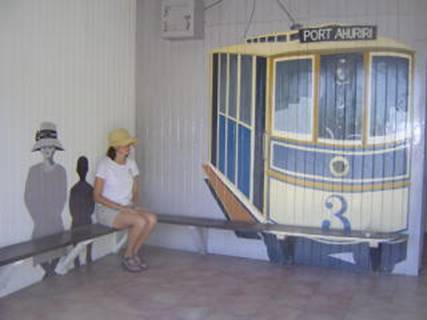 New Zealand lies on a fault line between two tectonic plates and some areas are rocked by 100-200 earthquakes a year. The East Coast is part of the Pacific Rim tsunami warning system but for earthquakes like that in 1931 there might be no warning. According to one survivor, recorded on film at the excellent museum in town www.hawkesbaymuseum.co.nz, animals can sense an impending earthquake: cows he was herding two days before the earthquake refused to go inside a barn but the people of the town had no idea of what was about to hit them.

The warning signs on the beach state that people must move away from the beach if there are large waves.

The museum accepts donations for the Red Cross Tsunami appeal.

We were told that the drive this afternoon would begin at four, no, five, no four pm…ish . Well no-one really seemed to know exactly what time but they did know that it was from a different venue to the one where everyone had been parked for the day.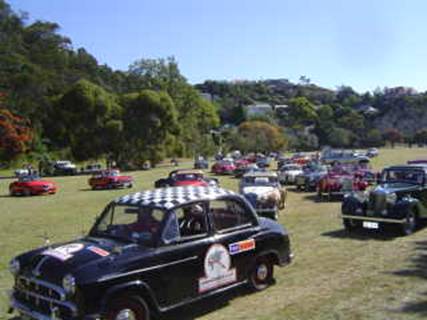 The cars eventually set off in a random manner with a flagged MG at the front and one at the back of the forty or so long convoy of cars.

At any moment we thought we would start the drive along the scenic Marine Parade or through town. No. The only sight of interest was the Mission vineyard (established in 1851 it is the oldest in New Zealand) and the only Art Deco building we passed was the new McDonalds! What a waste of almost two hours! The sight of a convoy of pre-1956 MGs and a few oddities like us driving through the Art Deco city would have been a great end to a Sunday trip to Napier. Instead it was a wasted opportunity to show off their lovely cars.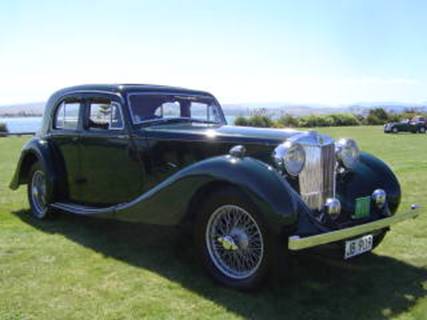 The winner of the concours

Back to the telephone call…while trundling through yet another housing estate Joanne took a call on the mobile from a man who lives near Rangiora, not far from Oxford in the South Island. He has been following our progress on the website and after a while got to the point about which he was phoning. While we appreciate suggestions of interesting ways that we might raise funds for the Red Cross it might be pertinent now for us to make it clear to anyone else who has ideas about us selling Florence, auctioning her off or donating her to a museum in New Zealand, even if it is in exchange for another Morris Oxford, that she is going back to Oxford, England, with us!

Day 264 Monday 24th January New Zealand
Taupo

Sandy and Roger, our hosts in Acacia Bay, near Taupo, mentioned last night that we might like to skydive or do a bungy jump but we did not take them seriously...until this morning. Within minutes of Sandy telling us that Taupo is the largest tandem skydive drop zone in the world (more people do tandem skydives here than anywhere else) she called friends at Taupo Tandem Skydiving and we were on the road to the airport!

It was probably best not to have too much time to think about the logic of being strapped onto the front of a man one has only just met in order to wilfully drop together out of a
perfectly serviceable airplane flying at 12,000 feet.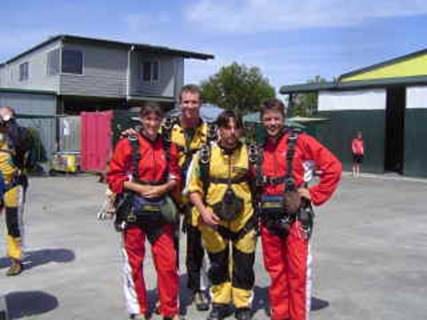 The skydive masters to who we were strapped, Brad and Hamish, were very entertaining, joking about how Hamish had dropped someone a couple of weeks ago so he was due another drop fairly soon, but were clearly enjoying themselves and despite the jokes their professionalism was reassuring.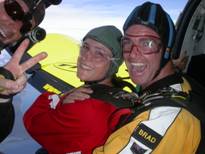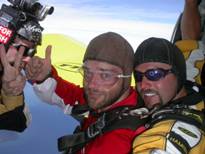 'Disengaging brain' seemed the best way of coping with the no-going back experience of dropping out of the door of the plane. Hurtling towards the ground at an incomprehensible speed, the rushing air pulls ones face taught and, if ones mouth is open (screaming achieved this) pushes out the cheeks – great if one has wrinkles. Only by watching the cameraman drop could Joanne comprehend how fast gravity was pulling us to the ground.

Tim enjoyed the rush of freefalling more than Joanne who thoroughly enjoyed the chance to view the stunning scenery as she drifted over Lake Taupo, safely secured to an open parachute. Lake Taupo is the largest lake in New Zealand with the same circumference as Singapore. It is surrounded by mountains shaped continuously by volcanic activity and we could clearly see the whole lake in its dramatic landscape on our way down to the drop zone.

Wow!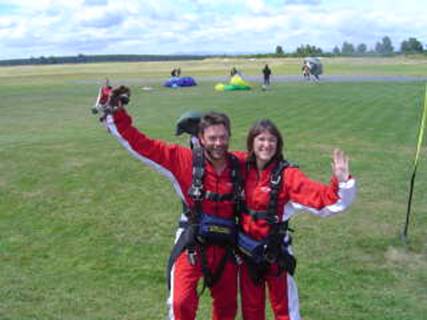 www.tts.net.nz

As well as knowing most people in Taupo, Sandy and Roger jointly own one of the oldest and most popular pubs in Taupo, Finn Maccuuhals, where we had lunch and met Maureen, the manager, and a photographer and journalist from the Taupo Times.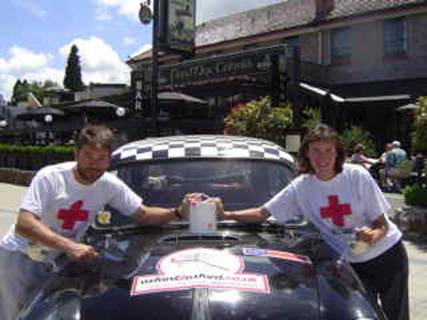 www.Finn Maccuhals.co.nz

The rest of the afternoon vanished in a hotch potch of activities: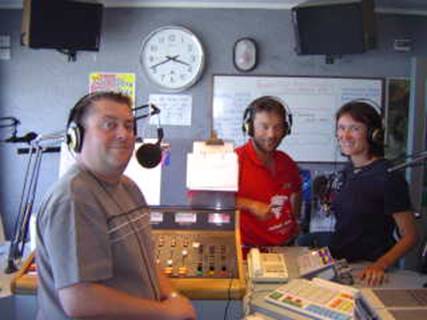 did a local radio interview on More FM; arranged transport for the Tongariro crossing tomorrow;




wowed at the Huka falls (ice-turquoise water terrifyingly churning through a narrow channel in the rock); sent a few e-mails and wrote some diary;...and bought a watch for Joanne. She dropped her trusty watch in India, had it fixed and it stopped again, had it checked in Singapore and was told that it needed new workings so she admitted defeat but has taken a few months to find the time to buy a replacement. The habit of looking at wall clocks and other peoples wrists may take a while to snap out of but Tim is pleased that she no longer has an excuse for being late.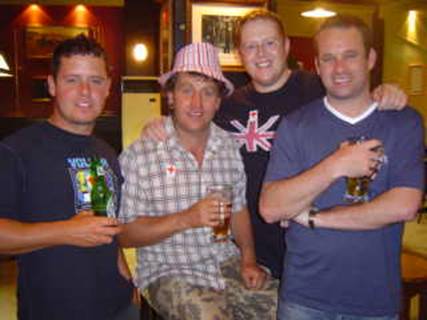 We spent the evening at the Finn Maccuhals pub, too, where we gave a very informal video presentation over a beer or two to Peta and Des from Taupo Tandem Skydiving, Roger, Paddy (a great character from Hook Norton in England who is responsible for us visiting Taupo) and friends, Tim, Daniel and Mark.
Day 265 Tuesday 25th January
New Zealand
Taupo

Neither of us slept well last night; it was warm and we were probably subconsciously concerned that the alarm might not go off in time to catch the bus to the national park. The alarm did go off, at 5.10am, in time for us to drive into town, park at the back of Finn Maccuhals pub and board the bus for an hour and a half drive to the start of the Tongariro Crossing.

The national park is on our route to Whanganui tomorrow but we had been advised not to leave the car anywhere other than outside a police station or somewhere equally safe. Rather than finding somewhere new to stay when Sandy and Roger had said we could stay at theirs, and given the security concerns it would be best to return to Taupo tonight.

Several companies run coaches to the national park to deposit walkers at the start of the crossing and to pick them up at the other side then take them back to their accommodation in Taupo or Turangi. One of the most popular day treks in New Zealand, for good reason, it takes 7-8 hours to walk one way so taking an organised bus may not be cheap but appears to be the best option.

www.tongariroexpeditions.com

We travelled there and back with Tongariro Expeditions. They have boots and other equipment on board that can be borrowed if necessary but we found our own shoes and clothing adequate. Joanne's Teva walking sandals caused some amusement amongst other walkers (along the lines of 'there's the girl with the sandals and sunhat!') but she was perfectly comfortable and, though they did not afford the ankle protection that firm boots would have done, they had at least as much if not more grip and stability than the running shoes that many people wore. Tim's Teva sandals have split and he will not be able to get a replacement pair from the company until we reach Palmerston North the day after tomorrow. We carried plenty of water (hot and cold) and food, warm and waterproof clothing, first aid kit, sunscreen and hats.

We felt that we were not suitably equipped, though, nor did we have the time, to attempt the scramble up and scree run down the imposing Mount Ngauruhoe. At 2287m it is 2500 years old and one of New Zealand's most active volcanoes. The near perfect, dark cone, hidden intermittently by cloud, was filmed as 'Mount Doom' in the 'Lord of the Rings' films and it is easy to see why.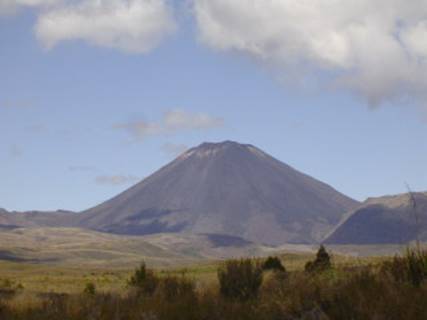 Instead we joined the cavalcade of people walking the 17km route across the mountainous volcanic area of national park. Along a track then a rock scramble up the Mangatepopo Valley with a hot coffee chocolate from the thermos flask and biscuit at the top to warm us up and give us some energy for the rest of the trek;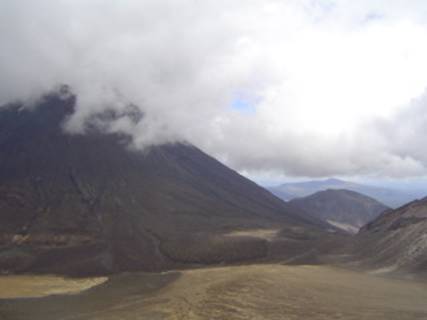 across the wide flat crater between Mount Ngauruhoe and Mount Tongariro;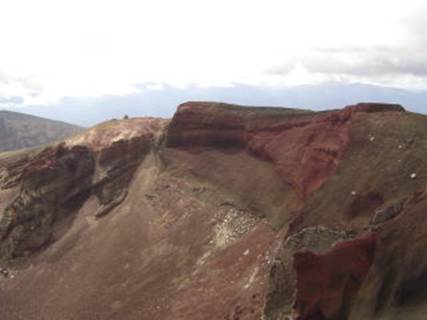 up to the steaming hot rim of the scarred Red Crater; then down a steep scree skid on a ridge past sulphur steaming rocks.

Past the emerald lakes glimmering in what were once craters, high up with the land dropping steeply away beyond, we stopped just off the beaten track at the edge of Blue Lake, the largest of the lakes, to eat our sandwiches.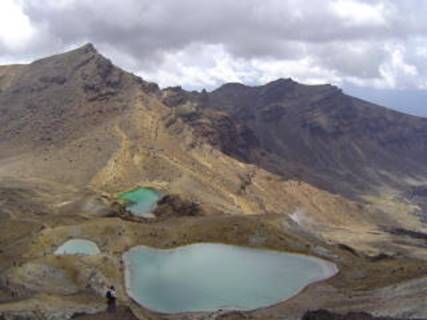 From here the track descended steadily around the northern slope of Mount Tongariro then zig-zagged down through rough grassy areas with awesome views over Lake Taupo and the surrounding mountains and plains dotted with small volcanic cones.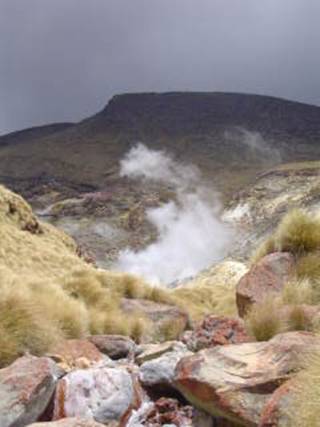 Past a hut offering basic accommodation for hikers the track passes over a warm sulphurous stream fed from a steaming gap further up the mountain then down and down through deep grass then forest to the pick up point.

Of the two Tongariro Expedition buses returning this afternoon we made it in time to get the first at 3.30pm so we had time to relax for a few minutes in the hot stream at the point where it runs into the cold river in Taupo's Thermal Park.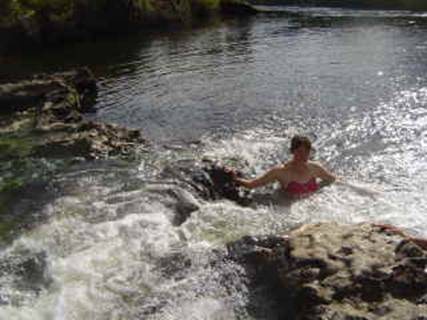 Where the hot water stream swirls into the cold river

We were pretty exhausted this evening so appreciated being able to return to Sandy and Rogers house, even though they were not there, for a shower, food, a little work and then bed.
Day 266 Wednesday 26th January
New Zealand
Taupo-Fordell (near Whanganui)

As expected we are both suffering from stiff legs and shoulders this morning after our trek yesterday; spending much of our time in the car means that we are not as fit as we are used to being!

The weather was still hot and sunny but, being relatively high above sea level, the air was pleasantly fresh as we drove south along the east side of Lake Taupo towards Whanganui. Annoyingly, we both forgot Paddy's suggestion that we stop for lunch at The Bakehouse for 'the best chicken and cheese pies in New Zealand' until were well beyond Turangi – our tuna sandwiches were good but not as interesting as a pie would have been. Perhaps Paddy will send us one before he leaves New Zealand shortly for six months in India! Failing that we may pass this way on our return journey – we are assured that the pies are worth making a detour for.

Horopito Motors and Car Museum seems to be widely known in New Zealand as the place to go for old car parts.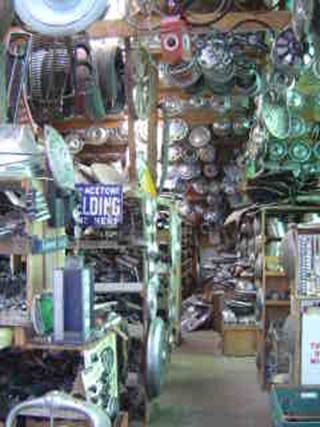 The loft is stuffed full of bits of cars of all types and ages: spark plugs in boxes; hubcaps lined up in random rows; windscreen wipers bristling in batches on the floor; lubrication charts, diagrams of Austin chassis designs and number plates suspended from the ceiling and stacked against the high windows; clutch plates, brake shoes, distributor caps, bearings and lights on shelf after wooden shelf, some labelled and some not.

If the desired part is not there a fossick through the acres of cars 'in their natural state', as described on the museum sign, is likely to result in some success, though parts may have rusted beyond recognition and engines may have been replaced with foxgloves.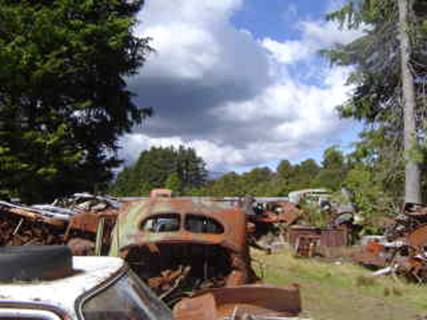 A New Zealander who now lives in London and owns several classic cars calls in to Horopito Motors whenever he returns to New Zealand. We met him as he was leaving with a selection of bits under his arm. He was enthusiastic about the fact that so many cars end up here rather than being crushed thereby providing a supply of parts – many years ago he removed a part he needed and left three bolts sitting on the car, on returning twenty years later he found that the bolts were a bit rustier but still in the same place!

There were plenty of Morris Minors and 1000's, some piled on top of or squashed underneath, other cars, but we only found one Morris Oxford.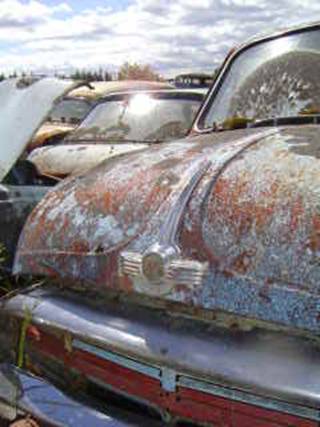 In a rather sorry state with black and white fancy wallpaper peeling off the inside of the doors, a rusting engine and a hole where the floor of the boot should be. The windscreen might be of some use, though, if we ever need one.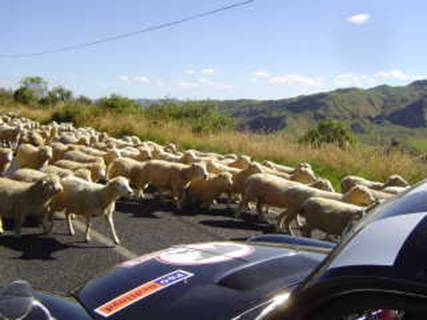 This is something we expect to come across a few more time on our journey around New Zealand

We hope to visit Whanganui on the return trip back to Auckland as this afternoon we drove straight on to a house on the outskirts of the village of Fordell that is home to Philip and Gillian Avery. Philip and Gillian e-mailed us several months ago to invite us to stay
and to tell us about their journey around the world in 1998 in a 1948 Land Rover.




Celebrating the fiftieth anniversary of Land Rover they were part of the four person Lucas Trans Global Expedition.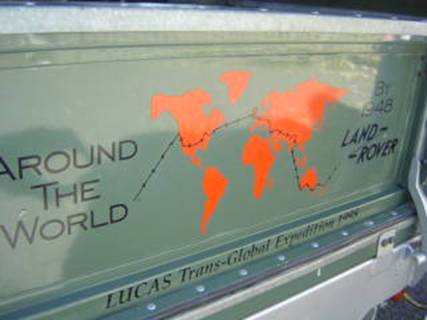 We met Jocelyn and Ken Watkin, the other two members of the team, and saw their Land Rover, when we were in Auckland.
Day 267 Thursday 27th January
New Zealand
Fordell-Palmerston North-Levine-Waikanae

The headquarters of the East West Central Region of the NZ Red Cross is in Palmerston North and we had been invited to call in to meet some of the staff and volunteers and join them for lunch. Volunteers were busy sorting a warehouse full of items donated for a big sale next week.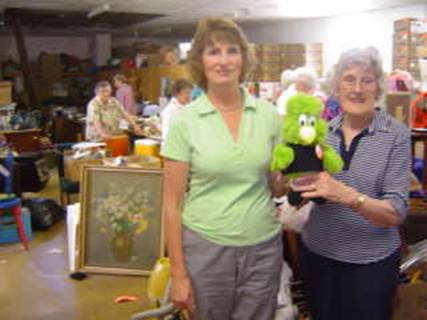 Volunteers, Ellen and Jenny, first gave us a toy Kea then swapped it for a Kiwi bird to sit on the back seat of the car.

We stopped briefly on our way from Palmerston North to Waikanae at the small town of Levine where we met Mousa, a journalist from the Levine Chronicle, who interviewed us and took our picture in front of the Red Cross hall.

Tim's mothers cousin, Jennifer, and her husband Brian have been following our progress since we left Oxford, England, and had invited us to stay on our way south. We relaxed as soon as we arrived and are pleased to be staying for three nights.
Day 268 Friday 28th January
New Zealand
Waikanae

Red Cross volunteers deliver meals on wheels in communities across New Zealand.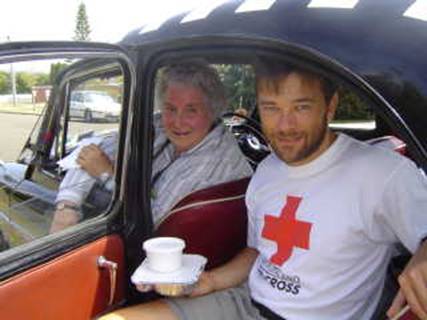 Today Georgina directed us as we delivered her usual round of meals using Florence as our wheels.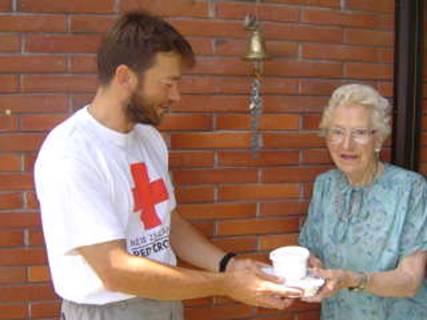 Mrs Perry was pleasantly surprised to see a fifty year old Morris Oxford parked in front of her house as Tim delivered her lunch.

After we had eaten lunch Jennifer took us to the Nga Manu Nature Reserve on the edge of Waikanae where a volunteer guide called Pat taught us much about a wide variety of plants native to New Zealand.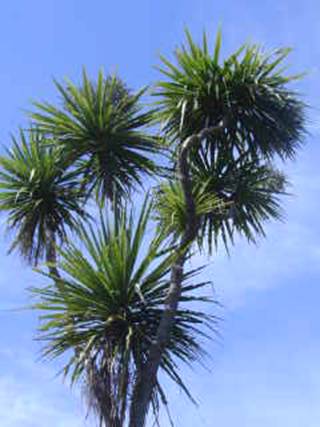 These included the Cabbage Tree that has spikes sprouting off the top of its trunks; the Pukatea and Swamp Maire with huge air breathing roots spreading out above and below ground like a mass of buttresses; and lancewood trees. Lancewood trees are unusual in that the seedlings and juvenile plants are markedly different in appearance: the young plants have a single stem with a few straight, firm serrated-sword like long brown leaves pointing down to the ground whereas the adult trees are tall with branches at the top of the trunk with small green leaves, the only obvious similarity to the young plant being the slightly serrated edge to the leaves.

We also saw close up a variety of native animals including a small creature that lives in burrows called a tuatura;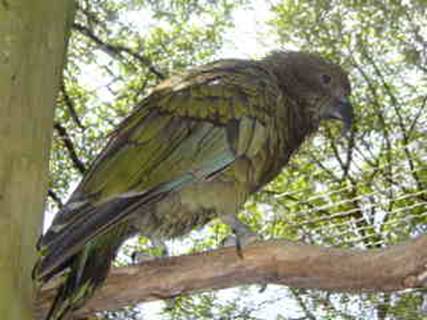 large green kea birds with vicious beaks that, apparently, enjoy tearing rubber off cars if they get a chance; small colourful parakeets; wood pigeons twice the size of the equivalent British bird; and eels.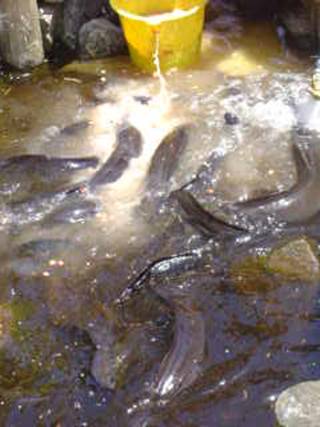 It was feeding time for the eels so they all writhed around in a small section of the lake with one brave duck getting close enough to retrieve a few floating scraps of food. Freshwater eels can live up to ninety years in the high country before they go out to sea to breed.

We had hoped to see a kiwi bird in the nocturnal house but they were hiding so we had to make do with stroking the stuffed one at reception instead!

www.ngamanu.co.nz

Jennifer and Brian's daughter, Judith, joined us all for supper tonight with her husband, Mark, and sons, Daniel, and Timothy (five weeks old).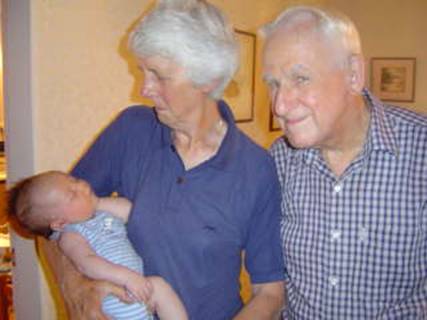 Jennifer, Brian and baby Timothy
Day 269 Saturday 29th January
New Zealand
Waikanae

"SNUBBED AT SOUTHWARD"

Well that's how we felt after our afternoon fundraising at Southward Car Museum, near Waikanae. It's a shame really because the car museum is, we are told, world famous and includes vehicles that have travelled on interesting journeys. It has even been suggested by some that Florence should be sold to an NZ car museum (this is out of the question because she is going home with us) so we thought that this museum might have been interested in seeing us. We are told that if the original owner, who had devoted his life to building up the collection, had still been alive then the reception we received might have been better. The Manager was, apparently, rather indifferent when Bryan from the British High Commission had spoken to him to ask if we could fundraise there for an afternoon and in return give the museum some publicity, but he had agreed.

Unfortunately, when we arrived this afternoon, having mentioned our presence at the museum on two local radio stations and in interviews with the local press, the staff knew nothing about us and were less than indifferent. The manager was telephoned and we were told not to park in the shade under the wide portico at the entrance but to park away from the entrance in the hot sunshine. We might have got in the way of the coach load of visitors that, had they arrived, might have wanted to have got off the coach under the shade…

Car museums in Australia had welcomed our presence and either hosted fundraising events and helped fix the car or donated money to the Red Cross. We felt that the staff at this museum were tolerating our presence under duress and did not welcome the publicity or the additional visitors that we might have encouraged.

Still, we raised a few dollars for the NZ Red Cross and met some interesting and friendly people, some of who had gone along specifically to see us. A British couple who immigrated to NZ thirty years ago were disappointed not to have seen us as we drove through their home town of Bulls a few days ago so were thrilled to see us today.

George Malin came to the museum today to tell us some of his travel tales. Prior to setting off for England George was the first man to be issued an International Driving Permit in NZ. He travelled to England by ship to collect his brand new 1958 Vauxhall Victor and then drove it overland back to NZ through Europe, Turkey, Iran, Pakistan, India, Ceylon and Australia.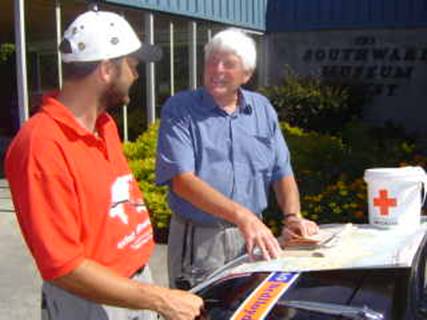 When he visited the Vauxhall factory in the UK he was told that the car was not suitable for such a journey but George had more faith and after having spent time learning about how the car was put together he felt confident enough to attempt the journey.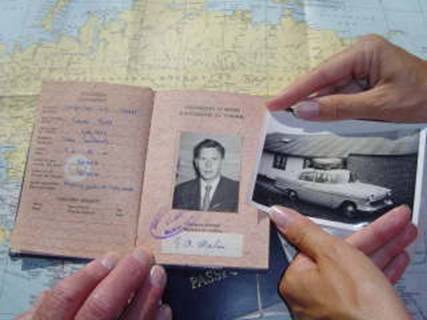 George has all sorts of fascinating stories about his journey as well as black and white pictures and film. In Quetta, Pakistan, a blind holy man sent a boy to tell George and his colleagues that they could be there but could not take pictures and that, just to be sure, he had put a curse on their cameras. On developing the films from all five cameras, including cine cameras, it was discovered that the pictures taken there were blank yet the pictures and film taken before and after using the same film were fine.

It was well worth spending the afternoon at the museum to meet people like George, several British people from Newcastle, Little Sandhurst, Newbury (who knows Tim's brother in law through business associates) and even a couple from Waltham St Lawrence, the village that Tim grew up in. A man who works for Vodafone NZ offered us some useful technical advice but he was too late to go into the museum that his grandfather was involved in setting up as it closed at 4.30pm.

At 4.45pm we saw two lads banging on the door trying to get out! They had not realised that the museum was closing and had been locked in. Eventually an emergency button was found and the doors opened, much to their relief – they did not have to work out which was the most comfortable car to sleep in after all.

A cup of tea and a homemade cake then Jennifer drove us to the nearby beach for a stroll looking towards Kapiti Island just offshore. On route she told us about a house that she had read about in the local newspaper recently that is built into the sand dunes. All that can be seen from the road is a chimney sticking up incongruously above a grass covered dune. We were intrigued so left Jennifer in the car and walked down the drive to the house that opened up behind the dune. Tim introduced us:

"Sorry to bother you, we're interested in underground houses and...we're passing through on route from Oxford, England to Oxford..."

"In a fifty year old Morris Oxford!" Garth concluded enthusiastically, "I used to have two Morris Oxfords as taxis – how good to meet you, let me show you around."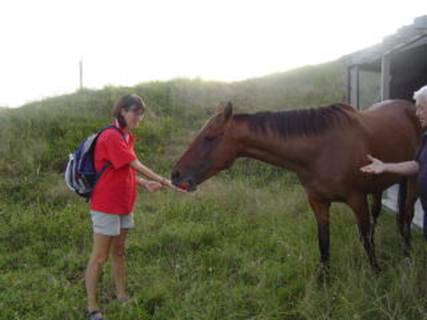 As Tim fetched Jennifer, Coffee nuzzled Joanne to see if she had a spare apple in her hand; the horse has finished her racing career and is happily munching her way through the clover and grass around the plot.

Garth proudly showed us the features of the house that is built into a sand dune with a couple of light wells at the back and a semicircular sweep of French windows at the front. His daughter and family live in London but are planning to build a house in one of the other sand dunes on the plot.

The beach area of Waikanae in particular has many new sections (known as plots in the UK) with a variety of styles of new homes being built on them, from dune houses to wooden batch homes to houses built of concrete and river stone.
Day 270 Sunday 30th January
New Zealand
Waikanae-Wellington

Not until we read the Capital Times newspaper this afternoon did we realise that we were the guests of honour at the British Car Club New Zealand's display at the Global Challenge Open Day at Queen's Wharf, Wellington, today. There were eight other British cars including a 1935 Morris Eight Sports, a Jaguar 1958 mark one 2.4, a TR4A, an Austin A35 Countryman, and a Vauxhall Viva but the Morris Oxford Ute that was to be a surprise for us did not make it.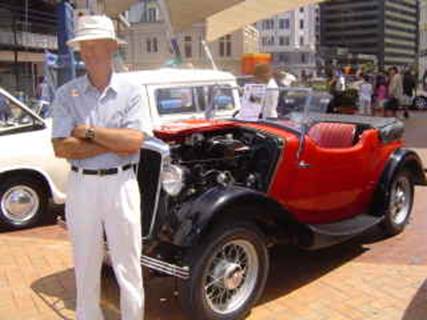 David and his Morris 8 with other British Cars

As well as collecting for the NZ Red Cross and telling people about our journey we were interviewed by reporters from The Dominion Post, NZ Classic Car, and Radio Newstalk ZB. We also found time to meet some of the members of the British Car Club over lunch as well as admire the yachts and hear and read about some of the amazing adventures of the Global Challenge.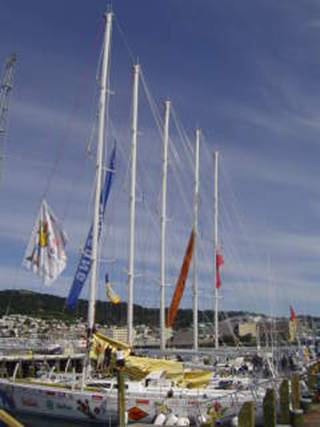 Cambo and David (who has cystic fibrosis) were also fundraising at the open day. They will continue to do so over the next few days by static cycling 1600km, the length of New Zealand Campo, otherwise known as Anthony Campbell, aged 26, is a Global Challenge crew member who cycled the equivalent distance of the length of the UK on a static bike outside his local pub before the yachts left Britain. The official charity of the Global Challenge is Save the Children but Campo is also raising money for the Cystic Fibrosis Association because two of his cousins died of the condition.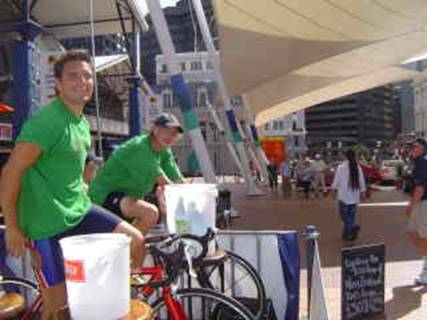 For more information contact the Cystic Fibrosis Association of NZ 03 341 8024.

Andrew Taylor, Marketing Sales Manager, PandO Nedlloyd, came to see us today to give us the news that PandO Nedlloyd will ship the car back from Australia to Italy free of freight charges. This is excellent news and a great relief. It would be fantastic if we could travel on the ship too but few commercial ships take passengers so we recognise that it might be very difficult to get permission. We have, though, not given up hope. We can now begin to fix dates for our return trip from New Zealand via Australia, Italy, Switzerland and France to Oxford, England.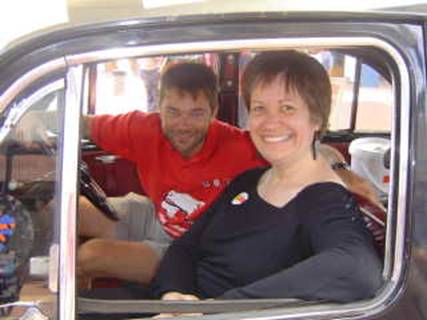 Nicky Wilson came along to see us especially because she studied at Oxford Brookes University.

Tea and a quick freshen up at the home of the Morris Eight owner and former Royal New Zealand Air Force Air Marshall, David Crooks, and his wife, Barbara, then we drove to the city apartment of Diane and Ian, who had kindly offered to let us stay for the week we are in Wellington. Over supper at a Turkish restaurant nearby we told them about our adventure. We spent Christmas Day with Diane's daughter, Clare, and fiance, Robin, bar-b-q'ing our Christmas Dinner together on the beach in Ben Boyd National Park.
Day 271 Monday 31st January
New Zealand
Wellington

PandO Nedlloyd NZ Marketing Services Manager, Andrew Taylor, invited staff at their Wellington offices to have a light lunch on the company today and to attend one of two consecutive presentations we gave about Oxford2Oxford. The staff who attended were encouraged to donate the money that they would have otherwise spent on lunch to the NZ Red Cross. This is part of an internal policy to involve staff in the activities of the company called Bridging the Gap.

We agreed the dates that we would like to ship Florence back to Australia and from Adelaide to La Spezia, northern Italy, so that bookings can be made.

Over dinner at the smart 'Shed 5' restaurant overlooking the Global Challenge yachts at Queen's Wharf Andrew told us about some of the other unusual activities that PandO Nedlloyd NZ have been involved in, including the NZ entry to the Americas Cup and the rescuing of a man who had set off from NZ to row to South Africa without touching South America but who developed sores on his feet within a few hundred miles of leaving NZ shores.
Day 272 Tuesday 1st February
New Zealand
Wellington

At a short morning meeting with the PR Manager of the NZ Red Cross, Christine Langdon, we discussed how we might be able to help the NZ Red Cross raise funds and awareness of their work during their Annual Appeal Week 22-28th February. We plan to begin that week in Christchurch and will head south down the east coast towards Dunedin.

Just before lunch we parked Florence outside the PandO Nedlloyd offices where we met with several members of staff, Andrew Taylor and Tony Gibson, the Managing Director.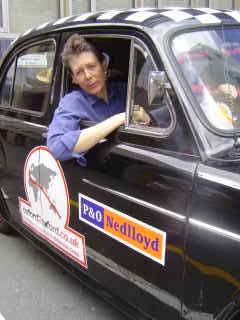 Andrew Taylor, Marketing Services Manager

Cucumber sandwiches with no crusts, cream Victoria sponge cake, chocolate butterfly cakes and shortbread – high tea in a meeting room at the British High Commission was suitably traditional.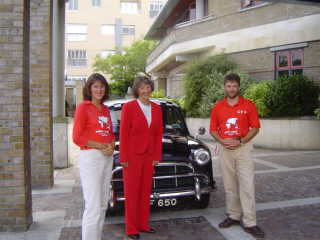 Lady Keith, President of the NZ Red Cross


Richard Fell, the British High Commissioner, and Lady Jocelyn Keith, the President of the New Zealand Red Cross, sat in Florence before heading upstairs for a further chat over tea with other members of the High Commission, Christine from the NZ Red Cross, Rob, the President of the British Car Club and Rex from the Capital Times.
Day 273 Wednesday 2nd February
New Zealand
Wellington

The nickname 'Windy Wellington' is well deserved today. Clouds dropped yesterday afternoon over the harbour and surrounding hills and this morning a fine rain swept horizontally through the streets. Not a day for sightseeing but we always have work to catch up on so made the most of the opportunity. It brightened up a bit this afternoon but cloud still hung heavily touching the tops of the tallest buildings and the temperature only reached 18 degrees.

Looking out over the harbour we could see little beyond an odd dolphin playing close to the edge.

For supper we ate noodles at one of many cheap Malaysian Satay eating places in the area around Cuba Street where we are staying.
Day 274 Thursday 3rd February
New Zealand
Wellington

Joanne had left her running shoes in the car (which is safely parked in a garage a half hour walk away up a couple of steep hills) so went for a morning walk along the coast instead of a jog. Ships fog horns had been sounding all night and continued until the thick fog that covered the harbour and surrounding hills was burnt off by the sun at about 9am, when the temperature picked up to a hot 26 degrees.

The walkway was busy with commuters cycling and walking to work and runners out training. It runs past the wharfs and over a sculptured wooden bridge to the Te Papa museum then past marinas,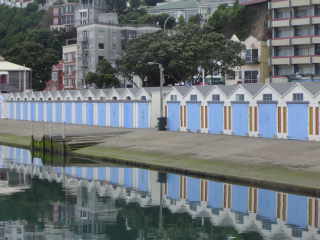 one with a row of blue-doored boat houses,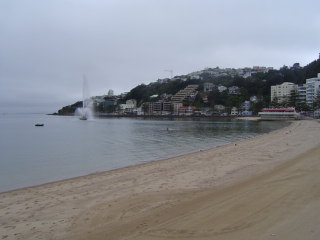 and on along a promenade around a curved sandy beach focused on a fountain in the centre of the bay.

Traditional wooden houses and modern apartment blocks alike perch at the foot of and cling further up to the steep cliffs that back the bay. When the first European settlers arrived in this area in the 1830's preparing to build the capital of New Zealand it was swampy and heavily forested. The first drawings of Port Nicholson and the proposed site for Britannia, as well as The New Zealand Company's adverts encouraging emigration to New Zealand, depicted a misleading image of a paradise where Anglo Saxons could flourish on an extensive coastal plain, perfect for pasture and park lands of gentlemen's estates.

It was soon discovered that the original site at Petone was too swampy and the river frequently flooded so the area became the location for the larger Country Acres and as land was surveyed and allocated settlers moved to Town-Acres in Wellington, as the town of Britannia soon became known.

Even the new site with steeply hilly and densely forested or swampy land was not well suited to the town plan drawn up on a grid system popular at the time and one that Wakefield had used successfully in laying out Adelaide, South Australia. Adelaide, though, is on a flat plain. The surveyors grid for the 1,100 town sections (plots of land) of Wellington was drawn up irrespective of Maori pa (village) and gardens, hills, gullies or swamps.

It was not until after the earthquake in 1855 raised land and drained the swamp that areas around the headland and Oriental Bay, the area along which Joanne walked this morning, was developed. The topography, the weather and the flora were significant challenges to building in the area and it is, according to Wellington architect, Bill Toomath, still one of the most difficult places in which to build.
In 'The Landscape' 1987 he writes,

"You have the steep and often loose terrain. You have the great amount of wind to brace against and you have the rain that can drive vertically up some hillsides."

Add to this the high risk of earthquakes and the regular tremors, one of which rocked us gently as we woke yesterday morning, caused by Wellington sitting on a major fault line and it is a wonder that the city has developed into the pleasant city that it is today with houses hugging the steep hillsides and craning to see the bay.

New Zealand's innovative national museum, Te Papa, was built to withstand earthquakes in Wellington. Local Maoris performed ceremonies to clear the area prior to the build and the building sits on rubber and steel feet designed to enable it to wobble slowly rather than shake violently during an earthquake thus protecting the building and, in the most extreme quakes, allowing the people to escape.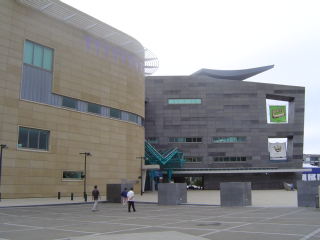 www.tepapa.govt.nz

One of the many fascinating interactive displays we saw during our visit to the museum today with Jennifer (Tim's Mum's cousin with who we had stayed in Waikanae) demonstrated the devastating effects of earthquakes and volcanic eruptions in New Zealand.

Current rumours and newspaper articles suggest that a significant quake is likely to rock Wellington in the not too distant future.

The museum also displays an interesting and well-laid out mix of Maori and European history and culture and, even with Jennifer as our guide, we only managed to see a small part of it in a few hours.

This evening we met up with Wellingtonian friends we had got to know in London when Joanne worked with Josh on The no Campaign.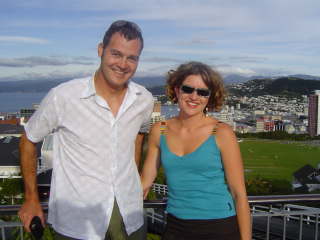 We took the cable car up to the Botanical Gardens to meet Josh and Charlotte and walked along Central Terrace to where the car is garaged to collect a few things and to show them Florence before walking to their flat for supper.
Day 275 Friday 4th February
New Zealand
Wellington

The Wellington cable car was originally built over a hundred years ago (1902), using prison labour, to encourage people to move up the hill to the new suburb of Kelburn.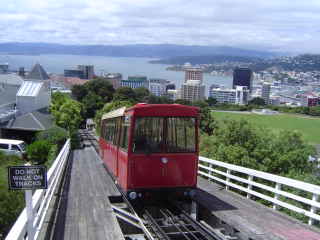 The original cable car was replaced in 1979 by the current Swiss designed driven balance rope system. For people who live at the top of the hill in houses with fantastic views over the bay taking the cable car down into the centre of the city must be a very pleasant commute to work.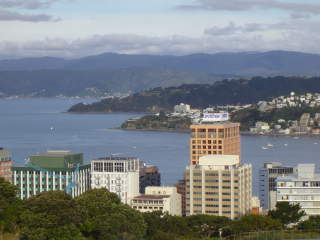 To avoid a walk up steep winding roads we took the cable car up then walked along Central Terrace to collect Florence in time for her appointment at the steps of Parliament. The Minister for Transport Safety, Honourable Harry Duynhoven MP, is a car enthusiast and had invited us for morning coffee.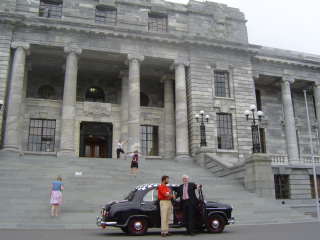 We first took him for a spin in our car and posed on the steps for photos before Tim was escorted by the security guards down to the MP's underground car park where Harry's two classic cars are parked – a rare NSU RO80 and a VW Beetle.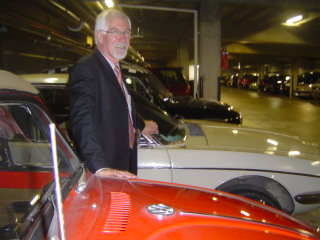 Unlike the British Houses of Parliament anyone can walk up to the main entrance and take photos: when we were there a group of lads wearing t-shirts emblazoned with the words "kill the ginga" walked up and took photos of one of their group with ginger hair and wearing an orange boiler suit and handcuffs standing on the steps – some bizarre joke about ginger haired people?!; and a satirical TV comedian was filming a piece that we may, unwittingly, be in!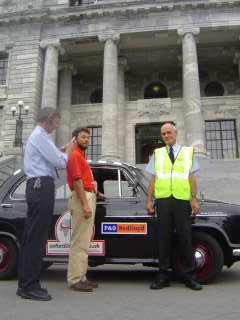 Security guards watched the proceedings and rather than moving us on or inspecting the car for bombs, as they might do in London if we even got that close to Parliament, they joined Harry and his assistant, Jo, in sitting in the car and looking under the bonnet. They even posed for photos.

On route back up the hill we drove along The Terrace, one of the first streets to be built in Wellington, and called in to see Radio NZ presenter, Wayne Mowat, and Katrina Batten, presenter and producer.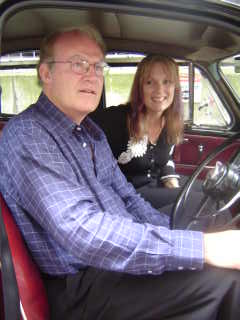 David, the Morris 8 owner we had met last Sunday, and Barbara invited us to supper at their home in Karori, on the edge of Wellington with several friends, the majority of who are classic car enthusiasts. Craig, of Karori Auto Services, let us take his 1962 Morris Oxford Ute Series 3 out for a quick test drive. Utes (utility vehicles that are standard saloon at the front with a pickup back) are popular in New Zealand and Australia and this one was a factory manufactured commercial vehicle.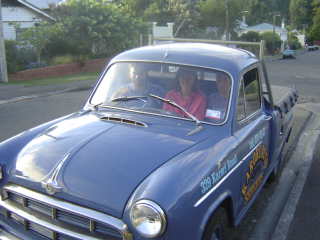 Though a much later model than ours some of the parts are the same as parts were used up on commercial vehicles when the style of saloon cars changed. For example, the bonnet is a series two design like ours, not the same as the later series three.
Day 276 Saturday 5th February
New Zealand
Wellington

On the 4th and 5th February Wellington plays host to the Rugby Sevens so the city is packed with people parading through the streets on their way to the stadium dressed in all sorts of outfits,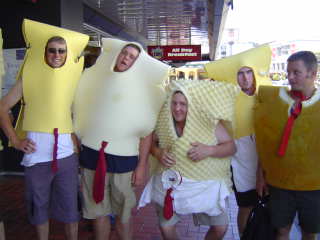 from cartoon characters and red tutus to a group of 'Bins'.




The men from Taranaki were dressed in white robes and turbans and each had printed a different 'Bin' on their back, instead of 'Bin Laden' were 'Bin There', 'Bin Naked', 'Bin Plastered' amongst others.

The sun was shining and there was a lively atmosphere in the streets with spectators going to the stadium to have a good time. In many cases the rugby was just a good excuse to party.

Tickets were sold out some time ago so we had to make do with watching England being beaten by Fiji in the quarter finals live on TV. Both teams played well so it was very disappointing that England were knocked out, though not altogether surprising that New Zealand beat Argentina to win the Sevens. Winning the Sevens is a matter of national pride here.

To add to the party atmosphere tonight is the last night of a month that the Global Challenge teams have spent in New Zealand before they begin the race to Sydney tomorrow.

It is also the beginning of Chinese New Year Celebrations in Wellington sponsored by The Embassy of the People's Republic of China and TECO, Taipei Economic and Cultural Office, amongst others.

A street procession from Courtney Place ended at Frank Kitts Park on the waterfront, a few minutes walk from where we are staying, with performances of Chinese dance and acrobatics.




We were disappointed to find that the food stalls and the market had only been set up for the afternoon and had closed by the time we got there but we found a new no frills Chinese restaurant called 'Lucky' on Courtney Place. It seemed to be popular with Chinese people and served decent portions of good Chinese food at sensible prices.

It was only a short walk to Oriental Bay where we joined Josh, Charlotte and friends on the beach to watch a superb firework display over the bay. A gift from the Beijing Municipal Government, it was one of the most spectacular firework displays any of us had seen with a mix of big dramatic bangs and unusual fireworks that hung or danced in the air and others that crackled as they flitted down to the sea. It was as magnificent as one would expect from the nation that invented fireworks several thousand years ago.
Day 277 Sunday 6th February
New Zealand
Ferry from North to South Island

Busy day! Up early to run, well, on and off run and walk, as we randomly navigated our way up to Central Terrace to collect the car. Packed and tidied up the flat then dashed down to the official Sevens hotel where we met and had a few minutes to chat to the England Sevens squad.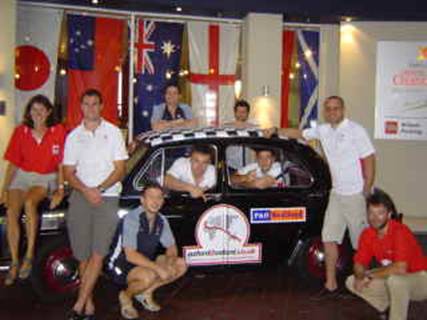 Simon Amor (Gloucester and captain), Ben Russell (Saracens), Dan Hipkiss (Leicester Tigers), Tony Roques and Geoff Appleford (both London Irish), Rob Thirlby (Penzance & Newlyn) and Mike Friday (Coach)

'Geezer', otherwise known as Mike Friday, used to work with Tim a few years ago in London at DTZ Debenham Thorpe, a real estate consultancy, and is now the England Sevens rugby coach so when Tim saw him on TV yesterday he left a message for Mike at the hotel and sent a message to Sally, the PR manager of the team. Despite losing yesterday the guys were on good form and are flying to Los Angeles this afternoon.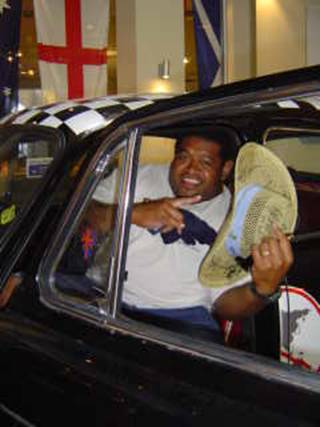 While parked outside the hotel several people came over to admire the car including Big Bill from the Fiji squad who had heard one of our radio interviews, and a man who had visited Oxford on his last trip to England and presented Joanne with a silver fern pin in admiration of our efforts.

Just time to squeeze in a final visit to the MOJO Coffee Cartel shop to grab a couple of particularly good takeaway coffees www.mojocoffeecartel.com before driving down to the port to catch the Bluebridge ferry to Picton, South Island.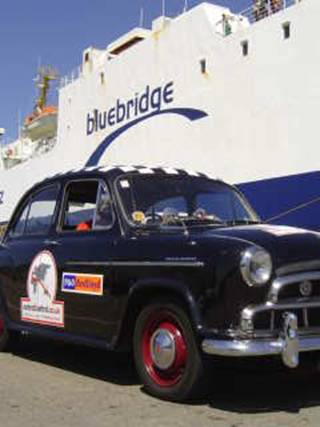 www.bluebridge.co.nz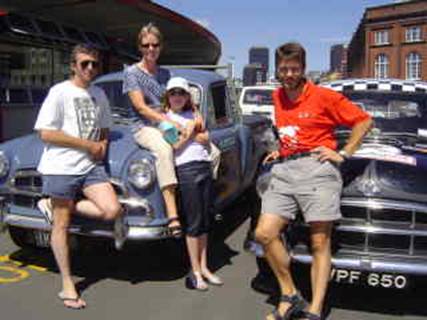 We were met there for a final photo before leaving Wellington by Craig, Ursula and Jessica and their Morris Oxford Ute.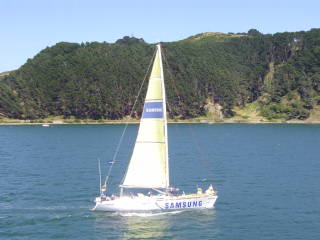 As we left Wellington the Global Challenge yachts were preparing to set sail on the next leg of their race around the world the wrong way.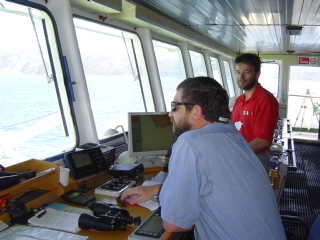 The crew of the Santa Regina ferry took us up to the bridge from where we looked at the route on the satellite and charts and watched the Master guide the ship past the rocky Heads out of Wellington Harbour, then northwest across the 11 mile gap between the North and South Islands across to the Marlborough Sounds.

When Captain Cook first sailed into this area in 1770 it must have been daunting. On a clear day like today it is possible to see the mountains of both islands. At the entrance to Wellington harbour rocks protrude out into the channel and the bay is surrounded by cliffs. West Head has two lighthouses, one on the top of the headland and one at sea level. The lower one was built because one of the early settlers ships was dashed on the rocks as the lighthouse on the top could not be seen through the fog. After a tough six months at sea the settlers were only a few hours from a new life but none survived.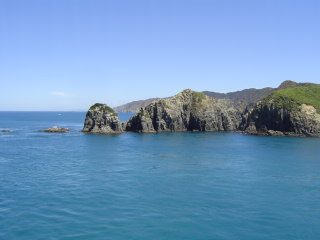 We ate roast pork followed by kiwi and strawberry pavlova for lunch in the crews mess then went back up to the bridge as the ship passed through the 500metre wide entrance into the Marlborough Sounds. The fog that we had seen in Wellington, the worst for ten years, had cleared yesterday. Instead, the sea was calm, the sunshine was bright and the skies were clear blue – perfect!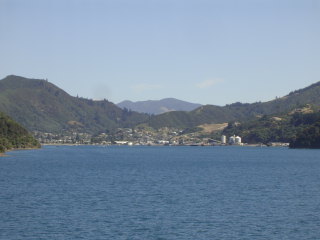 Hills covered in native bush rise straight out of the water and wind around creating beautiful bays and small hideaway beaches. As we cruised towards the South Island port of Picton the sound of masses of cicadas cut across the water and could be heard clearly above the rumble of the ships engines.

Straight off the ship to a photo opportunity with the Marlborough Express and The Press (Christchurch). We also too a photo of our arrival and sent it for publication in the Christchurch Star and North Canterbury News, regional papers that have been publishing updates on our progress over the last few months.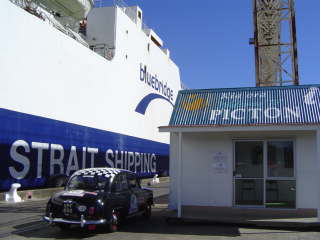 We, therefore, missed an opportunity to have a cup of tea with an English couple we met on the ferry who are touring around New Zealand in a camper van that they have borrowed in exchange for the use by the Kiwi owners of their camper van in the UK. Given the cost of hiring camper vans swapping seems like a very good idea.

Sadly, the display about the Edwin Fox (built in India in 1853 it is one of the oldest wooden ships left in the world) was closed but hopefully we will have time to visit on our return.

As we were driving around the small town of Picton a pickup van raced up behind us and looked as if he was trying to push us off the road.

"What IS he doing??!" said Joanne.

We let him overtake then he stopped at the curb right in front of us. Out jumped the driver who waved madly at us. "I guess he wants us to stop." replied Tim.

Chris Oakman had just bought a 1958 Morris Oxford Traveller series 4 for $500 but knew nothing about Morris Oxfords nor how he could find someone who does. He had not heard about Oxford2oxford but was excited to have spotted another Morris Oxford and was thrilled to hear that we had just driven her across the world. We called in to his house on the way out of town to see his Traveller.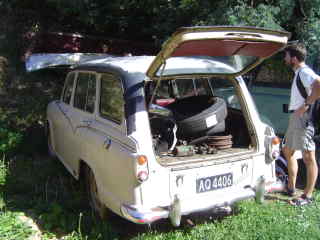 The Wolsley engine started first time and ticked over smoothly but the body work and interior is in much need of attention, something that Chris does professionally, so, once we have put him in touch with some people who know about where to get parts, he'll be proudly touring around NZ car rallies.

The small village of Tua Marina is only a short drive through pretty farm land from Picton on the way to Blenheim. We were welcomed enthusiastically by Suzanne and John Barnett at their farmhouse in a beautiful setting at the foot of steep grassy hills close to the river. Joanne met one of their daughters, Anna, about twelve years ago in Singapore when Anna was on her OE (overseas experience, something many New Zealanders do) with a friend, Kaylene and Joanne was backpacking around Asia and the Far East. Joanne and her sister, Louise, also spent time with Anna and Kaylene when they were working in Oxford, UK, before they travelled around Europe. Louise visited Tua Marina a few years ago and, luckily, still had the address and telephone number for John and Suzanne.

Walking up the hill at the end of the garden as the sun set over the wide valley and mountains beyond and the wind gusted the stresses of the last few days were blown away. We enjoyed a relaxing evening hearing stories of Suzanne's travels to the UK and Europe as a nurse in the 1950's.

At 31 degrees today was the hottest day in Malborough since 2001.
Day 278 Monday 7th February
New Zealand
Tua Marina, Marlborough

The farm on which we are staying has been in the Barnett family for four generations and is now run by John and Suzanne's nephew, Gary. We took a gentle wake-up jog up the hills before breakfast then went on a longer walk up the valley to the top of the hills behind the house with Gary at the end of the day. As we walked he told us about his farm with sheep, goats and cattle as well as fields of radish and clover seeds and a new vineyard area. Much of the wide flat river plain of the Marlborough valley that we looked over is covered in vineyards.

We also discussed wider issues such as efforts to reduce global warming and the imbalances of the ecosystem. One local farmer thought he had found an ecologically friendly method of stopping birds eating his grapes – he encouraged magpies to live on his land so that they would scare away other birds, however, he then discovered that the magpies liked grubs that live at the bottom of corn plants so were uprooting his corn one by one to find them.

We thought Gary was joking when he told us about 'The Fart Tax'. This was a recent NZ government proposal to tax farmers of ruminants (cattle, sheep etc) on the methane that the animals exhale – not surprisingly farmers objected with one even driving up the steps of Parliament in his tractor and the proposal got not further!
Day 279 Tuesday 8th February
New Zealand
Marlborough
Tua Marina-Blenheim-Renwick

This morning we visited Tua Marina Primary School. To thank us they gave us a cheque for the NZ Red Cross.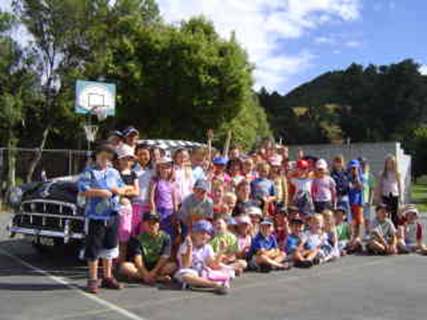 After spending much of the day working on the website, e-mails and plans for NZ Red Cross fundraising week we drove out through miles of vineyards from Blenheim to Renwick where we met with Bruce Stapleton, the owner of the Riversleigh Estate. We pitched our tent in his garden looking over a stream and past vineyards to the hills then sampled some of his wine as we ate a bar-b-q supper with Bruce and Scottish friends, Belinda and Geoffrey.
Day 280 Wednesday 9th February 2005
New Zealand
Renwick-Kaikoura

Pruning vines is an unusual way of fundraising but we felt that helping out this morning before it got hot was appropriate given that we were staying on a vineyard. We were continuing on south today so only had time to spend a couple of hours walking along the rows of pinot noir grape vines removing shoots from the root stock. At the cool start of a beautiful sunny day it was quite therapeutic work and bending up and down every metre or so was good for our un-toned legs.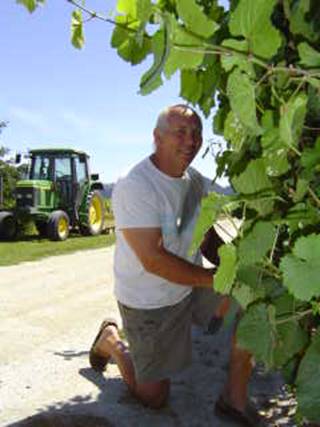 Bruce and some of his vines

After packing up the tent, a coffee with Bruce, our host, sending a few e-mails and making a few phone calls we set off south on State Highway 1 as it wound around the coast heading for Kaikoura.

The Kaikoura peninsula was originally a rocky island that was joined to the mainland by uplifts in the land and plains built up of debris swept down from the dramatic 2,600m high Seaward Kaikoura Mountain Range. Kaikoura is Maori for meal of crayfish but the first European settler, Robert Fyfe, who arrived in 1845 recognised the potential of whaling and set up a shore whaling station in the area. His house nearby still stands on whale bone piles. Hunted for spermaceti oil, that could be used at extreme temperatures and popular for sewing machines, Rolls Royce engines and smokeless candles, and their ambergris, used to intensify the smell of perfume, within 200 years the population of whales off the New Zealand coast had almost been wiped out. The last whaling station on Kaikoura closed at the end of 1964.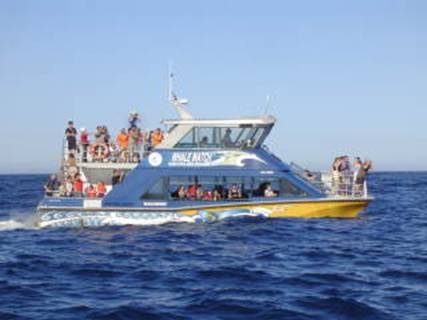 Today whales here are only shot by photographers and since the 1980's, when a Maori whale watching business was established in Kaikoura, watching whales has become a major tourist attraction. The sea bed just off the coast drops dramatically from 90m to depths of 2000m in the Hikurangi Trench creating conditions that encourage a wide range of sea creatures close to shore. On our 2 ½ hour trip on a high speed boat we saw several sperm whales up to twenty metres long (males only because it is too cold for females and calves), up to four together at once basking on the surface. The commentary and video show as the boat sped around looking for whales made the experience informative and more interesting than it would have been had we just looked at whales from the boat.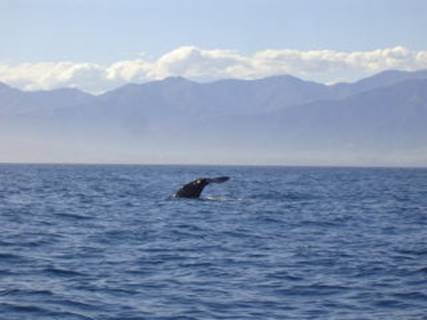 Though being close to such huge creatures was amazing, rushing from side to side of the viewing deck as a pod of dusky dolphins darted around the boat was more exciting. Around twenty of the small, playful animals, some of them calves copying their mothers movements as they swam close alongside, flipped in and out of the water showing off to their audience. Fantastic!

We also saw large fat black petrole sea birds bobbing on the surface, un-phased by huge whales surfacing next to them, and several albatrosses, amusing as they ran across the surface of the waves and flapped their wide wings to take off.

We had heard a variety of opinions on whale watching in Kaikoura but we found it enjoyable, informative and professionally run. Even feeling sea sick (Joanne) did not spoil the experience!

A blue cod fush and chups (Kiwi for fish and chips) supper eaten out of the paper by the sea was good value and tasty though we are still to find a serious rival to Whitby fish and chips!

We had already checked in at the Hapuku Lodge, 12km north of town just off the SH1, earlier this afternoon but had not had a chance to appreciate all it has to offer. With only six guest rooms the lodge is quiet and friendly. It was built in a unique contemporary style on a deer stud and olive farm nested between the mountains and the sea. It really is the idyllic retreat it sounds like and we feel very lucky to have been given the opportunity to spend two nights here.

www.hapukulodge.com

+64 (0) 3 319 6559

The Cafe does not serve evening meals but it has recently been rated as one of the best cafes on the South Island that not only serves the widest selection of South Island brewed beers in the world (one could not imagine that there were over 85!) it is also supposed to make the best cappuccino in the South Island. We have become partial to a good coffee mid morning (a little luxury not always available on our travels) so Joanne particularly is looking forward to checking out the cafe tomorrow.

This evening we shared a bottle of wine with the managers, Leanne and Rick, and a friend of theirs in the garden and discussed their plans to build an eco-friendly house with a permaculture garden.
Day 281 Thursday 10th February 2005
New Zealand
Hapuku (12km north of Kaikoura)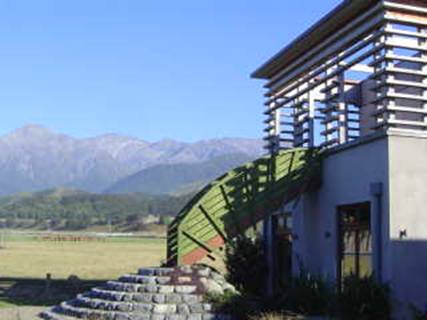 Hapuku Lodge

Woke up in a great bed (made especially for the Lodge) and could hear the deer munching in the field next door! Tim snoozed on while Joanne walked down a quiet road, across the railway line and along a track to the sea. A few people were parked up, others had camped, and drinking morning coffee while they considered the state of the surf. The grey, rocky beach shelves sharply into a strong sea – it was picking up nicely for serious surfers but the conditions were not good for swimming, only for a paddle (with an odd wave breaking unexpectedly up to waist level!).

Over a relaxed buffet breakfast at the Hapuku Lodge we chatted to a Christchurch couple who were on their way north for a week away with their 3 week old baby and who gave us some useful contacts for our fundraising week in Christchurch.

Trevor from the local newspaper, The Kaikoura Star, is a car enthusiast – he came out to interview us and take a photo for next weeks paper. This weeks paper ran an article on our imminent arrival in Kaikoura.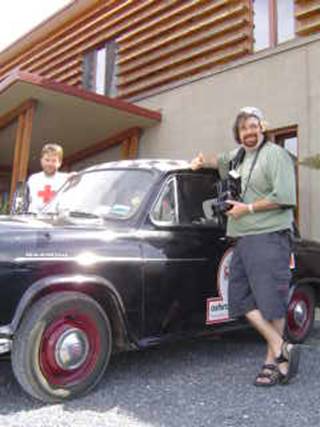 Several Kiwis we have met are particularly choosy about their coffee so, given this cafes coffee reputation, we felt we had to try it out and, yes, it did live up to expectations.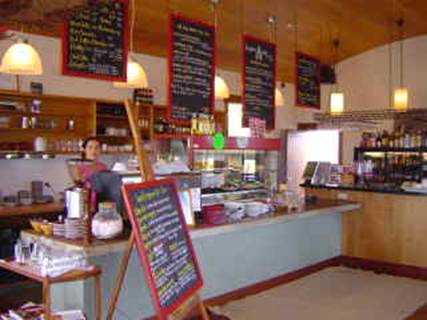 The salads we ate for lunch were good too and the caramel shortbread was divine, if a bit calorific!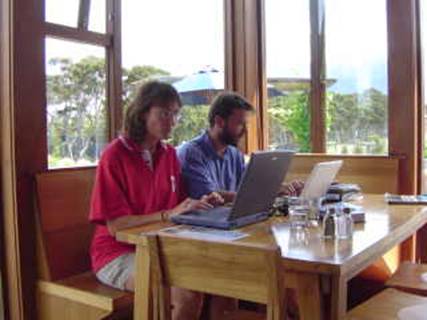 After several hours working on our laptops set up at the garden cafe we burnt off a few calories by borrowing bikes from the Lodge and cycling along the coast for a quick swim. A dip in the small freshwater pool hidden in a shallow gorge was refreshing but as soon as we stepped out tiny irritating sand flies zeroed in on our ankles and feet. They clearly smell Pommie blood! Tiny bites swell up and itch for days, even waking Joanne up at night time causing her to frenziedly dig around for some cream that might soothe them. A couple of nights ago she resorted to holding ice cubes on her feet in the middle of the night to stop the itching burning bites! Tim slept through all of this activity.

As no food was available locally this evening we drove into Kaikoura for our evening meal. There were several restaurants and cafes to choose from but the prices were all roughly the same and reasonably expensive, reflecting the popularity of Kaikoura with tourists.
Day 282 Friday 11th February 2005
New Zealand
Hapuku-Waiau-Rotherham-Hanmer Springs

We turned off the main SH1 onto a winding route 70 that took us inland up into the hills. With cloud hanging low over the hills and drizzle keeping the temperature down to about 15 degrees, in contrast to temperatures in the high 30's recently, it was reminiscent of Scotland on a damp day.

Just outside a village called Waiau we were met by two motorcyclists who escorted us in to the smart Waiau Lodge Hotel waiaulodgehotel@xtra.co.nz where we stopped for a much appreciated coffee. Jeff Rogers, originally from Hertfordshire, England, e-mailed us last July to invite us to stay at his home in Rangiora, near Oxford. He stopped off on his motorbike journey north today to see us, having heard that we would be in town.

Several other people in Waiau came out to say hello, put donations in our NZ Red Cross collection box and photograph our car, parked at the end of the row of Bruce's shining, superbly maintained cars. We had been invited to stop by Maureen and Bruce who own the village store and have several classic cars including a Morris Oxford. It has been owned by Bruce since new and has just been restored with the help of Norm Blomfield in preparation for this Sundays Oxford events.

Norm e-mailed us several months ago inviting us to visit his private museum at Rotherham. He wrote: "I understand from Aussie Barry Booth that there is a couple of Pomms heading for Oxford in NZ. This is just to warn you that we know of your plans and have the home guard on watch. Our North Island counterparts will be on guard too just in case you try sneaking in across the ditch. I hideout in a private museum in Rotherham on the plains of North Canterbury and would love to feed you some tripe on your way through to Oxford."

(Barry Booth is a member of the Morris Register in Adelaide who we hope to meet up with on our return trip through Australia.)

We're not great fans of tripe but thought Norm sounded like an interesting chap so highlighted Rotherham on the map and arranged to call in on route for lunch today. He met us in Waiau and led us in his beautiful Morris 8 to his home where we were interviewed by Roselee from the North Canterbury News over sandwiches, cakes, fruit and tea prepared by Norm's wife, Jenny.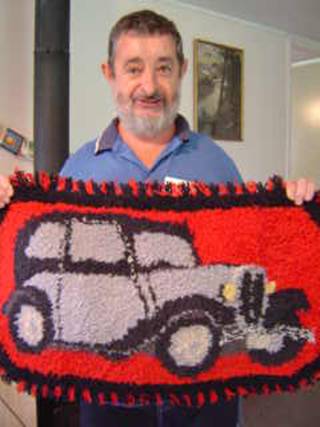 Norm made a rug last winter with a picture of his beautifully restored Morris 8

Norm had also arranged for us to visit the Rotherham School next door to his home. Despite the chilly damp weather we really enjoyed the visit and the teachers and children seemed to too.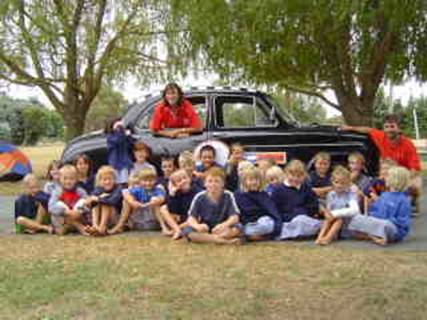 (12th February post script – today we received an e-mail from the children and teachers at Rotherham School: "Thank you for your visit yesterday. It was fun seeing Florence and talking to you both. We liked seeing the Kiwi in the back seat. We hope that you enjoy the rest of your trip. Keep smiling.")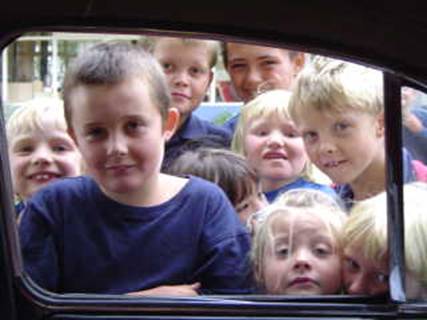 The thirty or so children in the primary school were very well behaved and sat under a tree while we showed them Florence and told them about our journey and about the work of the Red Cross. They laughed at the two horns and the trafficators that popped out of the side to signal right and left and peered excitedly inside the car spotting the "Oxford High Flier" teddy and the toy Kiwi sitting on the back shelf as well as pointing out the column gear shift, the wonky steering wheel (enabling space for three people to sit on the front bench seat) and the padlocks on the boot. As the children took it in turns to put coins into the Red Cross collection box they asked more questions and wished us luck for the rest of our journey. The boy who politely thanked us on behalf of the school said that he most enjoyed looking at Florence. We were waved out of the playground and some children even raced along the playing field yelling "Bye Florence!" as we drove away.

The school has, in the past, paid visits to Norm's museum – Blomfield's Private Museum, Rotherham 0064 (0) 3 3156337.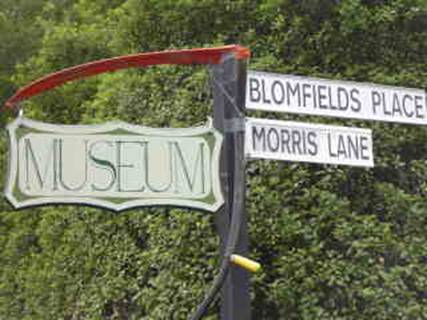 The children must have loved racing around on an old bike trying to make the dynamo light work, racing up and down the garden with old lawnmowers and ringing each other up on antique phones set up in different rooms of the museum. It is a small museum full of items of day to day life that are no longer in use but tell much about how Europeans have lived since arriving in New Zealand. Some objects like typewriters and Singer sewing machines were recognisable, some we remember using in our grandparents and parents homes, others were intriguing and needed Norms explanations and anecdotes to bring them to life.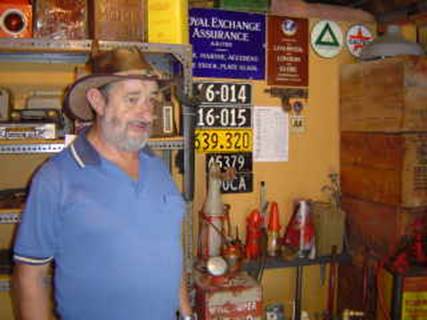 From a theodolite, a Gestetner copier, to the wind up double faced clock from the former local post office, and washing machines to Plunket baby scales it is an intriguing collection that has much more to it than one might initially think – it is worth looking beyond the door and getting Norm to show you around, as he has visitors from various countries, if you ever happen to be passing near Rotherham.

From Rotherham it was only a forty minute drive on through wide valleys flanked by looming craggy hills to the alpine thermal resort of Hanmer Springs. Len and Maree Earl had generously offered us a nights accommodation at Cheltenham House on Cheltenham Street. It seems we were very lucky to even get a bed for the night as other people we met had found everywhere fully booked so arriving at somewhere so charming was great. It was pouring with rain and rather chilly as we carried our bags inside so we had a cup of tea and did some work before joining our hosts and other guests in the Billiard Room for a glass or two of local wine. Very civilised and just one example of how very hospitable Ken and Maree are.

www.cheltenham.co.nz 00 64 (0) 3 315 7545

The white wooden building set in a pretty garden was built in the 1930's by the daughter of the founder of the resort of Hanmer Springs and has been stylishly converted into a family home with the addition of five comfy guest suites. All have en-suite shower rooms and are equipped with TV and CD players, minibars, kettles and selections of six types of tea. This is one of those places where every little thing that makes a stay enjoyable has been thought of and catered for, even extra towels to take when visiting the Thermal spa just down the road and umbrellas in case it is raining.

As in Kaikoura the tourist trade is good here and prices at restaurants reflect this. Not wanting anything swish we chose to eat at the bistro pub at the end of Cheltenham Street. We both ate well cooked braised NZ lamb shanks with mash and vegetables for less than the average price of one meal elsewhere ($12.50 each).
Day 283 Saturday 12th February 2005
New Zealand
Hanmer Springs-Kaiapoi

After a delicious breakfast of Eggs Benedict served in our room we met Barnaby.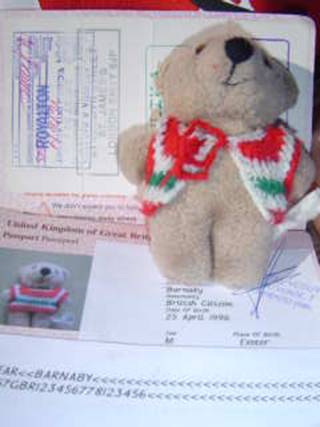 Barnaby is a small but very well travelled teddy bear whose current trip has brought him to New Zealand with Jill and Kit Cooper. He belongs to Chagford Church of England School in Devon, England, and the schoolchildren follow his adventures. He has his own passport and travels overseas with whoever will take him whenever he gets the chance. Perhaps we will go and meet him and his classmates after we get back to England.

Hanmer Springs is known for its thermal reserve with hot mineral waters that bubble up from deep below the earth. Though known to Maoris as sacred waters there was no Maori settlement here. The thermals were first discovered in 1859 by a farm manager who noticed a strange fog near a track. By 1883 swimming pools had been dug and the first bath house was built. Segregated bathing rules were indicated by hoisting either a pair of trousers or a skirt up a pole! Fourteen years later a smart hotel was built and a sanatorium for invalids visiting the pools. The eight first class rooms were supplemented by spaces for fifty second class guests accommodated in tents.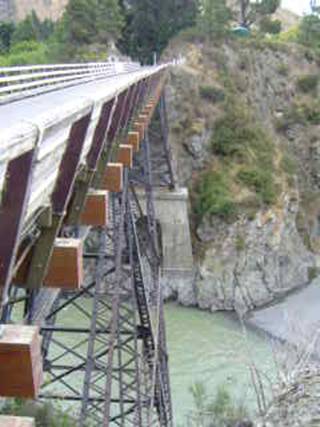 A wide deep gorge that made it a challenging resort to reach safely is now crossed on a high wooden slatted bridge.

The town is now a well established resort built around a modern thermal reserve with thermal and sulphur pools, freshwater lap pool, family activity pool with slides and steam and sauna facilities. We sat in sulphurous pools with water at temperatures between 32-41 degrees C, dodged cavorting children as we swam a few lengths in the cooler freshwater pool and slid down the slides a couple of times. Sitting in a steaming pool with a backdrop of mountains would probably be more impressive when they are covered in winter snow.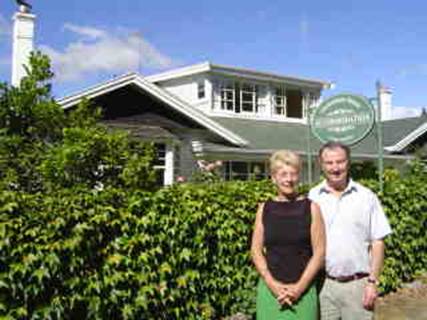 Len and Maree Earl at Cheltenham House

Over a cup of tea we did a couple more hours of work on the laptops before the Sony Vaio shut down without notice, losing a couple of paragraphs. The power cable had been gradually getting worse and finally failed this afternoon so until we get it fixed we can only use the Dell laptop.

[p.s. Sony NZ in Christchurch supplied us with a replacement on 16th Feb 05]

As we drove south, waving and returning hoots as cars passed us, the realisation that we are arriving at Oxford – the destination at which we had been aiming for the last ten months or so – tomorrow. Yes, TOMORROW! It sounds odd but we have been so busy organising and planning, not just to get there and to fundraise and publicise our activities, but also to prepare for what happens next, that we had not quite focused on the fact that from tomorrow we will not be saying "We are driving..." but instead "We have driven from Oxford to Oxford...".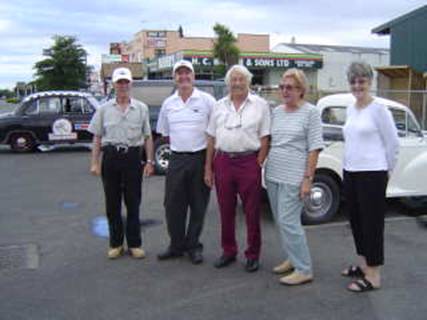 At Amberley we met up with the advance reception party from Oxford and Kaiapoi. Roger and Voila, John and Judy, and Kevin took us for a meal at a microbrewery restaurant a little further on and told us some of what is in store for our arrival in Oxford tomorrow. Apparently, we are to drive tomorrow morning from Kaiapoi (where we are staying with car enthusiasts, John and Judy) to Cust for 11.30/12pm where we will meet up with the car clubs. Cust is on route from Kaiapoi to Oxford.
Day 284 Sunday 13th February 2005
New Zealand
Kaiapoi - OXFORD!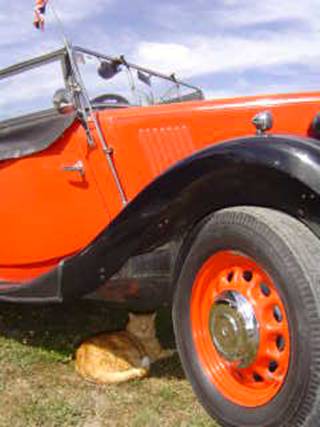 Getting ready this morning felt like getting ready for a wedding: the car needed tidying up and cleaning (though loaded with all of our belongings, of course); Joanne washed and ironed our clothes (the first time they have been ironed for a while); we wrapped a present for Shirley Farrell (who was one of the first to e-mail us from New Zealand and who has since May last year led the Oxford 2 Oxford Reception Committee); signed photos; rehearsed our speeches and made ourselves look good (well, as best as possible). We were conscious that all eyes would be on us – second to Florence, of course.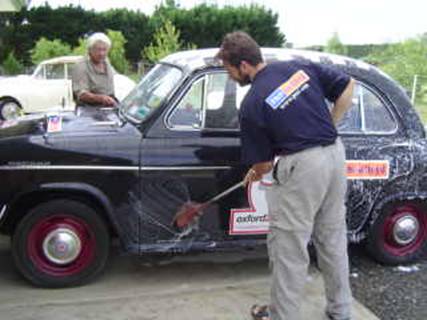 We were also taking calls from the media: at 9.30am TVNZ asked if they could interview us before we left for Cust this morning and travel with us; TV3 would meet us at Cust; and both would be at Oxford. "Was that ok?"

"Sure!" Tim replied.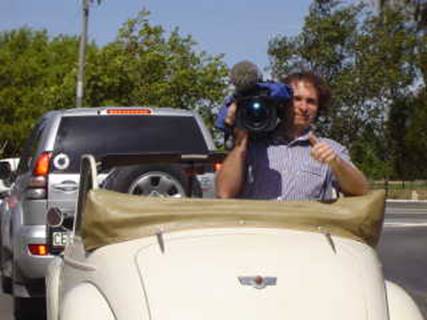 Thank goodness for John and Judy who served us all coffee before we left and sandwiches and tea while meeting with classic car drivers and signing caps and flags at Cust.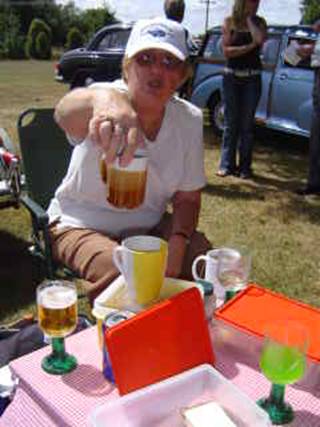 What a welcome to Oxford – AWESOME!!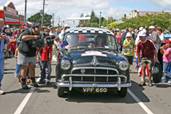 It is difficult to put into words the emotions we felt when we saw the several thousand well-wishers lining the main street of Oxford and packed into the park to welcome us to the North Canterbury, New Zealand, town.




Approximately 600 classic cars, more than 80 of which were Morris's, filed into town ahead of our arrival and parked along the road and in the showground. John Cook from Balclutha, south of Otago, won the award for having driven the furthest (apart from us) to be there in his Moris Oxford series 6 station wagon.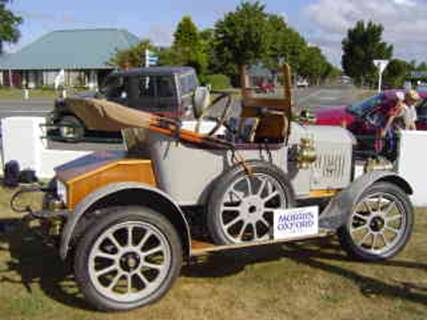 The oldest Morris Oxford built in 1913 was even brought along for the occasion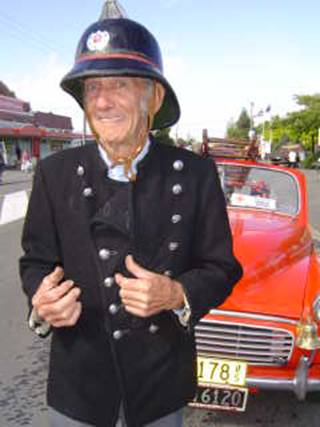 David Martin skipped hospital and defied his doctors to welcome us today. Wearing a historic fireman's uniform and driving a red Morris Minor fire engine he shook our hands and said:
"You made a huge effort to be here, I had only a small sacrifice to make but given your efforts I had to do it!"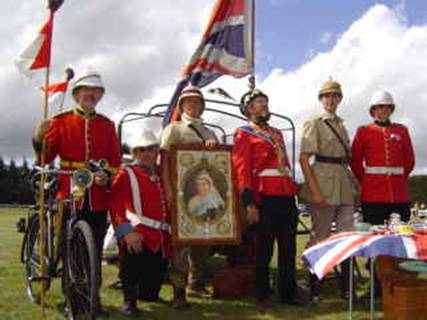 Alf's Imperial Army stood to attention and saluted as we drove into town past a pack of penny farthings, cheered by clapping crowds up to six people deep and following leisure marchers and a brass band.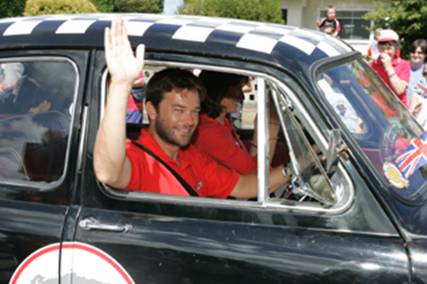 Banners overhead read "Welcome Tim and Joanne" and people sported white Oxford 2 Oxford embroidered hats and badges and flew Oxford 2 Oxford NZ/British flags.

Cameras flashed as we stepped out of the car onto the red carpet into the crowds where we were met by Richard Sandom (a family friend of Tim's without who we would not be here) and Jim Gerard (The Mayor of Waimakiriri District).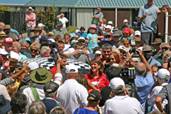 On closing the doors and locking up the car prior to walking onto the stage Joanne leant across to Tim: "My window is jammed down! I can't close it!" A bit of a wiggle with the glass and the handle and it shut, just. The horn had also stopped working so Florence greeted her supporters with the air horn only – we'd worn the other one out on the way in, it seems.

Standing on stage for the formal welcomes we were surprised and laughed as Liz Nichol sang a really amusing song about our journey written by her and Shirley Farrell. She sang about incidents that we had almost forgotten such as "tucking into a truckers [breakfast] at Cue and seeing frogs in the loo"!

It's a great song and accurately sums up our adventures on route to Oxford, NZ, with one exception – we have had no "odd flatties"!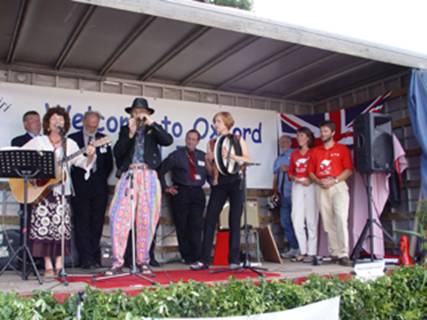 The CD of the superb song is for sale with proceeds being donated to the NZ Red Cross: contact Liz on 0064 (0)3 365 6943 or liz_nichol@xtra.co.nz

We presented the Mayor with a plaque from the Mayor of Oxford and he gave us one to take back in return, engraved to mark Oxford 2 Oxford.

We were very pleased to be presented with a picture by a local artist and a plaque ingeniously crafted from local Oxford wood and a variety of woods with significance to our journey and to Oxford, NZ, by craftsman Tom Ross.




A replica is to be kept in the Oxford museum.

In his speech the Regional Director of the NZ Red Cross, Graham Wrigley, apologised for some of the problems we had experienced in communicating with the Red Cross before we arrived and presented us with kiwi lapel pins.

The Mayor had used many of the phrases we had rehearsed for our speech so it did not go quite to plan but whatever we said seemed to go down well! We were rather dumbstruck by the huge crowd watching us!

After more photos and interviews Richard escorted us off for tea and cakes laid on by the Oxford Red Cross ladies but not before we Morris Danced along the street!

After a quick cake and slurp of tea Shirley took us to see a special display by the NZ sheep shearing champion.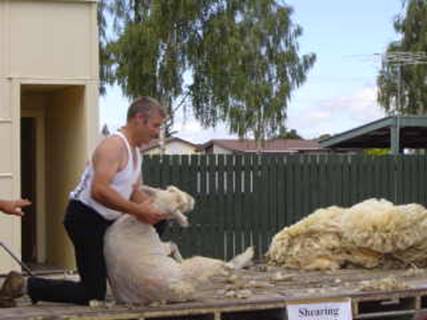 The fleece is being spun and made into hats for us by local ladies!

For the next hour or so we walked around the stalls and displays while signing hats, badges, scraps of paper, posing for photos, shaking hands and meeting some of the people who had e-mailed us over the last few months then we retreated, rather overcome, into the kitchen where the Red Cross ladies gave us much needed tea and cakes.

The afternoon's activities succeeded in raising over $1000 for the NZ Red Cross, including donations from the public, the St John's Ambulance who donated their fee, the Oxford Budget Boutique (a second-hand shop that raises money for the needy in the area), and Joff's Country Band (Joffre, Raelene, Ray and Alf) who raised funds by busking in the main street.

Fantastic! A big thank you to everyone who worked so hard to organise the day, donated their profits, provided entertainment or joined in with the fun. Oxford, England, has a lot to live up to!

Shirley e-mailed us last May to invite us to stay for a few days at Hielan House, the luxurious B and B that she and her husband, John, run. She did not realise then how much her involvement in Oxford 2 Oxford would grow from having us to stay to organising the biggest event Oxford has seen for years. We're very grateful to Shirley and John.

www.bed-and-breakfast.co.nz/hielan.html

(It is a shame that the Christchurch Press told their reporter not to report on the Oxford events and that their photographer was in such a rush to get a photo and run that he took a photo before we got to Oxford so he missed all the crowds and excitement)