Day 175 Tuesday 26th October
Australia
Perth
Great flight with Singapore Airlines last night - four and a half hours, individual choice TV and video and we had seats at the front of economy with no-one in front of us; baby Evie sitting on her Mums knee in the aisle seat did not cry once and kept us entertained for much of the journey.
We landed at Perth at 1145pm and got through quarantine with the loss of only a bag of banana chips and not even a cursory check of our shoes that we had scrubbed of Indian mud before we left Singapore. We were very grateful to Don and Ann for collecting us at such a late hour at such short notice and for offering to accommodate us for several days.
It was 15 degrees chilly as we walked out of the airport and last night was the first time for weeks that we have slept under a duvet with a cool breeze on our faces - lovely. We woke to bright sunshine and enjoyed the refreshing breeze during the day.
Fremantle is the port area of the city of Perth on the banks of the Swan River and combined they are home to more than 2/3 of the 1.7million residents of Western Australian (WA). Perth was founded in 1829 by free settlers from Britain, unlike Sydney on the East coast that was founded by convicts.
We took the local bus twenty minutes into Perth city centre where Don gave us a brief orientation tour that included the bus and train stations, main shopping streets, the Australian Commonwealth Bank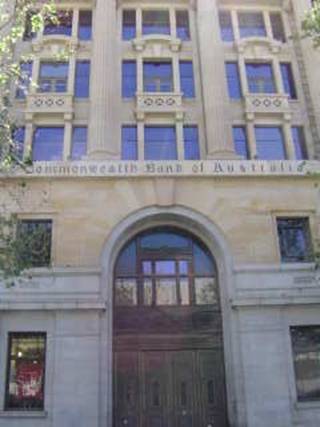 London Court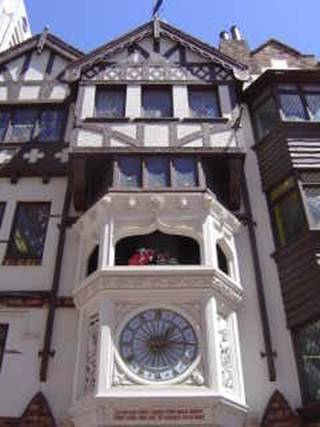 (a shopping arcade that resembled the mediaeval English city of York) and the animated rock candy shop where rock sweets are made with pictures of Australia and Christmas trees in the middle


www.roccandy.com
We exchanged some money, registered with Medicare for reciprocal medical treatment and met the British Consul and Deputy Consul who have stunning views over the river from their 26th floor offices.
Perth is more like home than anywhere we have visited since we left home almost six months ago but first impressions are that it is also sunny, neat, un-crowded, clean and friendly. We can understand why 300,000 Brits live here.
The plants and birds, though almost familiar, are very different to those in Britain: magpies are the size of crows and wagtails are black and white but not pied. There are no starlings or sparrows in WA because they are seen as pests and are therefore controlled. Joanne was most surprised to see two large grey and pink cockatoos flying over the garden; according to the book on birds Galahs are common in most areas of Australia and are often seen in flocks of about twenty.
Don and Ann's garden has a wonderful display of scented roses and lavender but other plants are less recognisable by a "pom" (the Aussie name for an English person)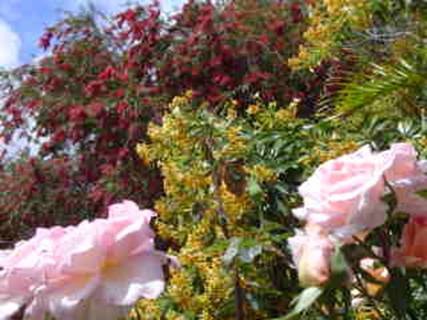 There are several Callistemon in full bloom, known colloquially as bottle-brush trees because they look as if the tree has a mass of red or pink bottle brushes hanging off the branches,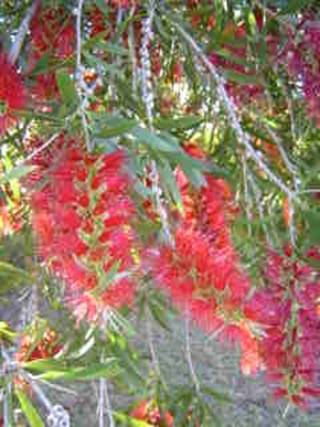 native Australian frangipani (hymenosporum flavum) and a tree resembling a large green bottlebrush that is not yet identified despite calls by Don to local experts.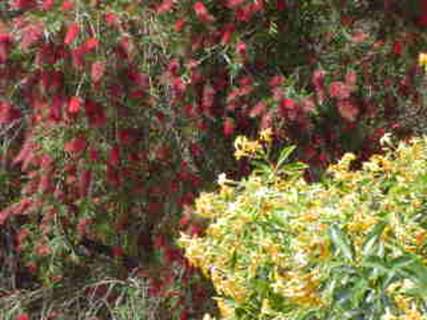 Day 176 Wednesday 27th October
Australia
Perth
Much warmer today with temperatures reaching 31C.
A bit more admin, e-mailing and phoning people as well as looking through Don and Ann's good collection of books and maps of Australia as we plan our time here.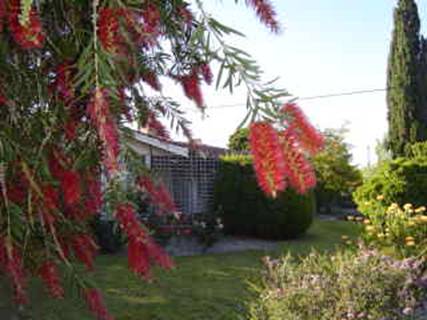 Don and Ann live in a northern suburb of Perth called Menora. Historically a Jewish area, in one area the streets are curved to represent a menorah, the Jewish candlestick with seven candles. The homes are virtually all bungalows, single storey, on quiet roads signed with cycle and walking routes and a large park with an area maintained as wild scrubland.
Day 177 Thursday 28th October
Australia
Perth
Busy day today but we're making good progress.
John Makin, Deputy British Consul, arranged for us to meet with him and Anji Souter a Brit who came to Australia travelling and stayed; she now works for Vodafone in WA. We had a good chat over coffee and she kindly agreed to sponsor us with a mobile phone with Australian SIM and a SIM card for our VMC (Vodafone Mobile Connect) - a superb gizmo that we first used in Egypt where it was called a Connect Card - it gives us fast connection to the internet wherever there is mobile telephone coverage. We hope to perhaps link in with some of Vodafone's events in WA or other states. Anji also gave us a red t-shirt each, caps and red fleece car rugs – much appreciated, especially by Joanne who has wanted to buy travel rugs for ages!
We briefly met Luc Bonanno, of Sadleirs International to hand over some documentation he needs to make the necessary arrangements to get our car off the ship, out of the container and through customs and quarantine.
www.sadliers.com.au/pages/freight-forwarding.html
Our visit to the RAC was not particularly productive but the walk took us past some of Perth's many attractive historic buildings including: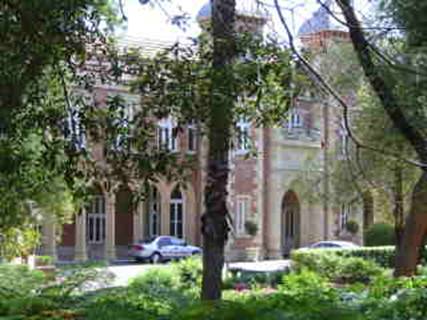 the Governors house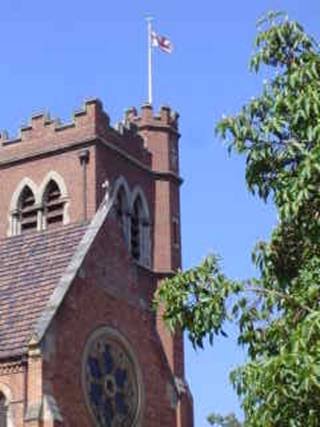 St George's Cathedral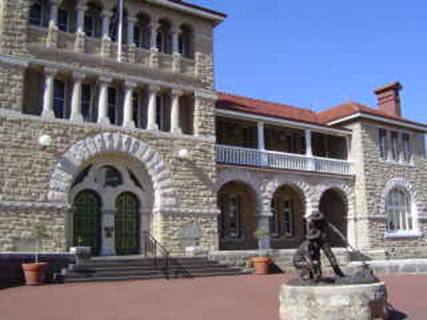 and the Perth Mint.
The Perth Mint is believed to be the world's oldest mint operating from its original premises; it opened in 1899 as the Perth branch of the Royal Mint of London minting legal coinage for Britain and then after Federation in 1901 for Australia.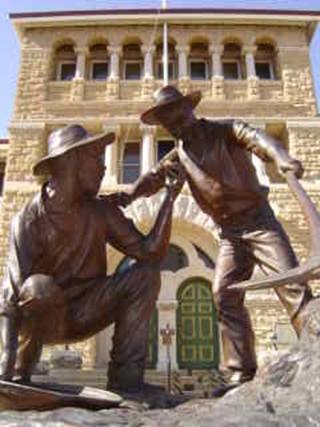 The statue in the courtyard is in memory of the first men who discovered gold in WA.
We spotted our first kangaroos today!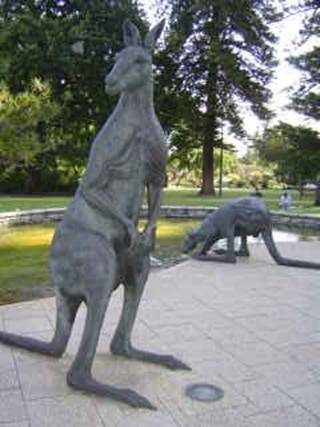 Life-size statues on the pavement overlooking a park in front of the Supreme Court.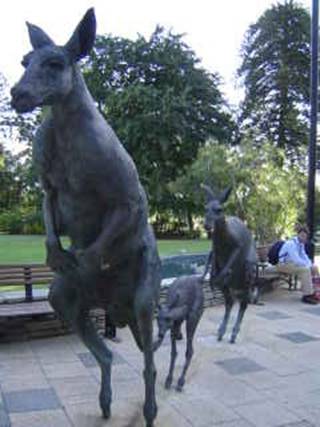 After a tour of the Weld Club, traditional, men-only and one of the oldest in Perth, we ran and just caught the bus back to Menora.
Day 178 Friday 29th October
Australia
Perth
Munira Mackay is listed as one of the two Oxford Brookes alumni contacts in Perth so we were pleased to have a chance to chat to her over lunch and find out what brought her and her husband out to Perth from England. They emigrated ten years ago and, both architects and urban design experts, they now run a successful Perth based business called Mackay Urban Design.
We hope to meet up with the other Oxford Brookes contact in Perth tomorrow.
A walk through the park (known as a reserve) to the nearest post office took us to the Dogswamp Shopping Centre – great name, we have not yet managed to work out its origins!
We then walked back across the reserve to the Terry Tyzack Aquatic Centre where we swam a few lengths of the fifty metre outdoor pool.
www.stirling.wa.gov.au/recreation/ac/ttac_home.html
Don had spoken about us to a local councillor, Terry Tyzack, who arranged for us to have complimentary passes to the swimming pool and fitness centre that is named after him in recognition of his contribution to the local community. The water was 26C but the air temperature was significantly cooler so getting out was pretty chilly. Great to have such a good pool only a walk across the park from Don and Ann's house; we now have no excuse for not keeping fit during the few days we stay in Perth.
Day 179 Saturday 30th October
Australia
Perth
It was even chillier today and mostly overcast but not cold enough to stop us going for a swim or borrowing Ann and Dons bikes to cycle in to the city centre. Actually, it is only chilly relative to the heat and humidity we have experienced over the last few months; we still wore shorts and sandals and a cardigan was enough to keep warm, though equipping ourselves with fleeces now seems like a good idea.
We are considering buying lightweight camping gear for our time in Australia and New Zealand so called in to see what was on offer at a few outdoor shops in the city centre. We did not bring a tent with us because camping was not an option in much of N Africa, India or Singapore and we are travelling as lightweight as possible.
Dee Haines, who studied Art History at Oxford Brookes University, met us for tea on the pier near the modern bell tower in Perth City Centre.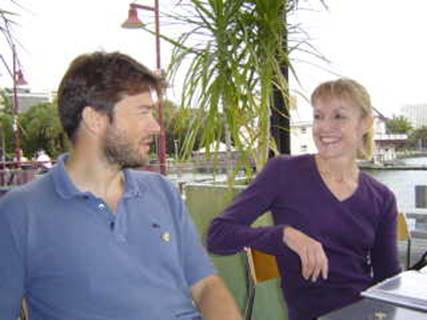 She immigrated to Australia from Britain several years ago to work as a radiographer.
Two of Don and Ann's daughters, Alison and Jill, and Jill's daughter, Becky, took us on an evening tour of Perth that included looking at the view from King's Park over the lights of Perth's few tall buildings in the city centre reflecting in the wide Swan river. The Park is high up on a hill overlooking the city and has a botanical garden, natural bush, a treetop walk, fountains and memorials to those who died at war and a new memorial to those from Perth who died in the Bali bombing in 2002.

Day 180 Sunday 31st October
Australia
Perth
It is good that we went for a swim this morning to prepare ourselves for an afternoon of self-indulgence. The Swan Valley, a short drive from Perth, is famous for its vineyards and we spent a most pleasant afternoon sampling a little of what the area has to offer.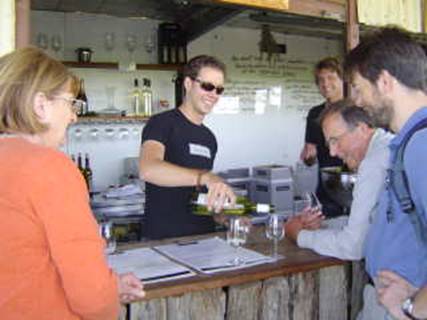 The Lancaster vineyard is relatively new and only sells wine direct from the small tin hut surrounded by vines where we tasted some of their wines and cheeses.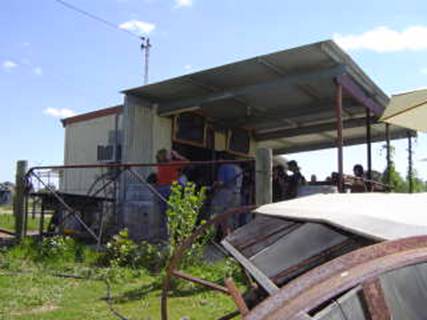 The area also boasts a Margaret River chocolate factory shop, where we sampled chocolate drops and only just resisted buying all sorts of things chocolate, and an ice cream café where we ate ice cream in cones.
Cycling about twenty kilometres to Cottesloe, a West Perth suburb near Fremantle, along roads and through King's Park, burnt off a few more calories before going out for supper with Tony, a member of the HAC, his wife, Libby, and her daughter, Claire, to a beachside restaurant.
The family have a very characterful boxer dog, Jack.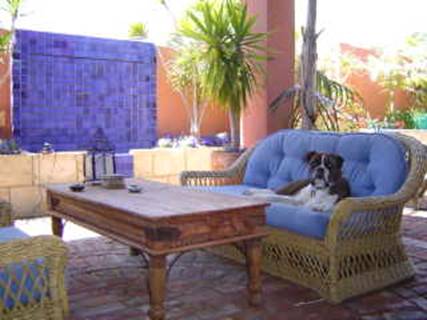 We had a very enjoyable evening and are pleased to be staying over, especially as we intend to go into Fremantle tomorrow to see what the situation is with getting the car out of the clutches of the port.
Day 181 Monday 1st November
Australia
Perth
After breakfast and a few phone calls to make arrangements for the day we cycled into Fremantle.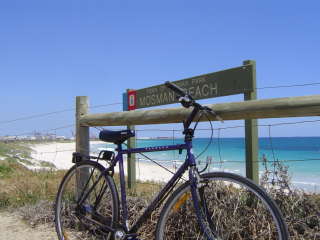 Tony and Libby live a couple of minutes cycle from Cottesloe beach and a twenty minute cycle along the path at the top of the dunes took us past Mosiman beach to the port of Fremantle.


Walking along the deck at the edge of the marina in Fremantle while deciding which of the several large fish and chip restaurants to eat lunch at we watched a pelican take off from a post in the water and a dolphin swim past. Though a nice setting, the fish and chips were nowhere near as good as those from Whitby, North Yorkshire. Captain Cook's chef clearly did not bring the recipe.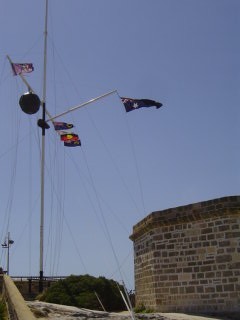 Fremantle Flagstaff
We called in briefly to Sadleirs office to see Luc who confirmed that he had managed to get a cancellation with the trucking company to move the container with our car inside from the port to the container handling area for Wednesday; apparently we were lucky to get the cancellation as slots for trucking are at a premium. We agreed to meet on Wednesday afternoon with the customs and quarantine people.
Graeme Cocks, the Chief Executive Officer of the Fremantle Motor Museum just nearby, showed us around the collection and offered to host a Red Cross fundraising evening at which we will give a presentation about our extraordinary journey at 7pm on Thursday 18th November.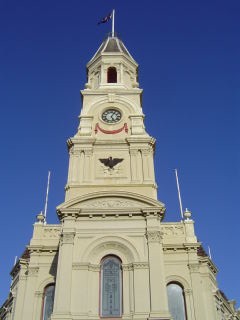 Fremantle Town Hall
We put our bikes on the train back for the half hour journey back to Perth city centre then cycled the twenty minutes to Menora.
Day 182 Tuesday 2nd November
Australia
Perth
The Melbourne Cup is to Australia what The Derby is to England so we dressed up in our smartest togs and took the train to Cottesloe, a western suburb of Perth, to join a party. Ron (HAC) and Philippa had kindly invited us to join them for the Melbourne Cup lunch at the Royal Freshwater Bay Yacht Club.
The fashion and hat competitions were arguably as important as the horse racing that was shown on a large screen as we ate. Our jackets and hats are still in the car but Tim still looked suitably dapper in his borrowed jacket and Joanne felt dressed for the part in a borrowed hat smartened up with flowers from Philippa's garden.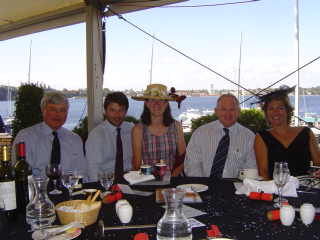 Ron, Tim, Jo, Steve (Australian Red Cross), Philippa
We did not win on the horses but very much enjoyed a lovely lunch and a very pleasant afternoon chatting to our hosts and other guests in a marquee overlooking the bay. A superb way to enjoy Melbourne Cup Day and in sunny weather too: the wind and rain was gusting at Melbourne.
Day 183 Wednesday 3rd November
Australia
Perth
One of the guests at lunch yesterday was Steve Joskie, the Executive Director of the Western Australian Red Cross. He had arranged for us to meet today with the marketing/pr team in the Perth office to discuss how we might be able to work with them to raise funds for and the profile of the Australian Red Cross.
The Red Cross team have offered to arrange with the national office to set up an online donation facility so that Australians can donate using their credit cards through our website and they are supporting our fundraising event at 7pm on Thursday 18th November hosted by the Fremantle Motor Museum. We hope that it will not only be an interesting evening but that it will also raise funds to support the work of the Australian Red Cross.
We were also pleased to meet with members of the committee, be commended on our "inspirational endeavour" and be presented with badges marking the 90th anniversary of the Australian Red Cross.
Train down to Fremantle where we met with Luc of Sadleirs who had offered to help us get the car through customs and quarantine. Having checked over the paperwork he only gave the car a very cursory check,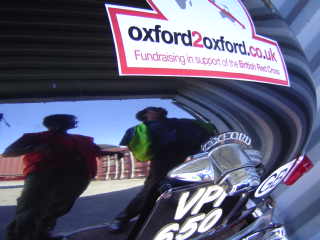 "We don't get many of these, mate!"
Having heard how strict the quarantine rules are for entering Australia – no plants, fruit, soil on shoes, wood etc – we had worked hard to clean the car before it left Singapore but were still concerned that it might not be good enough.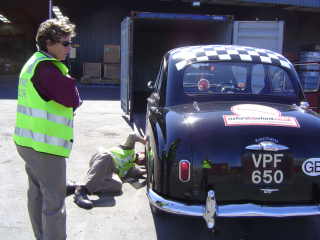 The quarantine officers looked underneath with a torch, ran their fingers under the wheel arches,


looked under the bonnet, looked briefly inside, then opened the boot…
"Any boots, shoes…?" "No", said Tim then realised that Joanne's trainers were in there, but as they had been scrubbed, after a slight hesitation, they passed. "Any food? Any wood?" "No".
"Well, you guys have clearly done your homework, well done." Said the quarantine officer, to our great relief.
Phew! Our car is the first one that Luc has taken through the import process that has passed the quarantine inspection without having extra cleaning. We felt very pleased with ourselves and rushed off to try to get the inspection for roadworthiness completed.
Despite having paid and queued up at the Inspection Centre we were told that cars imported on a carnet de passage are not inspected after 11am so as we arrived at 4pm we will have to leave it until tomorrow or Friday morning.
We drove back via a shop called Kathmandu; the NZ company manufacture travel and outdoor equipment that is sold in Australia, NZ and the UK. As their strap line is "Live the dream" we are hoping that they might sponsor us with camping equipment or at least offer a prize for the raffle we will hold at our Red Cross fundraising event at the Fremantle Motor Museum on 18th November.
Day 184 Thursday 4th November
Australia
Perth
Becky, the granddaughter of Don and Ann with whom we are staying, was taking part in her primary school assembly this morning and we had promised to attend. The school is just around the corner but we drove her and Don there and parked Florence in the school grounds where she attracted attention immediately.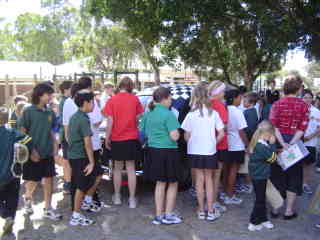 After singing the Australian national anthem, we sat at the back of the open sided hall with parents and enjoyed coffee and cake as we watched Becky's class act out a song, recite a poem and tell us about the findings of their energy project.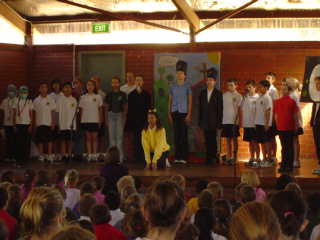 Apparently, their scientific experiment proved that black containers absorb more heat than other colours…our cars chequerboard roof probably makes little difference!
At the end of assembly the headmaster welcomed us and the children and teachers stopped to admire the car and ask questions on their way to class. We were even given donations for the Australian Red Cross that we will put in the Red Cross collection boxes we collect tomorrow.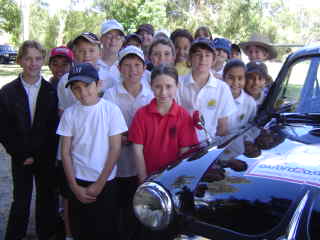 Becky and her classmates with Florence
We spent much of the rest of the day sending out press releases, speaking to the local media and organising the Red Cross fundraising presentation we will be giving at the Fremantle Motor Museum on Thursday 18th November. Tim spent a little time working on the car, ensuring everything is in working order for the inspection tomorrow.
A quick shopping trip to "Dog Swamp" local shopping centre where we also both had our hair cut then we cooked bangers and mash with cabbage and onion gravy for Don and Ann.
Day 185 Friday 5th November
Australia
Perth
If Florence had been a new car she would have failed the inspection, the cynical state vehicle inspector told us. The annual fee for registration of Australian cars includes third party insurance cover which means that injury to a person is insured but not to another persons car. Damage insurance must be purchased separately. The inspector checked the lights and looked underneath for oil leaks: there are none, but he was a bit concerned about a patch of rust he found at the side. Another inspector confirmed that that was not sufficient reason to fail the car as it was imported on a Carnet.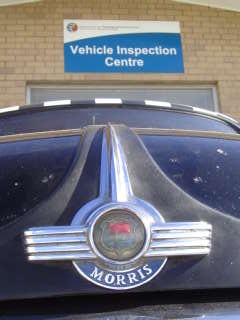 We were a little concerned when the inspector announced that he had to drive the car as few people know how to use the gears but, after a warning from Tim about treating the car with respect and the need to be gentle with the gear shift, his experience of driving a similar car a few years ago showed through and he drove smoothly around the block.
We were relieved when, after half an hour of paperwork, we were issued with a registration sticker valid for six months in exchange for AUS$156.00 plus $53.40 for the inspection.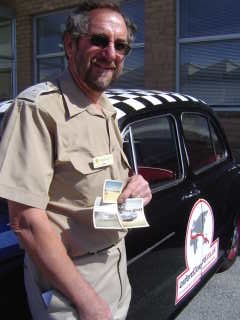 Des, one of the inspectors we had met on Wednesday showed us photos of the Morris Oxford he owned in the 'fifties and drove across the Nullarbor Plain.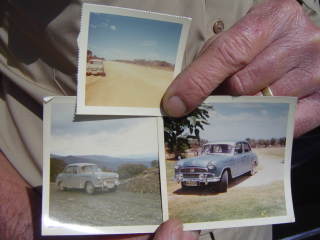 Apparently, Morris Oxfords were assembled in Australia, as were Morris Minors and Morris Majors.
Like large Morris Minors with fins on the back and wider front wings, we have so far seen one Morris Major and been told of another.
Until this morning there was no Morris Major or Morris Oxford in the Fremantle Motor Museum. We pulled in late morning and parked inside the museum next to a Bentley and an MG for some temporary repairs before backing out onto the dockside for a media photo shoot on the edge of the Indian Ocean.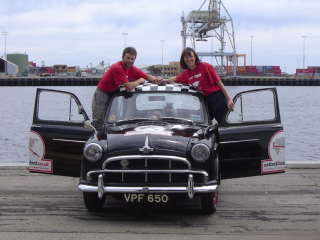 One of the front headlight "bowl" housings had rusted and a wire to the light had corroded so Rusty, one of the museum mechanics, fixed the wiring and temporarily replaced the "bowl" with one from an Austin of a similar vintage.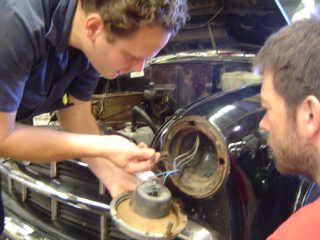 Graeme Cocks, the Chief Executive Officer, has kindly offered to replace ours with a couple of spares he has at home when we return. We will be back at the Motor Museum on the 18th November giving a presentation to raise funds for the Red Cross.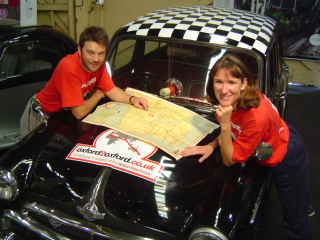 Lunch at a foodcourt nearby then we went off in search of an air filter as we had been advised that we should have one that allows more air in. Though we failed to find a filter to fit Gibbo's car shop donated a prize for the raffle we will hold at the Museum and a British chap with a beautifully restored 1963 Jaguar car gave us a donation for the Red Cross.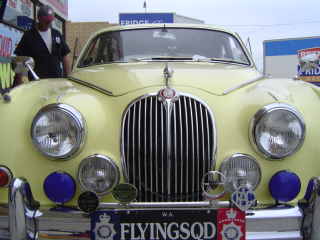 After collecting collection boxes from the Western Australian Red Cross offices we bought RAC cover then traded some books for a Lonely Planet guide to Australia. Books are relatively expensive in Australia so it made sense to offload a couple of books we no longer need in exchange for a book we do need.
A week ago we faxed confirmation of an order placed over the Internet and by phone with Dell for a notebook computer. After much research into which make and model best suited our needs and budget we decided on a Dell despite only being able to order over the phone or internet and having a delivery time of ten to twelve days. We will not be leaving Perth finally until the 19th so having confirmed the order a week ago should have been ample time for delivery. Unfortunately, a problem with Joanne's credit card and a subsequent Dell policy decision means that the order has still not been accepted so we have already lost a week.
Joanne has a new credit card issued by her bank and used it for the first time to pay for the Dell notebook. On Wednesday, the fourth working day after confirming the order, Dell e-mailed to request the security code on the card, which we gave them. Not until yesterday afternoon did they call to say that the card had not been authorised and that they will not accept another card in either of our names because of the risk of international fraud. Instead they want us to exact an international transfer of funds to their account before the order will be placed – this is like going into a shop and paying over $2000 in cash up front over the counter. For an international IT company trading in this age of Internet commerce we consider this not only a ridiculously regressive idea but also costly and time consuming!
The sales man with whom we have been dealing agreed to speak to his boss but we heard nothing until Joanne telephoned again today only to be told that not accepting international credit cards is Dell policy – perhaps they should have told us over a week ago when we first spoke to them. We tried unsuccessfully for the rest of the day to speak to his boss but to no avail.
Don cooked steak with mushrooms, onions and home baked bread for dinner finished with strawberries we had bought at the market and ice cream.
Day 186 Saturday 6th November
Australia
Perth
After a quick swim in the local open-air pool (rather chilly getting out!) we unloaded the car boot, sorted our kit, put up the tent that Nicki, Don and Ann's daughter, is lending us until we buy our own, and Tim checked the car over.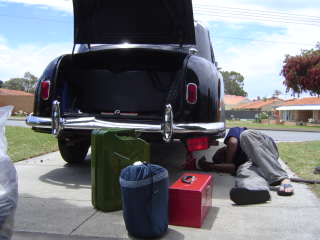 We think that the brakes will feel better once the new linings bed in a bit.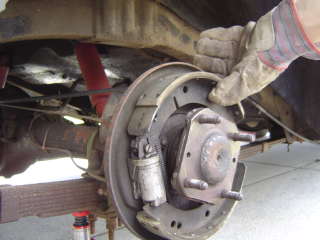 A knocking sound yesterday had bothered us and Tim managed to identify today that it was coming from the exhaust – one of the rubber mountings had perished causing the exhaust to rattle. Don dashed next door to his neighbour, Julian Mettam, who promptly took Tim off to his company, "Mettam's Mufflers" www.mettamsmufflers.com.au where they solved the problem.
We tried to call "Dell" again to resolve the issue over the credit card payment so that our order for a notebook computer could be confirmed but there was no reply. Guess their sales team does not work on Saturdays. This is most frustrating as Dell computers can only be purchased online or over the phone so it is not as if we can walk into a shop to buy one over the counter; if that were the case we could have done so today.
Don and Ann have given us a couple of mugs, two sleeping bags and a saucepan they no longer want and we bought a few camping essentials including a small gas stove, a twenty litre water bag and some food supplies this afternoon so we can camp if necessary.
We had our first Australian "Bar-B" this evening over at Alison's house with Don and Ann, their other two daughters, Jill and Nicki, and granddaughter, Becky.


We are very lucky to have been welcomed to such an extent that we feel as if the Brooks family has adopted us.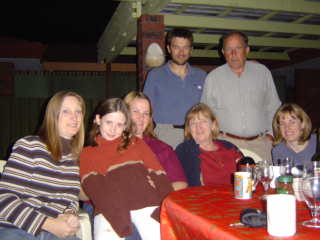 Day 187 Sunday 7th November
Australia
Perth
Up at 5.45am to start our first road trip in Australia. The plan is to take a detour north for ten days before returning to Perth on the 17th November in time for our fundraising presentation at the Fremantle Motor Museum 7pm on the 18th November. Leaving Perth on the 19th we will drive around SW Australia then across the Nullarbor Plain east to Adelaide then on to Melbourne, Canberra and Sydney.
The most direct route to Tom Price is north up the Great Northern Highway for just over 1500km, a little further than Land's End to John O'Groats – the most southerly to the most northerly points of the UK.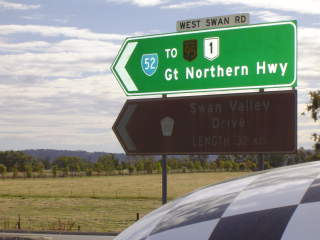 We intend to return to Perth on the coastal route, which is longer but passes through more towns and places of interest and should be cooler than the route up through the outback.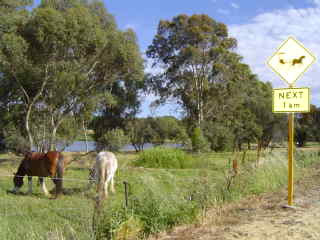 Heading out of Perth we drove past the vineyards of Swan Valley then citrus fruit farms, through the incongruous Benedictine monastery settlement of New Norcia (built by monks in the 19th Century who sought to convert the Aborigines) and out into the wheat belt: fields of wheat that stretched for hundreds of kilometres. The area is famous for wild flowers and we, unintentionally, travelled along the "Wildflower Way" where the road for a short distance was edged with flowers, but the season is August to October so we had just missed the most impressive displays.
At Wubin roadhouse we stopped for petrol and missed the turn off to the Great Northern Highway instead continuing, inadvertently, up the Midlands Way going northwest instead of northeast. With few landmarks we realised too late to make turning around anything but demoralising and, with no other choice of roads we drove on then turned east at the first, and only, opportunity, 215km after we had taken a wrong turn.
A town called Pinder was marked on the map thirty kilometres from the junction where we joined the road east but it was no more than a deserted couple of houses and the start of a historic cross country trail. With no towns marked on the map for the next 220km we decided to turn back thirty kilometres to fill up at Mullewa. The small town has an ornate Catholic Church and a Priests museum recognised by the National Trust, a few houses, and two petrol stations, one closed and one open that incorporated a shop. Other than that it, like all of the other towns through which we had travelled since leaving Perth, looked virtually deserted and as if little had changed in the last fifty years.
We were surprised to find that a small settlement approximately 120km further along the road did have petrol but was not marked on our map. It is annoying that a "comprehensive" Australian motorists road atlas bought from the RAC does not have petrol stations marked, instead it marks towns that do not exist and does not mark settlements with fuel stations! Getting a map showing locations of fuel stations is essential and we should not have assumed that this one did. The major highway has signposts showing the distance to the next facilities but we saw none of these on the lesser roads. We do have a jerry can, water and food just in case.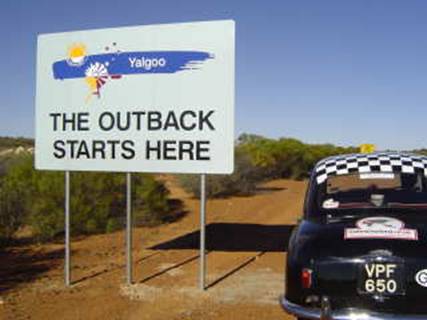 The detour took us along narrower roads that stretched straight miles into the far distance – tarmac but single track rather than two way – with even less traffic than the main highway where there is another vehicle at most every five minutes. In the 244km from Mullewa to the next town and the junction with the Northern Highway we saw about five cars and one road train.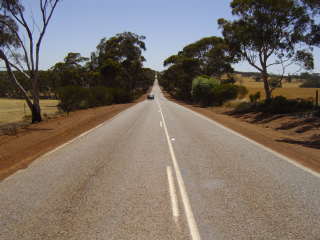 We had been warned about road trains, imposing vehicles to be overtaken by: one large tractor can tow several trailers and, depending on the road, be up to 53.5metres long.
Our navigational error had added about three hours driving to an already long and hot journey along straight roads through little but dry scrub, cost us about A$30, and means that our journey to Tom Price is likely to take three days not two. We learnt several lessons today but learning them all in one go was tough and as we drove on in the heat along roads that seemed infinite it was hard not to be cross with ourselves, each other, the RAC, the makers of the maps…
As the sun began to drop and cast long shadows over the crimson red earth we saw three kangaroos, a snake and several lizards crossing the road as well as an eagle.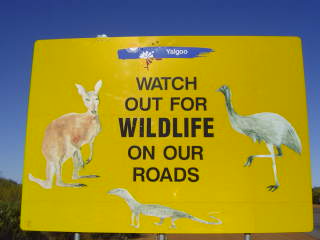 Flies had pestered us in the last few days in Perth but nothing like the numbers that swarmed around us within seconds of stopping to take a photo out on the road – ugh! Not as bad, though, as the locusts that forced us to shut the windows as quickly as possible and that lodged themselves in the radiator grill – UGH!
Biting things was of some concern as we pitched the tent just off the road at a sandy rock outcrop called "The Granites" as it got dark. We had intended to get to Meekathara, some 195km further on, but dusk was falling as we drove through Mount Magnet, a mining town at which we did not fancy staying the night. We were tempted to push on to Cue, 80km further but did not want to risk being written off by a kangaroo jumping out into our path so, after some indecision, we pulled off the side of the road up a dirt track.
Our first night camping in the outback and the setting was barren, nothing but rocks, sand, scrub and a virtually deserted road for miles. The starscape was stunning, though, with no artificial lights within sight and not even a moon. After a quick supper of leak and cheese pasta followed by peppermint tea we clambered into the tent at about 9pm for a much-needed rest. We did not sleep straight away though, concerned about the unrecognisable sounds – was it just the tent flapping or someone outside, was that an insect that dropped onto the tent or something else…It was not a recognised camp site and there was no-one around but we could not be sure so our imaginations played tricks on us until exhaustion finally took over and we dropped off into fitful sleep.
Day 188 Monday 8th November
Australia
Great Northern Highway

The pestering flies meant that once out of the tent we packed up quickly and drove on about 80km to Cue where we filled up with fuel for Florence and tucked into a hearty truckers breakfast at Cue roadhouse.
Cue is a small town notable for its 19th century pale stone built houses, in contrast to most other towns in the outback where houses are traditionally built of wood. Like all the others we have driven through this one street town was virtually deserted, the hotel and B&B on the main street looked closed and the "Gentlemen's Club" was like a museum with a plaque on the wall marking its place in history.
Joanne enquired of one of the three people on the main street whether the roadhouse was the best place for breakfast:
"It's the only place", came the reply.
We shared a "Truckers Breakfast" – enough sausage, bacon, egg, tomato, beans and chop to fill two dinner plates plus toast and self-service mugs of tea – for A$20.00 as country music played in the kitchen and customers walked past us to the counter to pay for petrol or buy something from the small shop that sold everything from fuses to oil filters, hot food to insulated mugs.
We reached Meekathara mid-morning, the largest town on the Great North Highway north of Perth, but with little to entice a visitor other than a couple of hotels that look non-too inviting, a camp-site and a supermarket that we called in to to stock up on provisions. We did find, though, cartons of iced coffee that we drank with chocolate brownie cakes as we drove on that ranks highly in the "Best coffee on the trip" list.
On, on and on the tarmac road continued through red rocky flat terrain and scrubby bush with little of distinction other than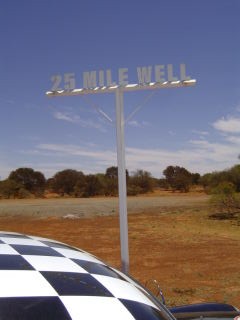 the "25mile well sign" marking a well used when this was a drovers route;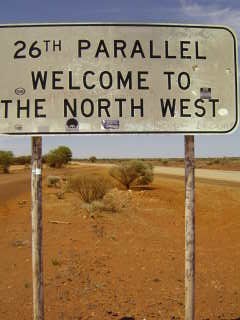 the 26th Parallel;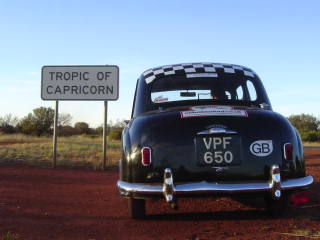 and the Tropic of Capricorn.
Signs state the distances to homesteads, hundreds of kilometres from anywhere else and fences and cattle grids mark boundaries and prevent cattle wandering too far. Nothing prevents them wandering on to the road, though, and we saw several cattle as well as approximately fifty kangaroos dead on or at the side of the road. We slowed down and stopped to allow cattle to wander across the road but it is unlikely that road trains would be able to avoid them, especially at night. Hitting cattle, kangaroos or emus is a serious risk at dusk and at night as they could do serious damage to the car and swerving to avoid one could be as dangerous. We have not yet seen live kangaroos or emus on the road, only in the bush close to the road.
Topping up on fuel at every opportunity we pulled into Kumarina Roadhouse, 169km from the nearest town and as Joanne asked the owner about water the realisations dawned on him that he had just read about us:
"I'd just finished reading an article about you and your car in today's "West Australian" then in you drove…!"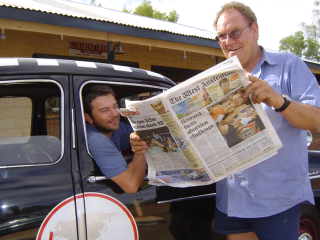 News really does travel fast; the newspaper had got to this isolated place in the outback a lot quicker than we had.
We reached Newman just before dusk, a BHP mining town with two caravan sites, neither of which we were inclined to stay at so we filled up with petrol and drinking water at the roadhouse before continuing on another 100km to camp at a 24hour picnic site where we managed to fasten the tent up under a shelter next to a picnic table. We had stopped at dusk just outside Newman but it was impossible to peg down the tent on the compacted rocky ground so we pushed on, in the dark watching intently for suicidal kangaroos, emus or cattle.
Day 189 Tuesday 9th November
Australia
Great Northern Highway – Tom Price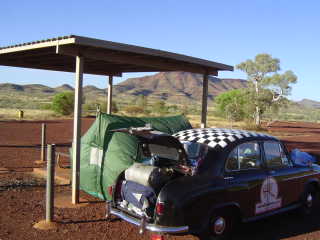 It was a pleasant drive of 180km through Karijini National Park up to Tom Price early this morning; a bright spring day, sunny but a pleasant dry 28degrees.
We were followed up to a viewpoint by an Italian couple travelling around NW Australia in a Toyota Landcruiser kitted out as a camper van, a vehicle we had fleetingly thought about driving. They commended us on having made the right choice of vehicle and for having the spirit to undertake such an adventure in a great fifty-year-old British car. "Complimenti!" they enthused as they took photos, noted down the website and invited us to stay at their home near Verona in Italy.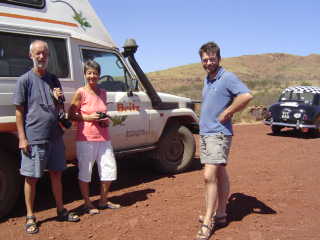 In the 1970's Chiara and Sergio drove several times from Italy to India and, now retired, continue to travel as much as possible believing that fellow travellers tend to be more open-minded and interesting than people who do not travel.
As we pulled up and stepped out of the car in Tom Price town centre mid-morning Fay Marshall, who we were intending to telephone from a call box, was standing right in front of us! We had arrived earlier than expected and bumped into her as she was preparing to buy a few provisions in the supermarket. Tom Price is a small town of only 4,000 people catered for by one supermarket and a few other shops, but still, pulling up right in front of Fay was a good coincidence.
Fay is Tim's Mum's Goddaughter and moved to Tom Price from Wyoming, USA, earlier this year. Her husband, Colin, is the General Manager of Hammersley Iron, part of the Rio Tinto group, and manages five mines in the area so is the "big boss" of the town, according to the tourist guide.
Colin is a motorbike enthusiast and has transported his three classic Truimph bikes around the world with him.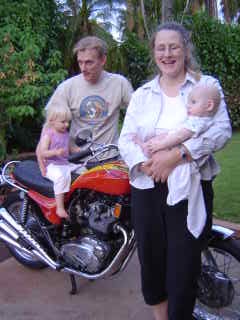 Living in a small town 80km from the next small town and airport and a two hour flight from Perth must take some getting used to but Fay and Colin enjoy their life in Tom Price as they enjoyed living in a small town in Wyoming and prior to that in Eastern Australia. Apart from the obvious differences between life here and in the UK there are a few funnies:
"We have a small problem with mice and don't be worried if a frog jumps up from the loo, they live there." Said Fay, as she showed us to their guest room.
Supper guests this evening confirmed that having frogs in the loo is common in this part of the world and are only seen as a problem when they are big, ugly and hide under the seat ready to jump out when an unsuspecting person sits down. We have not seen one jump out of our loo yet but we have seen the odd small beige coloured frog "plop" into the bowl as the lid was lifted and skid down the side as it was flushed. The neighbourhood frog fraternity are particularly noisy at night.
Day 190 Wednesday 10th November
Australia
Tom Price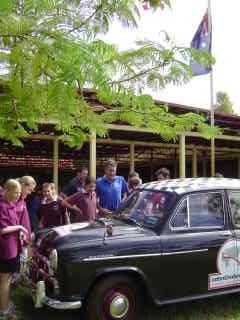 "Have you done any burnouts or donuts in your car?" we were asked by some of the children at the North Tom Price Primary School that we visited this morning.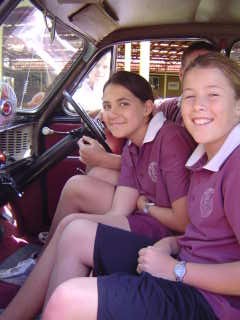 Some of the children took it in turns to sit in the car.
Much to the delight of the class that gathered around and took it in turns to climb in the car after the rest of the children had filed away from morning assembly, Tim did a "burnout" (that we understand to be a wheel-spin) as he drove Florence off the school playing field.
In 1962 the area of Tom Price was found to have the largest body of iron ore ever discovered in the world. The mine site now covers an area of thirteen by eight miles encompassing eight opencast pits.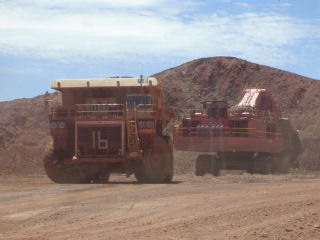 Exploring the mine with a guide, we struggled to take in the enormity of the place, the equipment and the scale of the business that, by 2007, expects to be exporting 150million tonnes of iron ore per year.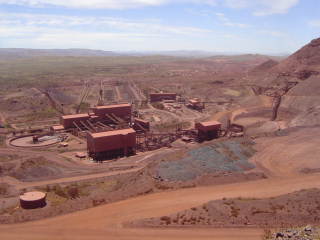 Processing equipment
Even the train that transports the ore to Dampier on the coast from where it is exported, mainly to China, is the largest private train network in the world (operating for the exclusive use of one company, Pilborough Iron, of which Hammersley Iron is a subsidiary).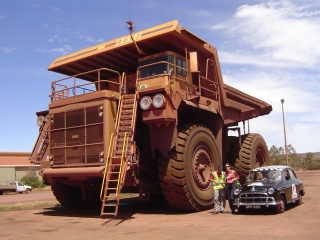 The haul trucks that move the iron ore around weigh the same as a fully laden 747 aircraft when full and, next to Florence, resemble enormously outsize dumper trucks.
The town was built and owned by the mine and, though it became an open shire town in 1980, the mine as the largest single employer and provider of housing still exerts great influence. The town is encouraging a tourism industry but the infrastructure is not yet geared to support a significant number of tourists.
The majority of people we met while standing outside the shops this afternoon worked for the mining company, or their spouses did. Our effort to collect money for the Australian Red Cross was more successful than it might have been had we not spoken at the primary school this morning as several children told their parents about us and others dragged their parents over to meet Jo and Tim and see their famous car!
Day 191 Thursday 11th November
Australia
Tom Price
Karijini, the second largest national park in Western Australia, is the main attraction for tourists visiting Tom Price. We borrowed Fay's 4x4 this morning and drove through the park to view some of the most impressive gorges from viewing points.


Ghost Gum tree in Karijini National Park
It is possible with more time to hire a guide and clamber through deep narrow gorges to pools and waterfalls but in this season only one waterfall has water flowing down it.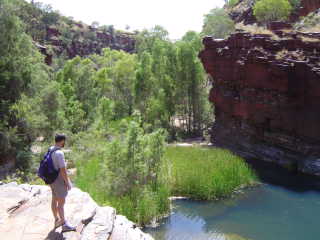 We walked to Fortescue waterfall then down to the pool at its base and along the bottom of Dales gorge to Circular Pool where we swam in the deep, clear water at the foot of high sheer red rock walls.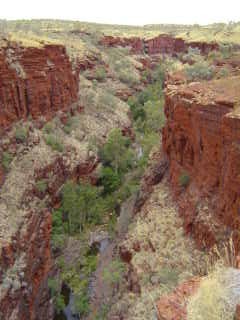 The Hammersley range of mountains, at 3,500 million years old, are some of the oldest rocks in the world and their jagged peaks and deep gorges where the ground appears to have been torn open then deepened by streams in an otherwise dry and barren area make a dramatic setting.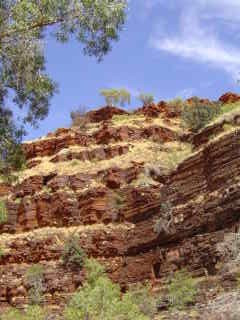 The red earth had been moulded into a bizarre landscape of termite mounds.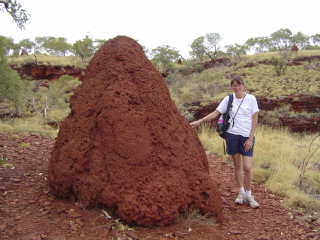 Fay and Colin took the two-hour flight to Perth this evening and were kind enough to let us stay on at their house until tomorrow. We spent the afternoon alternating between catching up with some admin and playing with Sally (20 months) and Thomas (4 months) while Fay packed. We relaxed this evening and watched "Finding Nemo", lent to us by Becky, on the big screen with surround sound in Fay and Colin's sitting room. Having an opportunity to cook our own supper and eat it whilst watching TV is a real treat having been away from home for over six months.
Day 192 Friday 12th November
Australia
Tom Price-Exmouth
Long drive from Tom Price roughly in the middle of north Western Australia to Exmouth on the west coast. After 80km we pulled into the petrol station at Paraburdoo, a mining town a little smaller than Tom Price, our last filling point until we reached the Nanutarra Roadhouse at the junction with the North West Coastal Highway after 268km.
As we paused to fill-up with petrol and eat our sandwiches we chatted to the owner about life running a roadhouse hundreds of kilometres from the nearest town: apparently reasonably profitable as most people have to fill-up there, even if petrol is more expensive than other filling stations because of the overheads, and many customers then use the facilities that include a café, loos and showers. He had previously run a sheep station and did not find life there lonely so in comparison running a roadhouse was positively sociable. Our short stop succeeded in topping up our Australian Red Cross collection boxes too as we received donations from the owner and other curious customers.
The landscape changed from red rock mountains across plateaus down to rolling sandy scrubland as we headed westwards towards the North West Cape and the townsite of Exmouth. The townsite was originally established when the American Navy built a submarine communications base on the peninsula; there is now an "Australian Commonwealth Government" communications/listening base towards the end of the peninsula and an Australian Air Force base next to a civilian airport at Learmonth.
Archaeological finds suggest that Aborigines lived on the peninsula but were wiped out by smallpox brought by some of the first European settlers in the 1860's. Whaling and fishing were some of the first commercial activities here until oil exploration began in the mountain range along the centre of the cape during the 1950's. Fishing and eco-friendly tourism are now the main industries.
Exmouth is the main townsite, close to the national parks and where most people stay at a couple of hotels, campsites or backpackers hostels. The other smaller place is Coral Bay on the SW coast. Everything was closed and the small townsite looked deserted when we arrived at 5.30pm. We had been given an introduction to the owner of the "Potshot Hotel Resort" but he was not there, did not want to speak to us on the phone and the resort receptionist was particularly dismissive of potential customers so we decided not to give them our business and instead checked in at one of two campsites in town.
Not inclined to camp near roads, streetlights and other people we were tempted to go further out towards the lighthouse but as we had been told that all advice and activities bookings had to be made at the tourist office in town that opens at 9am tomorrow morning we thought it best to camp in town.
The receptionist at the Ningaloo Caravan and Holiday Resort was a little more welcoming than at the Potshot Hotel but only marginally so and offered us no information on the area other than the confirmation that all information is available at the tourist office across the road. An elderly couple we stopped and spoke to as we drove around the townsite gave us more advice about the town than the receptionists did – "the fish and chip shop is not recommended but Grace's Tavern and the Potshot Resort both offer quite good food and have bars, other than a Chinese restaurant those are your options".
We had a beer and ate dinner at the "Potshot Resort", renowned for it's Friday night Bamboo Bar but as there was a private function on and we didn't stay late things were quite sedate. Their claim to serve great sticky date pudding is certainly justified!
Day 193 Saturday 13th November
Australia
Cape Range National Park
Waiting until 9am to go into the tourist office was a frustrating waste of our limited time in the area but the cleaner was friendly and cheered us up:
"Is that your little car? She's a beaut'. Brought her all the way out from the old country, eh? Good on yer!"
The drift snorkel on Turquoise Bay is reputed to be one of the best snorkel site in WA so we hired kit from the park information centre and parked up at the stunning white sand beach. The Ningaloo Marine Park encompasses a coastal reef that creates lagoons and sheltered bays along the coast of the Cape Range National Park. We swam out about fifty metres then let the current take us along parallel with the beach 200metres over lumps of coral and associated fish. Signs warn swimmers to get out of the water before the rip takes one to sea out through a gap in the reef and we were careful to get out in time. Turquoise Bay is appropriately named – a wide white sand bay with clear blue sea – we did not see any turtles or particularly interesting fish but the sea was beautifully inviting.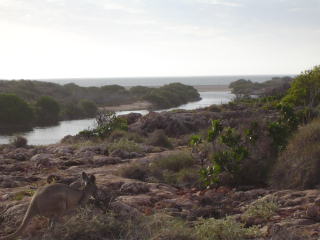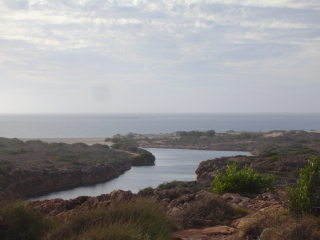 Late afternoon we walked on a natural limestone pavement (would have once been the sea bed – we found fossils that resembled jelly fish) along the edge of Yardie Creek – a water-filled canyon cut off from the sea by a sand bank and saw kangaroos close up.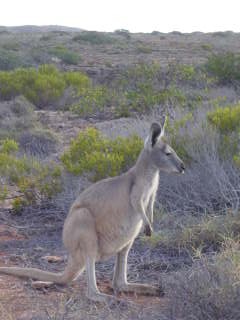 We contemplated driving across the soft sand of the creek recommended only for 4x4s so that we could continue south by the coast track rather than returning around the end of the peninsula on the bitumen road but as we had no sand boards we thought that the likelihood of getting bogged in was high.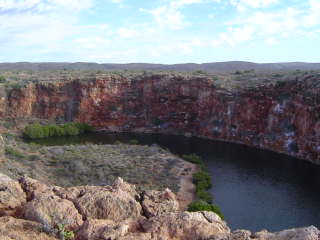 As we drove back to the north end of the park the sun began to drop and we dodged kangaroos, lizards and emus; and stopped once to let a porcupine bimble across the road.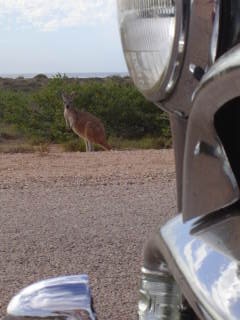 We pitched the tent at a small basic campsite (equipped with a compost loo in a hut and with no water) in the national park overlooking a beach and with only a few trees to provide inadequate protection from the strong wind that would have pulled at least one of the main guy ropes out of the hard ground had Tim not piled rocks on it.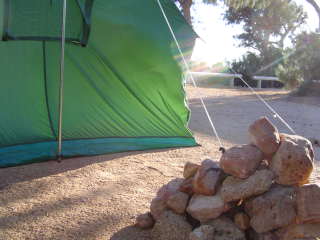 We ate a supper of pasta sheltering from the chilly wind as the sun set, then drove back on to the bitumen road.
We had agreed to do a live interview over the phone with Radio 882 6PR at 9pm this evening and the nearest phone was at a caravan park some 30 minutes away. The drive there and back felt as if it went on for hours because of the constant watch for kangaroos that seemed determined to boing across the road just as we got close; one even sat in the middle of the road looking at us as we came to a halt, perhaps the headlights had confused it. "Roo right…two roos left,, no, make that three…" Joanne provided a running commentary on the roo situation ahead so that Tim was prepared to dodge when necessary.
En route back to our tent after the interview we stopped at one of the beaches where turtles come ashore in November to lay their eggs. There was no moon and the clouds obscured most of the stars so there was little natural light as we found our way down the track across the dunes to the beach and let our eyes adjust to the darkness. For 45 minutes we stood, walked along a few metres then stood still again, concentrating on the edge of the water for emerging turtles, our imaginations picking out a few then on inspection realising that they were rocks. Perhaps we were a little early in the turtle laying season to see them coming ashore or we simply could not see them because it was so dark! Either way, it was disappointing and we were very tired as we climbed into the tent at about 11.30pm and were kept awake only briefly by the sound of large crabs running around the edge of the flapping tent.
Day 194 Sunday 14th November
Australia
Exmouth-Shark Bay
After a quick skinny dip in the sea we hit the road south.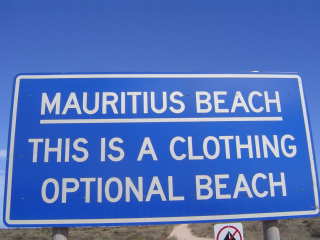 By the time we refuelled at the one petrol station in Exmouth we had driven 170miles from Exmouth to and around the national park and back to Exmouth in 24 hours, not including the 250miles we had driven off the main East Coastal Highway to get to Exmouth. Perhaps if we had dived the reef and seen whale sharks and turtles we might have better appreciated the attractions of the area.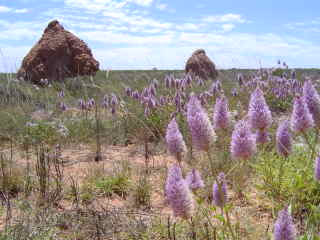 Some of the wildflowers for which Western Australia is famous were still in bloom around the termite mounds that dotted the open landscape as we headed south.
The temperature reached 44 degrees today and we had to give up using the laptop computer in the car because the inverter switches off at high temperatures. We have been lucky to date, with temperatures in Tom Price lower than average at this time of year but they're back up again. A couple of men refuelling at the Overlander Roadhouse were discussing our lack of aircon and, in response to our getting out our Australian Red Cross collection box, put money in and insitsted on giving us the same amount again towards petrol. With no petrol sponsor, despite our efforts to find one, fuel is a major expense particularly with the vast distances we are covering here in Australia so this donation was much appreciated. Unprompted, a German young cyclist en route to Exmouth threw his last coins into the Red Cross box and wished us luck; cycling the distances he must cover between water stops we agreed that he needs more luck than we do.
At the turnoff the Eastern Coastal Highway into the Shark Bay World Heritage Area we felt as if we were nearly there but the straight bitumen road continued on and on along the peninsula for another 80 miles into the sunset.
We were greeted by Tim Hargreaves, a schoolfriend of Tim's uncle Philip, who had invited us to stay at his home in Denham, Shark Bay. Also staying with Tim for a few days was Mel, a French girl who is travelling around Australia for a year and is in Shark Bay for a few days. In return for accommodation and riding Tim's horses Mel is working on his newspaper and helping him with cooking. As Tim's wife is away in India it appears that the offer of help was timely.
We spent a relaxing evening talking about the community in Shark Bay, politics, religion, the Red Cross, how Tim and his wife left England and settled in Australia, and even realised that Tim knows Tim Hargreaves stepson in London – it really is a small world.
Day 195 Monday 15th November
Australia
Shark Bay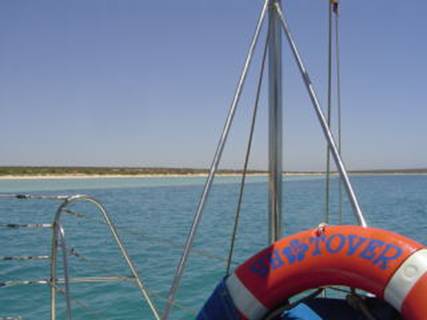 Sailed on the catamaran, "Shotover", from Monkey Mia into the stunning turquoise bay and watched bottlenose dolphins playing and eating,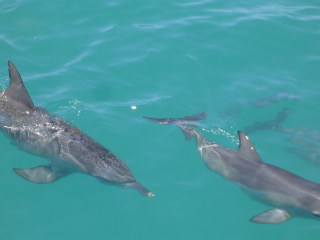 a turtle pop up for air, a tiger shark cruising in the deep beneath us, a dugong and her calf, flying fish and pelicans sitting in the shallow water by the white beach.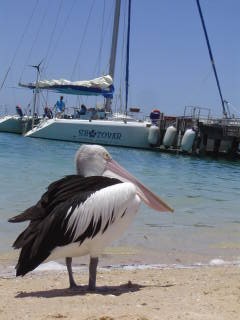 A truly idyllic and fascinating place.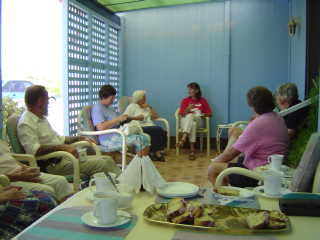 Back in Denham, the main town on the peninsula with a population of 600, we had been invited for tea with the local Red Cross volunteers, an interesting and fun group of ladies dedicated to supporting the work of the Red Cross.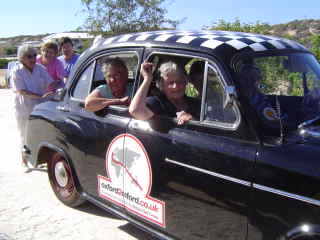 The Red Cross ladies of Shark Bay admire Florence
Coincidentally, Tim Hargreaves is the Shark Bay Red Cross co-ordinator and he has been working for the last few years to co-ordinate Red Cross fundraising activities in Shark Bay.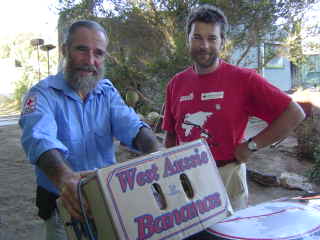 He has also set up and run the "Shark Bay Crisis Centre" collecting and sorting clothes and other items, packaging and labelling them then transporting the boxes to Fremantle from where they are shipped to people in crisis in Timor.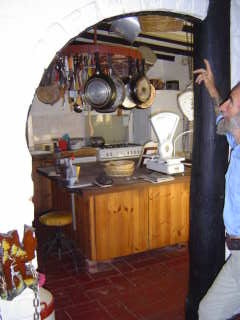 Tim built his fascinating and cosy house by hand, literally, using a variety of materials including old car springs as door arches to hold up the mud walls.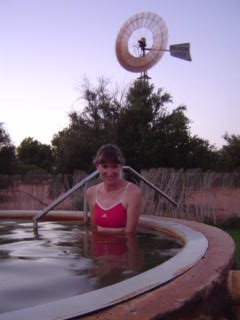 A quick dip in an incredibly hot tub of spring water in the national park as the sun set then back for supper and more discussion of politics and Christianity and tales of Tim Hargreaves fascinating life.
Day 196 Tuesday 16th November
Australia
Shark Bay-Perth
Thanks to John at the Caltex petrol station in Shark Bay for filling us up with fuel before we headed off on a seriously long drive.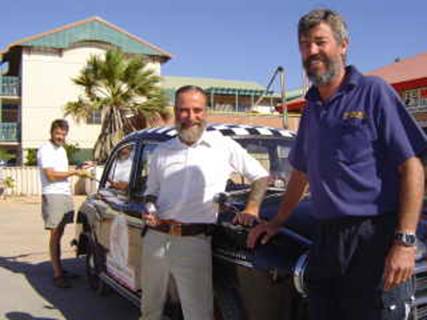 We had thought we would drive just south of Geraldton, camp overnight then continue on to Perth tomorrow morning but with a lunch meeting tomorrow, rain clouds threatening and nowhere particular to camp we pushed on, ate pot noodles for supper as we drove, and reached Perth, very tired at 11.30pm.
On the Shark Bay peninsula we stopped off at the brilliant white and deserted "Shell Beach", so called because small shells several metres deep make up the beach.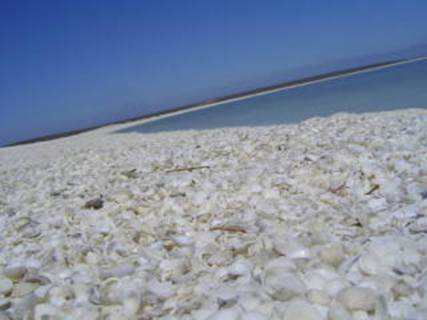 As no-one was around we thought we would take an unpromptu dip but it was so shallow that he had to make do with a paddle in the very salty sea.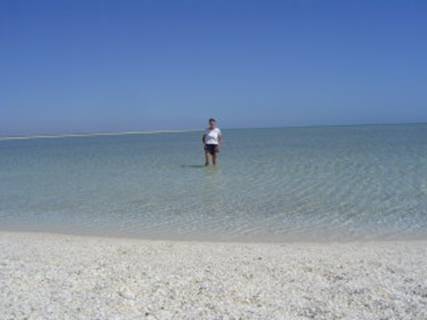 At the end of a seriously salty sea bay on the peninsula the oldest living creatures on earth still survive.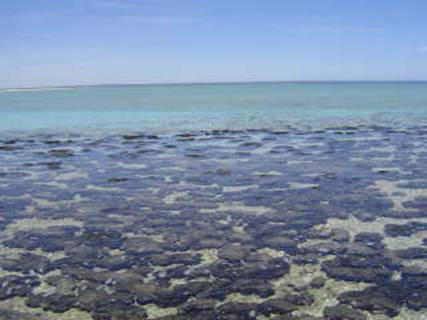 We walked along the boardwalk to view the "stromatolites" or living rocks, despite some people telling us that they were very small, dull lumps of rock.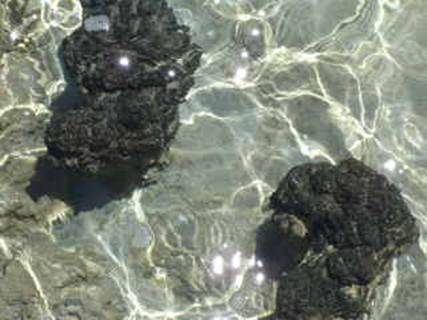 Admittedly, there would be little reason to pay regular visits to monitor their progress, but the significance of these oxygen emitting life-forms that scientists believe provided the conditions for the first air breathing animals to develop on earth millions of years ago made our visit worthwhile.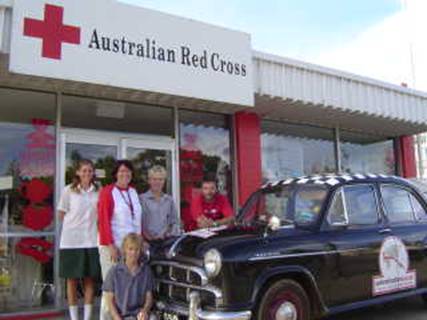 Red Cross Co-ordinator, Jo Diss with children Jackson, Montana and Ben
We stopped for tea with Jo, the local Red Cross Co-ordinator, at the shop in the windy coastal town of Geraldton and were very tempted to accept her invitation to a BBQ on the beach and a
bed for the night at her home but we felt we should push on.
Day 197 Wednesday 17th November
Australia
Perth
The reason for our determined effort to make it back to Perth today was a lunchtime meeting of the Automotive Group at the Weld Club, one of the oldest and most traditional clubs in Australia, to which we had been invited.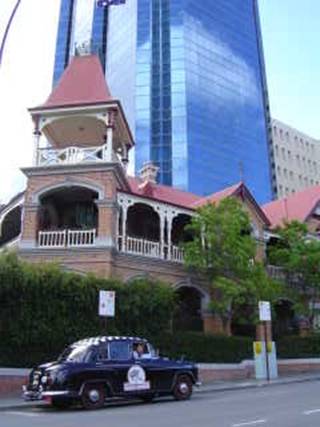 As well as eating a very good meal we enjoyed talking with the group of car and travel enthusiasts, some of whom had travelled across the world by plane and scooter as well as owning a variety of modern and classic cars.
Tea and a progress talk with Steve, the Chief Executive of the WA Red Cross then supper back
in Menora with Don, Jill and Becky.
Day 198 Thursday 18th November
Australia
Perth
Our presentation to the staff at the Perth office of the Australian Red Cross was a great opportunity to practise using the projector and video lent to us by the Red Cross for our evening fundraising presentation at the Fremantle Motor Museum this evening.
In between we squeezed in a live studio interview on ABC Radio with Todd, a Red Cross "Ambassador", and host of one of the most listened to radio shows in WA and posed for a photo at the P and O Nedlloyd offices.
We made it to the Motor Museum just in time for Rusty to fix the wiring on the additional central rear brake light and to replace our rusting headlight bucket with one from a 1955 Austin A30 Countryman.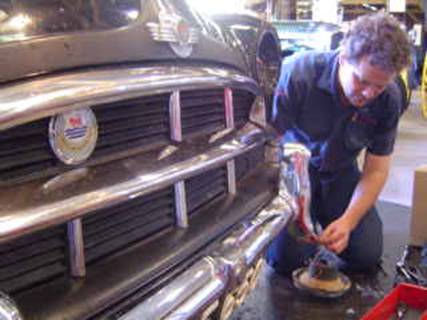 Graeme and Rusty have been extremely generous with help on the car; we hope we will not need to take them up on their offer of sending spares over to us if we need them in Australia but it is great to have the option.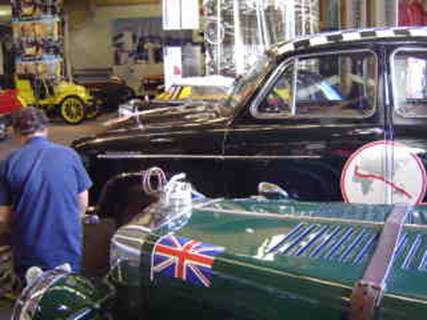 www.fremantlemotormuseum.net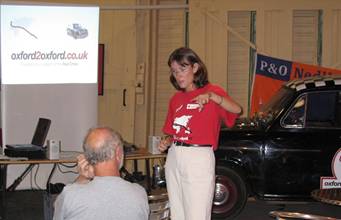 The Museum opened at 7pm and welcomed about fifty guests, ranging form Oxford Society members and local car clubs to people we have met in Perth and people who have read about us in local newspapers, to a presentation about our journey.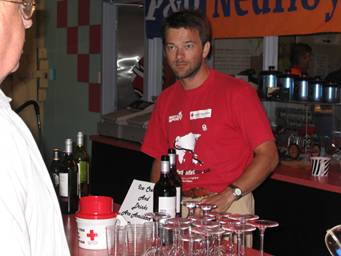 Guests enjoyed drinking "Oxford Landing" wine donated by the Yalumba Vineyard while they toured the museum. Prizes for the raffle were donated by the Red Cross, "Gibbo's Parts", "Kathmandu" www.kathmandu.com.au and "Books Etcetera".
The Red Cross sold "First Aid" kits and raffle tickets while we and Graeme Cocks, the Chief Executive Officer of the Motor Museum, welcomed guests and served wine. It was a tiring evening but we met some interesting people with amusing tales to tell and we felt that the evening was a success. We owe a big thanks to Graeme Cocks and Peter Briggs, the owner of the Museum, for hosting us and working so hard to accommodate us and Florence in the Museum.

Day 199 Friday 19th November
Australia
Perth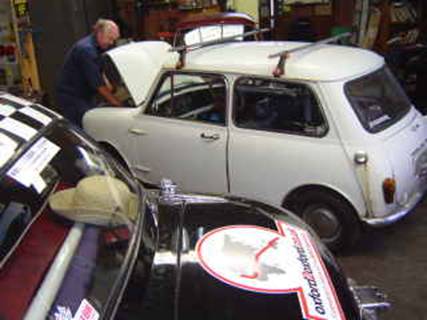 Tim spent the morning at "Minicraft", a garage that specialises in Mini's and other Morris cars including Morris Minors and Morris Majors.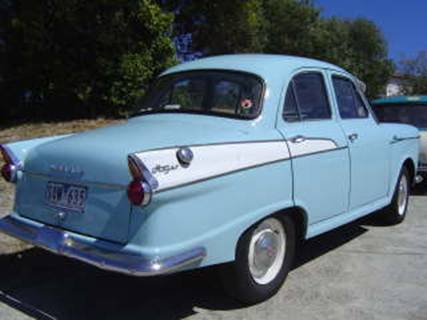 Trevor, Ian and Gary, the team who entered a Mini in Rally Australia, called in while Tim was there to thank all at Minicraft for helping them in their effort to complete the last rally in which the Mini was eligible to enter.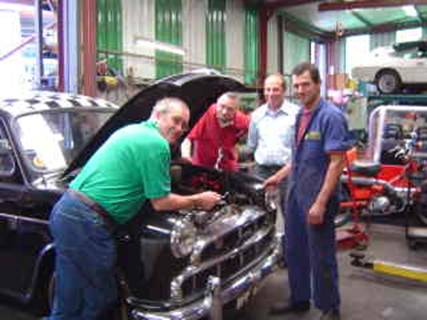 Disappointingly, they broke a differential and suffered electrical problems so were unable to finish.
Minicraft (08) 9370 2882
Since hastily replacing the air filter housing on the day we left England we have struggled to find a cardboard filter element that fitted correctly. In Spain we found an element that almost fitted with the assistance of an adapted dog toy to keep it in place (thanks, Popeye!). Thanks to Jack, the Minicraft spares man's, encyclopaedic knowledge, we finally found one to fit.
Cono fitted the new air filter; fitted new points as the last set we had had fitted in India had not been lubricated so had worn our prematurel; cleaned the plugs; swapped back wheels for the front because the new front tyres that we had had fitted before leaving England were showing signs of inconsistent wear; greased the suspension; checked the brakes and checked the timing. She is now noticeably running more smoothly.
While Tim looked after Florence, Joanne helped volunteers in the Perth Red Cross pack Xmas parcels for their overseas delegates; handed in the money taken at the event last night (the presentation at the Fremantle Motor Museum raised approximately $500); in addition, we handed in collection boxes with $353 collected on our journey over the last two weeks; called head office of the Australian Red Cross to try to arrange to code donations made through Oxford2Oxford and answered questions from various members of staff following the presentation yesterday about our journey.
We were treated to a late lunch in South Perth by Queen's College alumnus, Nigel de Bussy, who teaches public relations at the University of Western Australia and admired the views over the river to sky scrapers of the city.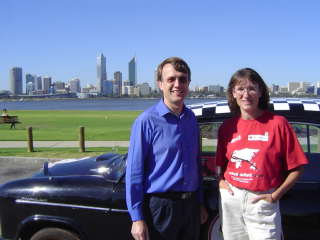 It took four hours, several helpful and patient shop assistants (Ty at Mountain Designs in particular), and much traipsing between four shops comparing prices and discounts before we finally bought a tent, two sleeping mats, a pair of Teva sandals each and a pair of trousers that zip into shorts for Joanne. We're now equipped for camping!
Postscript
19th Nov Dell saga
We were disappointed to find that there was still no sign of the notebook computer from Dell that we expected to have been delivered by now having been told on 9th November that the order had been processed.
While in Tom Price on 9th Tim had called Dell to confirm that the credit card payment had gone through on his card only to be told that it had not been authorised. He called his credit card company who assured him that there would be no further stops on the card due to him being in Australia, then called Dell to tell them that the credit card payment could be processed now and asked them to call back to confirm that it had gone through. Tim got no response so called back again twice, both times leaving messages on answer phones and has since had no response from Dell.
As the computer had not arrived yesterday Tim called the sales team at Dell and, eventually, got through to the person who had first taken the order three weeks ago who told Tim to "be patient". Usually patient Tim was furious, not only had he been told that the order had not been processed, but he was told to be patient!
After much persistence Tim managed to speak to the "Executive Escalations Manager" who deals with complaints. Told that his credit card had still not been authorised he called his cc company in the UK again to be told that there was no problem with his card and that no transaction request had been received since Tim had called on the 9th. It was not until Tim called Dell again this morning, because Dell did not call him as they had promised, and after more confusion between Dell staff he discovered that Dell had been using Joanne's card again, the one we had told them not to use at the beginning (it is new and there is some problem with it), not his card that he had sent details of to the accounts manager on 9th! The string of incompetence's is unbelievable. The order was finally processed once Tim's credit card payment was authorised.
Tim threatened to call on the Chief Executive when we arrive in Sydney, unless Dell Australia offer an apology and compensation that we believe to be commensurate with the frustratingly appalling service, inconvenience and expense that we have experienced in trying to buy a Dell product. We will make every effort to tell the Chief Executive the catalogue of errors (of which we have a comprehensive list) and our opinion of Dell Australia in person.
Day 200 Saturday 20th November
Australia
Perth-Busselton
The Brooks family finally said goodbye to us today after having patiently looked after us, except for our ten-day trip up north, since we arrived in Perth. They provided a great home base for us from which we could prepare for our time in Australia and much more for which we are really grateful.
The first leg of our journey across Australia from Perth to Sydney began today and brought us south to the coastal town of Busselton. From here we intend to travel through the vineyards of the Margaret River area to Albany and Esperance then inland to the mining town of Kalgoorlie before we drive east across the Nullarbor Plain.
As we are now equipped for basic camping we needed to repack the car to ensure that all our kit is in the boot. The fuel jerry can is now looking for a new home with some other owner. Untl now we have carried a jerry can but we are confident that the range achievable with our 45litre fuel tank is far enough to get us from one petrol station to the next without carrying extra fuel.
As we refuelled in Bunbury a woman asked for Tim's help with her overheating car. Not being a mechanic but having gained some knowledge of engines over the last few months he deduced that the fan was not working correctly causing the radiator to overheat. She was rather distressed at his suggestion that she let the engine cool down before attempting to drive home, especially as four ice-creams were melting on the seat.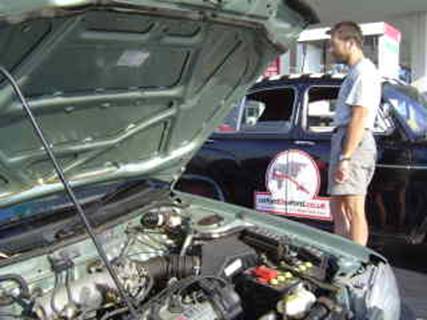 "It's the problem with these modern cars, you see…" said Tim, proud of the fact that Florence has driven up long steep hills and survived the heat of the North African desert without overheating.
One of the audience at the Fremantle Motor Museum on Thursday night, Nevis, suggested we contact Clive and Sheila who run the Geographe Guest House in Busselton because he thought that we might be interested in the journeys that they had undertaken. Pulling into their drive we were very pleased that we had taken his advice; the wooden house with wide veranda is set in a wonderful English Cottage style garden abundant with roses, hollyhocks, geraniums, nasturtiums, honeysuckle and many more pretty plants in full scented bloom. The climate is slightly cooler than Perth though warmer than the UK and with sufficient water provides an ideal climate for these plants.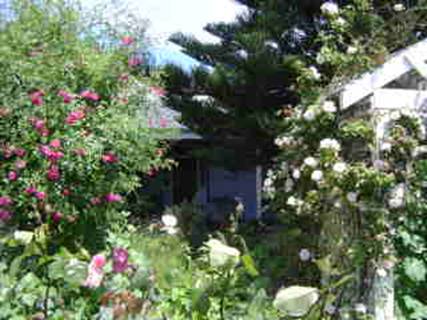 The house was originally built in the 1800's to house nuns who helped women brought out from cities such as Liverpool and Manchester who were struggling to clear the land in the area in order to set up homes and make a living. It was already converted into a guesthouse when Clive and Sheila bought it eight years ago and it felt, to us, like a little bit of country cottage England.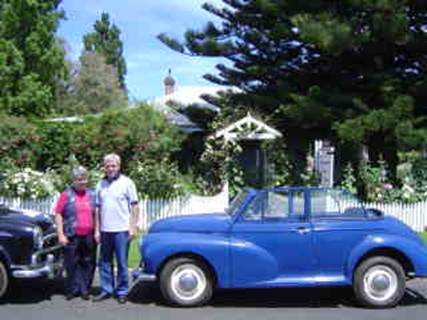 www.iinet.net.au/~geoguest
Over dinner we compared experiences of travelling through foreign lands in a classic English car. Fourty years ago Clive set off from London in an Austin 7 on an overland journey around the world that lasted seven years and took him through Iran, Pakistan, India and Australia, where he met his future wife, Sheila, who then accompanied him on the next leg of the drive across Australia, New Zealand then from Canada down to South America. The Austin 7, named Samantha, is still in his garage along with his 1951 Morris Minor convertible that he took Tim our for a spin in.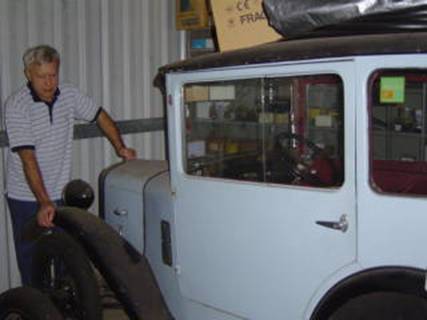 Samantha is a small car with no boot so all of their kit, which included camping gear, fitted on the narrow back seat; she has narrow spoked wheels with motorbike tyres; there is no fuel pump, instead the fuel is gravity fed to the engine; and no oil pump, oil is just "splashed around". She is much older and even more basic than Florence and travelled vast distances on routes that in many cases were not tarmaced – on one day in South America, determined to see sea elephants, Clive fixed nineteen punctures in the balding tyres!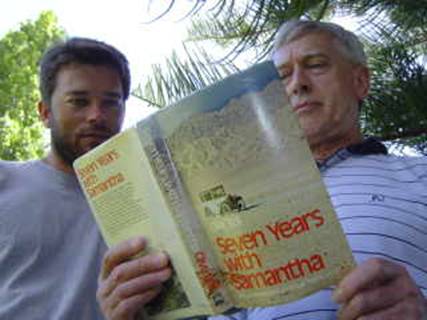 We will now be searching out his book, "Seven years with Samantha", in second-hand bookshops.
Postscript 25th November: we have just received an e-mail to say that Tims Dad has found a copy of the book for us - fast work!
Day 201 Sunday 21st November
Australia
Busselton-Augusta
At 2km long Busselton Jetty is the longest wooden jetty in the Southern Hemisphere and one of the largest wooden structures in the world.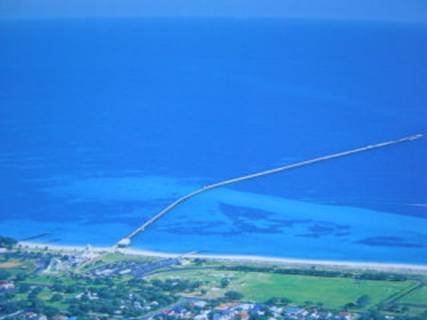 The jetty was built when Busselton was founded in the early 1800's to offload ships in the shallow bay. Over the years after the jetty ceased to be used commercially it suffered from a fire, a storm, and a cyclone that destroyed a large section of the jetty. It was repaired using a section of another jetty and is now a successful tourist attraction with visitors having to book in advance to travel on the train out to the underwater observatory sunk down eight metres at the end of the jetty.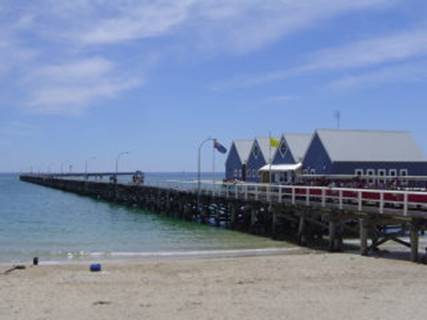 The water is too cold to support hard coral but the warm and cold currents bring in a variety of plant and animal life that has created a unique habitat around the posts of the jetty.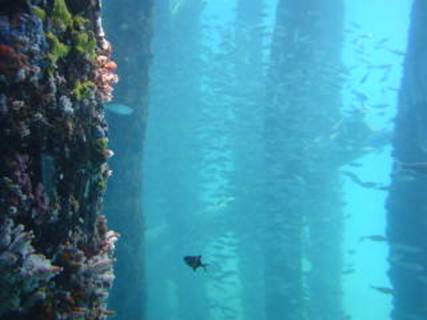 Through the windows of the observatory we saw schools of fish swimming around the multicoloured soft coral formations that covered the hardwood posts of the jetty.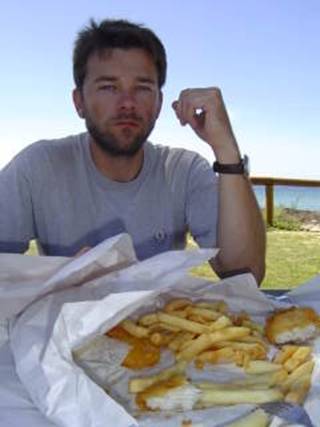 We ate huge portions of battered hake and chips on the sea front then drove south through rolling countryside and vineyards with special open days to celebrate the Margaret River wine festival. The first vineyards were only planted thirty years ago but the area is now very successful.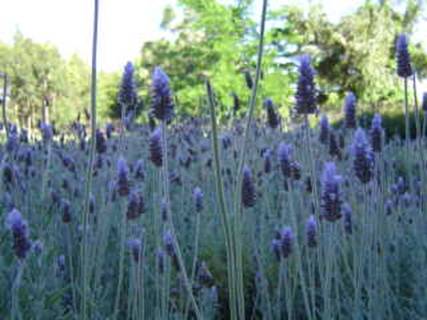 We stopped off at the only lavender farm in the area where Jeff Clarke, originally from Stoke, England, has "retired" into the wine and lavender business.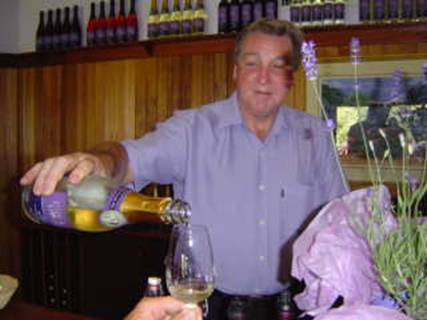 The technique he has developed of adding lavender early on in the fermentation of the grapes creates very pleasant wines that we enjoyed tasting. Walking through the garden we found a "Red Cross Lavender" called "Henry Dunant" after the founder of the Red Cross.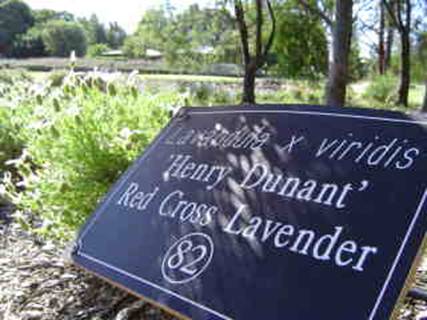 www.capelavender.com.au
The big treat of the day – a visit to the Margaret River Chocolate Factory, a "boutique brand" aiming at the gourmet market was a little disappointing.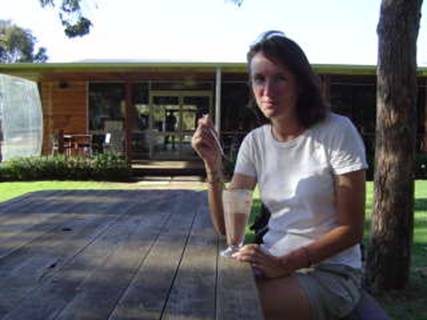 The "chocolate" menu included "real hot chocolate made with melted chocolate", chocolate brownies and chocolate sundaes. As it was hot we plumped for a chocolate sundae to share. We do not know if they have a "Trade Descriptions Act" in Australia but the manager certainly understood the concept when Joanne threatened to challenge them under it when she was presented with a glass of vanilla ice-cream with chocolate syrup! We eventually got a "chocolate ice-cream sundae" but it still did not begin to live up to our expectations.
Further south along the scenic Cave Road through a forest of tall pale Karri trees we came across a wedding party posing for photos with two classic cars; "Hey, it's an old Morris" exclaimed one of the party as one of the ushers ran over to congratulate us on our journey and put $5 in the Red Cross collection box.
The sun was just setting as we reached the lighthouse at Cape Leuwin, the most southwesterly point in Australia where the Indian and Southern oceans meet.


We pitched our new tent with only just enough light to work out which colour poles went where!
Day 202 Monday 22nd November
Australia
Augusta-Albany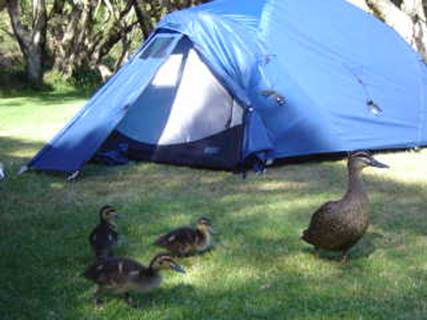 We had a reasonably leisurely start from the campsite at Augusta and a pleasant, though hot, mornings drive through Karri forests and rolling pastures with grazing cattle reminiscent of England.
Back on to Highway 1 – the road that continues around Australia – past several sites where controlled burns of the vegetation accumulated on the forest floor were taking place.
Through Walpole, formerly a mill town and now a stop for tourists to fill up with food and fuel, to Nornalup where we stopped for a much more interesting lunch than that on offer in Walpole. The Nornalup Teahouse Restaurant is a stylishly renovated building dating from 1929.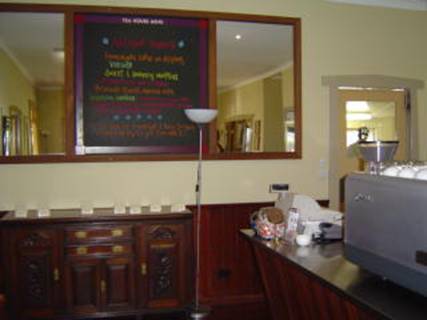 One of the first buildings in the small town, it originally housed the post office, the power generator for the area and sold petrol as well as other commodities.
www.nornalupteahouse.com.au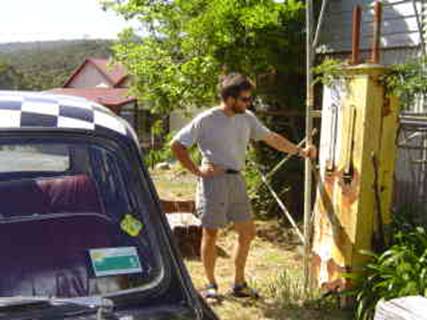 The fuel pumps no longer work and there is no need for a generator but, in keeping with tradition, the teashop offers a great stop for travellers who appreciate good food in a historic and stylish setting. We enjoyed really tasty pies and salad on the house - well worth going beyond Walpole for.
A short distance further on we turned off the main road to the Valley of the Giants and the tree top walk from which Tim was pleased to descend – a 600m long walkway suspended up to 40m above the ground in the canopy of the forest of Tingle trees.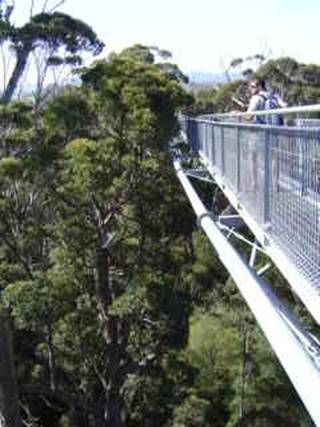 Tingle derives from an Aboriginal word for the four species of rare eucalypts that grow within four kilometres of each other in this region and nowhere else in the world – Red, Yellow and Rates Tingle live inland and the Red flowering gum closer to the coast.


The Red Tingles (Eucalypt Jacksoni) can grow up to 75metres tall and are often hollowed out at the base by fungus, insects and fire forcing the trunk to compensate by spreading wider. One of the gnarled trees we saw as we walked through the forest at ground level was 400 years old, twelve and a half metres in diameter and its base resembled an old mans face.
On and on through rolling pastures and forests to our campsite for the night at Cozy Cove, just west of Albany – tucked away under the trees with steps down to a wide sandy beach just behind our picnic table. There were only two other groups of campers in the small site who shared the basic facilities – a compost loo in a hut – and we slept to the sound of crashing waves.
Day 203 Tuesday 23rd November
Australia
Albany
Jeannette Whitington, the co-ordinator of the Red Cross Superstore in Albany, recognised us from an e-mail she had received from head office in Perth and her and her staff were really hospitable: as well as giving us the use of a small office, which was very helpful, we were treated to fruit and nibbles for lunch and chocolate cake for tea.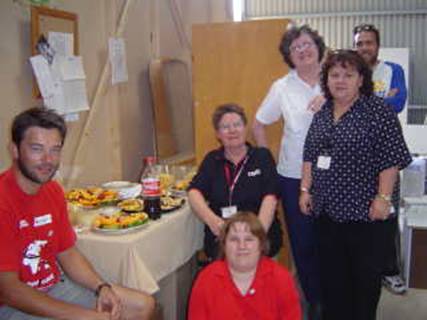 We did an interview with the local newspaper and had a photo taken in front of the shop with Jeannette.
The shop is a busy and successful enterprise raising significant funds for the Australian Red Cross and employs four members of staff who are supported by thirty active volunteers, several of whom we met as they sorted, washed and priced clothes and items for the shop.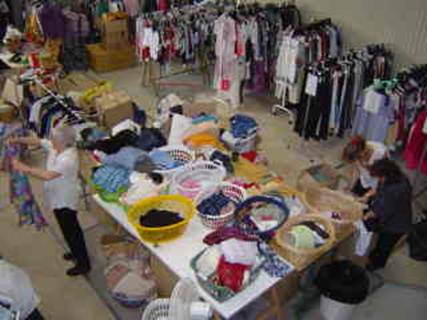 We handed in a few items we do not need and were given a few things that we do need.
Almost everyone we met today commented on the unusual weather: Albany usually has summer highs of about 27 degrees but today, a Spring day, reached 37 degrees and the Red Cross sheet metal warehouse was like an oven inside.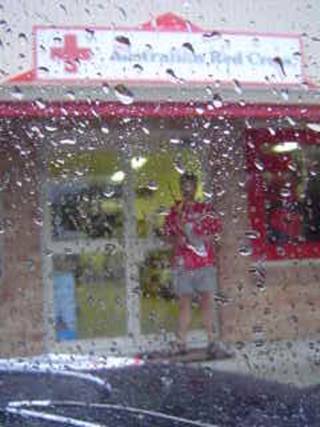 A storm and heavy rain in the afternoon cleared the air and threatened to continue through the evening but we resisted the temptation to stay inside and found a fabulous campsite in which to pitch our tent as the rain lightened up.
Emu Beach Holiday Park is in the "Top Tourist Parks" Group, has a covered camp kitchen and dining area with free BBQs, very well maintained shower blocks, powered shaded grass sites and is fifty metres from a sheltered sandy cove. Not realising that we would have the use of such good facilities we had bought a reduced price roasted chicken, potato salad and tomatoes from Woolworths and treated ourselves to a glass of "Oxford Landing" wine in mugs. This is camping in style thanks to the camp owners who invited us to stay free of charge.
www.emubeach.com
It is also a sociable style of camping; a few fellow campers who reminisced about the days when cars were more basic, admired Florence. After supper an English man who drove out to Australia in a Landover over thirty years ago brought his wife and two other couples over to admire the sturdiness of the Morris Oxford, smell the leather interior and to put some money in our Red Cross collection boxes.
Surrounded by people in powered mobile homes we must have looked rather eccentric sitting in the car drinking mugs of tea as we worked on the laptop computer, the power cable running out of the door to the electricity socket on a post next to the tent. It would have been even funnier if someone had been watching us swat mosquitoes, by which we were plagued, using the light from a citronella candle.
Day 204 Wednesday 24th November
Australia
Albany-"Bob's Place" just off Route 1 near Ravensthorpe
The number of people who came over to talk to us delayed our departure from the "Emu Beach Holiday Park" but we could not complain – clearly news that an Oxford couple with a Morris Oxford were on the site had spread fast. One man who studied at Oxford University in the '50's sought us out to discuss his philosophical ideas on life and to give us some welcome suggestions of interesting places that we should visit and things that we should do whilst in Australia. A former mechanic, also originally from England, wandered over to admire Florence and declared that "Morris Oxfords were the best cars ever made"; and another man on a bike recognised us from a picture in the newspaper and stopped by to say "Good on yer!"
We still managed to fit in a swim in the sea (noticeably cooler than on the West coast) before breakfast then a visit to Strawberry Hill Farm before we left Albany bound for Esperance.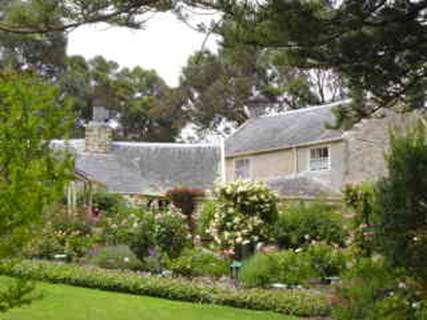 Strawberry Hill Farm was the first pioneer farm in Western Australia and the first property to be aquired by the National Trust in WA. It was developed as a working farm by the Spencer family who emigrated from Lyme Regis when Sir Richard Spencer, a Naval Captain who had served under Lord Nelson, accepted the job of Government Resident of the area in 1833.
The Spencer family travelled out from England by ship taking six months to reach Australia where their possessions including animals, plants and seeds, and their servants, labourers and families came ashore by rowing boat. There was no builder for four years after their arrival so the existing mud walled house was enlarged until the current stone house was built. It is still a small house despite being connected to the separate building containing the kitchen and dining room by the next owners, the Bird family. One wonders how Sir Richard and Lady Spencer and their nine children managed to fit in let alone how they entertained visitors which, apparently, they did frequently.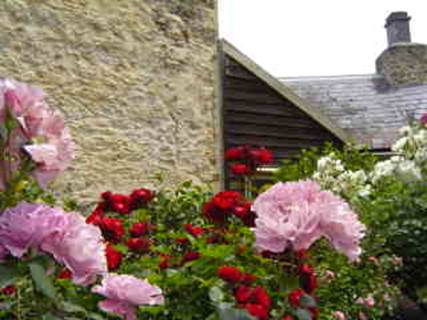 The garden contains many heritage roses and historic fruit trees as well as classically English plants and others from countries that the Spencers or Birds visited and can be admired while eating scones with cream and homemade strawberry jam in the tea room – yum!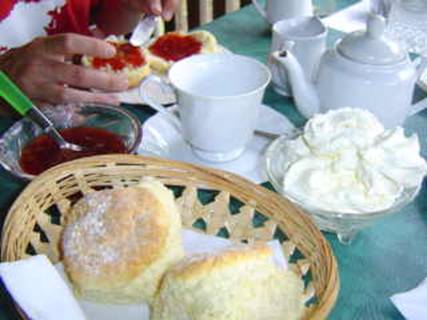 We took the inland route through the mountain peaks of the Stirling Range National Park and past several controlled forest burns and joined back up with the route 1 before driving through the small town of Ravensthorpe.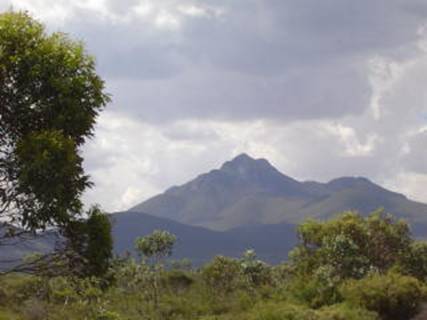 We have passed several controlled burn areas recently where the undergrowth is burned to prevent fires getting out of hand later in the year. We passed a large fire this afternoon that would have been a challenge to control.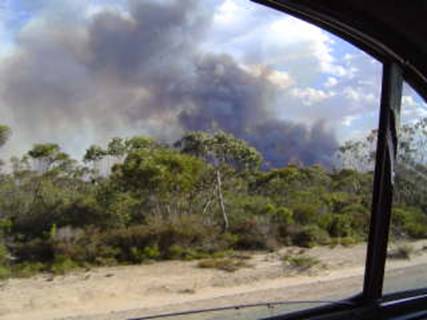 With about 180km still to go to Esperance at 6pm we pulled off the road onto a dirt track signed "Bob's Place" and asked the three people who came to the edge of the porch of the small wooden farmhouse along the track whether we could camp on their land. "No worries" so we pitched our tent as darkness fell and ate soup and chicken as the moon lit up the field we were at the edge of and went to sleep early.
Day 205 Thursday 25th November
Australia
Esperance


When we pitched the tent last night we were sheltered from the wind by a few trees but it had changed direction through the night and after the thunder and lightning moved on in the early hours of the morning we were hit side on by strong winds and rain blowing across open stubble fields. First Joanne got out of the tent to peg in a guy rope in anticipation of a storm then Tim got out a few hours later to replace it after the wind yanked it out of the ground.
Not the best nights sleep.
The storm had subsided by the time we emerged from the tent this morning but we caught up with it as we drove east around the coast towards Esperance. The stunning views of wide white beaches, turquoise sea and islands off the bays were more even more dramatic with the dark stormy background cut through with intermittent fork lightning.


A quick coffee stop with an awesome view of the sea was only spoiled by the mass of flies, even more pestering than they were on the farm this morning.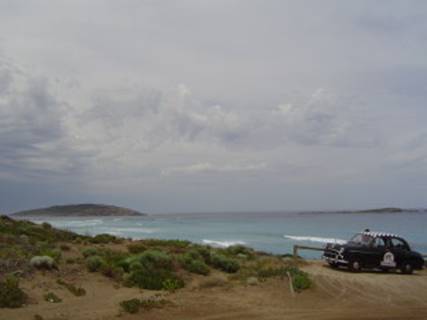 Linda White and her team of volunteers at the Esperance Red Cross shop were most hospitable whilst working hard to sort through masses of donated stock. Diana Williams, a Thursday morning volunteer, even invited us to stay with her and her brother, Rod, at their bungalow in town.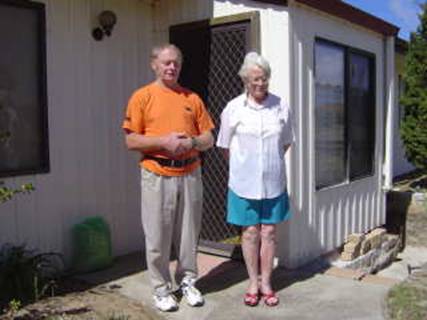 An invite that, given the overcast weather and the plan to meet with the local journalist and photographer at the Red Cross shop tomorrow morning, we were pleased to accept.
On the way we walked the length of the restored jetty to see "Sammy" the sealion bobbing around below waiting for scraps from the fishermen.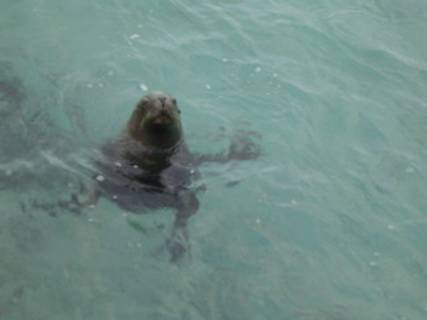 It is a good job that we are staying inside as it is pouring with rain again this evening. The weather in this part of the world is unusual at the moment, colder than usual last week and now forecasts are in the high 30's with storms when summer highs here are usually mid 20's, and this is still Spring.
Day 206 Friday 26th November
Australia
Esperance-Cape Le Grand National Park
Quick jog before breakfast then back to the Red Cross Shop in town where a journalist from the local paper interviewed us. Her family emigrated to WA from Israel a few years ago and her aim is to live in London. An early lunch at "The West Beach Deli", up on a hill in a residential area with a distant view of the bay and recommended as serving the best coffees in town, then a quick stop at "Woolworths" supermarket for some food supplies.
Returning to the car we found some Florence admirers, Mrs Dorean McLernon, her husband Stuart and her brother, Douglas Howdle, who is visiting from Cornwall, England.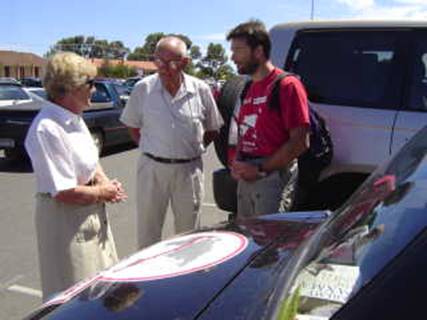 Dorean and Stuart have been active Red Cross members for thirty years and have worked voluntarily in Esperance to set up the Red Cross Shop and develop it from a small store into one that is about to take its millionth dollar.
By 2pm we finally got out of Esperance and drove 52km down to the Cape Le Grand National Park where we bumped into another Florence admirer as we prepared to pitch the tent in the Lucky Bay campsite. Tom grew up in Oxford before his family immigrated to Australia; he was keen to chat and take a few pictures of him and us with Florence.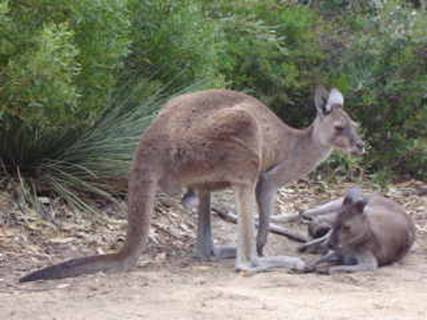 The family of kangaroos lazing around the site were totally disinterested in us and were not fazed by the car driving past, they hopped off into the bush if anyone got too close but were braver at night when they chilled out in the midst of the tents and just grunted if someone shone a light at them.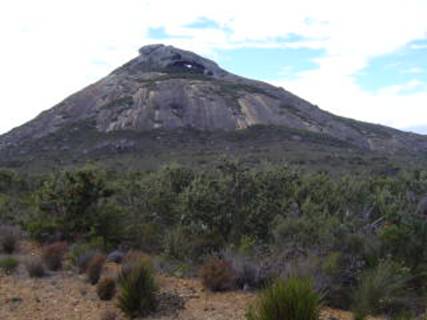 Granite boulder peaks dominate the scrubby landscape of Cape Le Grand national park that drops down to long white sandy beaches and wide coves of clear turquoise sea gradually changing to dark blue as one looks out to the archipelago of rocky islands out to sea.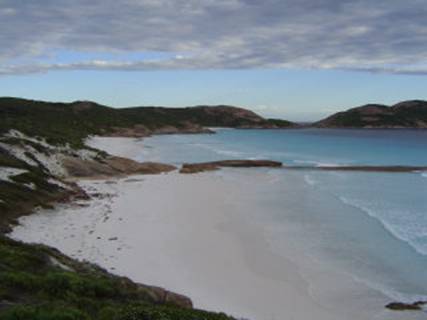 We walked from our campsite along the sand of Lucky Bay, approximately three miles from one end to the other, and even though the clouds were building up and the sky no longer blue the sea remained a stunning turquoise colour. The white dense sand literally squeaked as we walked on it. We passed one couple on the beach shortly after we started out then met no-one but the volunteer park ranger out on his quadbike; we helped him pick up rubbish from the shoreline and he explained how his job had brought him to the area many years ago when he enjoyed diving in the clear waters. Instead of a wetsuit he wore three woollen jumpers and a piece of rubber tied around his middle! Since retiring from teaching he and his wife moved to a small farm 70km away from the park but spend weeks each year at the park where he works as a volunteer cleaning the facilities and the park itself as well as collecting fees from visitors.
Ian advised us that we would be less likely to encounter a "big biter" if we swam in the bay sheltered by boulders than in the wide bay, "there's a one in a million chance of being got by a shark but better to play safe", he said.
We took his advice and, as he left there was not a sole in sight so we stripped off and ran, well, actually rather hesitantly, into the invigoratingly cold but sparklingly clear and inviting water.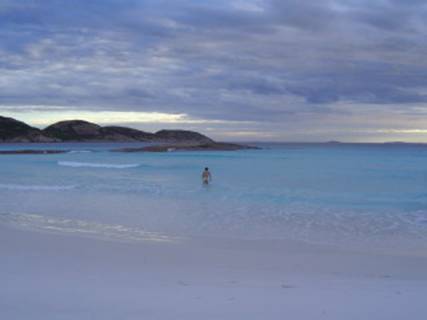 Not as cold as the sea off the British coast but much colder than that we had experienced off the west coast of Australia. As the sun was dropping behind heavy clouds and the strong wind was chilly the sea temperature was not a lot different from the air temperature so getting into the water was only marginally colder than getting out.
We felt we deserved our supper of potato salad with sausages and tomatoes grilled on the camp gas bar-b-q and eaten by the light of a head torch and a citronella candle as the kangaroos lolloped by in the bush.
Once a caravan nearby had turned off its TV and generator, we went to sleep at about 9pm to the sound of the sea.
Day 207 Saturday 27th November
Australia
Cape Le Grand National Park – Kalgoorlie
We arrived in the mining town of Kalgoorlie in the Southern Outback at the end of a long hot drive north from our camp by the sea having not arranged anywhere to stay. There were several options from camping or backpackers hostels, which did not look appealing or interesting, to pubs offering "skimpies" (scantily clad girls) serving behind the bar and hotels that had history and a certain character but not sufficient for us to blow our days budget.
Don, our host in Perth, had suggested we say hello to a friend of his from softball. Her phone was switched off so we called in to her work where we were told that she was playing softball, appropriately, so we watched the game, and introduced ourselves when the players changed over.
We were pleased to accept Leigh's offer of a bed for the night and followed her back to Langtrees 181 where we were shown to an en-suite shower motel room called "Roll on Hay", decorated with murals of flowery "English countryside" and small stars on the ceiling that glowed in the dark.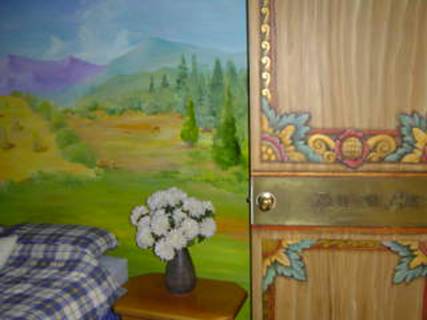 After dinner at the "Star and Garter" pub (where Joanne resisted joining in with the country music karaoke) we returned for a cappuccino at Langtrees 181 with Leigh, who is the manager, and was in charge for the night. The newly rebuilt Langtrees 181 was, according to the brochure, "designed to cater for working girls, clients and tourists". Inspired by museums in Amsterdam, the owner of Langtrees rebuilt the place and opened it up to tourists who pay $25 or $35 for a tour during the day and who are invited to stay for coffee and homemade cake and biscuits in the lounge (the coffee and biscuits were particularly good).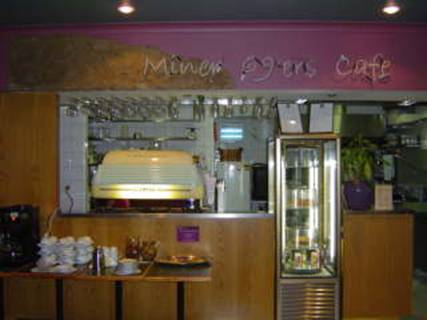 Before the evening punters started arriving, Leigh showed us around the rooms that are cleverly decorated to chronicle the history of working girls in Kalgoorlie from the first canvas tents during the gold rush to the modern Madam's Suite of 2002 with its gold circle rotating bed.
Later, as Leigh walked us along Hay Street, she told us of her memories of the street forty years ago when almost every house offered similar services. She introduced us to the madams of a couple of other, old-style, places still housed in the original corrugated tin sheds with several doors onto the street, and explained how she had fought for the rights of girls to be allowed to leave the premises when not working.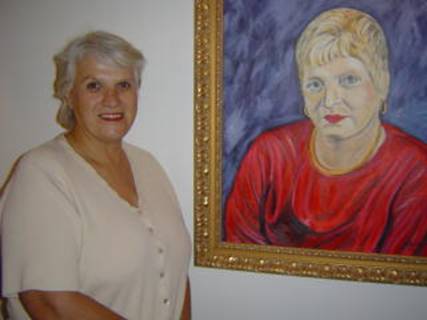 Leigh in front of a picture by famous Australian Alan Bond, painted from pictures of Leigh while Alan Bond was in prison.
We found Leigh Beswick-Varis to be a charming, glamorous and generous woman with a fascinating history: born as Harry, in her late twenties she had a sex change and is now a famous madam who has only recently resigned from her post as a local councillor but is still much involved in charity work. We stayed up 'til about midnight drinking cappuccinos and talking with Leigh and the girls; they did not go to sleep until around six in the morning.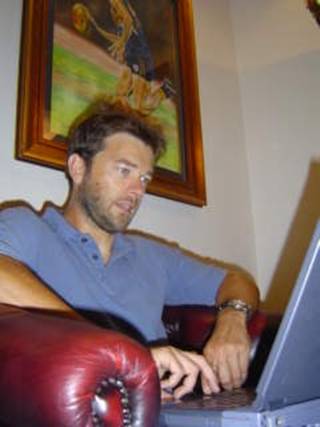 Tim did just managed to concentrate on some work.
Day 208 Sunday 28th November
Australia
Kalgoorlie
Over a cooked breakfast at a 24hour Italian cafe we talked to an English couple who are on a six-week self-drive tour organised by Titan Connections before they spend Christmas with their daughter over East. They had waved enthusiastically as they overtook us on the way here yesterday!
The first major gold strike in Western Australia was in 1892 at a desolate site in the outback that quickly grew into Coolgardie, a town of 15,000 in its heyday. As gold petered out by 1905 so did the population, leaving the place a virtual ghost town: a wide main street with a few large lonely looking early 19th century civic buildings with large empty spaces either side and a few houses on the outskirts.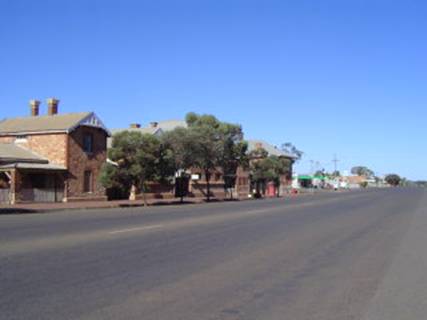 Kalgoorlie is 39 km from Coolgardie and is the site of the second major gold strike by Irish prospector, Paddy Hannan, in 1893. Mining soon shifted a few kilometres away from Kalgoorlie and Paddy Hannan's first find to "The Golden Mile", one of the richest gold sites for its size in the world. The town of Boulder developed to service this area and Kalgoorlie and Boulder are now amalgamated into one town of approximately 30,000 people.
There are several mines in the area but, especially with the development of the "Superpit" and tourism, Kalgoorlie-Boulder is still prosperous and is the only large gold mining town still remaining.
www.superpit.com.au
The "Superpit" is an enormous open-cast mine on the Golden Mile that, producing 800,000 ounces of gold per annum (at a waste to gold ore ratio of 7:1), is the largest gold mine in Australia and one of the largest in the world. As gold prices are high, especially at the moment, it is profitable to mine low quality gold ore in high quantities.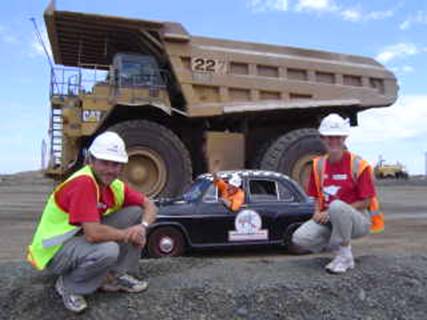 We posed for photos with Florence in front of one of the huge haul trucks in the mine for the "Kalgoorlie Miner", the local newspaper, then spent an hour seeing the mine from the perspective of haul truck drivers Bouncy (who drove Tim around in a truck) and Simone (who gave Joanne a lift into the pit).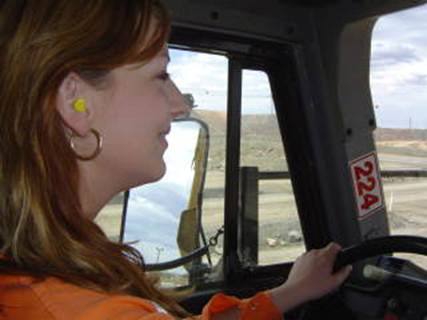 Haul truck drivers move excavated material from the pit up to be processed or dumped. The pit is over 300m deep at its deepest point and will be dug to 600m before mining underground begins.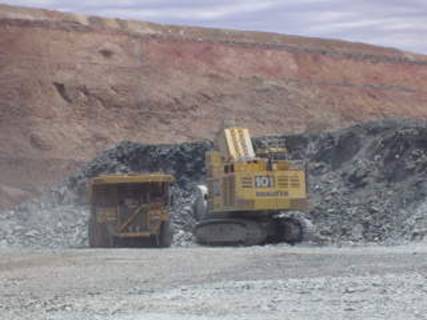 Haul truck drivers work twelve hour shifts, with a twenty minute break in the morning and a forty minute break at lunchtime, for seven days then seven nights before several days off. Mind-numbing work but mine-workers earn good salaries of about $80,000 per annum.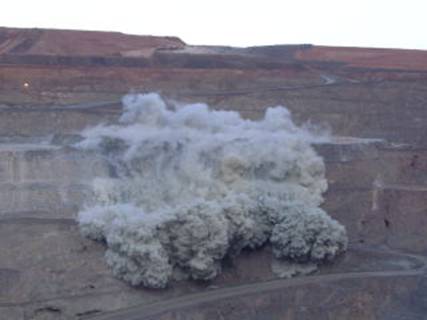 Watching the mine blasting from the lookout later on was awesome.
Many of the gantries from the top of disused mine shafts have been moved to the Australian Prospectors and Mining Hall of Fame where we taken down into an old mine shaft by a former miner who told of the unpleasant and dangerous work of a gold miner underground.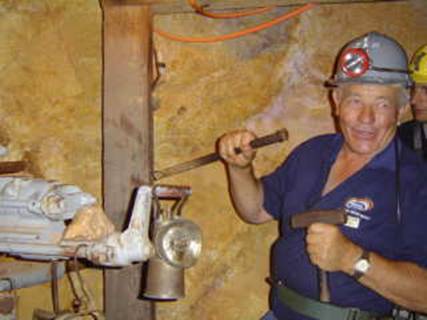 By all accounts the work was hard but well paid and in many cases much of the money earned was spent on drink or gambling, or in the case of the single men, on ladies in Hay Street.
Leigh took us for a huge pub meal then we spent the evening talking with her and some of the girls at Langtrees.
Day 209 Monday 29th November
Australia
Kalgoorlie-Eyre Highway
Up at 6.30am for a cup of tea with Leigh before she flew to Perth then a cooked breakfast at a café on Hannan Street.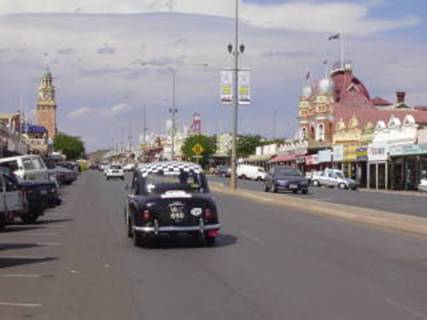 Hannan Street, the main high street of Kalgoorlie, is wide enough to turn a camel train around (camel trains could not be put into reverse!) and lined with civic buildings, hotels and pubs dating from the late 1800's interspersed with modern shops.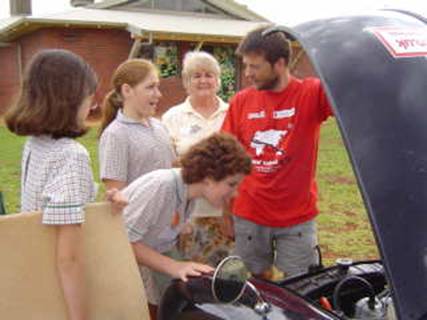 We gave a presentation to the pupils at a Roman Catholic primary school in Boulder, the neighbouring mining town, then drove back to Kalgoorlie to say hello to the volunteers at the Red Cross shop. Tricia, the Red Cross Co-ordinator, had been chasing the courier company that was delivering a notebook computer to us c/o the shop – it should have arrived on Friday but it had still not arrived this morning.
We had a cup of tea and caught up on a bit of admin while we waited for the delivery that finally arrived at 11am...exasperatingly incomplete.
The frustrating saga of buying a notebook computer from Dell Australia continues, it is now a month since we first placed the order. We had expected the computer to be waiting for us when we arrived back in Perth on the 17th November, but, after many frustrating telephone conversations with the Dell "Executive Escalation Manager" on the 18th and 19th, the order was processed with a new delivery address of the Red Cross Shop in Kalgoorlie for us to pick up on Saturday. Instead of being despatched to Kalgoorlie it was delivered to Perth! Yet more delay as it was redirected.
Had the order been handled efficiently in the first place we would have had the use of the notebook computer for the last three weeks. Receiving it just before we leave Kalgoorlie means that we will not be able to use it until we reach Adelaide because we have no chance to get it set up.
Heading south out of Kalgoorlie we pulled over for a few minutes to record an interview with ABC Radio Kalgoorlie before we lost mobile phone signal for the next few days.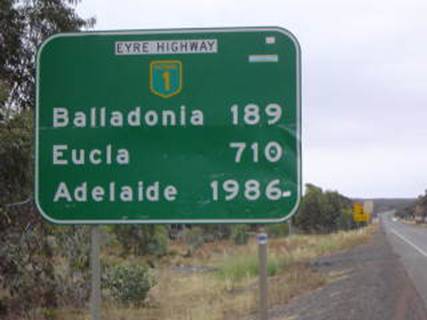 Norseman is the last town we will pass through as we travel almost 2000km east across the Nullarbor Plain towards Adelaide.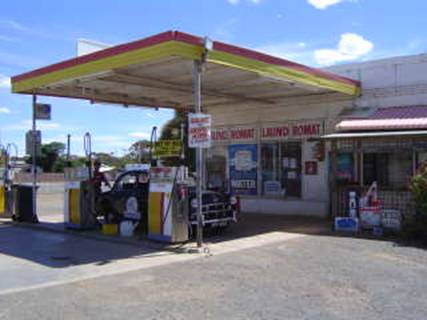 Having passed through here on our way up to Kalgoorlie we knew that the Shell station sells cheap fuel so we filled up and made note of the owners advice about which other petrol stations sell cheap fuel. He also advised us that the Fraser Range Sheep Station, a hundred kilometres east along the Eyre Highway would be a good place to stop for the night.
www.fraserrangestation.com.au
It was almost dark as we turned off the Highway across the Western Nullarbor Plain to the sheep station. It was also surprisingly cold with a strong wind blowing. We were, therefore, very pleased to be offered a cosy bedroom in an old stone building recently converted from sheep shearers' accommodation.
Having put our bags in the room we were shown into the camp kitchen, warmed by a log burning stove, and introduced to Mick and Joy, the managers, and their two daughters, John, whose brother owns the farm, and Daniel and Dorothy, a young German couple who are driving around Australia in a thirty year old Ford.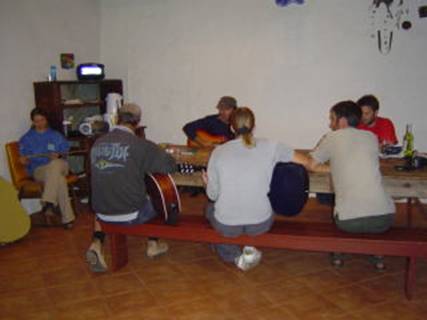 As we pulled off the long highway we had not expected to be welcomed into such a friendly group of people.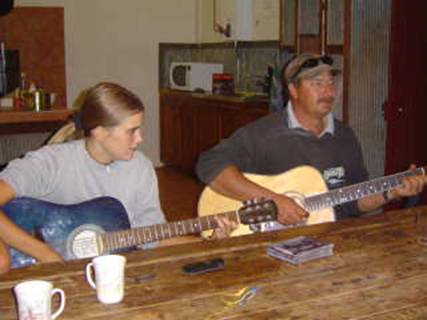 There was a great atmosphere: sitting around a large wooden table we were entertained by stories of living and working on such a vast sheep station and John's tales of his boat, Betty, in Sydney Harbour followed by some superb guitar playing by Dorothy and Mick led by John.
John Wibberley, it turned out, is a singer-songwriter who is staying on the farm while he writes his next album. Not being able to choose which of his CD's we preferred he gave us all three – great music for our drive across the Nullarbor Plain over the next three days.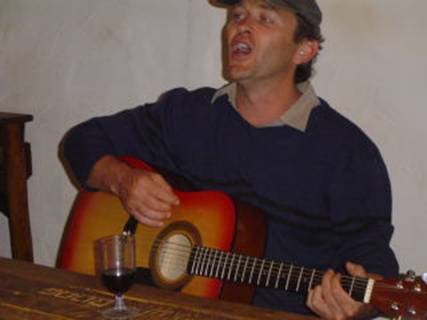 www.johnwibberley.com
Appropriately, the title track on the album "fear and the lost highway" is about the Eyre Highway, the road across the Nullarbor Plain that we have just begun and will be driving for the next three days.

210 Tuesday 30th November
Australia
Kalgoorlie-Eyre Highway
We pulled away from Fraser Range at 7am after a very good nights sleep and very sorry that we could not stay longer in what they call an "oasis in the desert".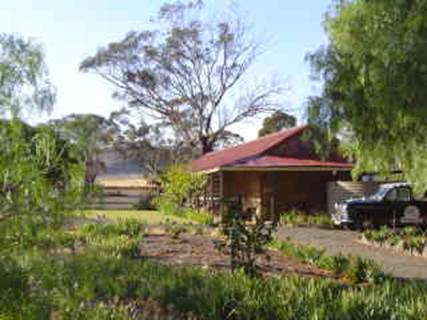 Established in 1870 Fraser Range was the first sheep station on the Nullarbor Plain, at a time when Esperance was a few houses on the coast and the nearest town was Perth, about 900km west.
The farm is on flat land at the foot of a range of granite hills and covers a staggering 437,000 acres.
Originally, the wool was taken by horse and cart over 700km east to Point Malcolm on the Great Australian Bight to be shipped to Adelaide. Now the Damara sheep (hardy sheep that produce lean meat and do not need sheering) are exported live by ship from Fremantle direct to markets in to Saudi Arabia.
We would have loved to have stayed for a couple of days and gone out on the station on horseback or motorbike. It is definitely somewhere worth planning to stay for a relaxing and interesting break.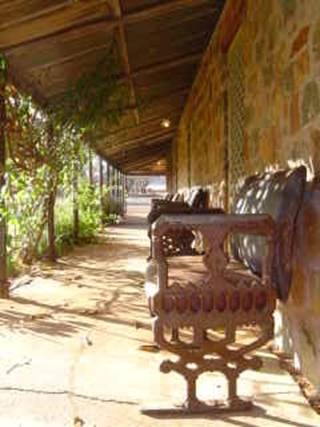 The facilities are simple and the rooms are stylishly renovated; the loos and showers are new and very clean; the big rustic kitchen is well equipped with crockery, cutlery and utensils; and the scenery is much more attractive than we had imagined before we turned off the highway.
www.fraserrangestation.com.au
As we headed off down the Eyre Highway for a three day drive to Adelaide we played John Wibberley's album "fear and the lost highway" and sang to "Eyre Highway", a great song about this road, and continued playing his albums most of the day. Well worth finding some of his music if you get a chance – his website is www.johnwibberley.com
We had been told to expect temperatures around 40 degrees across the Eyre Highway with little shelter from the sun: the road crosses the southern edge of the vast, harsh Nullarbor Plain. Today temperatures reached about 30degrees with a fresh wind, a much more bearable temperature for driving than we had expected.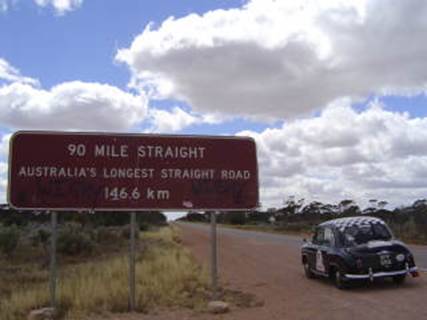 "Nullarbor" is derived from the Latin for no trees. After driving 145km (90miles) with no bends, one of the longest straight stretches of road in the world, we continued across a relatively short stretch of about 300km where the horizon was barely bumped by trees, but we do not reach the actual treeless section of the Nullarbor Plain until tomorrow.
After hundreds of kilometres on a flat road with barely any corners and the only landmarks being roadhouses, we then dropped down an escarpment onto a lower scrubby plain that dropped down eventually to sand dunes and the sea. A homestead was tucked into the side of the escarpment, about 15km off the road and hundreds of kilometres from the nearest town.
Occasionally, a particularly straight stretch of road was signed as an emergency landing strip for the Royal Flying Doctor Service – it would still be a significant drive from here to one of the isolated homesteads.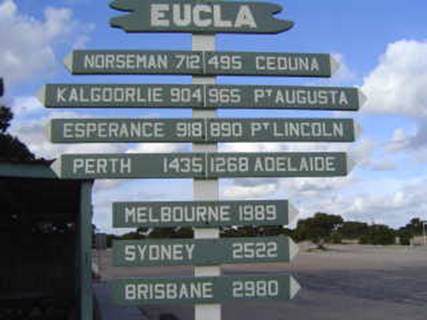 At Eucla, near the border between West and South Australia, 625km from the Fraser Range where we started this morning, a telegraph/repeater/weather station from 1877 is virtually buried in the sand dunes. There is now a modern meteorological station, motel, caravan park, golf course and shooting range.
The telegraph line was laid in 1877, thirty six years after John Eyre walked across the Nullarbor, the first European to do so. Covering 2700km (almost the distance from London to Moscow) from Adelaide to Perth with little in between, even today, the five months it took him and his companion, who died on route, must have been horrendous.
The gold rush in the mid 1800's encouraged more traffic from East to West. Graham at the Fremantle Motor Museum told us how his grandfather had not been able to get on a ship from East to West Australia so he had walked with his belongings in a wheelbarrow across the Nullarbor then north to the goldfields around Coolgardie and Kalgoorlie. He and plenty of others seeking their fortunes followed the telegraph line across a rough track.
It was not until 1941 that World War II inspired the building of a transcontinental highway though it was not completely surfaced until 1976. In Perth we were shown pictures of a Morris Oxford driving across the dusty track that was the highway in the 1950's.
It is still a very long way but the road is in good condition and there are road houses selling food and fuel and providing varying camping facilities or accommodation on average every 200km.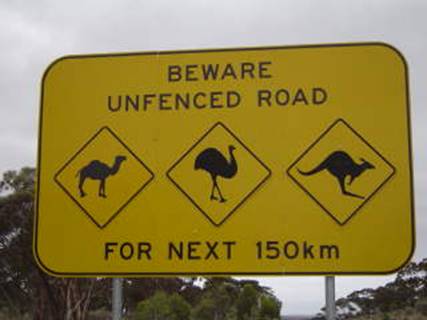 The main risks now are hitting an emu or kangaroo that have a tendency to boing into the paths of vehicles, especially at dusk and early morning. One some stretches the verges of the road are littered with stinking kangaroo carcasses. Road trains and some vehicles have "roo bars" and rather than risk a serious accident by swerving they just hit the roos. We go slow enough to let them bounce out of the way, we even go slow enough to watch goannas and lizards cross the road in front of us.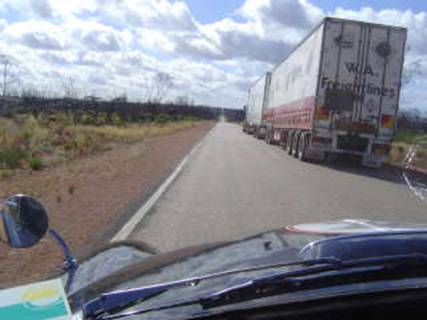 Roadtrains dominate the road.
We moved the clocks forward 45minutes as we crossed through Border "village" – a border post checking vehicles entering WA and a roadhouse with campsite – and we decided to push on a bit further before it got dark.
Pulling off the road into a parking area we were videoed by a couple of chaps who had heard us on ABC Radio Kalgoorlie and had wondered whether they would catch us up across the Nullarbor. Daniel and Nugget had driven to WA from Sydney and are now heading back. It was far too windy to get too close to the 80m high overhanging cliffs dropping down to the Southern Ocean so we pitched our tents next to each other behind the two cars, cooked up some supper and decided to keep well away from the edge until the morning.
The starscape was superb but it was too cold and windy to sit outside for long so we went to sleep at about 9.30pm.

Day 211 Wednesday 1st December 2004
Australia
Nullarbor Plain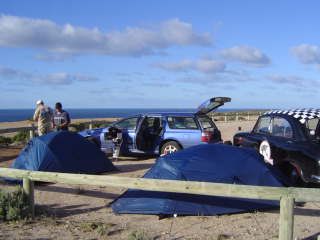 We left our campsite on top of the Bunda Cliffs just before 8am and drove east stopping at the Head of the Great Australia Bight to admire the stunning view along the coved coastline of dramatic cliffs dropping 85metres to the sea that stretched far into the distance.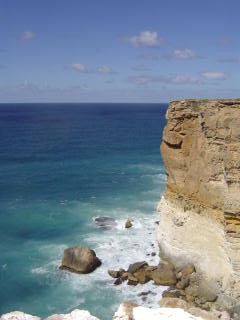 Nothing south from here to Antarctica; looking north, the vast desert stretches right up to the northern coast with little but Alice Springs in between.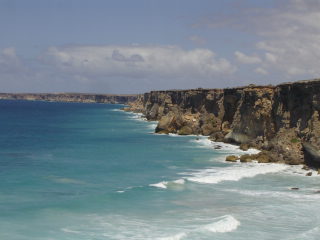 Further on through miles of flat dry earth covered in scrubby blue brush we stopped to fill up with fuel and called the Vodafone answer phone service from a call box to pick up messages from our mobile phone because we had not had a signal since shortly after leaving Kalgoorlie.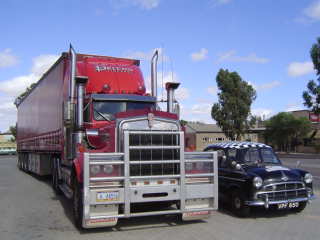 Florence at the petrol station next to a road train.
A couple of people have given us a little help in generating some media coverage in Adelaide; in response to a message left on our mobile phone we did an interview with "The Advertiser" over the phone and will send a photo by e-mail tomorrow.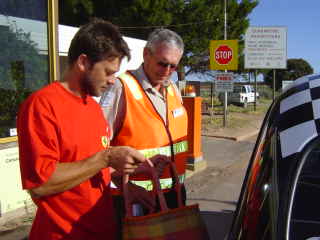 At Ceduna we stopped at the South Australia quarantine checkpoint where the inspector checked our picnic basket to ensure that we were not carrying any fresh fruit or vegetables that might bring fruit fly into the state. We had eaten about eight apples today because we did not want to have to throw them away and the alternative would have been a fine!
By mid-afternoon we had reached the wheat growing area: hundreds of acres of wheat fields being harvested, water pumps turning in the wind near homesteads, signposts to historic school sites and villages centred on grain silo's along the railway line that paralleled the road.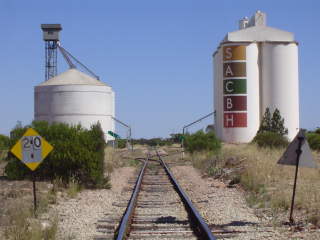 We did not like the look of the campsite in the village of Minnipa so continued on a few miles towards Poochera and as dusk was falling we drove up a track to a farmstead to ask if we could camp on their land. The farmer, Matt, his wife, Amanda, and their four children had just got home after a trip to Adelaide to see The Eagles in concert and to buy a Labrador puppy. Matt suggested we camp on their lawn and invited us in for tea, an invitation we were very pleased to accept.
Matt and Amanda are about the same age as us and over supper we talked about our different lives, what we were doing, their camping journeys into the outback, politics, the Gulf war, their family history (their great grandparents were free settlers into South Australia from England and Ireland), and how people in this area live and farm.
Matt and Amanda were brought up on neighbouring farms and now run the land originally bought by Matt's grandfather at a special rate for soldiers returning from the First World War. Of the 5,000 acre farm 3,000 acres were cleared of trees and scrub and now grow crops of wheat, rye and rape seed. Both Matt and Amanda studied agriculture at Adelaide university and Amanda works at an agricultural research centre on methods of growing crops efficiently in areas of low rainfall on thin sandy soil. Techniques employed by Matt include leaving the stubble in the ground for the sheep to eat and to rot down then direct drilling the seed into the ground rather than cultivating the soil which would loosen it and allow it to blow away. He also rotates crops and plants crops in exposed areas with root systems that will hold the earth. Other than casual workers to shear the sheep Matt farms the land single-handedly.
Day 212 Thursday 2nd December 2004
Australia
Nullarbor Plain-Adelaide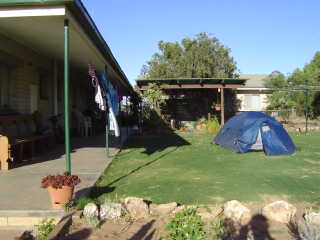 We slept in our tent in the garden but we showered in the house and joined the family for breakfast in the kitchen.
The children usually go to school on a bus that collects them from the end of the farm track but today it had a flat tyre so Amanda drove them there. Children attend the school from farms as far as an hours drive away making the small local schools redundant, hence all of the "Historic School Site" signs we passed yesterday. Children used to travel to small rural schools by foot, on horse or by pony and trap so school houses had paddocks and sheds for the horses and tack during the day.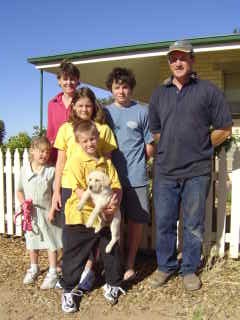 While Amanda was on the school run and Joanne e-mailed a photo to The Advertiser newspaper Matt showed Tim around the farm; given our need to push on to Adelaide there was not time for Tim to get out on a tractor or a header (combine harvester) but, given more time, Tim would have enjoyed staying on for a few days to help Matt bring in the harvest.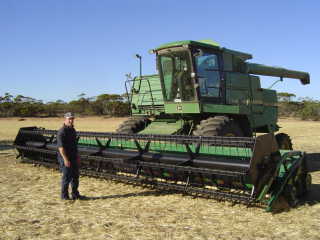 We needed to push on because we had arranged to reach Adelaide tonight in order to have Friday to visit the Red Cross and meet with any interested media. After miles of wheat farms we passed Iron Knobb, the birthplace of the Australian steel industry, and continued on to Port Augusta. Port Augusta is known as the crossroads of Australia because, as an important port to early settlers it was the gateway to pastoral lands in the Flinders Ranges and further north as well as being the start of the rail line north and west and is still the last major town for travellers heading west by road before crossing the Nullarbor Plain.
The interactive museum was worth the visit and taught us much about the geography of the region, the aboriginal people and the harsh conditions endured by the early European settlers, many of who farmed dry land hundreds of miles from their nearest neighbour and relied on radio to educate their children and to call for medical help. When Europeans first arrived they did not even have radio communication but established farms or small communities in the outback. The railway line, to those it passed near, was a lifeline bringing supplies such as medicines, sugar, and a even a butchers service.
This region has little freshwater with salt water lakes that, for much of the year, are large dry, flat glinting white areas, so smooth that Eyre Lake further north in the Flinders mountain range was the location for Donald Campbell's attempt at the land speed record. We found it surprising that people would choose to live in areas such as this that are reliant on sparse rainwater and limited water piped in from reservoirs.
In an effort to reach Adelaide before it got too dark we ate pot noodles on route and reached Paralowie, a northern suburb of Adelaide, at about 9pm where we were greeted by Bob and Lindy Dams who immediately made us feel at home. Bob even wore his Union flag t-shirt for the occasion! Bob and Lindy are the uncle and aunt of Tim's sister in law and, within a few minutes of our arrival, had called Tim's brother to tell him and Elaine about it.
Day 213 Friday 3rd December 2004
Australia
Adelaide
After a live interview on the 5AA radio breakfast show, a quick run through the nearby eucalyptus tree reserve, a breakfast of bacon and eggs cooked by Bob then coffee and cake served by Lindy at the cafe she works at nearby we were ready to head into town.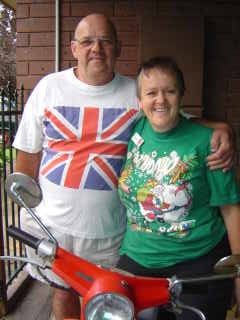 Bob and Lindy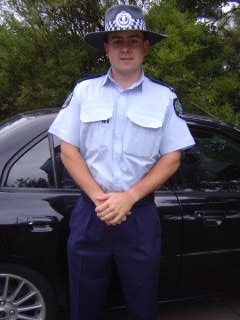 Phil, Bob and Lindy's son, has just begun working as a policeman.
We were sceptical about Bob's warning that Adelaide drivers are some of the worst in the world but we soon began to understand the basis for his assertion: many are inconsiderate, often accelerating to fill a gap rather than allowing us to pull in, this is particularly difficult when roads with two lanes merge from the left (the slow lane) into one requiring drivers like us to merge into the fast lane. Even more than we had noticed in Perth, cars are status symbols judged not just by how they perform (even if performance is only tested on suburban roads) but also by how they look and how they sound: contributing factors are custom exhausts and wide alloy sports wheels. "Beaut' ute's" are particularly popular – in the UK we would call them pick-ups, here in Australia "ute" is short for a utility vehicle that has seating for 2 or 4 people in the front and a covered load section behind. We have seen many that appear to be used for nothing more practical than burning away at traffic lights and looking shiny, polished and "beautiful".
We spent much of the day at the smart new South Australia Red Cross office where we met most of the staff and learnt about the work that they do. They were all aware of our journey and most had already looked at the website so they were very helpful in assisting us make arrangements for the next few days at short notice. We have arranged to attend the rave tomorrow night with the Red Cross team, subject to tickets being available and some issues with transport and our insurance being sorted out, run a fundraising competition on Sunday at the National Motor Museum, the prize being a Red Cross motor first aid kit, give a presentation at Red Cross Volunteers Day on Monday and visit a primary school where Red Cross volunteers provide breakfast for children who might otherwise not eat until lunchtime.
It is difficult to know at this stage whether our phone calls to all the local media this afternoon following up on the press release that Joanne wrote and that had been sent out by the National Motor Museum will generate coverage, few committed to run the story but most expressed an interest and we will call some specific media again tomorrow or Sunday.
Back at Paralowie we spent a relaxing evening drinking beer and eating pizza with Bob and Lindy and admired "Nicholson Towers", a shelter for the chickens built by Tim's brother, Geoff, when he and Elaine visited!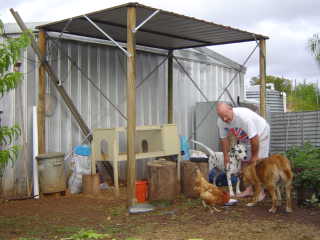 Day 214 Saturday 4th December 2004
Australia
Adelaide
Unlike other Australian states no convicts were shipped to South Australia and Adelaide was founded in 1836 as a community of free settlers and named after King William IV's queen. The Surveyor, Colonel William Lightfoot, who later designed Christchurch, New Zealand, planned the city centre on a grid system of wide streets surrounded by parkland. Beyond the parkland suburbia sprawls serviced by the Main North Road and Main South Roads and the grid roads that lead off them.
North Adelaide is a wealthy residential area with historic and stylish houses on a hill overlooking the city but separated from it by the Torrens river as well as the parkland that surrounds the area and that overlaps with the greenbelt around the city centre. We met with Channel 10 news at their studio in North Adelaide and spent some time with them filming for a piece that was broadcast tonight on the 5pm national news.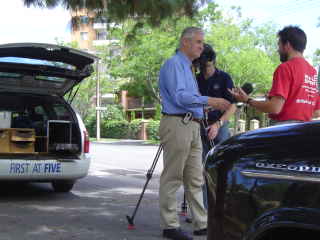 We then met a journalist from The Sunday Mail who interviewed us before the Sunday Mail photographer, Neon, took a series of imaginative photos of us posed with hats, without hats, walking along, standing in front of the car and standing behind the car. In the short time that it took to drive to the viewpoint and take our photos Neon told us all sorts of facts about the history of Adelaide.
After several hours working with a t-shirt printer we managed to change the colours of our logo in order to print it onto our Australian Red Cross t-shirts, free of charge, thanks to T-shirt City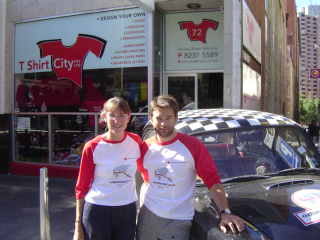 tshirtcity@bigpond.com
After a Bob's bar-b-q he and Lindy drove us out north to Port Gawler, a barren area on the coast used for speedway racing, that is the venue for a rave.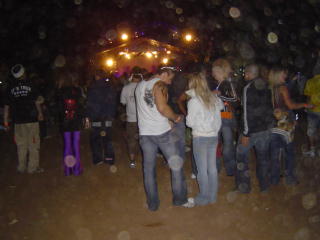 There are two raves a year in the Adelaide area, one in winter and one in summer; the dates are made known in advance but the venue is not publicised until just before the event.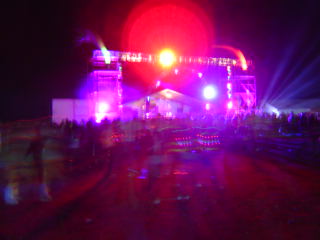 There were five stages with DJ's from Australia, US and the UK entertaining approximately 8,000 ravers aged from fifteen to forty. Those not in front of the stages were hanging around in between or in the car park, some were listening to their own music at the back of a van in the car park when we arrived at 10.30pm and were still there when we left at 2.30am.
We were there with the South Australian Red Cross "Save a Mate" team of young (18-30) volunteer first-aiders who provide first aid and advice to young people at parties and events such as this as well as visiting schools and colleges where they try to persuade young people of the disadvantages of taking drugs.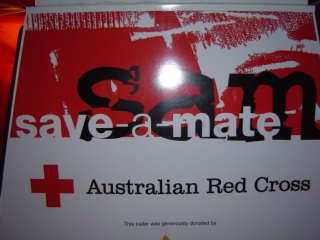 The SAM team accept that many young people do take drugs and therefore give advice about how to do so "safely" and what to do if something goes wrong.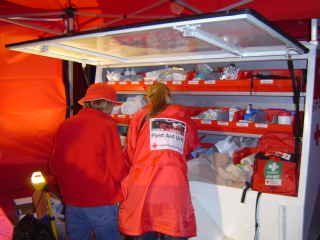 Of the people who were treated by SAM at the rave most had minor injuries such as sprained ankles, an odd one had taken too many or a bad mix of drugs but only one person needed hospitalising and was taken by St John's Ambulance. Only water was for sale (at an extortionate $3 for a small bottle) as no alcohol was allowed at the event. Instead, ravers took a variety of drugs, some Joanne spoke with had taken cocaine before arriving and topped up with different forms of ecstasy pills through the evening. With tickets to the rave costing up to $100 with the cost of water and drugs (for some) on top it would have been an expensive evening for many of the ravers there. A team of medics offered a "rave safe" pill testing service enabling people to identify the drugs they were taking as opposed to what they thought they were taking. There was also a low profile police presence but there was little trouble.
By 2am we had handed out water and stickers, talked with a variety of ravers (all of whom were polite), stuck SAM transfers on several hands, checked out the acts on all five stages, got thoroughly cold and were ready to go to bed. By 2.30am demand for SAM services had quietened down so we got a lift back with half the team leaving the others to continue until 9am tomorrow.
Day 215 Sunday 5th December 2004
Australia
Adelaide
Having got to bed at about 4am we were pleased not to have to wake up too early this morning. A "Bob breakfast" of egg and bacon set us up for our afternoon at the National Motor Museum.
About to set off on the winding road to the museum at Birdwood in the Adelaide hills the car would not start, there was so little power that we had to jump start her then jump start her again with another Morris Oxford at the end of the afternoon at the motor museum.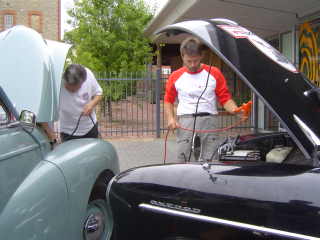 Parked in front of the entrance to the museum we encouraged visitors to make a donation to the Red Cross and enter a competition to guess the total mileage that we had driven since leaving Oxford, England. The winner won a Red Cross motor first aid kit.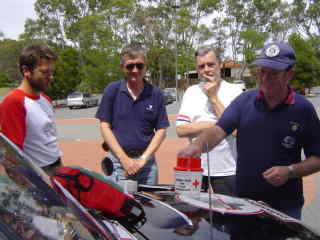 The money raised in the competition added to the $100 donated by the museum made the afternoons fundraising effort worthwhile. We met several people who had seen us in The Sunday Mail today or on channel 10 News last night and had driven out to the museum especially to meet us.


Three of those own Morris Oxfords, two of which parked alongside us.
Graeme did not bring his Morris Oxford along this afternoon but drove behind us down the hills to see how ours behaved on the road as we followed Rudi in his Morris Oxford Woodie Traveller (1951), called Doris, back to his house in Tea Tree Gully on the outskirts of Adelaide.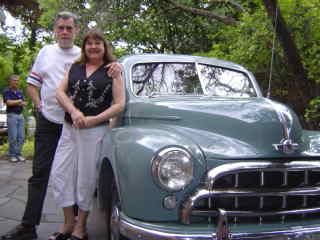 Rudi's wife, Barbara, had laid on tea for us all – just what we needed – and after we had finished showed us Rudi's other car, a Corvette.
We bump started Florence this time and drove to Glenelg, lead by Graeme who ensured we made it without any problems. Glenelg is the site where the founders of Adelaide landed and is now a popular restaurant and bar area reached by road or a tram from the city centre right down to the beach front.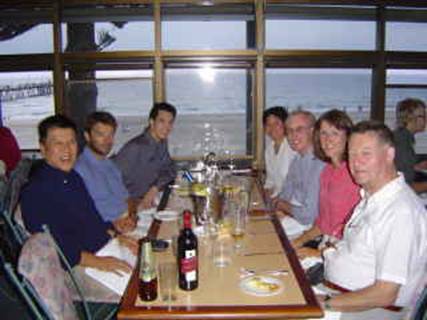 At a fish restaurant overlooking the sea we met up with Simon and Tong, a couple we had first met when we stayed with them in Spain back in May, and their Adelaide hosts, Louise, Tom and Ben. Simon and Tong are in Adelaide this week to attend Wagner's "Ring Cycle" at the Festival Theatre. It was great to meet up with them and have a chance to catch up on everything that has happened over the last few months. We would have loved to have spent more time with them but we are busy and so are they, attending lectures on the opera in the mornings and then attending afternoon and evening performances.


At the end of the evening Simon, Tong, Louise, Tom and Ben all push-started Florence!
P.S: Graeme e-mailed us a photo of his restored Morris Oxford that used to belong to his grandfather.
Day 216 Monday 6th December 2004
Australia
Adelaide
Tired after another late night we woke up early for a live radio interview on the 5DN Breakfast Show then drove to the Red Cross office (having jump started Florence) where we gave a presentation on our adventure and fundraising efforts to about thirty volunteers and staff. Yesterday was International Volunteers Day and this mornings meeting is a thank you from the South Australia Red Cross to some of it's local volunteers.
The other guest speaker, Marie, has worked for the Australian Red Cross for 50 years alongside the British and American Red Cross Societies in places such as Singapore and Vietnam.
While Joanne worked in the office for the afternoon Tim was taken to North Terrace Tyres who fitted a new battery and corrected the wheel alignment and on to Morris Mania who greased the suspension. Florence now starts with no hesitation again.
www.nttyres.com.au
We ate a "Lindy Homecooked Special Sweet and Sour Chicken" with rice for supper tonight, wrote a few e-mails and had an early night.
Day 217 Tuesday 7th December 2004
Australia
Adelaide
Up just before 6am to drive to Hackam South Primary School in a suburb south of Adelaide for 7.30am. The Red Cross run several Breakfast Club programmes at schools in Adelaide, sponsored by a breakfast cereal producer, where volunteers provide breakfast for children who might otherwise start the school day hungry.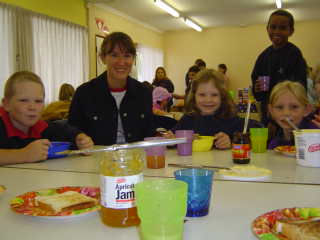 We provided some unusual entertainment by showing the twenty or so primary school children our car and telling them about our journey.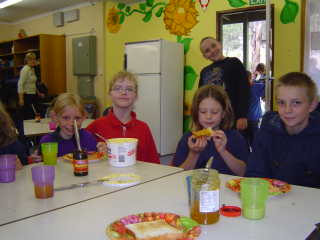 Back at the Red Cross office in Adelaide we met up with Kerry Whitfield, an Australian who is driving a 1951 Morris Minor Low Light side-valve convertible around Australia. He had been told about us while he was in WA and e-mailed to arrange to meet up. Over coffee at Cibo's (we were not surprised it has a reputation as serving the best coffee in town) Kerry told us about the book he intends to write about his journey as a means of reducing his tax bill.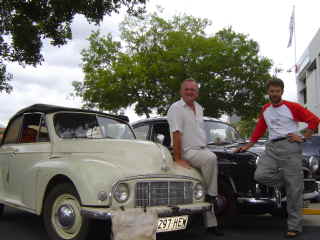 While Tim and Kerry stood by and talked about the cars, both of which were parked outside the Red Cross office, a man walked past and, having seen us in the newspaper, congratulated us on our journey, admired the car and put $2 in the collection pot despite already being a Red Cross fundraiser himself. He was on his way home after having given blood and proudly showed Joanne the clock he had been awarded for having given blood so many times.
We managed to get a little work done at the Red Cross office before meeting with the Vodafone South Australia Business Development Manager, Ernie, who took us for lunch at an Italian restaurant and, in addition to giving us more top up cards for our Vodafone mobile phones, he introduced us by phone to several people further along our route.
Back to the office to try to get our computers organised. Now that we have a second notebook computer we bought a network card and crossover wire with the intention of networking them together. Unfortunately, despite several hours effort and some expert advice over the telephone from a friend in Perth we failed to set them up so that they could recognise each other and only succeeded in mucking up the connection to the internet so now we are not only unable to network the two notebooks but we cannot send and receive e-mails.
We were finally pushed out of the office at 7.15pm by the cleaner, most frustrated at our lack of success with the computers, and drove straight to the Cepps Cross Drive-in Cinema.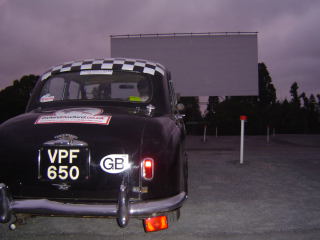 Not having drive-in movies in the UK we were keen to make the most of the experience so we parked up in the centre, tuned in the car radio to the movie soundtrack, bought popcorn and sat on the front bench seat in our car waiting to watch the movie. The weather, cold and windy with dark clouds threatening rain, might have partly explained why there were only five cars in a drive in designed for at least 300 cars.
We just missed the beginning of the film and did not get a chance to buy cheesy hot dogs until the film had finished because just before it started we were invited in to the projection room and were too busy being shown how the film is wound on to the reels and how the projectors work to realise that the trailers had ended and the film had started.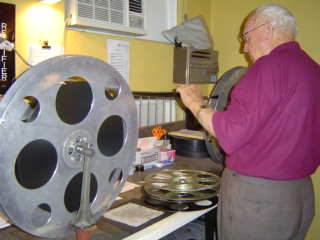 The projectionist, Jack South, is 84 years old and has been working as a projectionist since 1932, he now works one or two nights a week at the Drive-In as a hobby and trains the new projectionists. He was very knowledgeable about the technicalities of showing films and enthusiastically explained how the digital soundtrack and the images translate into moving film.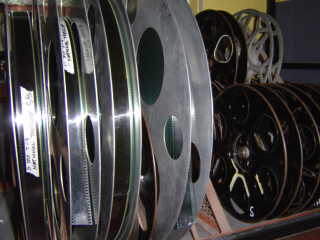 The film, "Polar Express", was a Christmas fairytale animation and, even though we are struggling to feel at all Christmassy, we enjoyed the film and enjoyed the whole evening because of the enthusiasm and friendliness of the staff.
Day 218 Wednesday 8th December 2004
Australia
Adelaide-Oxford Landing-Oakbank

Many wine labels well known to us are from vineyards in South Australia.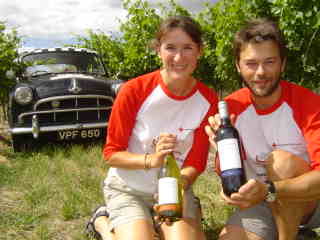 The Murray River and Barossa Valleys are close to Adelaide and what better vineyard for the Oxford2Oxford team to visit than one named after a place where cattle used to be taken to drink at the Murray River after which the vineyard is named - Oxford Landing.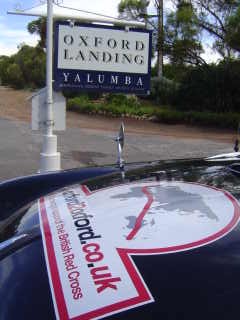 We mentioned this in an interview with WinTV in Waikerie, the nearest village to the vineyard, that was broadcast on local TV news this evening.
Oxford Landing is one of the vineyards of the Yalumba wine company that is based in historic buildings about an hour and a half's drive away at Angaston and is the oldest family owned winery in Australia. The Oxford Landing vineyard was established in 1958 on 600 acres of farmland, a further 240 acres was purchased recently and, taking into account scrub, paddock and track areas, 700 acres are currently under vine.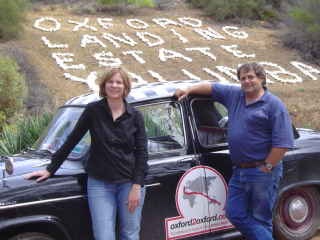 The Oxford Landing winemaker, Theresa Heuzenroeder, and the vineyard manager, Bill Wilksch, explained about growing the grapes and about making the wine as they showed us around the rows and rows of vines.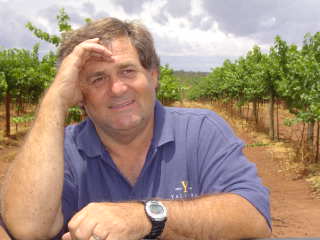 Roses planted at the end of the vines are a reminder of the days when vines were not resistant to a particular disease and the roses dying off was a signal that the vines were infected.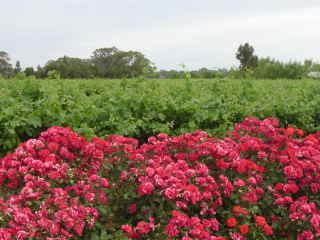 Rootstocks are now grown in the nursery specific to certain conditions and are sold to order with grafted grape varieties. South Australia is the driest state in one of the driest countries in the world so with an average of only 14inches of rain per year the vineyard relies on irrigation from the Murray River and plants rootstock that grows well under the prevailing conditions.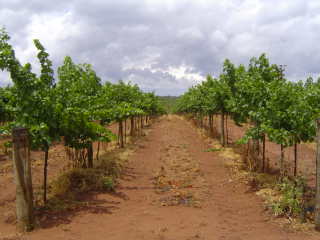 The Oxford Landing label states that the vineyard is "an idyllic place, distinguished by clear blue skies, rich red soil and is abundant in golden sunshine – the perfect environment for growing grapes with vibrant, fruity flavours."
Unfortunately, the sun did not shine through until early afternoon today when the rain stopped pouring for long enough to enjoy a picnic by the river, accompanied by a few glasses of "Oxford Landing" Chardonnay, of course.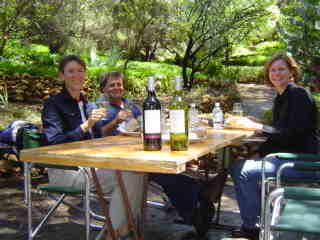 Ivan Huff, one of the Oxford Landing employees, owns an Austin A95 Westminster called Suzie and was keen for us to join him and his wife, also called Suzie, for tea but we had already committed to visit Joy and Laurie Smart at a village called Oakbank, east of Adelaide, so had to decline.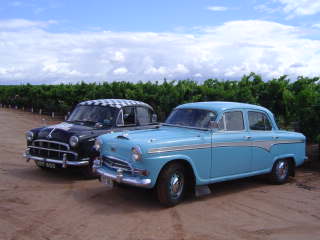 The drive to Oakbank took us south from Waikerie then across the Murray River on a ferry and up from the plains into the rolling Adelaide Hills.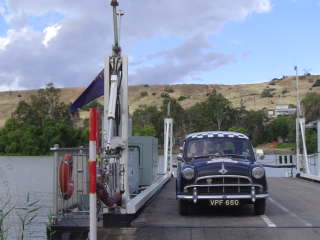 Walker Flats ferry

Day 219 Thursday 9th December 2004
Australia
Oakbank-Mt Gambier
We had been introduced to Joy and Laurie because Laurie owns a few racehorses named Oxford including a very successful horse called "Oxford Dollar".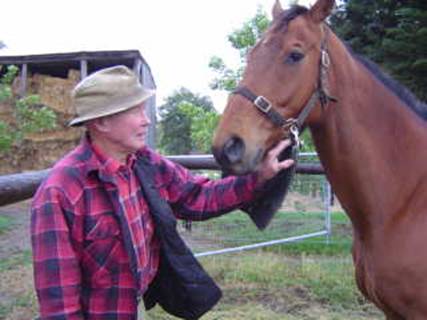 The racehorses were named Oxford after "Oxford Farm" which Joy and Laurie bought when they first moved to the area and which is now occupied by their son. They live a few hundred metres along the road at "Oxford House" and Laurie still maintains an active interest in the horses and the racing stables that his son runs.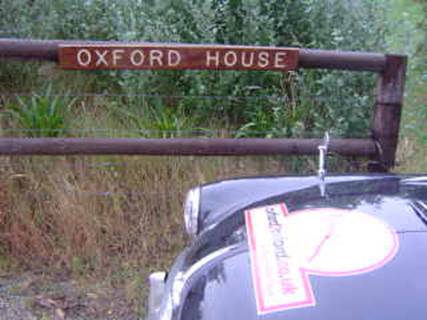 We joined Laurie on his 7am visit to the racing stables and then watched the horses being trained on the Oakbank racecourse. On the edge of a pretty, quiet village the racecourse (sponsored by Yalumba, amongst others) is the venue for a race day that is beaten only by the Melbourne Cup in prestige.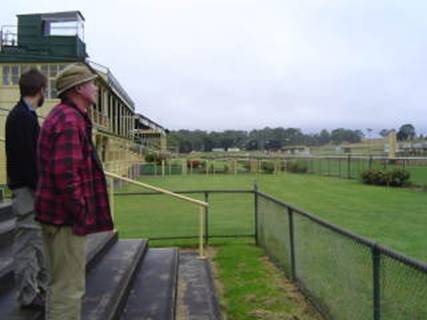 With thermos flask filled, sandwiches, homemade biscuits and fruitcake packed we left Laurie at the stables and Joy at home preparing for Christmas with nine children and 31 grandchildren. It was very kind of Joy and Laurie to be so hospitable to a couple of British travellers who called them up out of the blue and said that a former employee of Laurie's suggested we get in touch. It was even more generous of them to invite us to tea, to stay overnight, to show us the racehorses and to send us away with lunch and a box of homemade Christmas cookies when they had a big family gathering to prepare for.
We were very pleased that they had and much enjoyed our lunch that we ate as we drove south towards Mount Gambier through the Coonawarra wine region, home to several labels well-known to us including Penfold's, Yalumba and Hardy's.
The area around Mount Gambier south east of Adelaide is known as the Limestone Coast and the Naracoorte Caves, just off the main road south to Mouth Gambier, is recognised as a World Heritage Area because of the limestone cave formations and the fossils found there.
Stalagmites and stalagmites formed over thousands of years still drip with water seeping through the limestone creating more formations like haematites, curtains and flow.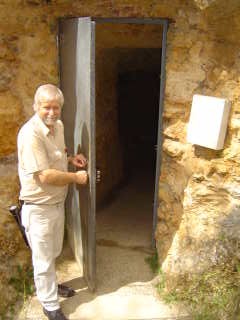 Frank, from the visitor centre, took us on a fascinating tour of one of the most impressive caves and explained not only about how they have formed over the last 500,000 years but about the significance of the fossils of animals that had crept or fallen into the caves and died there leaving their bones to be puzzled over by palaeontologists hundreds of thousands of years later.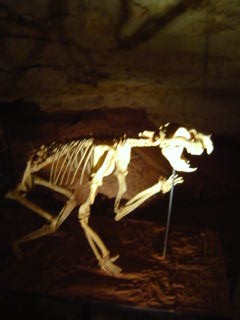 A skeleton of a marsupial lion was found here, thought to be the only example of such a creature in the world, and in one cave fossils of 24 different species of kangaroo were found. The marsupial is still the dominant animal in Australia but there are now only four species on the Naracoorte area, 200 years ago there were twice as many.
The caves have been open to tourists since the late 1800's but in order to clear passages for visitors other areas were piled high with rubble, Greenforce volunteers are currently clearing the rubble and revealing further areas of interest.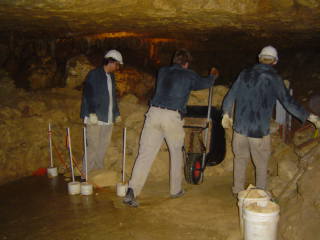 Greenforce is a youth volunteer organisation offering young people an opportunity to gain experience of work on an environmental project.
Our visit to the caves, though unplanned, was very worthwhile.
The town of Mount Gambier is named after the extinct volcano and is famous for it's Blue Lake from which the town gets its water supply.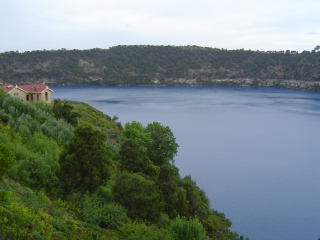 No-one seems to be able to explain why the 70metre deep crater lake is so dramatically blue when Valley Lake, visible from the same point, is a dull green.
We spent the evening eating supper, drinking Victoria Bitter and collecting donations to
the Australian Red Cross at Flanagan's Irish pub.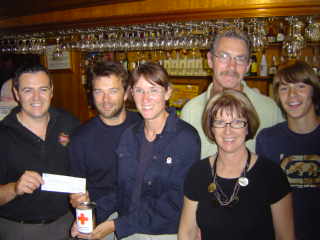 We were not only hosted by the managers, Peter and Wendy, and Sean Holmes of Carlton & United Breweries, but they also gave us a joint cheque for $100 made payable to the Australian Red Cross.
Day 220 Friday 10th December 2004
Australia
Mount Gambier
While we are in Mount Gambier we are staying with Red Cross SE Regional Transport Co-ordinator, Louise Waters, and her husband, John in their stylishly renovated Victorian house. The one storey elegant house was originally the home of the Mayor (whose initials were also JW) and sits in a pretty cottage garden landscaped by John. The stylish black and white kitchen is a recent improvement because, like many of the houses built around the same time in Australia, the original kitchen is in a separate small timber and stone building at the back of the house.
The Red Cross Transport office run by Louise and her team of volunteers provides a valuable service for people in the rural community centred on Mount Gambier who need transport to medical appointments and so on.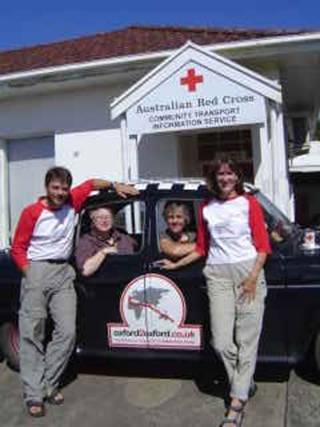 Louise and Libby (local President of the Red Cross) with Florence and Joanne and Tim outside the office of the Mount Gambier Transport office of the Australian Red Cross.
In this relatively small rural community Louise is a dynamic character and with only a days notice she had arranged a full morning of interviews for us with the local media: The Border Watch newspaper, ABC Radio, Radio 5GTR, and WinTV news.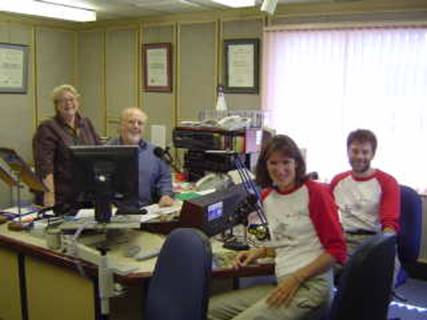 ABC studio, Mount Gambier
Louise is also an inspirational fundraiser for the Red Cross in her spare time and was really supportive of our crazy adventure and fundraising initiative.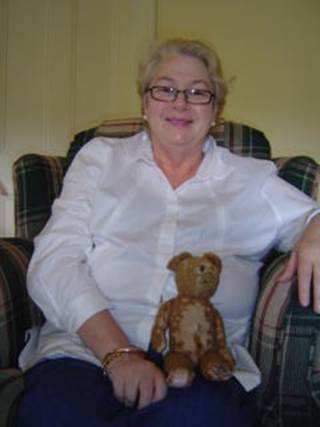 She also loved Florence, our car, that reminded her of her Grandmother, also called Florence, who was sent to England for the Jubilee and brought Louise back a teddy that is now patched and showing serious signs of many years of cuddles.
Tim spent most of the afternoon talking with the IT helpdesk at the national Red Cross office and, thanks to Simon and Joe, finally succeeded in networking our two notebook computers. We still have to set them up to access the Internet from both and to share Outlook but we are heading in the right direction. We can now both work at the same time and, importantly, we can backup from one computer to the other and write data to CD rom.
Joanne, meanwhile, got her hair cut and went shopping – a rare occurrence on this trip, budget, time and space in the car being the limiting factors – but this was for a Christmas present so it was justifiable. She had seen something she had thought would be a great present for her nephew while in Perth but we had little time and thought that this gift would be easy to find elsewhere; frustratingly, she has seen nothing like it since and could not find it today either. Most annoying! Hugo's first Christmas present from his auntie will be late if she doesn't find the right present soon.
Most people imagine Australia as the land of clear blue skies, at least that is what we expected but the weather this year, by all accounts, is out of the ordinary. We were in Perth on the coldest November day for one hundred years, in Tom Price the usually hot weather was bearable (only low 30's instead of high 30's); we were called mad for driving across the Nullarbor Plain in the heat of November but it was even chilly on occasions; and storms seem to be chasing us.
Big storms hit Mount Gambier this afternoon and storm water flooded down into the sink holes around the town. Joanne waded through streets awash with water and dashed from shop to shop trying, unsuccessfully, not to get too drenched in the pouring rain.
The storm cleared by the time we drove out in the evening to a pizza restaurant in a converted mill where we met with several friends of Louise and John including Libby, the local Red Cross President and her husband, Bob, a former Rotary District Governor who has offered to introduce us to Rotary clubs in towns through which we will pass over the rest of our journey.
Day 221 Saturday 11th December 2004
Australia
Mount Gambier
We had planned to continue our journey east this morning but, given the time we have spent in the last few days trying to set up our computers, we were concerned that we have some admin to catch up on so accepted Louise's invitation to stay longer and spent a productive day updating the website, setting up the internet server on the new notebook computer and sending and receiving e-mails. Louise asked us to stay until the local Red Cross volunteers Christmas lunch next Wednesday; tempting though it is to stay on in such a lovely home we are conscious that we still have much to do and a long way to travel before we ship to New Zealand early in the New Year. (Well, hopefully, we are still waiting from a decision from P&O Nedlloyd on whether they will ship Florence, and maybe even us, from Sydney to Auckland.)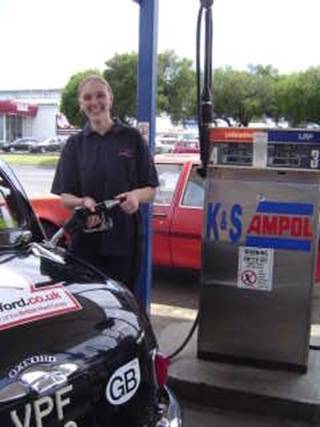 K and S in Mount Gambier filled up Florence for free - many thanks!
On a walk into town in the afternoon we bought a couple of useful items and saw the sinkhole in the town centre. It was formed by underground water eroding the limestone to such an extent that the roof of a cave collapsed leaving a hole up to ground level. The first settlers in Mount Gambier used the sinkhole as their water supply and used to lead their animals down the steep sides of the limestone hole to drink from the underground water.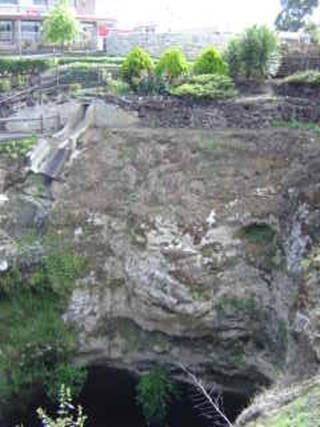 The water table has dropped since the 1800's and there is now no water visible at the bottom of the sink hole but during the storm yesterday the floodwater was pouring into it.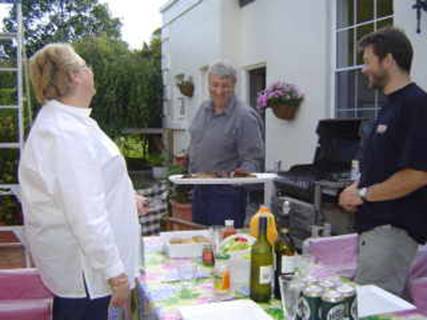 As we finished a bar-b-q with Louise and John this evening, Owen, a Red Cross volunteer, called round for a beer. He is trying to get us a copy of the ABC radio interview we did on Friday morning.
"What is the difference between a 747 and a Pomm?" asked Owen of Tim, "747's stop whining when they land.". Various other jokes about the British followed, despite Owen being proud of his Welsh heritage, so when Owen discovered that his car battery had run flat justice was sweet.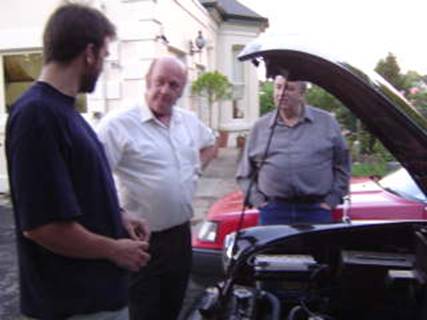 Tim gleefully got out the jump leads and started Owen's modern Australian car with our fifty year old English car. "He's alright for a Pomm" admitted Owen with his arm around Tim's shoulders.
Day 222 Sunday 12th December 2004
Australia
Mount Gambier-Camperdown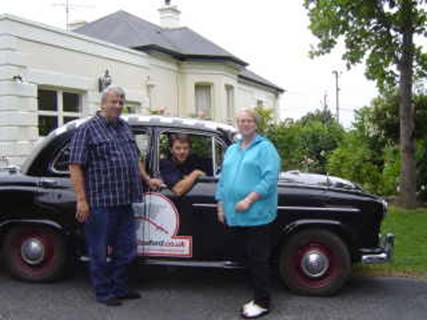 We finally said goodbye to Louise and John mid-morning, loaded up with ham sandwiches and fruit cake for our journey to Camperdown which is inland from the start of the Great Ocean Road along which we intend to drive tomorrow towards Melbourne.
On the advice of several people we stopped at Port Fairy, originally established in the mid-1800's as the town of Belfast and a port and whaling station called Port Fairy.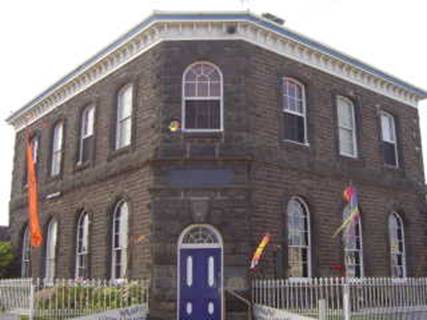 The Bank
The small historic town with wide streets, elegant public buildings like the post office and the bank, historic shop fronts to gift shops and cute cafes and attractive quiet residential streets lined with pretty 19th Century houses has fifty National Trust recognised buildings and is a pleasure to walk around. The estuary and former port area is lined with smartly renovated boat houses with yachts moored along the quays and signs warning of whales during the winter months.
Having found a present for Joanne's nephew and accepted a donation from the shop owner to our Red Cross collection tin we walked around the island linked to Port Fairy by a causeway.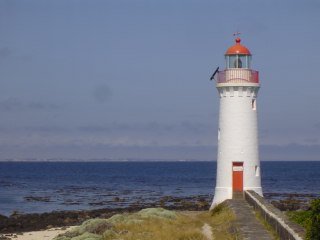 The first European settlers to the area originally came by ship from Tasmania and established a whaling station on the island that is now deserted except for a lighthouse and bird sanctuary.
The beaches, rolling hills, cows and hay meadows, Victorian houses and Norfolk Pines created a landscape that was reminiscent of the East of England...except that there are no koalas in England.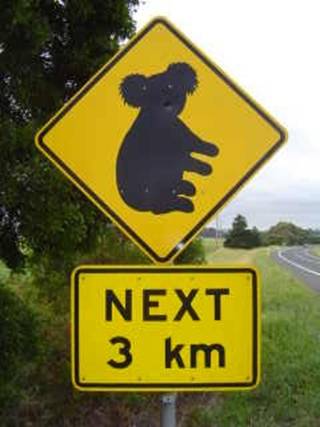 We saw the signs but sadly have still not seen a koala.
We stayed overnight at the small inland town of Camperdown, having been invited to stay with Graeme and Kay McFeeters whose daughter, Angela, we met and gave a lift to after a presentation we gave at the British High Commissioners Residence in Singapore.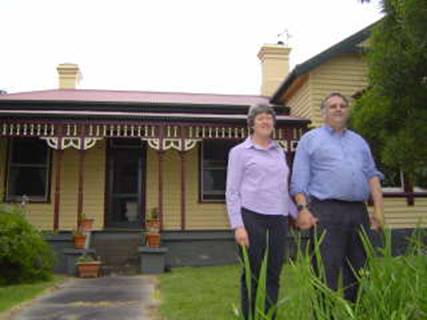 Graeme and Kay live in a large wooden one storey house built by a pair of sisters about 130 years ago when the area of Camperdown had only just been cleared of bush and a street plan laid out. They totally renovated the house when they bought it a few years ago and brought the wide veranda that runs the width of the house back to its original design as well as building a new kitchen and bathroom.
"If you hear a thump in the night, do not worry..." Kay warned us, "the possums that live in the roof have a habit of jumping down onto the veranda during the night." Despite having stayed in a few houses in Australia whose roofs are homes to possums we have still not seen one so after dinner Kay and Graeme took us out armed with torches to search the trees and roofs for possums. Sadly, they were all hiding from us.
Day 223 Monday 13th December 2004
Australia
Great Ocean Road
Camperdown-Cumberland River
We slept so well last night that we did not hear the possums thumping down onto the veranda outside our bedroom window. Kay and Graeme considered running their home as a bed and breakfast and, if our time there is anything to go by, they would be very successful. We had a great breakfast of cereal and a selection of fruit then Kay made us up a pile of cooked ham sandwiches for our picnic lunch before we made a quick visit to Camperdown town centre.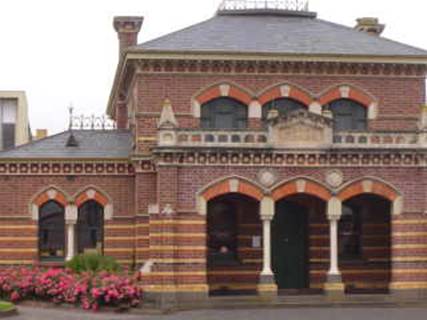 The post office, from where Joanne posted a Christmas parcel to her sister in England, was built originally as a telegraph office and it and other historic buildings like the courthouse, now a cafe, line the wide main street.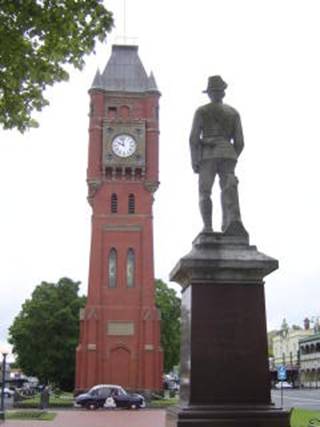 The clock tower in the centre of the main street dates from 1878 is flanked by war memorials and rows of trees and is wound every week by members of the Camperdown Rotary Club that Graeme is a member of.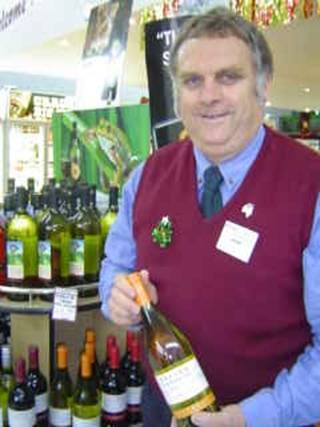 Graeme runs a local bottle shop (known as an off-licence in the UK) and we called in to say goodbye as we left Camperdown and drove south to join the Great Ocean Road.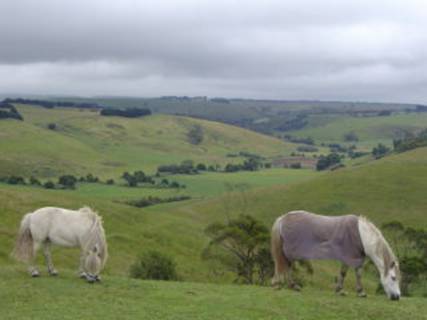 The route south from Camperdown took us past ancient crater lakes, rolling pastures, dairy farms and fields divided up by dry stone walls, apparently built by Scots and Northern English immigrants. It reminded Joanne of North Yorkshire.
The Great Ocean Road is rated as one of the most impressive scenic coastal roads in the world and runs along the coast from the area of Port Fairy to Torquay, south of Melbourne.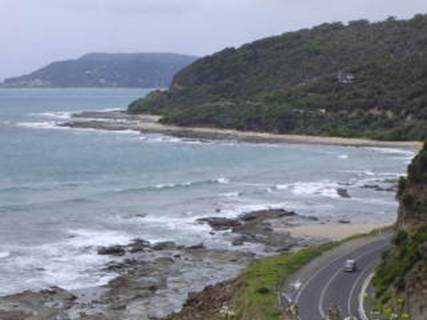 3000 ex-soldiers worked on constructing the road after the First World War to link up coastal villages that hitherto relied on the sea for resupply.
We rejoined the coast road near London Bridge, a dramatic limestone arch that was until recently linked to the mainland by a second arch.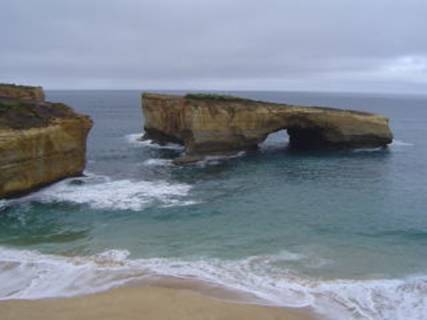 Rumour has it that the couple stuck out on the arch when the arch linking them to the mainland collapsed hid from the ensuing publicity of their rescue by helicopter because they did not want to be seen together.
Unlike the clear blue skies and sunshine we had expected, the chilly, misty, drizzley day was much like a warm winters day on the Cornish coast.


By the time we reached the cliffs overlooking the site of the Loch Ard shipwreck in 1878 the drizzle had turned to drenching rain forcing us to eat our sandwiches in the car. The dramatic limestone cliffs made journeys by sea particularly treacherous and the Loch Ard was one of many ships wrecked along this coast. After a three month journey from England the Loch Arch was due to arrive in Melbourne the day after the night it was dashed on the rocks in thick fog, drowning all but two of those on board.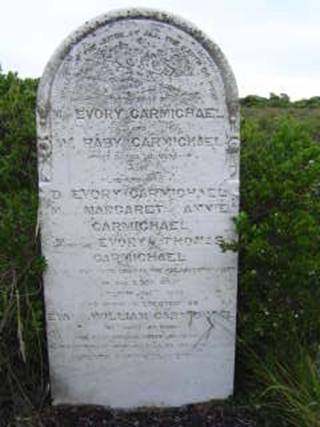 Only four bodies were ever found and these are buried alongside other pioneers in a small cemetery on the cliffs.
A short distance east along the coast are the twelve apostles: sand and limestone pillars standing in the sea having broken away from the cliffs.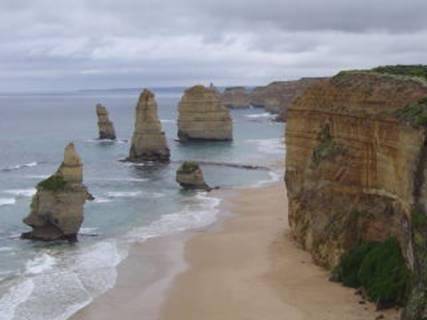 They were an impressive sight but there were almost as many tourists as there were flies at the viewing points, jostling to take photos or have photos taken of themselves or their babies with the apostles in the background, so we moved on fairly quickly. We are not used to so many tourists, there were tourists at sights in Western and South Australia but the distances from the main cities were so vast that they did not arrive in hordes. We had admired the cliffs of the Great Australian Bight alone.
The road became more interesting further east as it wound through eucalyptus forests, green pastures over rolling hills, over rivers with familiar names like Kennet and Wye, and rainforest. The fog cleared as we saw the sea again but it remained chilly (15-18) and overcast, the sun only making a brief appearance as it prepared to set.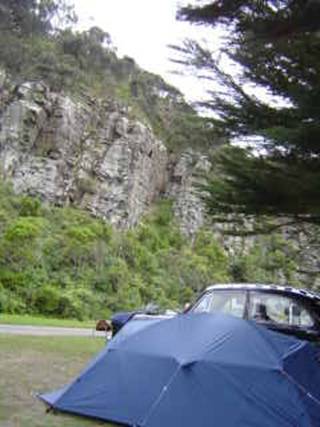 We camped next to the Cumberland River,7km west of Lorne, as the river reaches the beach at the foot of the crags of Mount Defiance on a campsite that had all the elements to make a perfect campsite – bubbling stream, mountains, forest, sandy surf beach, good loos and showers, lots of space, fires and bar-b-q's.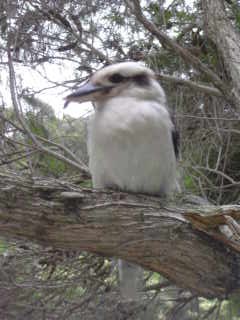 The kookaburras were sitting on trees waiting for food from campers tables.
As it was quite chilly we sat by a roaring log fire that we built in one of the fireplaces in the camp kitchen, an old open stone building with benches and gas bar-b-q's and cooked our pasta for supper.
www.cumberlandriver.com.au
Tim discovered this evening that he has lost his woollen jumper so he wore two t-shirts, a linen jacket, a waterproof jacket and a hat to keep warm.
Day 224 Tuesday 14th December 2004
Australia
Great Ocean Road-Melbourne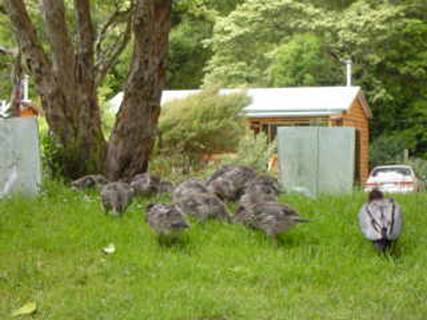 After eating breakfast as we watched a pair of Australian wood ducks leading their twelve ducklings protectively past the tents and into the shallow river we packed up our tent and continued east along the Great Ocean Road as it wound into inlets and hugged the cliffs.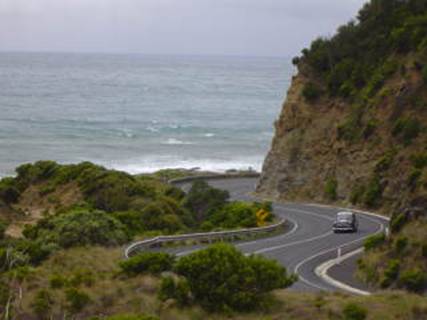 Through the smart holiday town of Lorne set on a wide sandy bay, past the world famous surf spot, Bell Beach, and on to Jan Juc Beach. Jan Juc is not quite as well known as Bell Beach but is still a good surfing beach with, like many holiday beaches, a surf life saving club overlooking it. David, the Surf Captain, was running a week long Bronze lifesavers course for volunteers from 15 years of age striving to be qualified to wear a yellow and red hat in the waves. Though invited, we do not have time to stay and do the course but we hope to find an opportunity if we return to Australia.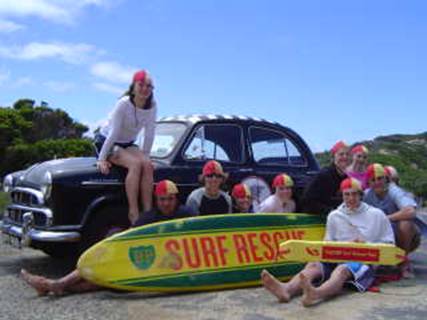 www.janjucsurfclub.com.au
The sun was out and the rain stopped drizzling in time to eat a picnic overlooking the Torquay surf beach, we sheltered from the wind and contemplated whether we should surf or not.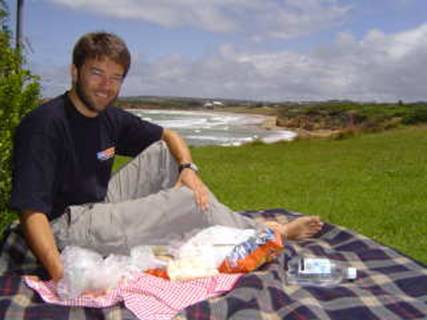 In one of the surf capitals of the world home to well-known surf clothing brands including Rip Curl and Billabong, there was no option but the messy waves and strong wind made our two hours of surfing quite challenging, even walking the board along the beach without letting the gusting wind taking it away was an effort. Despite the disappointing conditions it was still fun to catch a wave or two.
The final hundred kilometres up to Melbourne was on the three-lane M1 motorway. We navigated our way through Melbourne with a map memorised from the street atlas Joanne looked at at a petrol station avoiding aggressive city drivers determined to compete with all other drivers. We are not in the business of burning away at traffic lights and do not appreciate cars revving as they sit on our tail or cutting us up as they weave from lane to lane for little appreciable gain.
When we eventually reached the suburb of Montmorency, after stopping in Ivanhoe for a pizza, we were greeted by Jonathon, a relative of Tim's, who had kindly invited us to stay with him and his wife, Anne, and their sons in their house built by Jonathon.
Day 225 Wednesday 15th December 2004
Australia
Melbourne
Driving into Melbourne we were reminded of Singapore: small pretty colonial buildings with the skyscrapers of the city in the background. There are many parks, green spaces and wide streets on a grid system.
At the national office of the Australian Red Cross we met with the Secretary General, Dale Cleaver, who thanked us for our efforts to support the Red Cross, and also met the PR team.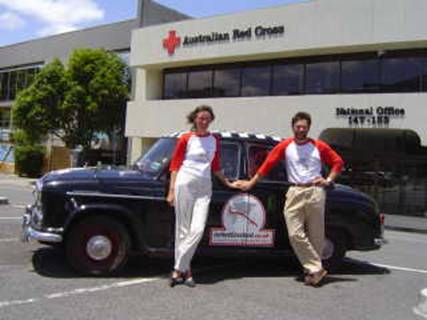 P and O Nedlloyd called today to discuss publicity in return for their offer to ship our car free of freight from Sydney to Auckland in early January. Shipping is a major cost on this journey so we are really pleased to receive this news. Unfortunately, though, there is only a very small chance that we will be able to travel on the ship too so we are now looking to arrange flights for ourselves.
Jonathon's mother (and Tim's father's cousin), Eve, is visiting Australia with one of her French grandsons, Jean. We met them at a pub for dinner this evening with Jonathon and Anne and were joined later by a couple of friends of theirs who are classic car enthusiasts. Stephen, a lawyer, and Anne, own seven classic cars, or parts of, between them including a pair of very valuable African rally headlamps fitted to the front of a 1968 Peugeot 404. Stephen demonstrated his encyclopaedic knowledge of old cars when he explained in detail the distinguishing features of the front grills of various models of Morris Minor.
Day 226 Thursday 16th December 2004
Australia
Melbourne
At the head office of the Australian Red Cross Victoria Division we met Andrew Hilton, the Executive Director, who gave us an overview of the work that the Red Cross do here in Melbourne and in the state of Victoria. A major focus is co-ordinating emergency response. Danielle and Alice in the PR department assisted us with our efforts to generate Melbourne media interest in Oxford2Oxford and we spent a few hours issuing a press release and calling the media.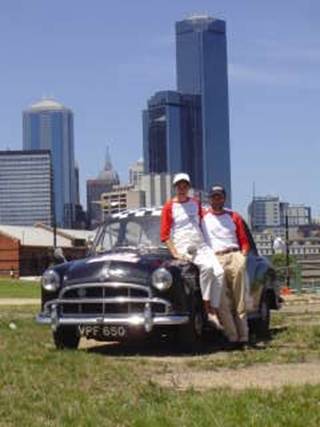 The Herald Sun took a photo of us at the docklands area (a building site of smart new developments) with the Melbourne sky line behind but we were pushed out of tomorrows paper by a British man cycling around the world raising funds for Oxfam, at least it was a worthwhile story but we hope that we will therefore make it to Sundays paper and not hit the editors bin. Plenty of other media interest but no real success. The media seem to be out to criticise the Red Cross here at the moment so perhaps that has something to do with our limited success despite the initial interest.
Brian Salter-Duke was one of several Queen's College alumni who contacted us after recieving a letter from the alumni officer telling them about our journey.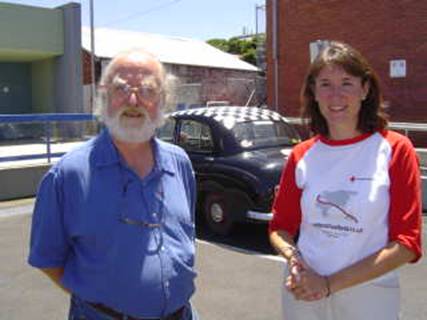 Brian originally e-mailed to invite us to stay with him in Darwin but he has just moved to Melbourne so we were pleased to meet him for lunch today. Brian is a scientist and studied at the Queen's College Oxford 1957-63.
Eating an evening meal with the Buchanan family was most entertaining as banter flew around the table between Eddie (18), Jeremy (21) and their parents, Jonathon and Anne. We must find them a video of the classic British comedy TV series, "Butterflies"!
Day 227 Friday 17th December 2004
Australia
Melbourne
When in Mumbai we visited (and Tim gave blood at) the Indian Red Cross Mumbai Blood Service. This was set up in close consultation with Sandy Walker and a team from the National Serology Reference Laboratory here in Melbourne. The relatively small group (~35 people) monitors the performance of laboratory testing for blood borne viruses in Australia and overseas as well as co-ordinating programmes for the Australian government, WHO and groups such as the Australia-India council (hence the link with Mumbai).
They also work closely with the Australian Red Cross Blood Service (ARCBS) providing quality assurance programmes and reference testing for their laboratories. Dr Naidu, who runs the Mumbai Blood Service, introduced us to Sandy Walker at the NSRL and she helped arrange a visit for us to the ARCBS this morning, co-ordinated by Joanne McIntyre, the Donor Services Manager, who we met yesterday at the Victoria state office.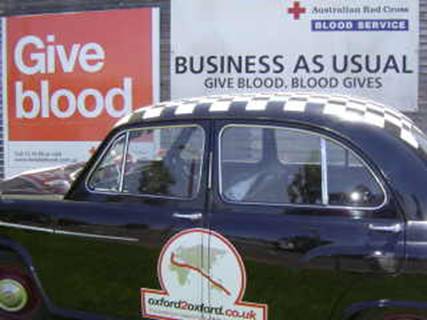 The ARCBS, the only blood collection service in Australia, is 95% funded by the Government and is administered separately from the Australian Red Cross. In the state of Victoria alone 250,000 donations were processed this year. Some donors give blood and others give plasma through a device that draws blood, separates it then gives back the red blood cells to the donor.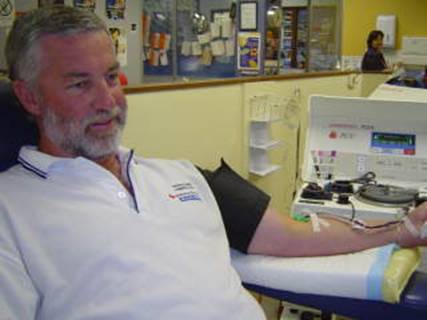 Bill Sheahan donates plasma up to every two weeks.
Though the demand for blood in trauma cases has declined, the need for blood products overall is still high. Products have a variety of uses including the treatment of cancer patients, operations, vaccinations and research.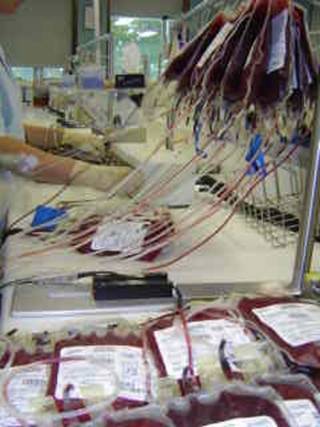 Despite rigorous testing of all donated blood there is still no efficient test for variant CJD (commonly known as mad cow disease) so, as people who have spent more than six months, cumulatively, in Britain we are unable to donate blood in Australia.
We still had more work to do at 5.30pm when we had to leave the Victoria Red Cross office and, as we were not meeting with Jonathon and Anne in town until 7.30pm, we drove down to see Eve and Jean at their serviced apartment south of the river for a cup of tea, a freshen up and a few minutes updating the website.
The Chinese meal this evening with John and Jenny, friends of Jonathon and Anne, was interrupted briefly for a live interview by phone with Anne Diamond on the BBC Radio Oxford Breakfast show. We are told that BBC Oxford TV is broadcasting an update of our journey this evening.
Day 228 Saturday 18th December 2004
Australia
Melbourne
Joanne lost touch with her Queen's college tutorial partner, Siva Somasundrum, a couple of years after going down from Oxford and was thrilled to hear from him again after a letter was sent out to alumni about our crazy adventure. He and his wife, Geeta, and daughters, Ashwini (8 months) and Pretashini (7 and ¾ years old), now live in Melbourne and they have invited us to stay with them for a few days.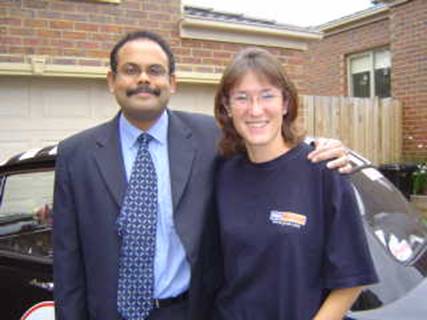 We spent most of today getting to know the family and catching up on the last twelve years since Joanne and Siva last met in Singapore in 1992, where he was brought up.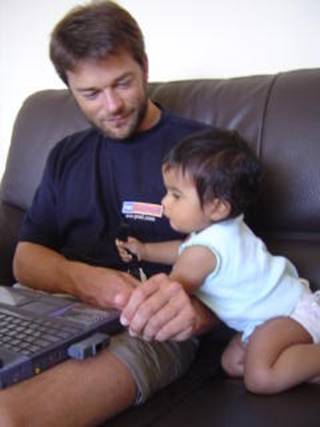 Ashwini was intrigued by the computer that Tim was using to write Merry Christmas e-mails.
An evening walk along the Yarra river took us past a group of people gathered with picnics watching a performance of "Carols by Candlelight".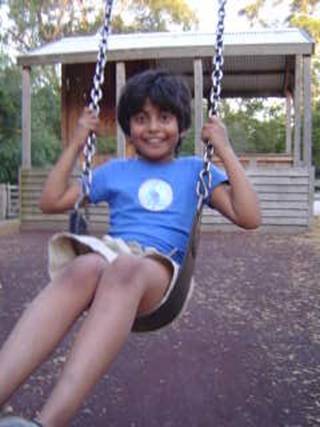 On such a warm evening we could not contemplate singing carols, it just does not feel like Christmas to us so we walked back, played with Pretashini on the swings and ate an Indian meal with Siva, Geeta and Pretashini at their home.
Day 229 Sunday 19th December 2004
Australia
Melbourne
After an admin morning Siva and Geeta took us for a stroll along a very windy seafront in the trendy Melbourne suburb of St Kilda.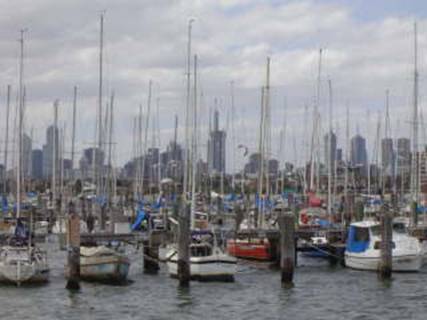 Sunday strollers meandered past craft stalls set up along the street; wedding parties posed for photos on the beach in the gusting wind; kite-surfers whizzed around the marina jumping over choppy waves with a backdrop of city skyscrapers, and we walked along the pier, admiring the view while holding on to Pretashini as she took her first giggling "steps" in a pair of pink "Barbie" roller skate shoes.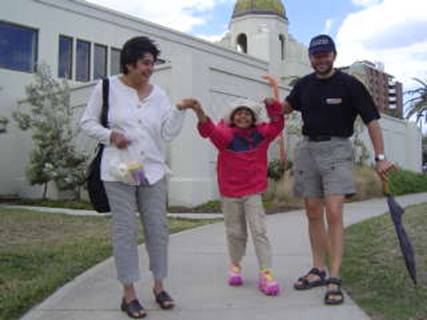 A most appropriate way to spend a Sunday afternoon with friends in Melbourne and especially enjoyable when finished with tea and cake at a beach café, even if the wind was too wild to sit outside.
Day 230 Monday 20th December 2004
Australian
Melbourne
We feel so at home with our hosts in Melbourne that we are tempted to accept their offer of staying longer so that we can see more of the state of Victoria but on the other hand we do not want to rush our journey to Sydney and are concerned that we will have very little time there before we fly/ship to Auckland. Still, we are not leaving today as we originally planned and, given that we have STILL not managed to see many of the sights of Melbourne, we will probably not leave here until the 22nd when we will head in the direction of Sydney and try to find somewhere en route that is scenic and quiet to hide away for a couple of days over Christmas. Ideally, we will camp somewhere near a beach but we're not sure which one.
As we are in a warm country and are not with our families, thinking about Christmas seems quite odd, it is hard to imagine everyone at home with their Christmas trees, so doing something completely different on this Christmas day seems the best option.
Joe and Simon, the IT team at the Australian Red Cross office in Melbourne, helped us establish how best to use our networked computers but we are still struggling to send e-mails from MS Outlook on the new notebook – REALLY FRUSTRATING! Computers are great when they work but when they do not it can waste so much time – thank goodness we have a simple car!
Day 231 Tuesday 21st December 2004
Australia
Melbourne
This morning was occupied by Tim sending more "Merry Christmas!" e-mails while Joanne read and researched where we will go for the next few days.
We finally found time for some Melbourne city sightseeing this afternoon and walked through ornate Block and York Victorian shopping arcades, stopping for a cup of tea at the characterful "Hopetoun Tea Rooms". Siva works on the twentieth floor of the Rialto Tower, the highest building in the southern hemisphere; we took the lift to the top – up 55 floors in 30 seconds! – for great views across the city to the hills beyond and across the vast bay.
A visit to Melbourne would not have been complete without a ride or two on a tram, still a significant part of the public transport system. The contrast between grand Victorian civic buildings and modern skyscrapers is softened by the wide avenues and green gardens and parks. Fitzroy Gardens, surrounded by church and government buildings, are the resting place for the house that Captain James Cook grew up in. The small stone house was transported from Great Ayton, North Yorkshire,
Last evening with Siva, Geeta and their daughters: Joanne cooked supper and we had a relaxed fun evening. Siva and Geeta had asked us to stay longer and spend Christmas Day on a beach at Wilson's Promontory, the most southerly point of mainland Australia. We pored over the map and eventually concluded that we would have to stick with our plan to go up over the Great Dividing Range to the East coast in order to have enough time to get to Sydney before New Year.
Day 232 Wednesday 22nd December 2004
Australia
Melbourne-Snowy Mountains
A morning of packing and last minute "Merry Christmas" e-mails before we left Melbourne on the main route to Sydney. We found the turn off the northern ring road easily and put the map book away for the next 270km on the Hulme Highway, only to find that after a few kilometres the smart new dual carriageway stopped. Literally. And there were no signs.
We followed the slip road off to the road heading west and asked another driver at the traffic lights where to go! It turned out that the dual carriageway marked on our map as going north east from Melbourne up to Albany (then single carriageway on to Sydney) does not yet exist as such for the first thirty kilometres and instead involves a new short stretch in the right direction from the ring road then a few traffic lights westwards before a right turn onto a dual carriageway north again.
The heavy lorries piling past us thinned as we drew further away from Melbourne and the temperature had dropped from 38 degrees to a more pleasant mid-twenties by late afternoon. We lost most of the traffic when we turned off the highway onto a minor road winding towards the mountains of the Great Dividing Range. The largest river in Australia, the Murray River, forms the boundary between Victoria and New South Wales.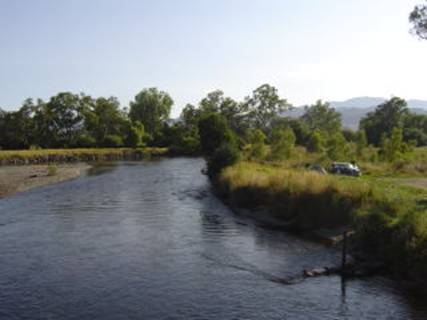 Our impromptu camp was just over the bridge on the New South Wales bank of the Murray River.
Day 233 Thursday 23rd December 2004
Australia
Kosciusko National Park
An exhausting, long day for us and Florence driving through the Kosciusko National Park, which, covering over 690,000 hectares, is one of the largest in Australia and encompasses Australia's highest mountain, Mount Kosciusko at 2229metres high.
The national park also encompasses the Snowy Mountains Scheme, one of the most complex integrated water and hydro-electric power schemes in the world. Begun in 1959 the ambitious scheme took 25 years to complete and employed over 100,000 people from 30 countries: experts and contractors from Scandinavia, Europe and America and many people displaced by the Second World War who sought new lives in labour hungry Australia.
Sixteen major dams, seven power stations (two of which are underground), a pumping station, 145 km of interconnected trans-mountain tunnels and 80kms of aqueducts were created that divert water, that would naturally flow east from the mountains, to the coast through power stations to rivers in the west where it is used for irrigation.
Workers initially lived in tents in the mountains, despite the freezing winters, and gradually international communities and towns for them and their families to live in were built, including the township of Cabramurra, the highest town in Australia at 1488m. Many communities were also moved and towns rebuilt as dams were built and the valleys flooded.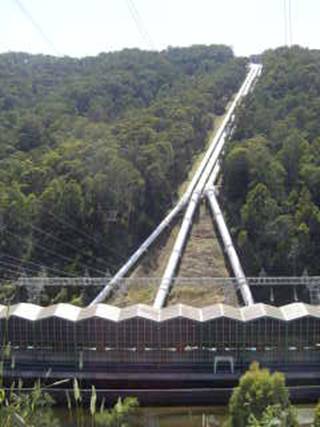 www.snowyhydro.com.au
Though it is an incredible project that creates power and diverts water to areas that would otherwise be dry and unproductive it has had a huge impact on the natural environment and there are concerns that, despite the companies efforts to work with environmental groups, for example taking into account the breeding patterns of the endangered Corroboree Frog, it has caused irreversible ecological change.
Before visiting the interesting Snowy Hydro centre near Khancoban we called in to the National Parks visitor centre to buy a 24 hour pass and to find out more about a fishing hut built, we had been told, by Tim's Grandfather's brother.
Several stone fishing huts had been built in the area near the Geehi and the Swampy Plain Rivers in the 1930's and 1940's, mainly by Don Benson, whose family, we believe, still lives in the area. The State took responsibility for the huts when the area became a National Park and some were converted into accommodation for park users. The hut marked on National Park maps as "The Dr Forbes Hut", we discovered, was the one built for Edward Chambers Nicholson in 1940 to replace an earlier wooden hut and a nearby slab hut both destroyed in the 1939 bushfire.
The stone hut was used by family and friends of E C Nicholson including his son-in-law, John Buchanan (wife of Eve, Tim's father's cousin, who we had met in Melbourne and father of Jonathon Buchanan with whom we had stayed in Melbourne), John Gwillim and Dr John Forbes who eventually took responsibility for the hut, hence the name.
Eve still remembers riding over the mountains with her father and others to visit the hut and told Tim tales of catching wild horses in the bush. Equipment and provisions were carried across the river either by packhorse or on a flying fox if the river was high and visitors would ride or wade across or use a metal bridge stored in the house. Facilities were simple, rubbish was buried and going to the toilet involved digging a hole with a shovel on the plain behind the hut.
The hut suffered badly in the devastating forest fire of 2003, the worst in the area for 150 years, and has not been reconstructed. Research is being carried out on the history of the huts before their future is decided so the park ranger was pleased to get contact details of members of the Nicholson family.
We drove a little way off the road down a track then, pestered by March flies and worried about snakes, we found a trace of a path through the undergrowth to the river that we waded across, carrying a picnic in a rucksack and being very careful not to get our cameras wet, up the steep bank opposite through deep grass and between blackberry bushes to find the hut, very overgrown and with all but the chimney stack and three external walls collapsed.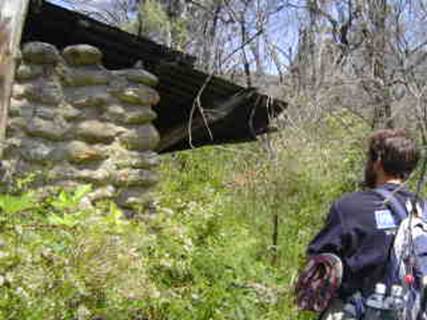 The flat patch of grass we expected to find next to the house was difficult to identify with high grass and bushes covering the area and growing over and around the remains of the hut. Given the hordes of flies and heeding the warnings about snakes under the ruins we chose not to attempt to picnic there but instead retreated to the car.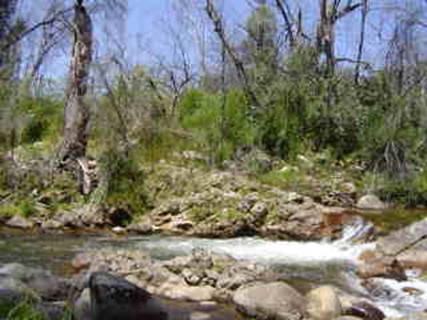 No doubt those using the hut from the 1940's to the 1980's put up with snakes and flies when they first arrived at the start of the season when the hut was cleaned out and stocked with provisions.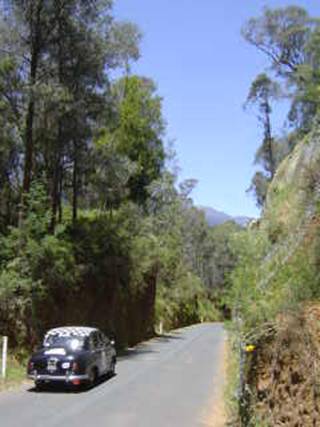 With temperatures rising to the high 30's Florence's radiator was almost boiling as we wound up to Dead Horse Gap, the highest point on the road at 1580 metres.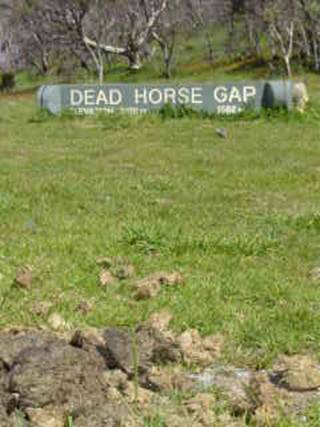 The gap is so called because wild horses, known as "Brumbies", live in the area and unexpected snow falls have occasionally trapped them causing them to perish.
As we arrived at the ski resort of Thredbo the last chairlift up Mount Kosciusko stopped for the day; arriving literally three minutes earlier would have saved us a 2 hour struggle on foot up the steep direct route underneath the chair lift. Taking the chairlift halfway up the highest mountain in Australia might have felt like cheating but we would probably have done it given that it was already 4.30pm. Instead we laboured up 3½ steep kilometres to the top of the chairlift then walked the next 6½ kilometres on a footpath to the summit, arriving as the sun was setting across the roof of Australia.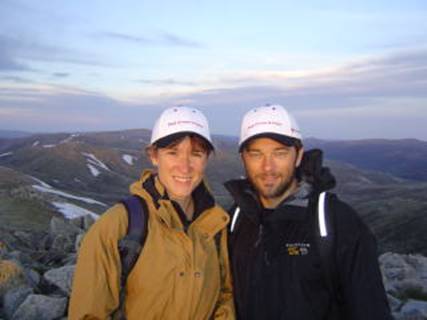 The benefit of walking up in the evening was that no-one else was there and the mass of flies that pestered other walkers during the day had gone. The disadvantage was that, though the path from the summit was clearly identifiable and well lit by the moon, the route down from the chairlift through the forest was harder to find, steep and rough. We also missed an evening meal so ate tuna sandwiches and tea when we reached the car at 11pm. It was too late and we were too exhausted to consider cooking.
We pitched the tent in a National Park campsite, rinsed the worst of the dust off our filthy feet in the Snowy River, and snuggled into our sleeping bags, shattered and with aching legs. Sitting in a car for several months is not good training for walking quickly up a mountain and we feared seriously stiff legs after a night's sleep.
Day 234 Friday 24th December 2004
Australia
Kosciusko National Park- Eden
Woke up in a toasty tent heated by the sun after a chilly, damp night. Joanne got up at 8am, Tim put up with the sauna-like-tent for a few more minutes sleep. Surprisingly, neither of us had stiff legs after yesterdays evening trek up Mount Kosciusko.
The 24hour National Park pass of $16 includes the option of camping in any of the National Park sites. They are equipped with picnic tables, compost toilets and places for fires. Even at this time of year, just before the peak post-Christmas Day summer holidays, Ngarico site had only one other camper.
None of the sites have showers but they are all by rivers.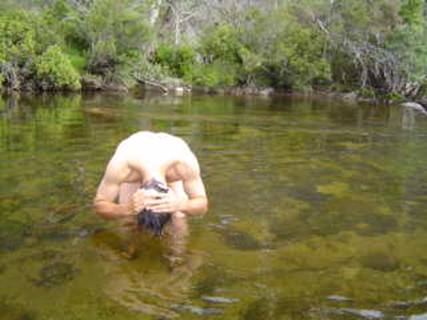 The Snowy River was as cold as its name suggests - bathing in it this morning was invigorating! It would have been an idyllic place were it not for the pestering flies, and worst of all, the large March flies that chase their targets until they succeed in biting them – ugh!
There were no March flies around when we stopped to eat lunch later in the day but within seconds of getting the chicken and bread out there was a swarm of normal flies; the only way of avoiding eating them in a sandwich was to make and eat our lunch as we drove.
Out of the park, through Jindabyne where we filled up with fuel and provisions for the next few days, down, down we drove out of the Snowy Mountains of the Great Dividing Range and onto rolling plains covered in sheep and cattle stations. The most direct route was slow because it took us along an unsealed road for thirty kilometres; past a sheep station with a small disused railway waiting room still standing near the wooden house, as well as sheep pens and a ramp for loading sheep onto rail carriages that are now being used as sheds.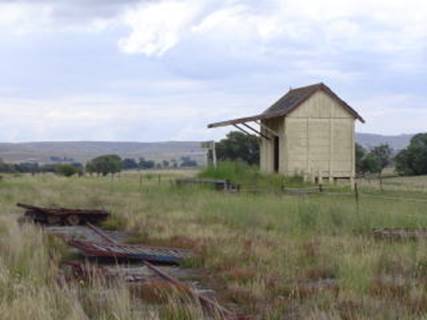 Up again through forested hills over to the coast at Eden where we plan to spend Christmas and Boxing Days. After some indecision about where to camp we decided that the sites in and around the fishing town of Eden were too "suburban" so we decided to turn back and camp at Bittangabee Bay in the Ben Boyd National Park. 23km south on the highway from Eden we turned off towards the park then after 6km turned onto an unsealed road that we followed carefully through the forest for the next 18km. The signs indicated that the site was fully booked from 26th December and that there were fireplaces and toilets but whatever there was we were committed to staying.
It was overcast and chilly and dusk was falling as we trundled slowly along the track avoiding dark grey swamp wallabies as they bounced into the eucalyptus forest. Relieved to have made it, we found an empty space, pitched the tent and cooked supper by the light of a gas lantern hung on a tree for us by a neighbouring camper.
Day 235 Saturday 25th December 2004 Christmas Day!
Australia
Bittangabee Bay, Ben Boyd National Park, NSW
It felt rather odd saying "Merry Christmas" as we woke in a tent to a warm sunny day on the New South Wales south coast. It is so far removed from the Christmases we are used to.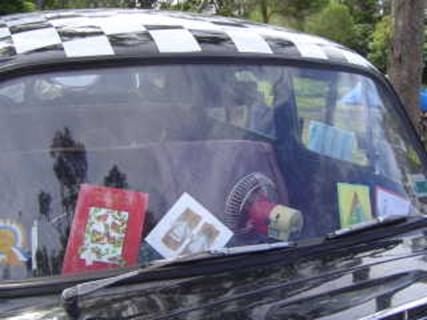 We had put Christmas cards from our families up on the dashboard of the car but had not got around to getting other decorations, unlike the tent nearby that had tinsel on the guy ropes, and had not even succeeded in getting presents for each other to open this morning. We did though recieve a present of Fortnum and Mason tea from Tim's Mum and Tim opened a pen especially designed for left hand writers also from his Mum.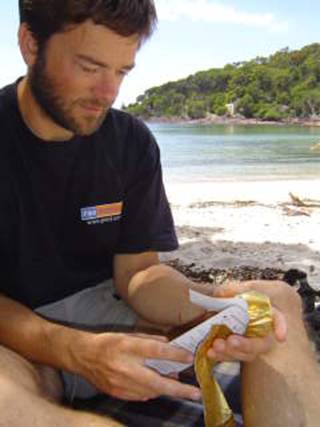 Thanks v much, Mum/Tricia!
Having an opportunity to relax for a couple of days, not able to access the Internet or our e-mails and not even able to phone anyone, is great. We had hoped to call our families at home, though, but had no signal on the mobile and the drive back to a potential signal was too long and rough so we will have to call them in a couple of days time instead.
We could not even waste time showering because the only facility was a loo with a rainwater tap outside – we swam in the sea to clean off instead. We were a bit salty and smelt of wood smoke by the end of today but so did most people so it didn't matter. Some large family camping set ups have solar showers hung up in tents but water is limited so most wash only when necessary. Most campers were well set up with tables and chairs, "Eski's" (ice-boxes), lights and selections of cooking implements in contrast to our lightweight, compact camping gear consisting of two-man tent, little gas stove, pan, two mugs and two bowls. They also have large cars, ut's or 4x4's and some have trailers to pack it all in but we cannot fit any more into our car. Still, we have what we need.
Having told many people that we would be on a beach today we felt we ought not to let them down and found a beautiful sandy cove only a few minutes walk from the camp site to lay our picnic rug out on.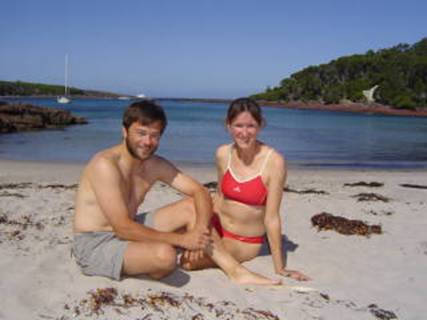 Our lunch of smoked salmon on brown bread accompanied by Oxford Landing wine was made even more delicious with the addition of fresh prawns with mayonnaise and lemon, peeled this morning by Naomi, (who, with her husband, John, and two young children Tom and April, were the only other people who shared the beach for the day, others only visited for a short time) and a little traditional turkey breast. Naomi had catered generously for lunch and as the children were not eating it she offered it to us. We were very happy to accept!
Clare and Robin, from Melbourne who are camped near us, agreed with our suggestion of barbequing supper on the beach and we were soon joined by Gavin and Sally from Sydney who cooked their own vegetarian meal of roast vegetables and halloumi cheese also on the fire.
We ate olive bread with pesto and cheese with pre-dinner drinks, then as a starter we ate salmon marinated by Clare in orange which was particularly good.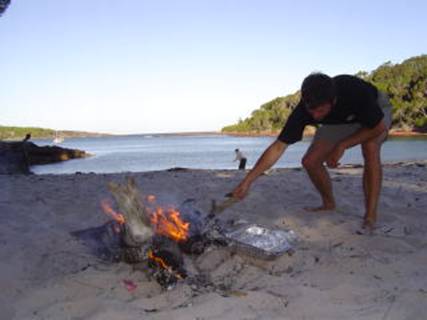 We all tried to create a fire suitable for Joanne to cook the main course of Cajun style kangaroo kebabs, chicken fillets with onion and jacket potatoes on that was accompanied by salad. After a bit of faffing with the fires (we had two, one that was burning and one of hot embers on which to cook) the meal worked out really well and the jacket potatoes were only slightly charcoaled. Better over than undercooked, it was agreed.
A bit more wine later and Gavin and Robin steamed Clare's homemade Christmas cake in a pan over the barbeque – it was pretty chilly by then so warm Christmas cake went down very well. Not too cold for Clare to consider a quick dip in the sea before bed, though!
It was most unusual but we all agreed that we had really enjoyed a fun alternative Christmas Day. And only briefly remembered that we had missed watching the Queen's speech...
Day 236 Sunday 26th December 2004 Boxing Day
Australia
Ben Boyd National Park, NSW
Second day of our short holiday away from everything – breakfast on the cliffs overlooking the sea then a slow start as we and our neighbours, Cameron and Eva and their three boys, watched as two large goanna's sidled their way through the campsite sniffing out meat or eggs that they might stand a chance of eating.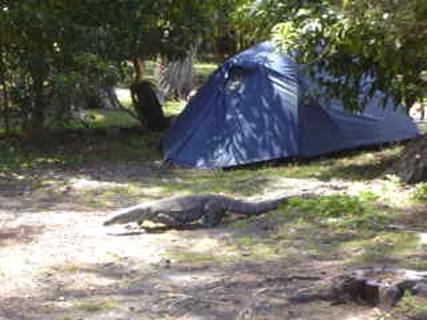 At almost two metres long and with seriously mean looking claws and a vicious whip of a tail, getting between them and potential food would not have been a good idea.
A trail along the coast through bush, moorland and around a rocky promontory with views back over the bay and towards the lighthouse, took us to a deserted rocky cove with a narrow shell beach. We saw one other couple during the hour and a half walk there then no-one else until we got back to the campsite at the end of the day.
We cooked pasta on the gas stove by a fire in the woods and ended the day eating mince pies warmed over the fire with Clare, Robin, Sally and Gavin.
Day 237 Monday 27th December 2004
Australia
Ben Boyd National Park – Sydney
Despite being overcast and chilly we could not leave without another swim in the cove – a refreshing start to the day! Breakfast on the cliffs again but this time we watched the first three yachts in the Sydney-Hobart race sail past as we ate our cereal.
It took us a little while to leave, not long to pack up but we wanted to say goodbye to all our new friends with whom we had enjoyed Christmas 2004: Clare and Robin;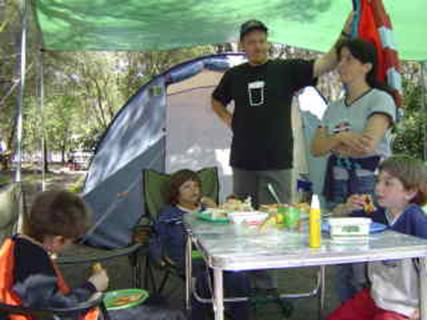 Eva, Cameron and their three boys, Yanni, Nicolas and Angus;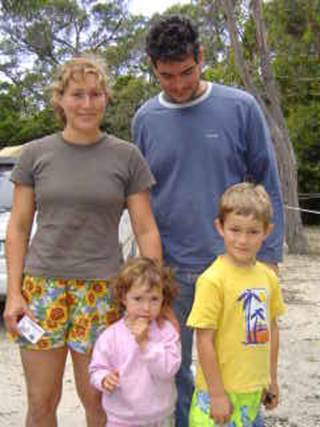 Naomi, John and their children, April and Tom;
and Sally and Gavin as well as our other neighbours who had arrived late on Christmas Day.
The sun broke through mid morning but the wind was still fresh and by lunchtime as we drove north on roads winding just inland from the coast through the edge of the Great Dividing Range, it poured with rain, thunder rolled overhead accompanying lightning in the dark clouds then we realised that the heavy rain had turned to hailstones! Not what we expected mid-summer in Australia.
We made it to the northern outskirts of Sydney by 9.30pm where we were greeted by Rocky and Karla who had waited for our call before they put the lamb chops on the barbeque.
Rocky is the brother of Jonathon, a very good friend of ours in London, and he lives with Karla in a lovely large house on a quiet five acre plot north of Sydney. After we had navigated our way through the outskirts of Sydney we felt as if we had returned to the bush as houses are hidden away on large plots in the eucalyptus forest.
Day 238 Tuesday 28th December 2004
Australia
Dural, North Sydney
We have not heard much news recently and were horrified to see the pictures on the news today of the tsunami that has killed tens of thousands of people in Sri Lanka, India, Indonesia and the Maldives. The news here is focused on the Australians killed, lost or stranded as well as the Australian aid agencies that are involved in providing emergency relief including the Australian Red Cross.
We were on the beach on the most southerly tip of India only recently and can imagine how horrendous the scene must have been as the three metre high wave hit the beach and temples packed with pilgrims.
The Red Cross are collecting donations for the tsunami fund – apparently this appeal is already thirty times larger than any other Red Cross appeal.
However, the Red Cross continues to need funds to support all of their other valuable projects. Having witnessed their work in the countries through which we have so far travelled we would be grateful for your assistance in helping us to continue to raise funds in support of the ongoing work of the Red Cross. Donations can be made to the Australian, British or New Zealand Red Cross Societies through the links on the home page of www.oxford2oxford.co.uk
Apart from watching the news we spent today organising the car, washing clothes, writing e-mails, updating the website, calling people in Sydney that we know or who have contacted us about our journey, trying to make plans for our time in Sydney and to arrange some central Sydney accommodation, considering what we may do for New Year here in Sydney, completing paperwork involved with shipping the car to Auckland and talking with Rocky and Karla.
Writing and issuing a press release and various other admin jobs will have to wait until tomorrow.
Day 239 Wednesday 29th December 2004
Australia
Sydney
We thought that driving a fifty year old Morris Oxford across the world was quite a challenge, not until today had we met anyone who regularly challenges the capabilities of a Morris Oxford series II. British man, Andrew Pursey, who immigrated to Australia some years ago with his family, races his Morris Oxford in classic car races.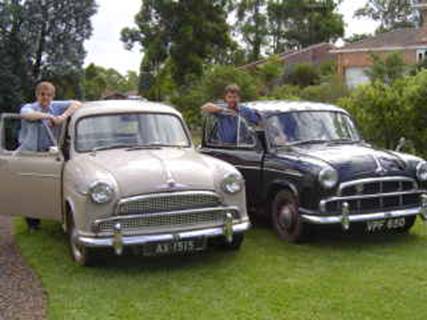 Andrew also owns a Morris Isis, the Isis was manufactured with the same body as a Morris Oxford but with a stretched bonnet to house a six cylinder engine instead of the four cylinder engine in the Morris Oxfords.
The Oxford was being repaired but Andrew lined up his Isis next to Florence for comparison.
Day 240 Thursday 30th December 2004
Australia
Sydney
Much time spent today on the challenging task of finding ourselves accommodation for the next few days in Sydney. We had naively not quite appreciated the number of people who flood into Sydney for the New Year celebrations so we struggled today to find somewhere to stay from now on.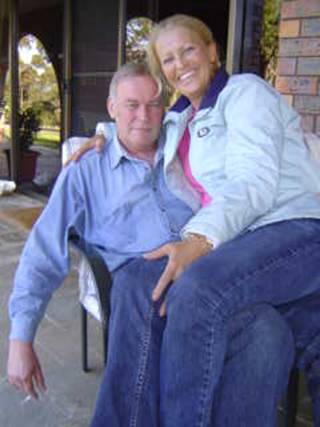 We said goodbye this afternoon to Rocky and Karla and thanked them for their hospitality for the last couple of days.
Our moral was boosted when Andrew, the Morris Oxford and Isis owner, and his wife, Judith, said we could stay with them for a couple of days. We spent this evening with them and tomorrow we are off to Tempe, only a couple of train stops south of the city centre, where we have been offered a place to camp in the car park of a guesthouse.
Day 241 Friday 31st December 2004 New Years Eve!
Australia
Sydney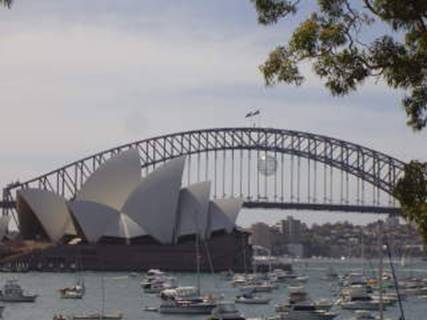 This afternoon we joined an international audience of hundreds of thousands to celebrate the New Year in Sydney.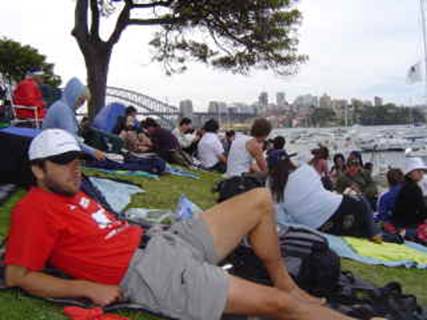 We laid out our picnic rug amid thousands fighting for a space with a view on Mrs Macquaries Chair at the end of the Royal Botanical Gardens and spent the afternoon and evening watching the yachts bobbing around in the harbour.
At midnight the worlds largest New Years Eve fireworks display lit up the Harbour Bridge and the Opera House.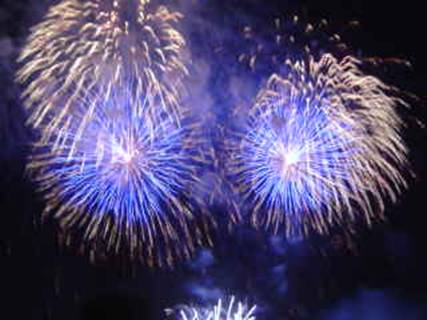 Stunning!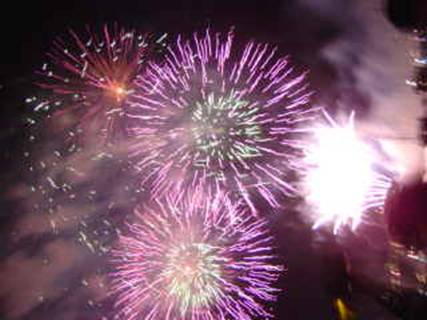 Day 242 Saturday 1st January 2005 New Years Day!
Australia
Sydney
Not a bad night's sleep at all last night considering that we are camping on the (concrete) car park of a guesthouse in Tempe. We put the tent up at 2am this morning and camouflaged it slightly under a tree behind Florence while ignoring the drink/drug-fuelled swearing from the camper van next door.
The Kriskindl guesthouse at Tempe, near the airport is close to where Captain James Cook first landed in Australia at what was named Cooks River. We had use of the shared showers and communal kitchen at the guesthouse where a good choice of cereal and toast was on offer for breakfast.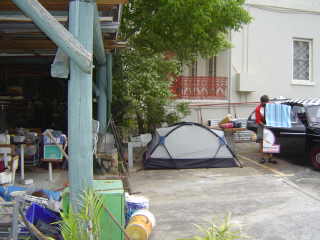 www.guesthousesydney.com
Cleaning the car would not have been our choice activity on a hot and humid New Year's Day but given that we are shipping her shortly to New Zealand (where, we are told, quarantine inspectors are at least as strict if not more so than those in Australia) and that we will be showing her off at a fundraising day tomorrow cleaning just had to be done. Unsurprisingly, few car wash centres were open today but we succeeded in finding one close to where we are staying that let us use their hoses, sponges, vacuum cleaner, cloths and cleaning fluids so that we could thoroughly clean her inside and out.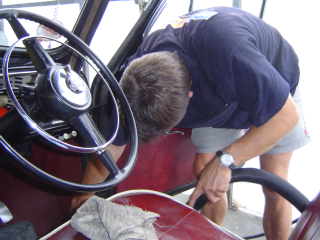 By this afternoon we were both flagging.
Visiting a House of Worship seemed a more appropriate activity for the afternoon of New Years Day and a Red Cross volunteer in Mount Gambier had suggested we visit the Bahai Temple just north of Sydney. Built in 1957 it is one of seven such Houses of Worship in the world – one on each continent – where people from all faiths, nationalities or race are welcome.
The Bahai faith was founded in Persia (Iran) in the late 1800's. It is an independent world religion with over 6 million adherents around the world today inspired by the ideal of the oneness of humanity.
Bahai's believe that as humanity develops, spiritual laws are renewed through successive Messengers of God (Krishna, Moses, Zoroaster, Buddha, Christ, Mohammed, Bab, Baha'u'llah – the latter two being the founders of the Bahai faith) to suit the requirements of the age. Readings are therefore encouraged from all the great religions.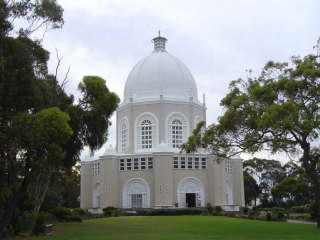 www.bahai.org.au
We found it an impressive yet peaceful place set in a pretty garden of mainly native plants. Given the religions that we have encountered over the last few months it was intriguing to speak to members of a faith who worship one God who they believe is the source of all the world's great faiths.
A volunteer guide, Tony, rushed over to greet us as soon as he saw our car and, after he had quizzed us for a few moments and we had quizzed him about the Bahai Faith, he asked what we had planned for the evening. As we had nothing planned we were really pleased to join Tony's daughter, Amanda, her husband, John and daughter Caela and their guests Karina with children Sam and Annika; Neil; Rachel and David with children Georgia, James and Kate; and Penny and Greg for a very relaxed supper at Amanda and John's home in East Lindfield, north of the river.
It is late to crawl into our tent back at Tempe but we have had a great evening, we've been cheered up immensely and, though tempting to stay with Amanda and John overnight, by returning to Tempe we only have a short drive tomorrow morning to the Miranda shopping centre where we are fundraising.
Day 243 Sunday 2nd January 2005
Australia
Sydney
Standing next to Florence who was parked inside the Westfield Miranda shopping mall today we raised over $1000 in support of the Australian Red Cross.
www.westfield.com.au
Tim's interview on the Sunday morning Australian national ABC radio show "Summer All Over" prompted several people to visit us at the shopping centre. In addition, several people e-mailed us to offer their us their moral support.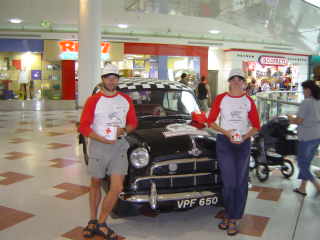 Our initial impression that Sydneyites were not particularly friendly was proven unfounded again today. Today most passers by were supportive and many put money in our Red Cross collection tins, some even thanked us for our efforts to support a worthwhile cause. The man who runs the Piccolo Espresso coffee stall helped us through the morning with good coffee and cakes and one lady, called June (who had spent some time living in Reading when her husband worked in Oxford), even returned to ask if we would like to stay with her and her husband for a few days – very kind. We had already been invited, though, to stay with Amanda, John and Caela, who we had met last night, and, as Amanda e-mailed today to confirm the invitation we were very pleased to accept.
Day 244 Monday 3rd January 2005
Australia
Sydney
John, Amanda and Caela live in a house with a fantastic view from the terrace and pool down a wooded valley over the upper reaches of Middle Harbour. We took Chloe, their one year old golden retriever, running down through the valley before a late breakfast; we were all, especially Chloe, very hot but she cooled off by lying in the river at every opportunity and we cooled off by taking a dip in the pool on our return. Their other dog, Lilli, is smaller, older and not as energetic as Chloe, but very cute.
It is still a Bank Holiday today so after lunch we took Florence sightseeing and she posed for photos in front of Sydney sights including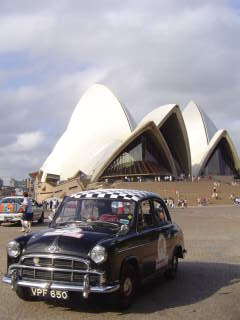 the Opera House and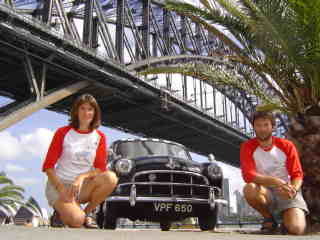 the Sydney Harbour Bridge.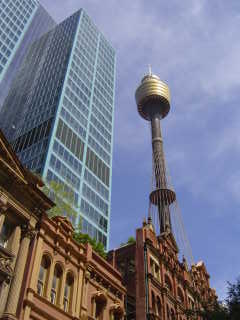 City centre
Day 245 Tuesday 4th January 2005
Australia
Sydney
We had expected to stuff Florence into a container this morning to be loaded onto a P and O ship bound for Auckland so, as we had been instructed, we arrived at the P and O Trans Australia depot at Botany Port at 8am. Frustratingly, it was not until late morning that the appropriate paperwork arrived and later still that we discovered that a Customs Officer had not been booked.
As one must visit the Customs Office at the airport with the Carnet de Passage in order to make an appointment for a Customs Officer to visit the depot to inspect the car, we were told at 12.30 today, we drove from the port to the airport where we discovered that the Customs Office had moved...We eventually made an appointment with Customs for midday tomorrow. This is in time to get the container onto the ship but having to return to the port tomorrow has wrecked our plans to spend the morning fundraising at a yacht club and the afternoon sailing.
Penny and Greg were away for Christmas so instead belatedly celebrated their traditional family Christmas today. We were lucky enough to join them and their family plus their friends Amanda and John (who we are staying with), Rachel and Chris and their children for a superb evening meal of turkey, ham, roast potatoes and all the trimmings. We even pulled crackers and wore party hats!
But this was all after the meal, only seconds after being beautifully laid out on the dining table on the veranda, was nearly blown and washed away by a sudden and violent storm! Instead of sitting down to eat we all dashed to restore order to the chaos of plates of food, glasses of champagne, crackers and children being moved inside. It was such a shame given the effort that had gone into setting the table outside but it was all very entertaining, for the guests if not for our hosts, and made the evening even more relaxed and fun.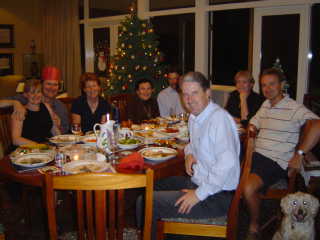 The fabulous food did not suffer at all in the great move indoors and we made it back outside again to eat Christmas pudding, appropriately covered in flaming brandy (lighting the brandy left in the jug was not intentional but did no harm!), delicious berry ice-cream and bits of a gingerbread house.
Day 246 Wednesday 5th January 2005
Australia
Sydney
Arriving at P and O Trans Australia just before midday as we had agreed yesterday in order to stuff Florence into the container in time for her to reach the wharf before the cut-off tonight we were a little concerned to find no Customs Officer. Time was getting tight! When he was finally tracked down and returned from the other depot to which he had been sent by mistake Tom dealt with the necessary formalities in the most efficient and cheerful manner of any Customs Officer we have yet encountered.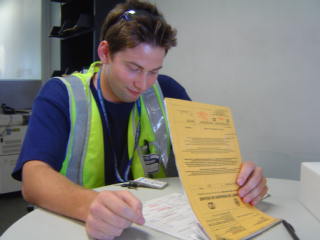 The team who stuffed Florence into the container were also efficient and very good-humoured, even waving goodbye to Florence as the container was carried off to the wharf!
www.poports.co.au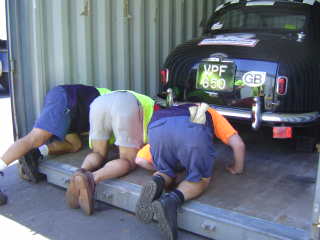 Port BOTany
We expect the P and O Nedlloyd ship to depart shortly and arrive in Auckland by the 14th January.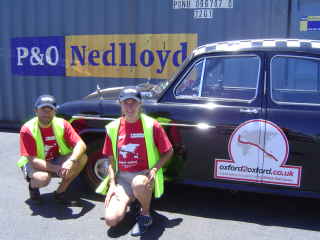 www.ponl.com
Michael Parsons, a Morris Oxford owner who has been following our progress on the website since reading an article about us in a recent Australian magazine called "Unique Cars", invited us to speak at the Rotary Club of Hunters Hill tonight.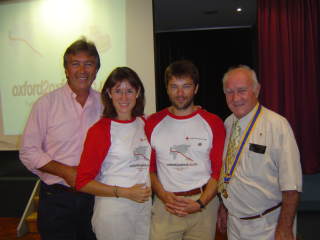 He collected us in his long-wheel based 7 Series BMW in which he has driven celebrities as Kylie Minogue, Denis Waterman, Elton John, Paul Hogan, Michael Crawford and Sophia Loren. Michael used to run a limousine service and his stories would make a fascinating book.
Joanne especially has been keen to see a possum since we arrived in Australia and we finally succeeded tonight. Amanda pointed out two ring-taled possums balancing on the cables running across the road – their tales hung like pendulums beneath them and their small cute faces peered down at us with big eyes.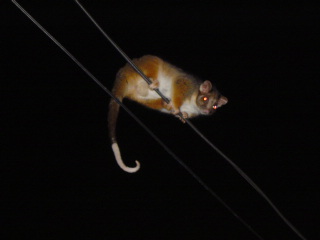 Very cute!
Amanda and Caela belong to a wildlife society and have rescued several possums and bats, rearing them and training them to return to the wild. In the case of the bats this has meant literally teaching them to fly by demonstration - flapping dressing gown clad arms in front of them!
Day 247 Thursday 6th January 2005
Australia
Sydney
Now, about to begin the last leg of our journey from England to New Zealand, we are thinking about making plans for our return to the UK. Despite suggestions that we should sell, scrap (how dare anyone suggest such an idea!?!) or auction Florence at the end of our journey we will be taking her home to England where, all being well, she will tour around the UK helping us raise funds in support of the British Red Cross.
To that end we met this morning with the Trade Manager of P and O Nedlloyd who arranged the shipment of Florence from Sydney to Auckland to discuss the possibilities of shipping Florence back to Europe via Australia, and hopefully us too. The chances of ourselves travelling by ship are slim but it would be unusual and the most appropriate means of ending our extraordinary journey.
Fifty years ago travelling across the world by ship was not unusual nor was shipping an individual personal car. Nowadays few people consider shipping a car on several legs of a journey across the world and very few shipping lines will take passengers, especially with the recent increase in international demand for shipping and the increased threat of terrorism, both of which have inevitably increased costs.
We have met many "£10 POMES" during our time in Australia, so called because for £10 they secured a sea passage out to begin new lives in Australia from the 1940's-1970's. POME, apparently stands for "Prisoner of Mother England" and the term is still regularly used! Several people we have met shipped their British cars out too.
Disappointingly, we did not meet with the journalist from "Women's Day" magazine but we agreed to be interviewed by phone next week and we burnt a CD of photos that we left at his office for use with the article.
We walked to the Red Cross offices with a team of policemen and women who were going in to give blood at the Red Cross Blood Service – the police here compete with bikers to give the most blood.
Amanda, with who we are staying, is a clinical haematologist and spends one day of her working week at the Australian Red Cross Blood Service. According to official (shocking) statistics only 3% of the Australian population give blood yet 80% will use a blood product at some time during their lifetime. Particularly over the Christmas and New Year summer holiday when demand increases and supply decreases the need for careful use of blood products is crucial and Amanda and her colleagues take it in turns to be on call to advise and prioritise.
Like us, it seems that many people know that giving blood is worthwhile but we had not appreciated quite how important it is – donating takes only a short time but saves lives in so many ways.
While Tim created a disc of photos Joanne helped the accounts team at the NSW Red Cross office open envelopes of donations to the Tsunami Appeal. The response is incredible – in little over an hour Joanne had opened envelopes of cheques totalling at least $A20,000.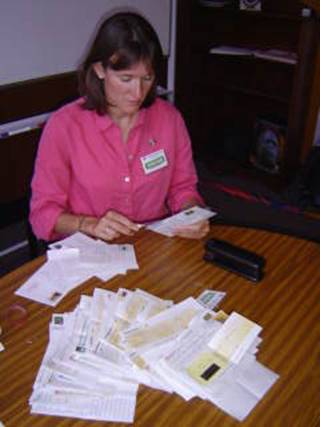 The money donated to the Red Cross Tsunami Appeal is administered and used by the International Federation of Red Cross and Red Crescent Societies who are co-ordinating the relief effort so the maximum percentage of money donated that is used for administration is only ten percent and, given the scale of the appeal and the support given by banks and other organisations, is reducing further still.
We hope that people recognise the good work of the Red Cross and continue to support their work in all areas, not just helping the tsunami victims but also the superb work that the Red Cross does domestically and internationally. You can donate to the Red Cross Tsunami appeal through the Red Cross website, by phone, by post or at a bank. If you wish to support the other valuable work still being done by the Red Cross in Britain, Australia or New Zealand you can do so directly through the links on our website.
After a hot day it was great fun to swim in the sea then eat fish and chips sitting on Balmoral beach with John, Amanda, Caela, and their friends Karina (with children, Sam and Anneka) and Harriet and Tim with their two boys.