Weekend 1 and 2 May 2004
Launch of Oxfordshire Red Cross Week
Fundraising at Oxford Retail Park supported by the Longwall Pub, Cowley.
Working with Oxfordshire Red Cross fundraisers we helped launch Red Cross Week in Oxford and raised £283.90 from collections over the weekend of the 1st and 2nd May.
The competition to name our Morris Oxford was won by Freya Simm, ten years old, from East Oxford, who suggested the car be named after Florence Park in Oxford. The car is now affectionately referred to as Florence, or Florey for short.
Freya won a meal at the Longwall Pub, Cowley. The Longwall Pub, across the road from the Oxford Retail Park, is full of Morris memorabilia and is built on the site of the former Morris factory where Florence, the Morris Oxford series II was built fifty years ago.
Day 1 Wednesday 5th May 2004
Depart Oxford
After interviews with BBC Radio Oxford and Fox FM, we visited St Ebbes School, Oxford, where we gave a short talk about our journey.
At the Town Hall The Lord Mayor of Oxford presented us with an Oxford plaque that we look forward to presenting on his behalf to the Mayor of Oxford, New Zealand. We are grateful for the Mayors donation to the Oxfordshire Red Cross and thank him for his good wishes.
Having driven down the High Street, we stopped at the Queen's College, where Joanne studied, and met the Provost, Sir Alan Budd, and the alumni secretary who wished us well. The photo will be in 'Oxford Today' and 'The Queen's College Newsletter'.
At Headington Hill Hall, the Deputy Vice-Chancellor of Oxford Brookes University, Dean of the School of the Built Environment and Tim's former lecturers hosted a small reception for us and presented us with an Oxford Brookes University umbrella. It is huge and will be very useful in the rainy season in India! The alumni office presented us with a cheque for which we are very grateful. The photo will be in the next edition of 'The Oak'.
Many thanks to Anne Whitehouse, Public Relations, Oxford Brookes University, for our send off.
If you are a fellow alumnus of Oxford University or Oxford Brookes University and live en route we would love to hear from you! Please contact us at timandjo@oxford2oxford.co.uk
As well as featuring in the Oxford press and on BBC TV South Today, Central TV, BBC Radio Oxford and Fox FM today we also did an as-live interview with Radio Canterbury, New Zealand!
Subject to the availability of appropriate communications we hope to do telephone interviews en route to update media of our progress. We are also sending videotapes back to Alastair Fee at BBC TV Oxford who will broadcast updates – dependent on the quality of our filming!
Day 2 Thursday 6th May 2004
Having left Oxford we had an alarming number of last minute items to do before we left England! As well as e-mailing shipping companies, chasing potential communication sponsors and trying to find accommodation, we called in to see Chauntry Corporation Ltd to make some modifications to the website while Summit Motors finished the work on Florence including replacing the offside suspension bushes having replaced the nearside earlier in the week.
Day 3 Friday 7th May 2004
London Eye
To mark the end of British Red Cross week we (Joanne, Tim and Florence) joined two London volunteers near the base of the London Eye. It was also a good opportunity to meet up with some London friends before we leave England.
While in London we called in to Cox and King's Travel to collect our passports with the newly issued Libyan visas. Final London stop was in Fulham to see Tim Simpson, Expedition Kit, to collect a few useful bits of kit. Thanks Tim!
At 6.30pm we were very pleased to have an opportunity to talk live with Johnny Walker on BBC Radio 2 Drivetime. We look forward to talking again with Johnny as we progress across the world.
Day 4 Saturday 8th May 2004
Said our goodbyes to Joanne's family. Grandma had travelled down from the North East to say goodbye and give Joanne an early birthday present: a sun hat – essential. Thank you Grandma!
Day 5 Sunday 9th May 2004
Fiftieth Anniversary Celebration of the Morris Oxford
We joined members of the Morris Cowley and Oxford Club to celebrate the fiftieth anniversary of the Morris Oxford Series II. It was great to meet other owners and gain some useful tips as well as learn from their experiences.
Even though Florence didn't win any prizes, she impressed members with her adventurous spirit! We are looking forward to a rally to celebrate our safe return to Oxford.
Members of the club donated a total of £59.04 to the British Red Cross.
Day 6 Monday 10 May
Why do we still have more things to do?! We gave in and delayed the Dover-Calais crossing to Wednesday.
Day 7 Tuesday 11th May 2004
Just managed to squeeze in an interview and photos for the Sunday Times – it should be in the Driving section on Sunday 16th May. We hope to do further features en route.
Organising our affairs so that they could be handed over to Joanne's sister and Tim's Mum to manage while we are aware took a long time. We also had to make sure that our paperwork is in order – that we need to take with us and that we need to leave behind. We are very grateful to Tim's Uncle Philip for his great help in the sobering process of writing our wills.
Then we started packing...
Day 8 Wednesday 12 May 2004
Leave England
Mileage on departure 29120 After very few hours sleep we packed the car and headed for Reigate to see Richard Monks for the last last-minute adjustments to the car – Richard fixed the lock on the boot and fitted a cardboard air filter, something we feel is essential given the dusty regions we are likely to be driving through.
As we looked back at the white cliffs of Dover we enjoyed our last English meal for many months – fish 'n' chips!

France – overnight Paris
www.hilton-paris.com
Having focused most of our attention on arranging the more challenging legs of our journey such as Libya and Algeria, details like accommodation through France and Spain were left until late. In this case telephoning the day before worked to our advantage. The Hilton Arc de Triomphe, Paris, opened today so we were welcomed as their first guests! Florence took pride of place in front of the main entrance and was guarded all night by the doormen. All the staff were most welcoming, admired Florence and were enthusiastic about our adventure. We are very grateful for their support and look forward to spending more time at their lovely hotel on our return trip in about 18 months time!
Day 9 Thursday 13th May 2004
Paris – Boisseuil (Limoges)
The Hilton Concierge, Tony, agreed that Limoges was a good place to stop overnight en route to Auch, our destination tomorrow. However, an annual fair meant that Limoges was fully booked. After many phone calls Tony apologised that he could not find anywhere that could offer us free accommodation but that he had found a good value chambers d'hotes just South of Limoges. Grateful for his help we set off for a place called Boisseuil, just South of Limoges, in the Limousin region.
Past Orleans, through Chateauroux and Vierzon we avoided peage (toll motorways) and travelled approximately 300km along mainly straight roads through forests and acres of ancient hunting grounds. At 45miles an hour those straight roads seemed to go on for ever!
Madame Ziegler was expecting us at La Domaine de Moulinard, Boisseuil, and she invited us to park Florence in the barn rather than in the farmyard where other guests parked.
We stayed in a beautiful 18th Century farmhouse furnished with antique furniture yet equipped with modern bathrooms and kitchen appliances. We were pleased to be able to cook our own supper of tomato pasta followed by baked apples grown on the farm. As well as cows and sheep the farm has an orchard and produces ten varieties of apple.
Sitting in the old farmhouse kitchen in front of the burning log fire made for a perfectly restful evening.
We would have been happy to pay to stay in such a wonderful place but Madame Ziegler offered us our B&B as a gift – we have been very lucky so far.

Day 10 Friday 14th May 2004
Boisseuil – Auch
We woke to a beautiful sunny day with birds singing in the woods surrounding us and joined other guests for a most impressive French breakfast of croissant, brioche, two types of bread, a selection of homemade jams and honey and home made apple juice.
One of the guests at breakfast was a journalist from the regional TV programme who was staying near Limoges for the fair. She was captivated by our adventure and tried hard to persuade her boss to send a camera man along so she could interview us but, though very interested, at such short notice and with a cameraman off sick they could not spare anyone. Our chance of French TV fame had passed!
As we reluctantly drove away from the Domaine de Moulinard and meandered out towards the main road we were rather abruptly reminded by a car facing us and hooting angrily that they drive on the right in France -Tim!
The route South took us on winding roads through the dramatic forested slopes of southern Limousin towards Brive-la-Gaillard then on to Cahors and Montauban, just North of Toulouse, where we turned SW and drove along narrower tree-lined roads through rolling rural countryside and pretty stone villages to Auch.
Montauban is distinctive with its tall red brick buildings above a wide river. Auch, in contrast, is a stunning mediaeval stone town with ancient steps leading up to an imposing cathedral that dominates the town and the river below.
Despite the beautiful and varied scenery we were pleased to arrive at Bezues-Bajon, near the small town of Masseubes, where we stayed with Fizzy and Bill Barnet and their two dogs. Fizzy is a school friend of Tim's Mum.
Day 11 Saturday 15th May
Bezues-Bajon to Gerona
Mileage on departure 29854
As we left Bezues-Bajon we drove through lush green countryside and wild flower meadows to a pretty town on the river Garonne called St Martory, past chateaux at St Girons, Lavelanet and Foix and through mountain passes and dramatic gorges on the Western edge of the Pyrenees.
Through vineyards in wide flood plain to Perpignan where the atmosphere had a distinctly Mediteranean feel with streets lined with pine and olive trees.
Crossing the border into Spain at Le Perthus was an unpleasant and tacky area, so different from the area we left this morning. The traffic was also irritatingly slow due to people looking at all the tat!
We stayed overnight with some friends of Tim's, who, coincidentally, we discovered also shared a good friend of Joanne's, and ate a great barbeque on their verandah looking South towards the ranges we are to cross tomorrow.
Day 12 Sunday 16th May 2004
Gerona via Barcelona to Castello
We found Barcelona, though fascinating to see so many examples of bizarre Gaudi architecture, infuriating the friend we had arranged to meet and whose flat we found with much effort due to poor directions had apparently changed her mind or misunderstood as she was not in and did not answer her phone.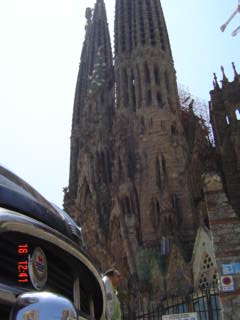 Florence did not much like stopping at traffic lights at least every 200 metres, often more frequent, and we struggled to follow the signs to take us out of town, avoiding the motorway, without getting stuck in ever decreasing spirals of one-way systems.
Pleased to be out in the countryside again, we pushed on South along the coast road, stopping only briefly in the evening for dinner and to check e-mails in a small bar with limited internet access they did do fabulous thick, hot chocolate though, which lifted Joanne s slightly sinking spirits!
On a little further and we found a narrow farm track beside orange groves and slept in the car.
Day 13 Monday 17 May 2004
Castello to VillaJoyosa (N of Alicante)
3034 miles on the clock
We woke a little chilly from having slept in the car overnight but at least managed to make an early start from the area of Burriana, just South of Castello. Not wishing to get caught up in the morning city traffic we skirted Valencia then stopped at a café to eat a breakfast of orange juice, coffee and croissant in the virtually deserted coastal town of Cullera. The Spanish holiday season will not start for several months yet.
Apart from the coastal resorts this seems to be a mainly agricultural area – for miles we drove past rice fields being sown by hand, plastic greenhouses hiding tomato plants and other crops.
At Teulada we called in at a Spanish Red Cross Ambulance station where we exchanged Spanish Croix Roja badges, key rings and stickers for our British ones.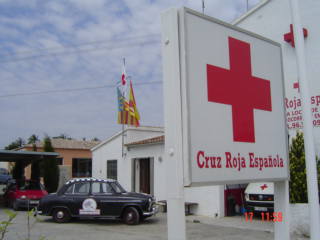 We learnt a little about how they operate and they were interested in our adventure and our efforts to raise funds in support of the British Red Cross.
A little further on we reached Calpe where, as a child Joanne spent a holiday with her parents and sister so, as we had made good progress, we took a break there. Seeing the immense promontory, the Rock of Calpe, that dominates the area, brought back good memories of eating churros on an evening stroll along the beach. Churros are like deep fried small curly donuts covered in icing sugar and served in paper cones.
A cry of "Look, it's a good old Morris!" interrupted Joanne's reminisces as we drove past a group of waving British holidaymakers. This was the first of several similar comments and we stopped to talk to many people interested in our journey as we drove around Calpe.
We parked near the foot of the Rock and walked through the National Park halfway to the top from where we looked back at the stunning beaches. On our way down we met Jason and his wife Jane from Oxfordshire who we interviewed for BBC TV Oxford and who we look forward to meeting again on our return to England.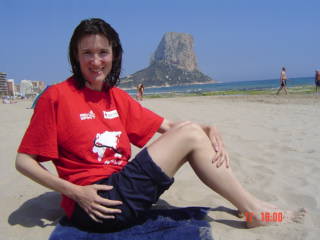 Feeling invigorated after a walk, a fish lunch and a swim in the sea we continued on to Villajoyosa.
Simon, a member of Tim's club in London, had very kindly offered us accommodation at his home on the edge of the small coastal town of Villajoyosa. Our first impressions from the main road of a busy unappealing town were dispelled when Simon took us along the seafront and through the steep, winding streets of the old town. Fishing boats on the wide sandy beach are painted a variety of different colours, matching the houses.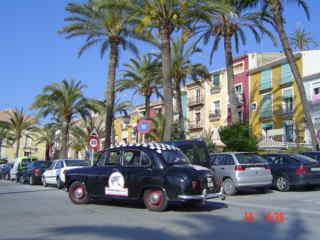 An unexpected smell of chocolate drifts across the town from the three chocolate factories, including the well-known Spanish brand 'Valor'.
Simon and his partner, Tong, invited a friend, Anne, to join us for a superb evening meal – the main course was a traditional Valencian dish consisting of meatballs wrapped in cabbage, chicken joints, and vegetables cooked in one pot and served with rice and warm bread. We finished with a selection of local cheeses with quince paste.
We are sleeping tonight in the annex to Simon and Tong's house. Though Tim and Simon have several mutual friends they had not met or spoken prior to Tim telephoning the day before to ask for advice on accommodation in the area. We are very pleased that he made that chance telephone call and grateful to Simon and Tong for being so very generous with their hospitality.
Day 14 Tuesday 18th May 2004
Villajoyosa to Mojacar, Costa de Almeria
After a short run along the wide sandy beach we felt justified in eating a delicious breakfast of orange juice, tea and fresh local pastries including a special spiral pastry with a texture similar to brioche.
We left hoping that tonight's stop, also with strangers, would be as enjoyable. Robert and Helena Ingles had, via a friend, Aled Davies, e-mailed us to invite us to stay having heard us via satellite on BBC TV South Today and on Radio 2 Drivetime.
Robert and Helena are currently living in an unusual and very well equipped trailer parked temporarily on a campsite near the small village of Los Lobos, near Cuevas del Almanzora, not far from the holiday resorts of Vera and Mojacar. Sitting at the table outside their trailer is like sitting on a verandah overlooking a garden of gorse covered rolling hills stretching as far as one can see. Many of the homes in this area are built into the rock so blend in with the landscape. It is not difficult to imagine why so many 'spaghetti western' films are made near here.
Aled Davies, who does some work with Robert and whose sister had seen us on BBC South Today, organised for us to have the car greased and to be interviewed by Alan and Virginia on 'Spectrum Radio' – one of Spain's largest English speaking radio stations.
Aled also introduced us to Martin and Emma Hathaway who run 'Hathaways'- a supermarket that stocks English brands to supply the British ex pat community in Mojacar and Vera. They were very generous and ensured that we are stocked up with a few essentials such as loo roll and English tea for which we are very grateful.
We spent a very enjoyable evening eating a delicious evening meal on Robert and Helena's 'verandah' before retiring to 'our' caravan, kindly lent to us for the night by John, the Manager of the site.
Day 15 Wednesday 19th May 2004
Los Lobos (near Cuevas del Almanzora) to Los Barrios (near Algeciras)
We were determined to reach Algeciras today, despite the advice we had received that it was at least an eight-hour drive, so we left early and stopped only briefly for lunch.
Driving along the Autovia del Mediterraneo we headed South along the Costa Brava then West along the Costa del Sol past the resort towns of Malaga, Marbella, Torremolinos and the golfing holiday town of Estepona. The coast road wound between stunning beaches and the dramatic mountains of the Sierra Nevada.
Having left behind the sparse rocky rolling tundra with dried up riverbeds of the Costa Blanca and Costa del Sol we were surprised to suddenly be driving past lush green meadows full of flowers.
Palm trees grow alongside deciduous trees, the rivers are full and storks are perched on huge nests on virtually every telegraph pole.
We had arrived in Andalucia and were very pleased to find, tucked away from roads and towns, a beautiful old house built on the top of a hill and surrounded by forests of cork trees, ornamental palms and well-manicured lawns and gardens.
Monte de la Torre at Los Barrios is inland from the main route between Gibralter and Algeciras. Its current owners, Quentin (Grandson of the Spanish man who built the English style house for his English wife) and Sue had very kindly offered to host us for a couple of days. We are very grateful for the chance of a short break in such a perfectly tranquil location.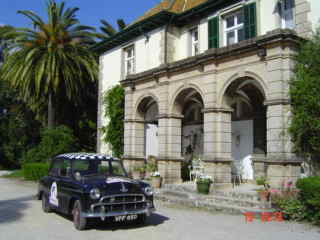 Monte de La Torre is a short drive from Algeciras and Gibralter. www.andalucia.com/montedelatorre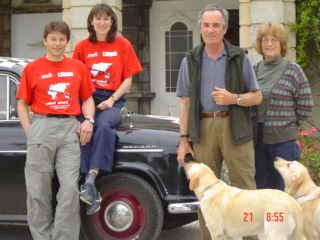 Arriving at the Southerly-most point of Europe is a significant point in our journey so we made a point of contacting the media to update them on our progress. We did down-the-line interviews with REM radio (an English radio station covering SE Spain), BBC Radio Oxford, Fox FM and sent a message to BBC Radio 2 Drivetime to say hello to Robert and Helena Ingles, our new friends in Spain who listen to Johnnie Walker via satellite.
Day 16 Thursday 20th May 2004
Gibralter
It is a relief to be staying in the same place for more than one night, especially when it is as charming as Monte de la Torre, Los Barrios. Resisting the urge to spend the day at the house catching up with e-mails, sorting out the car and relaxing, we drove to Gibraltar.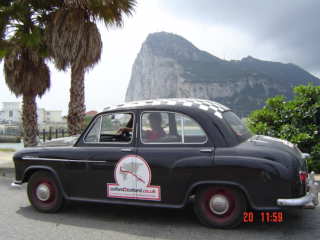 Unfortunately we had too little time there to explore the Rock fully but enough to get a flavour of this small but flourishing place with so many reminders of the UK.
This trip has so far been full of co-incidences. Yet another became apparent today - one of the guests at Monte de la Torre, Alastair, is not only a photographer (from whom we learnt some useful tips) but also rallies vintage cars and is a friend of Alastair Caldwell. Alastair Caldwell is also an international vintage car rally driver who lives in Maidenhead and gave us valuable advice prior to our departure.
Unfortunately we went to bed very late because we spent hours trying to save the Jetset Roam download to CD rom in order to transfer it from our hosts PC to our laptop, only to discover that Spanish CD roms appear not to be compatible with English CD writers and vice versa – most irritating!
We eventually managed to connect our laptop to the Internet and successfully downloaded the software that will enable us to connect to the Internet wherever we have access to a local telephone line. Thanks to Mike Triggs at the Oxford-based company, Community Internet, we will have much greater access to the Internet, our main form of communication, from now on.
www.jetsetroam.net
We are very grateful to Aled, in Vera, for contacting Community Internet on our behalf.
Day 17 Friday 21 May 2004
Depart Europe
Visit to the Moroccan Red Crescent
Monte de la Torre to Larache
Thanks to FRS we crossed in 35 minutes from Tarifa, a picturesque walled town on the most Southerly tip of Spain, to Tangier, a hectic, noisy and sprawling town on the Northern coast of Morocco.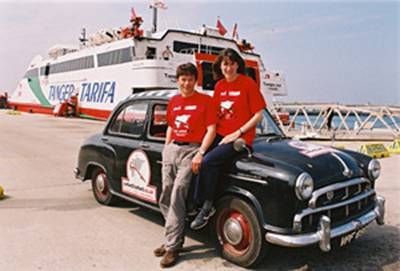 www.frs.es
Having bought car insurance at the port (500 Dirhams - £30 for ten days) we drove through the city then South along the coast road through surprisingly lush countryside to Larache.
At one set of traffic lights we stopped next to a recovery lorry - "Mechanique Nord Afrique" tel 061 559070 – the driver, Sad, wanted to buy Florence because he collects classic cars. He was most impressed when we explained that she is not for sale because she has a very long journey still to complete; wished us luck and offered to help us if we need mechanical assistance in North Africa. As our AA cover does not go beyond the UK this could be very helpful.
We stopped briefly at Assilah, on the recommendation of Zoe Ouwehand, a British lady now living in Tarifa. Zoe and her late husband drove, forty years ago, from Spain to Cairo with their one-year-old baby. The political situation is very different now but her enthusiasm for our journey was reassuring. She travels frequently to Morocco to furnish her stylish guesthouse at Tarifa that opens today; www.darcilla.com
The old walled coastal town of Assilah, painted bright white, had a relaxed, quiet atmosphere and we enjoyed our short lunch stop there en route to Larache.
Florence was admired by the waiters at the restaurant and also by a couple of French women who were eating a lavish meal at the table next to us. I told them, in French, that Florence is fifty years old to which they replied in English "But of course we know, she is a French car"!

La Croissante Rouge Marocain
We had been invited a month earlier by the General Director of the Moroccan Red Crescent (La Croissante Rouge Marocain – CRM) to visit the CRM project in Larache, unfortunately he had not told the staff there until the evening before. Despite the short notice, the Secretary General of the Larache Croissant Rouge Marocain, Zafri Mustapha, and the Manager of the Clinic, Assoual Azzouz, and their staff welcomed us with great interest.
The Moroccan Red Crescent runs clinics like the one in Larache in several towns, providing medical care to families who cannot afford private care. 24 hour medical cover is provided for only the cost of the medicines required, free if the patient cannot afford to pay.
Part of the complex is run by Spanish Catholic nuns who provide daylong nursery care for poor children from two and a half years old; drop-in facilities for poor elderly people including meals and washing facilities; and reading, writing and sewing classes for girls up to age eighteen.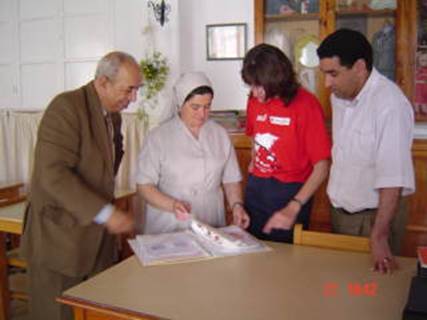 We were very impressed with the immaculate, well-maintained and equipped facilities as well as the relaxed and friendly atmosphere.





After juice and Moroccan pastries Mustafa and Azzouz took us to the Hotel d'Espana where they negotiated a good room overlooking the main square for a discounted rate. As Florence was to be left at the CRM complex overnight we were ferried back to the hotel in the ambulance. Most people eat a main meal at midday so we struggled to find a restaurant that served food. Very hungry we stumbled across our CRM friends drinking coffee who then insisted on taking us to a restaurant…in the ambulance! Despite our insistence that we needed only a small meal we were treated to platefuls of fish while the ambulance waited to take us back to the café to end the evening with a mint tea.
Day 18 Saturday 22 May 2004
Larache to Rabat
We woke to find the main square shrouded in sea mist and virtually deserted, quite a contrast to last night when people crowded the street cafes drinking coffee and mint tea, women chatted in the centre of the square and cars hooted horns until the early hours of the morning.
At 9am we were the first patrons in the café where we ate a very good breakfast of fresh orange juice, toasted baguette and intense café au lait for a total of 35 Dirhams (about £2.50).
Having collected Florence from the secure compound of the CRM (Moroccan Red Crescent), where she had been guarded through the night, we collected our bags from the Hotel d'Espana on the main square and headed down the motorway to Rabat.
With broken cloud cover it is a good day for driving but we were pleased to have only 145 km to travel today – though Florence has comfortable seats were are beginning to feel the effects of sitting for several hours a day: slightly stiff necks and aching buttocks! We are planning to slow down from now on and are looking forward to having more time to do some exercise and sightseeing.
The directions for the Hilton that we were given as we drove around Rabat were rather confusing, as were the traffic lights and police on roundabouts – the combination led to us being stopped by a policeman: rather abrupt at first as we had apparently jumped a red light, he then smiled and welcomed us to Rabat.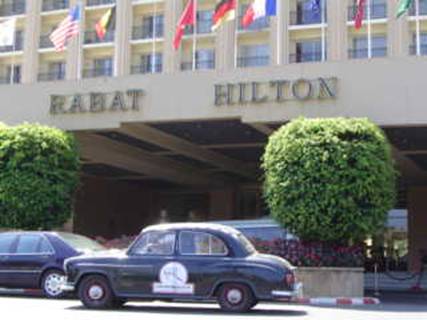 The Hilton Rabat www.hilton-rabat.com , where we had kindly been offered accommodation and breakfast, was a short drive through the Royal Palace from the city centre. Apparently 'interdit', the police, on finding out that we were British staying at the Hilton, said we were welcome and waved us through the Palace Gates; Police Officer Bouchtol El Achky even agreed to break the rules by posing for a photo with Florence in front of the King's Palace. The King is currently at the Conference of the Arab League of Nations in Tunis.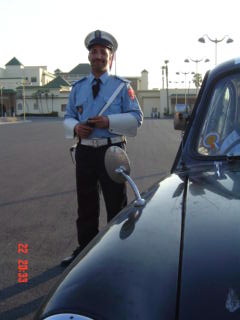 In the market area we found a lead to connect the laptop to the telephone socket and ate a good meal of prawn tagine and filet of Merlan fish finished with mint tea for 66 Dirham (£4.00).
It was only when we were told at 6pm by our watches that we could not eat until 6pm that we realised that we had forgotten to turn our watches back 2hours onto Moroccan time – that explains why at '9am' we were surprised how quiet it was, it was actually 7am!
Day 19 Sunday 23 May 2004
Rabat to Marrakech
Before making the most of the buffet breakfast at the Hilton we joined hundreds of local people as we jogged around the neighbouring eucalyptus forest. The park was crowded with individual runners, groups doing circuit training and even families out running.
Only two days out of Europe and Tim is growing a beard in an attempt to blend in a little more with the locals – though blending in is rather tricky when driving Florence. Our expectation that interest in a fifty year old British car would diminish once beyond Europe was flawed: we are hooted and waved at by Police, field workers, road toll collectors, indeed most other road users.
We took the main road past the outskirts of Casablanca then turned inland towards Marrakech. As we drove away from the coast the landscape changed dramatically from green fields and white villages to rolling deep red earth covered with dry sparse grass, occasional eucalyptus forests and views of the Atlas mountains rising in the distance. Small walled villages are mud red and almost blend in to the earth if they are not silhouetted on top of hills. Hay appears to be collected into piles which are then covered in mud which sets hard and from which the hay is later taken as needed through a hole in one end, leaving the remainder intact.
The road from Setta to Marrakech is undoubtedly the worst so far, and apparently renowned –speeding cars overtaking other cars that are overtaking over laden trucks, coaches and carts towed by mules on an uneven potholed surface. Dotted along the road men sell live chickens and jewellery made of seeds. We were even overtaken by a speeding cavalcade of shiny black cars heralded by police motorbikes that flagged down the traffic enabling the cavalcade to speed between the two lanes of traffic.
It was a relief to arrive at the beautifully tranquil Dar Zemora in the Palmerie area of Marrakech. Dar Zemora is a new guesthouse hidden in it's own secluded garden away from the hustle and noise of the city. 'Dar' means rooms around a central courtyard and this one is particularly stunning. All bedrooms are ensuite, a couple are suites with their own fireplaces, sitting rooms and roof terrace or patio. However, one hardly needs a private sitting room because the shared rooms – library, sitting room with log fire, dining room and restful garden room are each enticing in their own way.
www.darzemora.com
We were the only guests, very kindly invited by a friend of ours, and much appreciate the chance to rest and prepare for the next leg of our journey.
Resisting the temptation to jump into the swimming pool we headed to the 'J'ma el Fnaa', the central square in front of the Medina, for dinner. We joined crowds of tourists and locals, Sunday is the busiest evening, dodging water sellers, monkey owners, acrobats, dancers, henna artists and searched out stall number 42 – the answer to the meaning of life, the universe and everything? – in the centre of the square. Though obviously popular, sheep's head was a little too challenging, though we will probably have to eat it at some stage in our travels, so we chose to eat barbequed chicken kebab with vegetable couscous and fresh bread. Surrounded by other stalls, the smells of barbequing kebabs, frying fish and the occasional waft of mint tea added to the intense atmosphere.
Mint tea drank in front of a fire of thuya wood at Dar Zemora was a perfect end to the evening.
Day 20 Monday 24 May 2004
Marrakech
Today is the first day that we have not driven Florence; instead we walked and took taxis and buses around Marrakech.
We had coffee and mille feuilles in a French café not far from the main square then headed into the Souk.
We were surprised to find that we were hassled very little, except when we considered stopping for lunch at one of several stalls serving salad, brochettes and beef tagine, where grabbing hold of potential customers discouraged us from staying. Instead we found a similar place around the corner run by a friendly woman and where locals were eating beef tagine, chicken, olive and orange tagine or brochette and chips. We sat upstairs, the ceiling was too low to stand up, and ate chips and a plate of chicken tagine each with cokes and fresh bread for 46 Dirhams (about £3).
Having searched many stalls selling djellabas (the local form of dress with wide sleeves and tassled hood worn by men and women) we managed to find some clothes that we hope will be appropriate for the rest of our journey across North Africa. After much negotiation we bought a set of loose cotton trousers and shirt to match each for 350 Dirhams the lot (about £22).
We ate this evening at Dar Zemora with Valerie, the Manager, and two of her friends, Jean-Michel and Etienne.
Day 21 Tuesday 25th May
Dar Zemora, La Palmerie, Marrakech
After a swim, a little yoga and breakfast on our roof terrace we spent some time catching up with e-mails, website, filming and forward-planning.
Tim was introduced to a garage that fitted hasps to the boot of the car so that we can padlock it – unfortunately it took much discussion, a couple of visits to the garage and several hours to achieve this.
We must return to Dar Zemora for a holiday some time in the future when we have more time to relax and enjoy the beautiful décor, the roses in every room, the pool set in a garden of bamboo, olive and banana trees, huge marble baths, four-poster beds…we really need a month here!
Tomorrow we progress North to Fes, spiritual capital of Morocco, then Oujda from where we hope to cross into Algeria. If we are unsuccessful in crossing the border we will have to return to Spain and take a ferry to Oran, Algeria, from Alicante.
Day 22 Wednesday 26th May
Marrakech to Azrou
After a reasonably leisurely morning spent swimming, reorganising our kit, checking e-mails, taking photos, doing some filming and saying goodbye to the staff at Dar Zemora we left, rather sorry to be leaving the tranquillity of Dar Zemora, especially as we had not decided exactly where we would be staying tonight.
Making use of the inspection pit at the next petrol station Tim temporarily repaired one of the steering rack gaiters that has split – we will probably need to get a new one at some stage.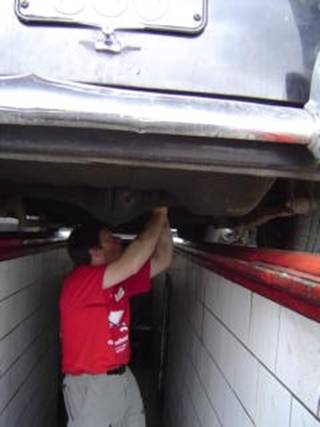 From the flat, dry Palmerie area North of Marrakech, the Middle Atlas Mountains rising in the distant haze, through rolling agricultural foothills, past reservoirs, flocks of sheep and goats, and small towns we headed towards Fes.
As we left late we ate a picnic lunch en route and decided to stop overnight in the small mountain town of Azrou, about 150 km short of Fes. Unfortunately, as we drove up into the mountains and over the high plains the light faded but, determined to reach Azrou, we continued on, breaking our rule not to drive at night.
We arrived at the Hotel des Cedres, Azrou, at about 8.30pm, tired but relieved to have made it with no mishaps. The hotel on the main square was basic but clean and we parked Florence just in front, paying the official parking attendants a few dirhams, though we're not quite sure what they did for that.
We immobilised Florence and put the new boot security brackets into use for the first time, just in case; though probably more for our peace of mind than any real security risk.
Azrou is a very small town in the mountains surrounded, as the name of the hotel suggests, by cedar forests. It is about 30km from the formerly French alpine-style ski resort of Ifrane and the temperature reflected that. Wearing jumpers and jackets we were still chilly and warmed up only after eating a good meal of tagine in "Le Restaurant Relais le Forestiere" on the main square. Clean, well presented, friendly and good value food.
Today was the first time we have had to use windscreen wipers since we left England. We have been very lucky with the weather, apart from a shower overnight in Marrakech it has been dry but several degrees colder than usual due to a low sitting over North Africa. Though most people on holiday would prefer warmer sunnier weather, we are keen that the low continues.
Day 23 Thursday 27th May
Azrou to Moulay Yacoub
Because of the amount of interest Florence provoked and the number of times people asked how much she was worth, "cars like this are very valuable in Morocco", Joanne was a little concerned that Florence was parked in such a public place and woke at 3am to peer over the balcony to check on her after dreaming that she was taken apart during the night! By 7am she was still fine.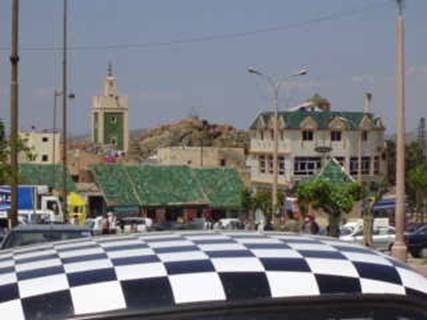 The sun was shining, though it was still fresh, and the small town with its white buildings and green tiled roofs surrounded by cedar-forested mountains looked beautiful. We joined local people and ate a breakfast of almond and chocolate croissants with café au lait and fresh orange juice at a café on the square (15 Dirhams). Tim now has clean shoes after giving in to one of the many young shoe cleaners touting for business around the cafes.
A short walk took us out of the town up a track through cedar trees, past a shepherd with his flock and women washing sheeps wool in the stream.
The views down the valleys and to the far mountains as we drove North from Azrou were stunning, with meadows of red poppies, yellow, blue and white flowers, cedar, cherry and olive trees in the foreground.
As we ate a picnic of bread and cheese, bought in a small market en route, a young man carrying hay on a cart pulled by a mule bid us welcome; we have been very lucky so far to have found Moroccans very friendly.
By 3pm we had arrived in Fes and headed to the Palais Jamai to meet the General Director. Monsieur Sbati telephoned us yesterday to say that regrettably, due to the international music festival in Fes from 28th May to 5th June, he was unable to offer us accommodation. He did, however, offer us mint tea with Moroccan cakes eaten looking at the stunning view over the old medina of Fes el Bali. Monsieur Sbiti was very kind and allowed us to make use of some of the hotel facilities including checking our e-mails and changing money. He also called the Manager of the Sheraton to introduce us and suggested we also ask Monsieur Skalle, the General Manager of the other top hotel in Fes, Les Merinides, if he could accommodate us. Unfortunately, though all were very interested and would have offered us accommodation after the 5th June, they were fully booked for today.
Though very interesting to visit Fes we decided that we simply had to find some cheap accommodation outside Fes. Luckily, the commercial manager of the Sheraton telephoned the sales manager of a hotel 16km outside Fes at Moulay Yacoub and negotiated a discounted rate.
The Hotel Moulay Yacoub, high in the dramatic rolling green hills NW of Fes was quiet when we arrived at 6pm. After a quick, invigorating, swim in the hotel pool, we walked down the hill to the village and were surprised to find a lively street with people drinking coffee and watching football in the pavement cafes. We ate chicken and chips for 50 Dirham.
Day 24 Friday 28th May
Fes and Moulay Yacoub
The outdoor swimming pool in the centre of the hotel complex was a little chilly but it was great to have a 25m pool to ourselves for a morning swim. After a breakfast of Moroccan pancakes, semolina cake, boiled eggs, yoghurt, bread, croissant and pain au chocolat with fresh orange juice and tea we decided to sample the delights of the spring water for which Moulay Yacoub is famous.
The hotel has a reciprocal arrangement with the modern thermal bath about 2km away – guests are offered four treatments for 225 Dirham or two treatments for 120 Dirham per person. Alternatively, one can bathe in the same thermal water at the old bathhouse in the village for 25 Dirham for two people. We chose the latter and walked down to the village, towels under our arms in search of the bathhouse.
Having paid our 25 Dirhams for half an hour in a room with two baths we immersed ourselves in hot sulphurous water and breathed in the steam that, inevitably, stunk of bad eggs. Feeling tired and looking as if we'd been poached we rested at one of the cafes on the main village street and wondered whether our minor ailments might be recovering.
Moulay Yacoub is so named after the Sultan who, suffering from what he had been told was a fatal illness, was advised by a Berber sorcerer to take the waters in the mountains. Having bathed in the water for several days he was pronounced well. His virgin daughter's body was later carried to the top of a nearby hill by angels when she died broken hearted because her father insisted she marry someone she did not like. According to legend, women who are unable to have children should walk up the virgin's hill without stopping and their fertility will improve. Apparently many walking groups, especially French who fly direct from Paris to Fes, stay here, though there are no statistics about the number of women who walk up the hill for this purpose.
There are a few small, cheap hotels in the village and some basic places to eat, but the majority of people who visit do so to make use of the new thermal spa complex and stay at the 4* Hotel Moulay Yacoub above the village. This and the limited public transport options may explain why there were no other westerners in the village and the hotel guests were mainly Moroccan and French. We were, however, introduced to a couple who live in Tripoli, Libya. In broken French and Arabic, with the Manager of the hotel adding some translation, they enthused about their country. We also met a Moroccan woman who regularly visits her mother in Algeria. She assured us that, though the border with Morocco is officially closed, with a little negotiation and about 50 Dirham, the guards are likely to let us cross.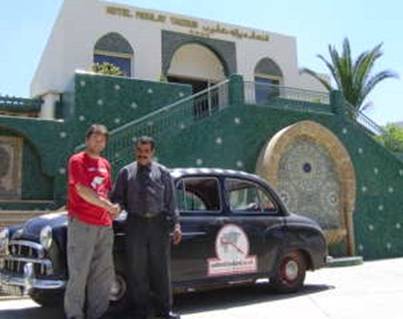 The commercial director, Monsieur Larbi Ighed introduced us to the Director, Monsieur Abdellah Ait Seddik who, having seen our website was very kind and invited us to stay an additional night free. It was an offer we could not refuse so we also accepted Larbi's offer of arranging a guide to show us around the Medina in Fes.
Everyone had advised us that without a guide we would not only be hassled but that we would struggle to emerge from the maze of 9400 streets inside the mostly 12th Century walls of the Medina. For a discounted price of 100 Dirhams our guide showed us a few of the most significant sights of Fes-el-Bali, one of the largest living mediaeval cities in the world.
Fes is the oldest of the imperial cities of Morocco and, according to many, is its spiritual capital. Surrounded by hills, the imposing, castellated walls and immense wooden gates of the city are like nowhere else we have visited in Morocco and were all the more dramatic for being decorated for the festival of Fes which begins today.
The narrow streets of the Medina are, apparently, usually heaving with humanity. As it is Friday most of the shops were closed and it was relatively quiet until 6pm when people poured through the gates into the Medina.
As well as streets lined with tiny shops selling everything from clothes to carpets, eggs to nougat, each of the 275 districts has a mosque, school and hamam (bathhouse). We visited the Medersa Bou Inania, said to be one of the finest and oldest theological colleges in the world and the Kairaouine mosque, both of which were impressive but, like many parts of this labyrinthine city, are very much in need of restoration. Fes is a UNESCO world heritage site so hopefully, many of these incredible sites will be restored.
One of the most fascinating places we visited was the tanneries: we were led there by the son of a carpet and leather shop owner though our noses would have capably lead us there. Not surprisingly the dense area full of drying sheepskins, untreated wool, and tanning and dyeing pits stank!
Though it would take days to see Fes, our guide, Monsieur Noureddine Sijelmassi Idrissi gave us a good introduction and we promised to call upon him the next time we visit Fes – 055 73 30 46
The area just inside Bab Bou Jeloud, the main gate, has several restaurants and we ate very well at the family run Restaurant Bouayad. Tim had seconds of the superb lamb, nut and apricot tagine and Joanne enjoyed the chicken pastilla, a traditional Fes dish usually made with pigeon, of flaky pastry stuffed with meat, nuts and herbs and sprinkled with spices and icing sugar.
The taxi ride back to the Sheraton, where we had parked Florence, was ridiculously and unexpectedly long because all the roads were closed due to the arrival of the Prince, the brother of the King of Morocco, to officially open the 10th International Music Festival of Fes.
Day 25 Saturday 29th May
Moulay Yacoub to Taza
Before we left we tried, unsuccessfully, to connect to the internet in the hotel managers office. He and his staff were very helpful but, for some reason, our modem did not recognise the telephone line so, unfortunately, updating the website will have to wait until we can next find a direct telephone line.
Sadly, our original contact, the commercial Director, had cooled in his enthusiasm for our adventure and was rather dismissive. We got the impression that he felt a little snubbed once the Managing Director had taken us under his wing and offered free accommodation, rather than just a small discount that Larbi had offered.
At the supermarket on the outskirts of Fes we stocked up on picnic stuff, wooden balled car seats, and engine oil. As the banks were closed we changed money at the Sheraton hotel, though only after a good deal of gentle persuasion, having been told that hotels will only change money for hotel guests. In a style we have begun to find typical of Moroccans, the concierge was beginning to write the receipt for changing money whilst still saying no; we said we fully understood, thanked him and picked up our bags then he said he would change our money. Patience is particularly necessary here because it appears that the final answer is often someway from the first.
Fes was so distinctive that we decided to do a little filming in the city before leaving. Tim was parked near a city gate, amidst a flock of red petits taxis, ready to drive off with Joanne filming from the far side of the road. While Tim was talking to a taxi driver a boy leant in the passenger window and grabbed Tim's mobile phone. Tim ran after him, leaving the taxi driver to watch the car. The boy, realising it was not such an easy getaway, threw the phone in the air enabling Tim to retrieve it undamaged. It was not until Joanne looked at the footage that she realised that she had been so busy trying to get people to move out of the way that she had not seen the crime. Oblivious to the crime, she had, however, filmed Tim sprinting back to the car and getting in. No wonder he was reluctant to do a re-run to be filmed from a different angle.
We took a circuitous but rewarding route to the small town of Taza. Up and up a narrow twisting road through the cork forests and dramatic waterfalls of Tazzeka national park to the viewpoint at 1584metres from where we looked across to the snow-capped mountains of the High Atlas in the far distance. It was surely the toughest hill-climb of Florence's life – though rather hot on the way up she did remarkably well.
We stayed at the Grand Hotel du Dauphine in Taza – nowhere near as grand as it might sound but with some effort one could make out a few touches reminiscent of the days when the French built and lived in la Ville Nouvelle, 3km away from thea old walled town of Taza, as they did in many towns and cities in Morocco. The hotel restaurant was uninviting and did not appear to be serving food but the bar was doing a roaring trade – it seems that this is one of a few bars in Taza that serve alcohol, though behind thick curtains so that patrons cannot be seen from outside. We decided not to partake but instead to walk around the nouvelle ville in search of something for supper. As we had discovered elsewhere in small towns in Morocco, café culture rules; men seem to pass the evenings drinking coffee or mint tea on café terraces but few people eat out.
While walking the main street a man about our age began talking to us in English, which is unusual because most people speak Arabic or French. After the usual small talk we discovered that his wife and baby son were staying for the weekend with his parents here in Taza but that he works during the week as a lawyer in a town nearby. After taking us to a popular kebab stall on a street corner (where we ate great kebabs apparently made by the stall keepers mother) he took us to a café for mint tea and then back to his parents house where we met his mother, his sister (who speaks a little English and is studying German), his wife, and played with his baby. He understood that it is unlikely that we will have the time to visit his home but it was very kind of him to invite us to visit him.
Day 26 Sunday 30th May
Taza to Oujda Joanne's birthday!
Unfortunately, we found only one open café in the quiet old streets of the Medina and it served very little for breakfast so we returned to the nouvelle ville and ate breakfast at the Café D'Amsterdam, as recommended by Hassan, on the main square. Joanne opened birthday cards that she had been given before leaving the UK by her Grandma and Sister while eating pastries and drinking café au lait and fresh orange juice. We also did some filming which amused the staff. Unfortunately, my filming did not get the same reaction half an hour later when I filmed the road, with a policeman as the background…
Day 27 Monday 31 May
Morocco (Oujda) to Melilla
Woke to the hottest day so far, around 30C with no breeze, we were apprehensive and a little tense as we discussed our plans for today and the next few days.
Though we had been told officially that the Moroccan-Algerian border was closed, we had also been told by numerous people we met en route that it was quite likely we would be allowed to cross. We felt that we had to see for ourselves so, having insured the car for an additional five days (it ran out at 11.25 this morning and the minimum insurance is five days), visited the Cruz Roja and escaped the irritatingly unhelpful, time wasting staff at the hotel, we drove the 30km to the border.
As we approached the fences and chicanes across the main Oujda-Oran road, the Northerly frontier post between Morocco and Algeria, at least five Moroccan policemen rushed out to tell us to park a couple of hundred metres back from the buildings. Realising that we were not threatening three of them returned to their building between the fences to continue playing cards and chatting with the other police. The two policemen who stayed to talk to us seemed mildly amused by the fact that we'd turned up there, were interested in our adventure, noted our website, wished us luck with our journey and told us that, though the Moroccan border was open, the Algerian border was closed so could go no further. Our Algerian friend that we hope to meet soon was probably 50metres away but there was no chance of us getting close enough to talk to him.
There is no no-mans land here, only a few police buildings between the two gates, but the border has been closed now for ten years and, according to the policeman there, members of aid agencies like the Red Crescent flew from Algeria to Morocco to assist after the recent earthquake, and vice versa a year earlier, as they could not travel by road through the border.
Frustrated, but at least sure that we had seen for ourselves, we turned back to Oujda and were advised by a very helpful member of staff at the Algerian Consulate there that there is a ferry from Almeria, Spain, to Gharzouet, Algeria. Travel agencies in Morocco did not know, or perhaps did not want to know, whether any ferries went to Algeria. We were aware of ferries from Alicante but that is a days additional drive North from Almeria that we did not want to do. Unfortunately, we could get no more detailed information than that. As we knew that the ferry for Almeria went from the Spanish enclave of Melilla, 130km North of Oujda, we set off for the port.
In a gesture that we had come to expect of Moroccan policemen (unless you point a camera in their direction without permission or jump a red light), the policeman who had admired and guarded Florence while we were in the Consulate gave us directions and stopped the traffic to allow us to pull away.
On the road North we were stopped at two police check points. When we first arrived in Morocco we were a little concerned when we were stopped every hundred or so kilometres by police, now we wait for them all to come over and ask where we are from, say we are very welcome and spend a few moments admiring the car before sending us on our way.
Let's hope policemen in other countries are as helpful and friendly as those we have encountered in Morocco.
We arrived first in Nador, the port on the Moroccan side of the border with Melilla, which we found to be a dirty, chaotic and unfriendly place. The border was no better and Joanne struggled to be patient for the forty-odd minutes it took to cross from Morocco to Spain. After filling in emigration forms, for which the man who gave them to us demanded money that we did not pay, we had to park and report to an office where an official filled in more forms, assisted by another man, with details including our professions. This caused a furore because, out of simplicity, Joanne had written 'journalist' on the emigration form. The little man behind the counter wanted to know which publication she wrote for - 'freelance' was not understood nor any explanation to that effect, giving a name of a publication did not work either. "Le Figaro?" said the little mans accomplice, "only English publications" Joanne replied. That was not good enough as she was then whisked off to see the boss who, once she had explained that she is a PR consultant but as no-one has yet understood any translation of 'PR Consultant', the closest explanation understood by all is journalist, she was sent back to the little man who reluctantly stamped her passport and waved us on to the Spanish immigration officers who, to our relief, looked briefly in the boot and waved us on into Melilla.
Tired, hungry and having some difficulty in navigating the one way streets of this Arabic Spanish town we stopped at a pizza restaurant which, though it served mediocre pizza, had friendly staff who dispatched a pizza delivery bike to show us the way to a hotel. The Hotel Cadaza, in the middle bracket of the Lonely Planet guide to accommodation, had a couple of twin bedrooms left, both clean with en-suite bathrooms and small balconies overlooking the street where we parked Florence. The man on reception was remarkably friendly and, despite being almost midnight (we were still on Moroccan time - 10pm) he jovially corrected our poor pronunciation of a few appropriate Spanish words.